If you are looking for Green Mountain Grill Accessories or Davy Crockett Grill accessories then you are in the right place.

Here I have tried to cover maximum common and model based accessories.

Hope this content will help you…

Dive in…;
Recommended Reading:
– GMG Davy Crockett Mods.
– Weber Grill Accessories
Green Mountain Grill Accessories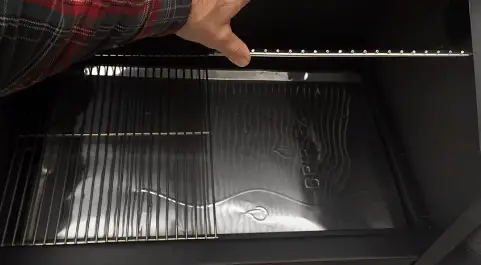 # Cover
It is designed to fit the GMG Davy Crockett Portable Grill model.
It is weatherproofed so this grill cover protects from the rain, sun, snow etc.

When you put this cover in the grill, it looks good. Although it is easy to put on and off.
If you're traveling with your Green Mountain grill, a cover to protect it from the elements is essential.

If you live in a region with excessive humidity, it will still work and keep your smoker safe for a long time. It is durable.

Always use this cover when storing your grill in your shed.

It fits, but it's a little tight with the utensil rack mounted…
This blanket fits Green Mountain Davy Crockett & Trek Grill Model.
In cold weather, this blanket is an important aid for insulation and temperature regulation.
Suitable for Green Mountain Davy Crockett & Trek Grill Model.

Furthermore, it is thick enough to prevent snowfall.
This blanket has a reasonable price.
If you want to purchase a cover and blanket together then this is right for you.
This is amazing. For strength and longevity, this blanket is made from premium materials.

Built to fit Davy Crockett grill models, including the Choice and Prime models.

Additionally, you can use it as a cover for any grill or smoker that has a cooking area of ​​219 square inches.

You should use this blanket even if you are not in cold climates as the insulation  protects the pellets too.

It has magnetic fins, is very hefty, covers the entire top, and has grommets for the lid's handle.

It is very easy to attach the blanket to the grill.

It holds the temperature in cold climates and is great for windy environments.
This rack is bigger and easy to store.  Also, it is made of stainless steel which is thick and highly strong.

This rack is designed for Green Mountain Grills Davy Crockett Pellet Grill. It does not fit the GMG Trek smoker/grill. So you should verify before purchasing.
It is very convenient for grilling as well as great for smoking.

Moreover It's very easy to clean. You can use cleanser or soapy water and simply wipe down the rack.

This rack assists to cook food slowly for better taste. 

It performs great with smoker boxes.

It is a little pricey…,

# Drip Tray Baffle
It is made of the highest quality stainless steel. Both pieces are very thicker.

This is a nice spare grease drip tray baffle for the GMG Davy Crockett and Trek models.
It comes with a unique design for the Davy Crockett & Trek.
You have the option of cooking over direct or indirect flame as it comes with two-piece slide-grid functionality.
With this perforated grate, the Davy Crockett grill can manage the temperature just fine.
It allows you to grill and smoke. It provides a flavor of amazing wood fires. So if you are planning to purchase GMG Davy Crockett then don't miss this Drip Tray Baffle.

If you want the latest design, one piece stainless steel tray for Davy Crockett that offers complete convection cooking, click on the link below.
This is a high-quality 2-piece stainless steel replacement cooking grates for Daniel Boone model. It is also suitable with all previous Daniel Boone models.
This grill grate replacement is well-designed and simple to maintain..
This extreme high heat heavy duty wire, which includes metal, is approximately 18″ in length.
Easy to install and good quality…
This sensor is compatible with GMG Jim Bowie, Daniel Boone, and Davy Crockett pellet grill models. 
This thermal sensing probe with wire controls the temperature by regulating the air and pellet flow.
You can easily check with this meat temperature probe whether the meat is cooked well or not.

So you can cook your meat to the right temperature every time.
Simply plug directly into the front of the control panel and monitor time to time.

This temperature probe includes high heat resistant and durable cable.

So, it tells you the accurate temperature…
# GMG pizza oven
This pizza oven fits Jim Bowie and Daniel Boone GMG Pellet Grills.

You can change your GMG Pellet Grill into a wood-fired gourmet pizza oven.

This pizza oven will give you a great wood-fired flavor.

It is easy to use..

It will fit perfectly on your Green Mountain Grill and fits also in the Traeger 780 grill.

However, if you need to make more than a few pizzas, keep the grill lid closed. If not, you'll quickly lose all heat and need to reheat it.
If you are looking for Wood Fired Pizza Oven with Pizza Peel then visit the below link..
# Conclusion
In conclusion, the Green Mountain Grill Accessories suggested in this post improve your grilling and smoking experience.
These additions provide comfort, toughness, and enhanced functionality, and range from grill covers to cooking implements and temperature probes.
They offer a flawless fit and top performance when used with Green Mountain grills.
With these high-quality accessories, you can up your grilling game..