Here you learn How to Smoke Fish on a Pellet Smoker step by step..
I have explained to you how to smoke various fish in an easy and straightforward manner.
I have also specified the amount of time it takes to smoke and the temperature that is required.
Hope it will help you…,
Recommended Reading:
– Learn more about how to smoke salmon in a smoker.
– Best Wood for Smoking Fish
How to Smoke Fish on a Pellet Smoker- step by step
Here I am going to tell you how to smoke fish in a Pit Boss pellet smoker.
Step 1: Choose the  right fish.
You can take skin-on filets and whole fish when you are planning to smoke fish.

Not all types of fish are suitable for smoking.

A fattier fish absorbs more smoke flavor. So you better know that salmon and trout are the best fish to smoke.

You may either cut them up into smaller pieces or cook an entire filet.
You can also skin on or skin off..
Step 2: Brine the fish
Take a gallon of Water.
Mix pink Himalayan salt, ground black pepper and brown sugar in a gallon of water.
According to your fish, you should take water and all the ingredients.
Now put the fish in that solution.
You can also dry brine.
Transfer the brine to your fridge overnight. 
Step 3: Rinse
After taking it out of the fridge.
Rinse them well. As a result, all of the salt will be removed.
Using paper towels, thoroughly dry them.
After that, put them back in the fridge for at least another hour or two to dry out.
Step 3: The grates must be seasoned before use for the smoker.
Coat your grill grates with a little vegetable oil to keep the fish from adhering to them.
Step 4: Set the temp
Allow 10 to 15 minutes for the grill to warm with the lid closed at 180 degrees Fahrenheit.
Once the grill is preheated, use a pastry brush to quickly spread vegetable oil over the grill grates.
It will be simple to set and adjust the temperature if you have a Pit Boss pellet smoker. Traeger is also capable of adjusting and controlling the temperature.

Use the p settings.
P setting is a timer.
This p parameter determines how much and for how long the auger feeds, as well as how long the delay between feeds is.
With a 10 degree fluctuation, you can dial it in precisely through your smoke.

You can use a smoke tube for extra smoke.
Smoke your fish between 185 and 190 degrees Fahrenheit.
Step 5: Remove the fish
The fish begins to flake and becomes slightly opaque in color, indicating that it is time to remove it..
When the internal temperature of the fish reaches 150 degrees, remove it from the smoker.
Once they're on the grill, you don't have to deal with them.
You can now serve your fish after transferring it to a baking tray..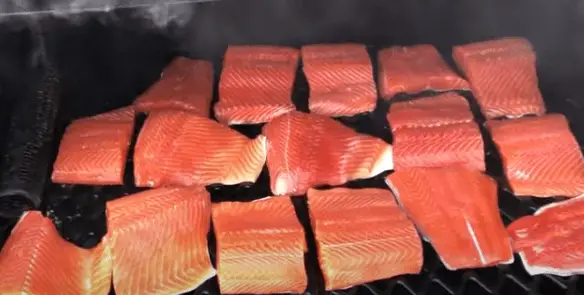 # Can I smoke fish on a pellet grill?
Yes, you can smoke fish on a pellet grill.

Smoking isn't appropriate for every sort of fish. More smoke flavor is absorbed by fattier fish..
# Can I smoke fish in the Traeger Grill?
Yes, you can smoke fish in the Traeger Grill.
# How long does it take to smoke fish on a pellet grill?
It depends at what temperature you are cooking and what kind of texture you would like.
It will take at least 3-4 hours to smoke well.
You also have to keep in mind the internal temperature..
# How long does it take to smoke fish at 225 degrees?
Smoking takes 3-4 hours at 225°F until the interior temperature reaches 145°F.
# How long does it take to smoke fish on a traeger?
Smoke 3-4 hours or until the internal temperature reaches 140℉.
# How to smoke Trout on a grill?
You may need:
To brine fish for smoking, there are two fundamental methods. You can either do a wet brine, where it involves submerging the flays in a liquid brine or you can do a dry rub.
Steps to follow:
Step 1: Brine
Take a bowl.
Brown sugar, salt and garlic powder mix in a bowl.
Simply dry clean the filet trout to remove any dirt.
Spread a little bit of dry rub inside the container.
Laying on a tray, apply a dry rub to the flesh side of the filet.
In a container, stack them skin-to-skin or meat-to-meat.
And following this rule, dry rub should be applied on the filet and kept in the container.
Close the container lid.
Transfer the container to the fridge for 24 hours.
Step 2:  Rinse the filet and then pat it dry.
Rinse the whole filet in clean water.
Pat dry with a paper towel.
Put the filet on a rack to air dry for half an hour to two hours.
When it becomes sticky you can smoke it.
Step 3: Smoke the trouts
Set the temperature at 160 degrees F to low smoke. Take a few moments to get  hooked up..
You can sprinkle any dry spices.
Now you have to place the trout on a smoker.
Close the lid and do not open too much.
You can check it every hour.
At the low 200 level, it could take two to four hours to finish smoking.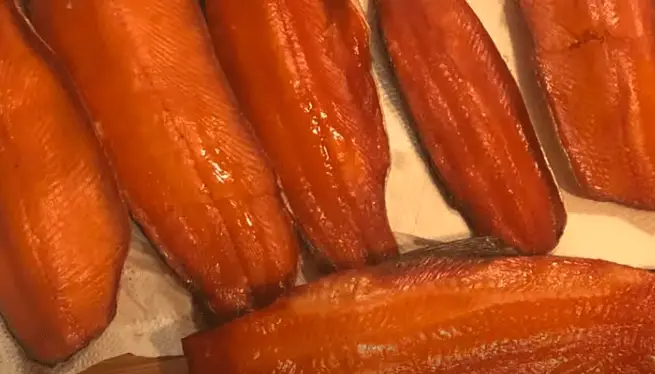 # Which fish should I avoid grilling on a pellet grill?
You can grill anything you want, if you use a barbecue plate or grill mat to keep your food from dropping between the grates..
If you don't have those, avoid flaky seafood like:
# Conclusion
In summary, using a pellet smoker to smoke fish is a wonderful and fulfilling culinary method.
This article's instructions can help you produce flawlessly smoked fish with a mouthwatering smoky flavor.
Learn how to smoke fish on a pellet smoker, then wow your guests with delectable seafood dishes.
So start your pellet smoker and indulge in the amazing flavor of smoked fish.