Inviting you to the fascinating world of outdoor cooking! The trend of outdoor cooking is on the rise, since cooking food in the open air is very exciting..
Here I have explained how the right accessories can improve your outdoor cooking experience.
Here I've covered everything from high-quality grilling tools to versatile cookware for a variety of outdoor cooking methods.
Although you would choose the right accessories to enhance your cooking experience.
So, it's crucial to arm yourself with quality cookware and outdoor cooking equipment for a genuinely enjoyable experience.
Let's know in detail…,
Recommeded Reading:
– Outdoor cooking safety
– Outdoor Cooking Techniques
– Outdoor Cooking Tips
Types of Outdoor Cooking Accessories
Here is a summary of the various types of accessories..
For outdoor cooking, we need some basic things like food to cook, cooking equipment like (grill, dutch oven fire pit, portable stove, etc) cleaning supplies, safety equipment, tent (optional), utensils to cook and serve and a safe place..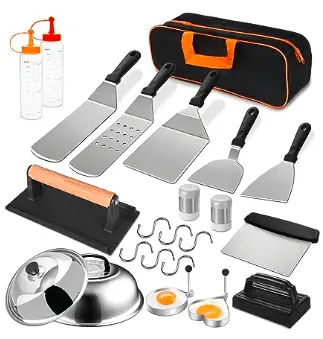 # Utensils to cook food and serve
Utensils are even more important for outdoor cooking because they help with food preparation and handling, making the cooking process more easy and fun.

Utensils facilitate easy and quick cooking by providing the right tools for particular tasks.

The right cooking equipment can help you prepare delectable dishes for your outdoor eating experience.

Here are some utensils set-
1. Backpack Camping Pot and Pans Set
2. Odoland Camping Cookware Mess Kit
3. Cookware Backpacking Stove Mess Kit
4. Bulin 24/13/11/8/4 PCS Camping Cookware Mess Kit
5. Odoland 22pcs Camping Cookware Mess Kit
6. Alocs Camping Cookware
# Thermometer
Get a thermometer for precise temperature control so that you can cook food safely and accurately.

With the help of a thermometer, you can monitor the internal temperature of the food and avoid over- or under-cooking.

Thermometers ensure that food reaches a safe internal temperature. In this way it protects us from food borne diseases while cooking outside.

Here are some thermometers-
1.Lavatools Javelin PRO Duo
2.Weber iGrill 2 Bluetooth Thermometer
3.ThermoPro TP20 Wireless Meat Thermometer
4. MEATER+ Wireless Smart Meat Thermometer
Grill cover can be needed anytime in outdoor cooking, so keep your grill cover with you..

The cover will prevent rain, or any severe weather, from ruining your barbecue. 

As a result, there will be no stress caused by cooking in the wrong way or at the wrong time.

The cover is made according to the size of the grill. So I can not provide the specific link of the cover but yes here you can get your grill cover from this link.
Cooking Equipment
Dutch ovens are a very helpful accessory for outdoor cooking. Using Dutch ovens for outdoor cooking requires additional tools. Such as..
Tripods: This is to elevate the Dutch oven and provide even heat.
Lid Lifters: Lid lifting tools allow you to safely check and stir food without having to remove the hot lid.
Trivets: Basically trivets helps to keep clean your dutch oven. So that soil and coal etc. do not come in contact.
# Grill
Also grills and smokers are important components of outdoor cooking for grilling and barbecuing meat, vegetables and other foods.
# Campfire ring or fire pit
This is a very helpful item. You can cook over an open flame while roasting marshmallows and other treats.
# Portable stove
These are effective for cooking outside. You can choose from a variety of outdoor cooking stoves available on the market, depending on your needs.
# Campfire pie irons
If you want to cook foods like sandwiches, pies, and desserts over an open flame, you'll need a pie iron.
# Grill rack or griddle / Swivel grill
It is a versatile tool. This allows you to cook a variety of foods at the same time. It has grate and griddle feature.
# Grilling Equipment
# Grilling tools set
A grilling tool set is very important for outdoor cooking as it makes cooking outside easier and allows you to do different tasks at the same time. This saves time. There is no shortage in taste as well.

Grilling equipment increases the effectiveness of cooking and ensures consistent outcomes.

These tools assure user safety with their heat-resistant handles.
# Cleaning and Maintenance Accessories
Cleanliness is essential. If you want longevity of the equipment and are cleanliness conscious then you have to keep the utensils, grill and equipment clean.

Cleaning accessories help you take care of your equipment and help improve your cooking efficiency and your cooking skills.

So it takes care of safety along with proper cleaning and makes your outdoor cooking more enjoyable.

Here are some cleaning accessories-
Grill Brush
Grill Cleaning Stone
Grease Bucket
Grill Scraper
Stainless Steel Cleaner
Stainless Steel Cleaner
BBQ Cleaning Wipes
Oven and Smoker Cleaning Brush
Grill Grate Cleaner
The tent protects you and your food from wind, rain and inclement weather.
# Safety equipment
Fire Extinguisher: You should keep a fire extinguisher nearby in case of emergency.
First Aid Kit: If any body injury occurs, with the help of a fast aid kit, you can continue enjoying.
# Accessories for Specific Cooking Methods
I have mentioned some cooking methods here and also the accessories used with them.
Direct heat
Accessories
Boiling
Accessories
Outdoor Stove or Burner: These accessories help you to boil water or cook food in large pots outside with stability and heat source.
Pot Grips: Pot grips or pot holders are very important for outdoor cooking. In particular it helps to safely handle hot utensils directly from the heat source.
Stock Pot: You can use a large, sturdy stock pot with a tight-fitting lid for boiling water, making soup, stew, or bulk cooking.
Ladle: You can use a ladle to scoop up liquids or soups from a boiling pot and serve them..
Roasting
Accessories
Grilling
Accessories
Grill Grates: Grates are very important to grill outside. It is easy to place and use.
Grill Baskets: By using the grill basket, the food is saved from falling on the ground. You should use it.
Rotisserie Kits: This is an amazing accessory. Must enjoy it in outdoor cooking.
Tongs: You can use grill tongs during grilling.
Spatula: According to food spatula is also very useful.
Brush: A grill brush can help to clean the grill grates.
Gloves: A heat-resistant grill gloves helps to handle hot grill grates, tools, and food.
Skewers: Skewers also help in grilling food easily.
Frying
Accessories
Baking
Accessories
Steaming
Accessories
Aluminum foil packets: It is possible to steam with these packets.
Steam racks or steamer baskets: A steam rack helps you steam food by placing it inside a pot or dutch oven to raise it above the water. Steamers are versatile and you will find it easy to choose.
# User Queries and FAQs
# What equipment is needed for grilling outside?
Outdoor grilling requires a lot of equipment such as a grill, dutch oven, gas, propane, or charcoal, grill tongs, meat thermometer, grill brush, spatula, and grill cover etc.
# What are the ideal roasting accessories?
The ideal accessories for outdoor roasting are a roasting rack, pan, basting brush, roasting thermometer and heat-resistant gloves, aluminum foil, hot plate, tongs etc.
# Which utensils should I choose for outdoor baking?
Outdoor baking  requires a baking stone, pizza peel, baking sheet, foil, skillets, portable oven, or dutch oven, etc.
# Do I need any special equipment to smoke while cooking outside?
Yes, you need a few particular accessories to smoke, such as wood chips, a smoking box, a digital thermometer, and a grill cover, among other things.
# What are the things needed for outdoor camping?
Camping equipment includes foldable cookware, small utensil sets, portable camp stoves, and campfire barbecues.
# What cleaning tools are required for outdoor cooking?
Cleaning tools like grill brushes, scrapers, soap, stainless steel cleaner etc.
Apart from this, there are other tools which I have mentioned below with the link.
Rainleaf microfiber towel, collapsible kitchen sink, water container, scrub pads, pot Scraper, camp soap, foldable sink
# How do I choose the ideal outdoor cooking equipment for my needs?
First of all, decide which dish you will cook in outdoor cooking. Then, you may read user reviews, get suggestions from those who have experience cooking outside, and even obtain help from social media. After this you should decide which equipment is necessary according to your needs.
# Can I use the same cooking equipment outside that I use inside?
You can use some typical kitchenware, such as tongs and a spatula when cooking outside. However, you ought to choose robust and weatherproof outdoor-specific accessories.
# Are there any accessories available for grilling vegetarian food?
Yes, there are grilling accessories for vegetarians, like skewers, non-stick mats, and barbecue baskets for veggies.
# What safety precautions should I take when using outdoor cooking equipment?
You can use heat-resistant gloves and keep a fire extinguisher nearby for safety precautions when using outdoor cooking equipment.
Conclusion:
Finally, you can improve your outdoor cooking experience through quality outdoor cooking equipment. From grilling equipment to cleaning supplies, the proper tools make a big impact. Accept the challenge, check out the recommended accessories, and choose wisely for enjoyable outdoor cooking experiences. Have fun cooking!