I have explained the basic steps and provided some ideas on How to clean a Masterbuilt Electric Smoker in this article…
Let's dive in for detail..,
Recommended Reading:
– Mastering the Art of Smoking Turkey: A Step-by-Step Guide for Electric Smokers
– Beginner's Choice: Top Electric Smokers Simplified
– The Ultimate Guide to Cleaning Your Vertical Smoker
How to Clean a Masterbuilt Electric Smoker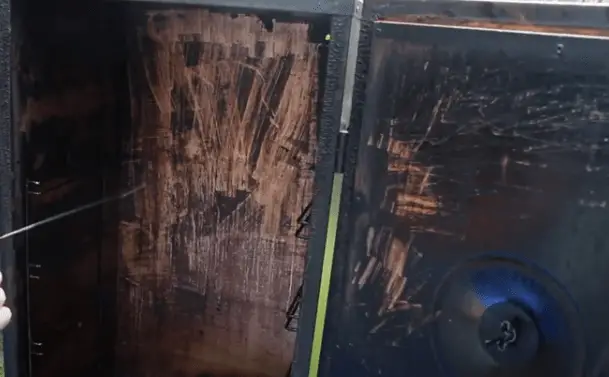 Equipment:
Preparation:
Make sure the Masterbuilt Electric Smoker is unplugged and cool before you start cleaning.
You can use a tarp if you don't want any mess around the smoker when you clean it. Meaning put the tarp on the ground and then place the smoker on top of it.
Steps to follow:
Step 1: Empty the smoker
Before you remove the parts, wear your gloves to get rid of grease.
Step 2: Wash removable components
Prepare soapy water in a small bucket or sink.

Take warm water in the sink or bucket and add some liquid detergent to it.
(Take enough water that interior parts get submerged.)

Let soak.

Let soak for 30 minutes or more.

Scrub with sponge

Take a sponge and scrub off all the parts.
Wash all the removable parts with soapy water.
Take a small brush if the grease is too much then brush it off.
Soap should be rinsed off of all parts thoroughly.

Let dry

Clean each piece thoroughly with clean water.
Allow all components to dry thoroughly.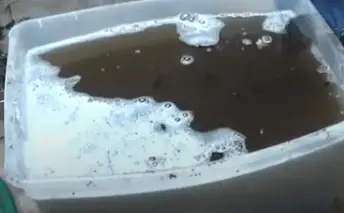 Step 3: Interior cleaning
Scrape the bottom of the smoker.

Take a scraper and scrape the bottom of the smoker, the sides, back and door as well. 
Spray degreaser or 50/50 solution of water and apple cider vinegar.

(You can use a mix of water and vinegar. You will need more degreaser if the layer of grease is more in the smoker. So, you must be ready in advance.)
Spray degreaser inside the smoker.
First you have to spray on the wall of the smoker.
Then you have to spray the bottom of the smoker.
Next you will spray on the door of your smoker.
(You may need to re-spray the degreaser as needed.)

If there isn't much dirt, you can start by scrubbing with a sponge or steel wool.
And then you can clean the interior of the smoker with a paper towel or a clean cloth.
Wait for sometime

Allow the degreaser to dissolve in the grease area.

Rub with sponge 

Now take a sponge or steel wool.
Rub inside the smoker with a soaked sponge.
Then spray water and clean it.
Next you have to rub on the door.
Spray water and clean the door.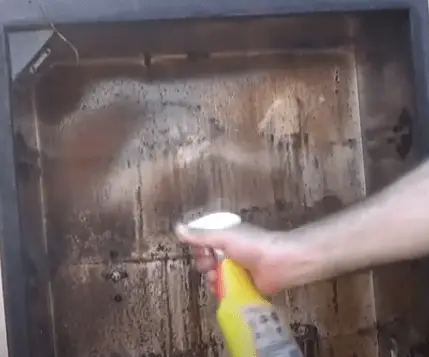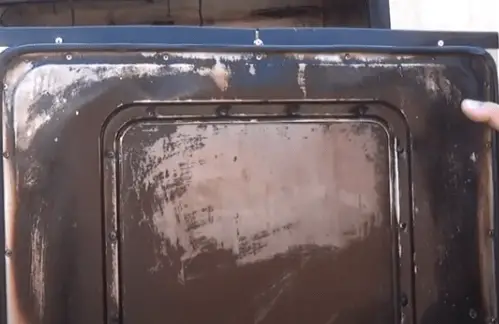 .
The new smoker is easy to clean. This may take some time for an older smoker because it doesn't have the same lubricant as before and that's why it tends to hold oil more.
Spray water

Pour the water into a fine spray bottle that sprays with pressure.
Check whether the grease is going or not.
By spraying water, you will know whether the grease will come off easily or will have to be rubbed more.
You know that whatever metal a smoker is made of, rubbing it hard will reduce its thickness.
If the grease stain still doesn't go away, also try these steps..
Spray white distilled vinegar

Now you have to spray white distilled vinegar
Spray vinegar inside of the smoker.
After that spray the inside and outside of the door as well.

Clean with water

Clean all by spraying water in the last.
Wipe with a paper towel or clean cloth. (Basically it should be clean and dry after all.)
Steps 4: Exterior cleaning
However, you should avoid water on the outer part of the smoker so that it does not get rust.
If you want to clean, do it carefully. And no electrical part should come into contact with water.
Steps to clean:
Steps 5: Replace removable parts
Keep all the interior parts inside the smoker as before.
Steps 6: Re-season 
Put chips in the pan.
Let it smoke for about an hour to two hours on the highest setting.
(So that all the moisture and everything comes out of the smoker.)
# How often to clean an Electric Smoker?
Yes, it's true that you spent money on a good smoker, I mean you bought one.

But this does not mean that an expensive smoker will last without maintenance for a long time.

The general principle for keeping a Masterbuilt electric smoker in good working order is to clean it thoroughly every 3 to 5 usage.
# How do you clean a sticky smoker?
Steps to follow:
Remove all components.
Make a solution of warm water and vinegar.
Use a stainless steel wire brush to clean off the rack and other parts.
Dip steel wool in the solution and rub on the racks and all parts of the smoker.
# How to use a Masterbuilt Electric Smoker?
Let's know how to use a Masterbuilt electric smoker.
Steps to follow:
Step 1: Season your Masterbuilt electric smoker
Seasoning is essential before using a smoker, so first learn step-by-step how to season..
Spray inside the vegetable spray. 
Plugin your smoker into the power board.
You have to set the temperature at 275 degrees Fahrenheit.
Next you have to set the timer to two hours.
Add chips to the chips pan.
Allow it to cool down by turning it off once the two or three hours are up.
Step 2: Prepare your meat for smoking in the MES
It is completely up to you how you will prepare the meat.

Because seasoning ingredients and marinating hours vary according to the recipe.
Let the meat marinate for a few hours to absorb the ingredients and achieve the best flavor.
Step 3: Prepare your smoker
Steps to follow:
Before putting the meat in the smoker, preheat your smoker..
You have to add the wood chips in the smoker.
Set your smoker to the highest setting and let it preheat for 45 minutes. 
You can either set your smoker to 225 degrees Fahrenheit or set it to your desired temperature.
Step 4: Add some wood chips while preheating.
You can refill your tray with wood chips.
Wood chips should be small in size.
Step 5: Set the meat in the smoker.
Now you have to add marinated meat to your smoker.
You can add a water pan.
Maintain moisture in the meat.

You can sprinkle it with water or oil if it starts to dry out.

During the smoking process, you can add more wood chips.

Continue to monitor the amount of smoke created, and if it appears to be insufficient, simply add additional wood chips.
Step 6: Remove the meat from the smoker and savour it.
Your meat will be smoked and ready to eat after the period specified.

Any type of meat should achieve a temperature of at least 145 degrees Fahrenheit for your safety.
Step 7: Allow the Smoker to cool down after turning it off.
You have to shut off your smoker after removing the meat.
Let your smoker cool down.
Step 8: Disinfect the Smoker.
After the act of smoking is over, in the smoker it is necessary to clean it.
When cleaning the inside of your electric smoker, it is not suggested to use oven cleaners..
# Conclusion
To maintain the functionality and longevity of your Masterbuilt electric smoker, cleaning it is an easy and crucial operation.
You can easily clean your smoker by following the detailed cleaning instructions provided in this article.
The best smoke production is ensured by routine cleaning, which also guards against any potential health risks.
You can maintain the top condition of your Masterbuilt electric smoker by using gentle cleaning products and the appropriate cleaning techniques.
In order to enjoy many more excellent smoked dinners in the future, take the time to clean your smoker after each usage..