A very common question people ask is How to keep Meat Warm for Hours?
Yes there are various lots of different methods.

But all I am going to share here are the methods which I personally prefer..
And which works best in different scenarios.
Find out which is best for your needs…,
More topics we have covered recently:
– 4 Best Woods for Smoking Cheese
– Easy Steps on How to Smoke Salmon in a Smoker
– Cooking process of Steaks on a Pellet Smoker
– How to Cook Pork Loin on a Pellet Smoker
– How do you Cook Ribs in a Pellet Smoker
– A Step-by-Step Guide for Beginners to Learn the Basics of Grilling.
Recommended Method
---
How to keep meat warm for hours?
---
# Method 1. Using a cooler you can keep warm meat.
Well, we need a cooler, aluminum foil and two thick cloths for this. It would be better if you use bath towel.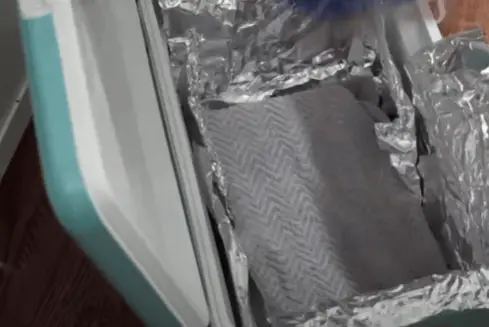 So here are the steps to keep meat warm in cooler…
Steps to follow:
After cooking the meat, wrap it with aluminum foil.
Open your cooler and first put your towel or thick cloth on the bottom.
You can line it with aluminum foil inside the cooler.
Now place your wrapped food using an aluminum pan or tray.
Then lay one more towel or thick cloth over the food and cover with the rest of lined foil.
Close the cooler lid..
Your goal should be to eliminate the air space inside. This way you can keep your brisket or pulled pork warm for as long as five to six hours or more..

This trick will not only keep it warm but will also keep it fresh. I hope this trick will work for you.
# Method 2. You can use your home oven.
Here are the steps to keep meat warm in home oven..
Steps to follow:
After cooking wrap your meat in butcher paper.
A probe thermometer can track temperature over time so set your meat with the probe in the middle of the rack.
Probe should be in the middle.
Turn your up to the lowest setting possible or 170 degree Fahrenheit.
Close the oven door..
So, this way you can easily keep your food warm for four hours. And the meat won't lose its juice and moisture..
# Method 3. My third method is a chafing dish.
Meat, such as ribs, brisket, roast, or chicken takes 90-120 minutes in a chafing dish.
Requirement:
Steps:
Place your two sternos middle in the wire rack.
Place the water pan with about a quarter inch of water
Light your sternos.(You can place it later underneath the water pan.)
Make sure the water is very hot.
Next place the food tray on top.
Different items take different time.Its center takes much longer to warm so take a serving spoon and mix it up a little bit.
Cover the food with a foil lid with one corner uncovered. Some food you can't warm by covering.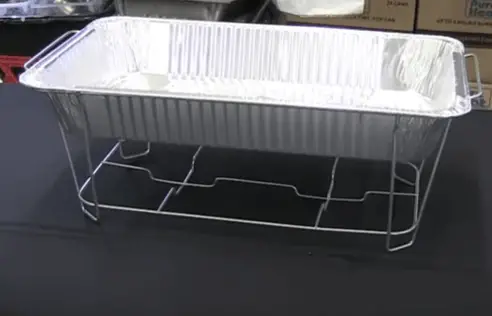 Tips :
Always fill your water tray before lighting your sternos.
Water pan should be four inch deep and the food pan is two inch deep.
The water pan should be filled with two inches of water if the water pan is four inch deep.
Also you can use Chaffing Dishes Stainless Steel to warm meat.
# Method 4. Another great idea to keep warm food is to use a thermal cooker.
People loved this cooker because without electricity it provides you constant temperature..

The food remains warm in this because it is a double wall vacuum insulated cooker which helps you to keep your food warm for many hours.

It can keep hot food above 160 F for over 8 hours. Make sure the food is eaten before the temperature drops below 140 F. Otherwise it can have a bad effect on your health.

Thermal cooker preserves the flavor, freshness and texture of food. Also you can use any environment and carry anywhere.

So, this is a great way to warm food.
Sale
Thermos Brand Thermal Cooker (1.5 (RPF-20))
Stainless Steel Vacuum Insulated Thermal Cooker
1.5L capacity
Unlike a regular food jar, RPF-20 can really do the cooking and is more efficient in retaining temperature of the content.
The inner pot is dishwasher safe.
Suitable for Seniors, Students or Office Workers, imported from Asian Market,has Asian literature and color box
# Method 5. Instant Pot is also one of the best warmers which gives you warm food.
It's very easy to operate. There is a keep warm button on it which you have to press. Apart from this button you can use the manual button which will allow you to adjust the temperature.

You just set the temperature and time and add half cups of water. Turn on the pot and get warm food.

Make sure the sealing valve is on the seal..

You can use a trivet with a steel pan so the water will not mix up with meat.
Instant Pot Duo 7-in-1 Electric Pressure Cooker, Slow Cooker, Rice Cooker, Steamer, Sauté, Yogurt Maker, Warmer & Sterilizer, Includes App With Over 800 Recipes, Stainless Steel, 6 Quart
7-IN-1 FUNCTIONALITY: Pressure cook, slow cook, rice cooker, yogurt maker, steamer, sauté pan and food warmer.
QUICK ONE-TOUCH COOKING: 13 customizable Smart Programs for pressure cooking ribs, soups, beans, rice, poultry, yogurt, desserts and more.
COOK FAST OR SLOW: Pressure cook delicious one-pot meals up to 70% faster than traditional cooking methods or slow cook your favorite traditional recipes – just like grandma used to make.
QUICK AND EASY CLEAN UP: Finger-print resistant, stainless-steel sides and dishwasher-safe lid, inner pot, and accessories.
SAFETY FEATURES: Includes over 10 safety features, plus overheat protection and safe-locking lid
# Method 6. Large quantity of food
Perhaps this method is not in everyone's attention, but it is very useful.

A little food gets cold quickly but when you cook more food then it takes time to cool down that means it stays warm for a long time.

So, this great idea is also good for those who cook more for the party.

Even if you reheat more food, in direct fire and in low flame it does not burn. I am not talking about all food because some food gets slurry instead of being warm and their taste texture gets spoiled.

However, this idea is of no use to those who make less food. But it is not also that you would never cook more food.

So, remember this idea, it may be needed at any time.
FAQs
#1 How to keep meat warm when traveling?
If you are traveling, you can shift food into glass containers to keep it warm, as glass retains heat better than plastic. Wrap items like sandwiches, burgers, or cut chicken in foil as well.

You can also use towels to wrap around glass containers or foil-wrapped packages. Then, in insulated coolers place the towel-wrapped food.

These containers should be kept in insulated storage bags or hard-sided insulated food cases.

If you also want to carry a liquid type of food on a road trip, use a vacuum food flask so it stays warm and doesn't leak.

If you do a lot of road trips, you should include a food cooler or warmer that plugs into your car's battery. This cooler can keep food both hot and cold..
#2 How to quickly warm in a chafing dish?
There are 3 ways to quickly warm in a chafing dish:-
You have to add two more sternos. 
You can use a six hours thermos/sternos.
Cover around the chafing dish and sternos with foil. Leave a space open so that you can see the fire. And fires do not get turned off from lack of oxygen.
#3 Can I use my  Regular Oven or Toaster Oven?
Yes, you can use your regular oven or Toaster Oven.
Set the toaster oven to 200°F (93°C) and place the meat in the center of the oven to keep meals warm. The temperature can be changed.
To keep warm, wrap your brisket with aluminum foil.
#4 What is the right temperature to keep the meat warm?
The temperature should be above 140F. You can track the temperature by instant-read thermometer. Make sure the temp is between 140 F – 165 F.
#5 Is there any benefit to using a Thermal Bag and when?
Yes, of course, to keep small things warm for a while. Thermal bags are especially suitable for children and for traveling in the nearby park. It's very lightweight..
#6 How to keep food warm without electricity?
Using a aluminum foil and towels
Adding uncooked warm rice
Adding hot water bottle
Using a thermal bag
Using a cooler
Using a thermal cooker
Using a insulated thermos 
Adding hot brick
#7 How do you reheat food in the oven?
A couple oven reheating tips:
Preheat the oven to 250 degrees Fahrenheit.
Place the meat on a baking dish and drizzle with a little butter. To keep it from drying out, wrap it with aluminum foil.
You'll be able to serve in 10–15 minutes..
#8 How to keep smoked meat warm?
To keep smoked meat warm wrap your smoked meat with foil and then again wrap with a thick towel. In the end, you have to keep it in the cooler.
# Conclusion
Finally, perfecting the process of keeping meat warm for hours is crucial for producing tasty and tender results.
Maintaining ideal temperatures can be made easier by adopting a variety of techniques, such as using warming drawers, foil wrapping, or insulated coolers.
Meat quality can be further ensured by using temperature probes and resting it properly after cooking.
Prioritizing food safety requires constant monitoring and keeping of the proper temperatures.
By using these methods, you can confidently deliver your guests warm, delectable meat that will improve their dining experience.