Here I have explained most of your queries about Oklahoma Joe's 3 in 1 Grill Modifications. I have always struggled to find proper information on the Mods. 
Therefore, whatever from my experiences in doing and learning about the Mods, I have tried to share the best of helpful information.
I have tried to cover some common queries like-
I surely hope it solves your problem…,


Be sure to check our – 12+ Full List of top modifications of different grills, smokers and cookers etc.
Oklahoma Joe's 3 in 1 Grill Modifications 
Mod 1: Using Baffle plate
This modification helped me a lot. I hope it will help you too.
Baffle plate has to be combined with some parts..

Let's see the steps…
Equipment:
Steps to follow: 
Get a Baffle plate..
Two triangles come with baffle plates which look similar but they both are different sizes.
Keep the plate upright while fixing the triangle. (You will need a 7/16 wrench)
Now you will attach the first one triangle on the up side of the plates using a wrench and bolt.
Then flip the plate and fix the other triangle and tighten up with a wrench and bolt.
Now the assembled baffle plate is ready to place in the grill..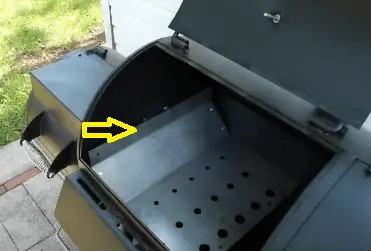 Mod 2: Using Thermometer gauge
If your factory Oklahoma Joe thermometer gauge is not showing accurate temperature then you can add a Lava lock thermometer gauge.
Equipment:
Steps to follow: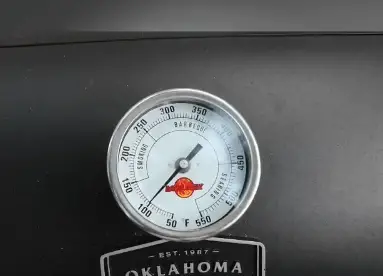 Mod 3: Using Self Stick Gasket and RTV sealant
I close every joint or gaps on the grill to stop smoke out of the grill.
If you also want to stop the smoke then first clean the grill then use a gasket or silicone. It's too easy to put it..
Equipment:
Steps to follow:
Turn on your grill and check the leakage. After that go for a gasket..
Stick the gasket all around the fire box.
You can see in the image and paste it in your grill..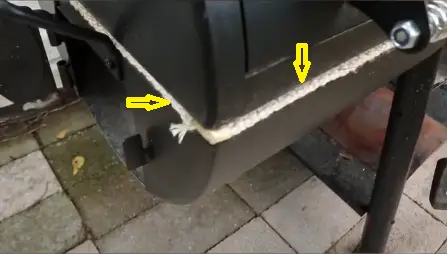 You can not use a self stick strip on the exhaust stack so you have to put RTV sealant all around the joint..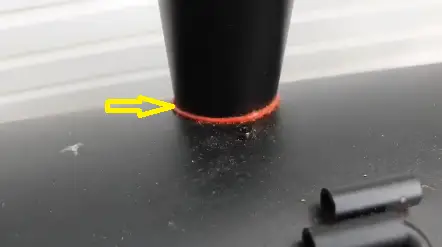 # How to season Oklahoma Joe's 3 in 1 Grill?
Equipment:
Steps to follow:
Gas section seasoning:
Take out all the components from the inside.
Get some vegetable oil.
Wipe the interior surface also lid with oil and a paper towel.
Then lightly coat both sides of the grate.
Turn your grill on about 3/4.
Leave it for two hours at high heat.
Close the lid.
Bring a temperature range 400 to 500 and let sit for two hours.
Now you should bring down the temperature from 500.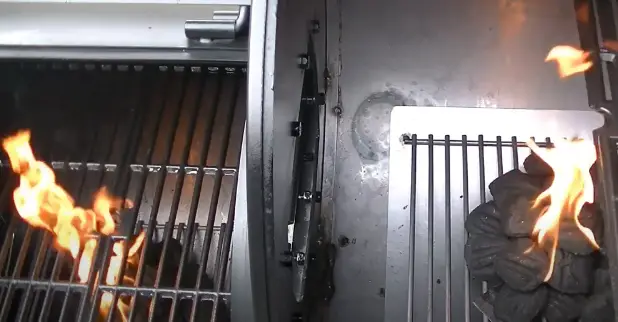 Charcoal and smoker sections seasoning:
Pull out all the components..
Give a light coating with vegetable oil and a paper towel all along the inside metal surfaces.
Put back all the grates..
Wipe both sides of the grates with oil.
After everything is oiled up on the charcoal and the smoker sections add some charcoal to both pans and put them on both sides.
Make a small fire.
When the charcoal gets fifty percent gray you should close the lid.
Open 25% exhaust and bottom vent of the smoker.
Let cook for about two hours..
Now you have to add some more charcoal in the charcoal section for a big fire.
Close the lid..
Keep the vent and exhaust half open.
After reaching 500 degrees let cool down.
# Accessories
FAQ
# How do you modify an Oklahoma Joe smoker?
You can easily modify Oklahoma Joe Smoker by using Gaskets, Latch locks and some sealant etc. For Oklahoma Joe Highland Smoker Mods check here.
# What is the Oklahoma Joe's 3 in 1 GRILL model number?
The model number for this Combo is 15202029…
# Conclusion
In conclusion, these Oklahoma Joe's 3 in 1 Grill modifications can completely transform your cooking experiences. With these adjustments, you can better distribute heat, increase ventilation, and increase your cooking options. Improve your outdoor cooking skills to produce restaurant-caliber outcomes in your own backyard. To maximize the performance of your Oklahoma Joe's 3 in 1 Grill and advance your cooking abilities, upgrade it. Don't overlook these crucial modifications, which will improve your grilling experience and dazzle your family and friends..