In this guide, I've addressed many of the questions you might have about Smokey Joe mods. I've delved into popular topics such as:
Weber Smokey Joe thermometer and drip pan mod
How to season a Weber Smokey Joe
Accessories etc...
I genuinely hope this provides the answers you're seeking..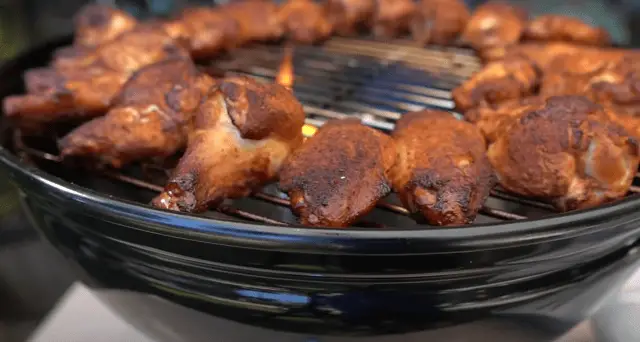 Don't miss out on my comprehensive guide:

12+ Full List of top modifications of different grills, smokers and cookers etc...
4 Effective Smokey Joe Mods
Mod 1: Enhancing the Bottom Vent of My Smokey Joe
Steps:
Start by flipping up your Weber grill.
Carefully remove the stand.
Place the Weber vent cover on top of the grill.
Identify the central hole, mark it, and secure it using a screw.
Proceed to drill additional holes around it using a slightly larger drill bit. Ensure you drill a total of 4 holes.
Once done, attach the bottom vent back in place.
Reattach the stand or leg to the grill.
Find a sturdy foil or metal bowl that fits the size of your Weber.
Drill a hole in the center of this bowl.
Remove the screw from the stand.
Finally, secure the bowl to the middle of the stand using the screw.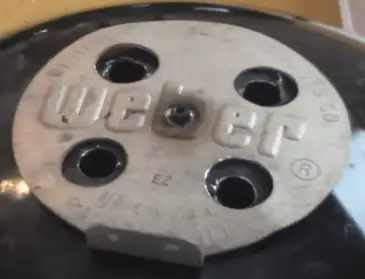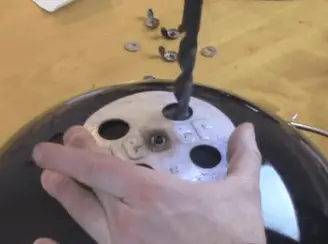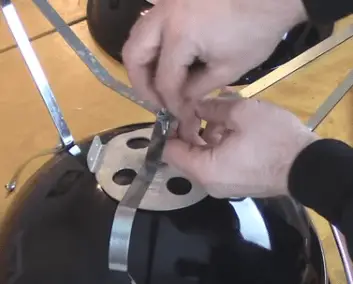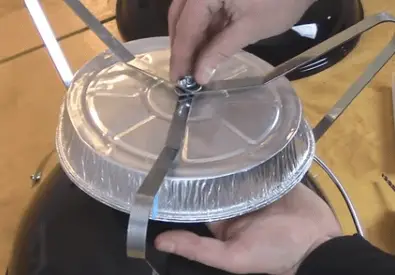 Mod 2: Crafting the Indirect Thermal Mass Mod for Smokey Joe
Steps:
Carefully cut the cardboard based on your measurements and desired shape.
Next, lay the cut-out cardboard on the stone, tracing its outline.
Set the cardboard piece aside for now..
Using a power tool, proceed to cut the stone. Remember to leave some extra space on both sides for a secure hold.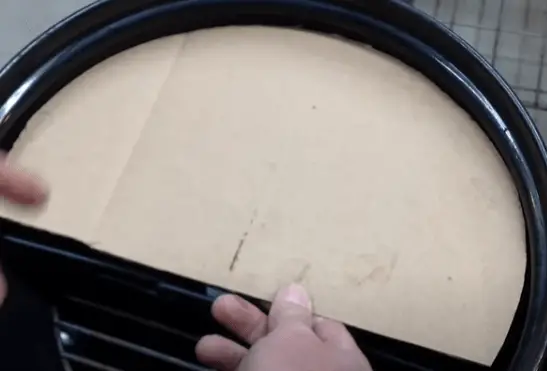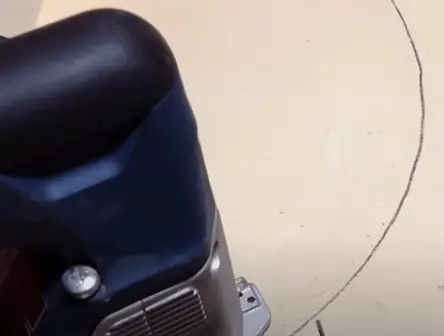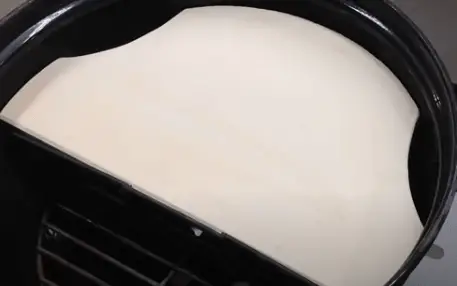 Mod 3: Personalizing My Weber Smokey Joe with a Thermometer and Drip Pan.
Steps: Thermometer
Start by acquiring a 10-millimeter gauge.
Decide on the placement and drill a hole on the lid where you'd like the thermometer to be.
Secure the gauge in place using a screw.
If you prefer, you can position the gauge in the middle of the vent.
To do this, drill a hole right at the center of the vent.
Finally, attach the gauge securely with a screw.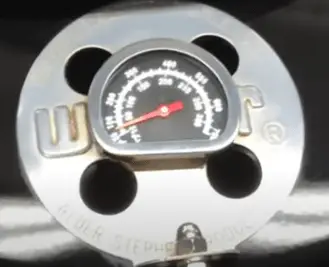 Steps: Drip pan 
Take a Weber size plate and wrap with foil.
Put a grill pan than place this drip pan.
Then place your cooking grate.
Close the lid..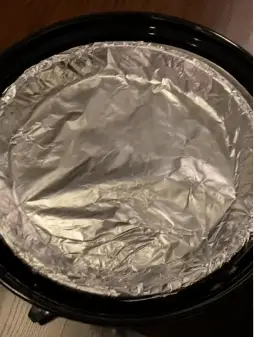 Mod 4: Boosting the Sear Power of My Smokey Joe.
Steps: 
Begin by removing all components from the inside of the grill.
Install the vortex ring, ensuring it matches the size of your Weber.
Position the charcoal grate in its place.
Add the charcoal separator.
Pour charcoal on one side and ignite it.
Carefully place your cooking grate over the charcoal.
Your Smokey Joe is now primed and ready for an intense sear!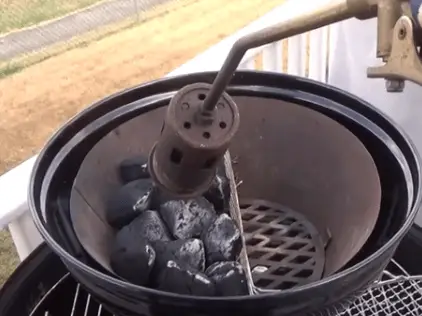 KAMaster Stainless Steel BBQ Whirlpool for Weber 22"/26.75" Kettle Grill Accessories,BBQ Whirlpool Replacement for WSM Weber Smokey Mountain L&XL Big Green Egg Grills,Kamado Grill Accessories
COMPATIBLE WITH MANY BBQ CHARCOAL GRILLS - This BBQ whirlpool large circle diameter 10",small circle diameter 6",4.5"height.Our stainless steel BBQ whirlpool fits for Weber Kettle,22 /26.75 WSM Weber Smokey Mountain,Large and XL Big Green Egg,Kamado Grill Classic and Big Grill,or other 18 inch & larger charcoal grill.Check size before order!
QUICKLY BUILD A POROUS "HILL" - Save your fuel&burn more efficiently.The funnel design helps to improve the combustion efficiency of charcoal,and it can extend the burning time of charcoal to a certain extent,and save fuel more.You only need to put the charcoal into the whirlpool,and it will automatically form a "charcoal hill" where air can circulate.This is the secret to why charcoal can be fully burned!
BETTER WELDING IS THE KEY - Our kettle whirlpool made of high quality stainless steel,which has excellent corrosion resistance and good resistance to intergranular corrosion,health and safety.But this is a stainless steel plate and welds,nothing more.Therefore,excellent welding is the guarantee of product quality.
BBQ WHIRLPOOL GIVES YOU ULTIMATE COOKING EXPERIENCE - Low & Slow Smoking : It can redirect the flow of heat up and around the meat which can turn your kettle into a true indirect'smoker'.Incredible for pulled pork!High Heat Indirect Cooking : The Charcoal Kettle Accessory create a high heat that is directed upwards then radiates down around the kettle lid creating an EVEN high heat.AMAZING for chicken,especially wings!You will be amazed how perfect the chicken skin will turn out.
AFTER-SALES SERVICE SUPPORT - Feel free to tell us if you encounter any problems in the process of using the product.It is recommended that you confirm your grill model and the size before purchasing the product.
# Discover All Types of Accessories for Your Weber Smokey Joe Here:
Seasoning Your Weber Smokey Joe: A Step-by-Step Guide
Begin by pouring charcoal into the chimney and lighting it.
Wait until the charcoal is sufficiently heated.
Using a paper towel, rub olive oil over the lid, grate, and bowl.
Transfer the hot charcoal onto the charcoal grate.
Position the cooking grate over the charcoal.
Allow the charcoal to burn for approximately 3 hours or until it reaches 400 degrees.
Close the grill lid.
Open both the top and bottom vents, letting the charcoal heat up further.
Continue the process until all the charcoal has burned off.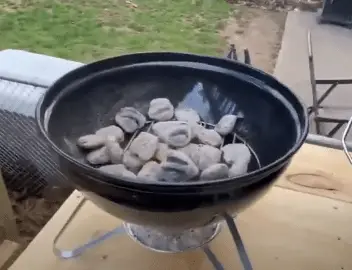 Frequently Asked Questions
# How many briquettes should I use with my Weber Smokey Joe?
For searing and grilling, I recommend adding around 10 to 12 briquettes..
If you're a fan of steaks, chops, burgers, chicken pieces, and more, this grill will serve you well. It's also perfect for grilling veggies and fish.
# What dishes can I prepare with my Smokey Joe?
With your Smokey Joe, you can effortlessly cook burgers, chicken pieces, chops, steaks, sausages, veggies, and fish. Plus, it's excellent for searing.
# Is it possible to smoke using the Weber Jumbo Joe?
Absolutely! You can indeed smoke on a Weber Jumbo Joe.
# Is investing in a Weber Smokey Joe worth it?
Yes, it certainly is. The Weber Smokey Joe offers versatility, allowing you to sear, grill, and even smoke.
# What's the maximum temperature the Weber Smokey Joe can reach?
The Weber Smokey Joe can heat up to a range of about 500° to 550° F.
# How many burgers can I grill on a Smokey Joe?
You can comfortably grill 4 to 5 compact burgers on a Smokey Joe.
# What's your preferred method for using the Smokey Joe vents?
The standard model features vents on both the top and bottom, while the Smokey Joe Premium has side vents.
I personally find the side vents a tad easier to use, but it's all down to individual preference..
# Conclusion
With these important upgrades, you can upgrade your Smokey Joe barbecue to the next level. These modifications will improve your grilling experience by enhancing ventilation and maximizing heat distribution. Upgrade your Smokey Joe with add-ons for more precise control, such as a charcoal bin, grill grates, or a temperature thermometer. You'll get better searing, more flavorful smoke, and even cooking with these changes. Your Smokey Joe barbecue will impress your family and friends with restaurant-quality food. Don't settle for mediocrity; personalize your Smokey Joe and boost your grilling skills. Prepare to indulge in delectable smoky treats with your upgraded Smokey Joe grill..