Let's figure out the Best Pellets for Smoking.
All the pellets used here are from the top and most common brands known for pellets. 
However I have tried to pick the differences from them and find out which produces more smoke and is better in terms of flavor..
I have discussed here about,
Check out the modifications…,

Skip this and Go Directly to the List
Recommended Reading :
– Best Kingsford Charcoal for Smoking.
– 10 Best Pellet Smokers for different categories.
– Bear Mountain vs Lumber Jack.
– Different type of wood pellets for smoking.
– Kingsford Pellets vs Traeger Pellets.
Test Details: 

To keep it fair as possible we have been able to get all pellets tried on similar back ribs in similar conditions.
And applied each of them individually for the same amount of time. 
Also the hopper unit was emptied out before the test.
The cooking style remains the same.
And just to confirm I have allowed my two buddies to try out the same.
Their opinion gave much more clarity in understanding the smell and the color.
Testing Temperature : 230-240. 
Target Internal Temperature : 145 degrees.
Although I took the higher temperature for smoking to make it a little quicker.
Still it took a lot of time to try out all these pellets.
But all these tests could be finished early the next day. 
Something to keep in mind.
So, let's find out what we observed…
---
5 Best Pellets for Smoking – Interesting Observations
---
Sale
BEAR MOUNTAIN Premium BBQ WOODS FK90 Craft Blends All Natural Smoky Hardwood Gourmet Blend Smoker Pellets, 20 Pound Bag
GOURMET BLEND: Gourmet Blend BBQ pellets add a sweet, smoky flavor to your favorite red meat, poultry, fish, pork, lamb, or vegetable dish
ALL NATURAL: Made from 100 percent all-natural hardwoods with no flavorings, fillers, or additives
PERFECT SMOKE: Low moisture content provides the perfect smoke
WORKS WITH ALL GRILLS: Ideal for all outdoor pellet grills, smokers, gas, charcoal, and electric grills
LARGE BAG: Large 20 pound bag
The Bad
Bear Mountain pellets looked  a lot like Lumberjack Pellets initially during testing.
They were much lighter in color too in comparison to other pellets.
What I like?
It has more smoke flavors.
But it also has some kind of humid kinda smell in addition.
But again this is almost negligible.
Kingsford has almost performed same in terms of tastes and Smokey flavours.
The only point where kingsford fell short is that it produces more ashes than Bear Mountain which resulted it to second in my list.
Overall Bear Mountain Pellets stood as a clear winner.
Kingsford 100% Hickory Wood Pellets, BBQ Pellets for Grilling 20 Pounds (Package May Vary)
100% HICKORY WOOD PELLETS: Real wood pellets are made from all natural 100% pure hickory hardwood and contain no binding agents or fillers; Package may vary
PERFECT FOR USE IN ALL PELLET GRILLS: Kingsford Wood pellets are easy to use and perfect for pellet, gas and charcoal grills, including DIY smokers and wood pellet smoker tubes
MADE IN THE USA: Kingsford Wood Pellets for grilling are made in the USA of all natural 100% hickory hardwood sourced from across America for authentic wood-smoked flavor
BETTER WOOD, BETTER FLAVOR: The hickory hardwood in these wood pellets contains 0% dyes, 0% cheap wood fillers, 0% oils and 0% preservatives, just authentic flavor
TEMPERATURE CONTROL: These BBQ pellets keep the temperature of your grill consistent for even heat to enhance your grilling experience and add full-bodied flavor to everything you cook
The Bad
Kingsford Pellet produces more ash..
Unless you are bothered with it, it doesn't really matter much.
The Best Part?
It is not like other pellet brands which say hickory but are made up of only 20 percent hickory and rest all hardwood fillers.
The Kingsford Pellet is the Darkest of all with more variation. 
It has a lot of light and dark spots in it. 
They have a woody smell.
Kingsford Pellets were pretty close to Bear Mountain Weber Pellets in terms of its smoke flavor.
I like the way Kingsford give lot of options.
And also 100% hickory is sometimes really helpful to try out different mix.
Kingsford Hickory gives almost the same taste and smoke flavor like the Bear Mountain Pellets .
However because of its more ash leftover, it comes second place in my list of best pellets for smoking..

Although Lumberjack Pellets are good, I believe they are more expensive than their competitors..
Better Flavor than the other two.
One thing I like about these pellets is they have a very clean burn.
Lumberjack Pellets started getting darker early on too.
It started getting some early dark spotting too. 
These pellets gave off some woody smell.

Lumberjack definitely has more Smokey flavor than the Traeger and Pit Boss but still Bear Mountain and Kingsford wins in terms of smoke flavor.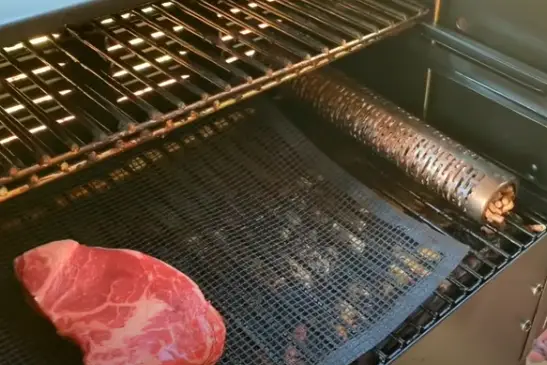 Sale
Pit Boss 20 lb Hickory Blend Hardwood Pellets
100% all natural hardwood pellets
Ideal for grilling and smoking beef, chicken, pork, pizza and vegetables
Savor a sweet undertone and smoky boldness of authentic wood-fired flavors
Free of artificial flavors, spray scents, glues, or chemicals
What I observed in Pit Boss pellets is that they are a little lighter in color than others.
They were also uniform..
In comparison to other pellets they have very less variations.
For me pitboss almost smelled like bear mountain pellets. 
Not much of a difference between them.
Pit Boss Pellets had more smoke flavor than Traeger Pellets but not more than Bear Mountain Weber.
Traeger Grills Hickory 100% All-Natural Wood Pellets for Smokers and Pellet Grills, BBQ, Bake, Roast, and Grill, 20 lb. Bag
HICKORY WOOD FIRED FLAVOR: Traeger Hickory Hardwood Pellets are great for naturally enhancing beef, chicken, pork, and veggies with full-bodied, bold flavor. So it should come as no surprise that Hickory's assertive flavor is one of the most popular choices for classic BBQ cooking.
NOT ALL PELLETS ARE CREATED EQUAL: The best wood-fired grill on the market demands the best wood pellets on the market. Real taste doesn't just happen, it's tied to quality materials and achieving perfect smoke. It starts with all-natural hardwood pellets made in American mills.
TRAEGER HAS SPENT YEARS DEVELOPING THE PERFECT PELLET: Our hardwood's unique compact cell structure results in a balanced, dependable burn. Traeger has spent years mastering the development of hardwood pellets that have just the right amount of moisture content—the sweet spot—to maintain a perfect burn-to-smoke ratio
PAIRS WELL WITH EVERYTHING: Pairs especially well with Beef, Poultry, Pork, Vegetables
FEATURES: Made in USA, Premium Quality, All-Natural, Clean Burn, No Binders, Low Ash, 20lb Bag. PLEASE NOTE: Pictured with new packaging, you may receive old packaging.

Traeger Pellets started getting a little darker early on.

What I observed is that it started having some early dark spotting within the pellets. 
It smelled more like a wood would smell.
Strangely there is also a slight plastic smell. 
I am not sure if it is something else but yes it does.
But it's hard to identify..

I found Traeger to have less smoke flavor than Bear Mountain Weber..
# What is the shelf life of wood pellets?
A sealed wood pellet bag should last around six months.
If you store them properly after opening the package, they will last one to three months.

If you're planning to purchase one of the larger 40-pound pellet bags, consider how frequently you smoke or grill food.

If you only grill once in a while, it's best to buy smaller quantities of pellets.
Because if you don't use the pellets will be useless..
---
Conclusion
---
Smelling Test Observation
Interestingly we found 3 pellets(Lumberjack,  Weber and Kingsford) differ in smell from  the other 3 pellets (Pit Boss, Traeger, Bear Mountain).
Lumberjack, Weber and Kingsford were darker as well as smelled better than the other 3 (Pitboss, Traeger and Bear Mountain).
The first 3 smelled more like wood and also had more variations in color.
Whereas the other 3 (Pitboss, Traeger and Bear Mountain) gave off some kind of manufacturing smell.
After the random test with my friends trying out each pellets without knowing. (as I served them without them knowing which pellets were used in the sample)
What was shocking was that Bear Mountain Weber and Kingsford won the taste battle .
They also had more smoke flavor than others in the list..
What I felt bad about was that I had been using Pit Boss and Traeger earlier.
But now these tests have given me a learning experience on such a big difference.
Definitely I would go for Bear Mountain Weber first. 
Then Kingsford came second with a better price range.
And the rest I would only keep it as an option…