It's crucial to understand the difference between Bear Mountain Pellets and Lumberjack.
Particularly if you intend to buy one..
I have tried to cover their differences, similarities and qualities.
I hope this content will clear your doubts and help you to choose the appropriate product to buy..
Recommended Reading:
– Best pellets for smoking
Bear Mountain Pellets vs Lumberjack- in Detail
Things to know before buying pellets.
Pellet ingredients
Know about the composite material used to make pellets. Because the flavor, and ash buildup can be determined according to this mixture.

Ash
Sometimes a pellet that produces more ash also works great in flavor. You can decide what's right for you before you buy.

However, it is important to know how much ash accumulates in different brands of pellets so that you can select the right pellet. 

Durability of pellet
How long does it last? Find out which brands of pellets provide longer heat and smoke.

Consistency of performance
You need to know whether the pellets will provide heat and smoke evenly.

Price
Price must be compared with bags of different pallets. You should spend money keeping in mind the quantity, quality and price of the pellets.

Suitable for grill/smoker
Before buying the pellets must check whether it will be suitable with your grill or smoker. 

Suitable for all types of food
Check out the pellets, whether perfect for grilling or smoking your favorite foods.

Moisture level
Check how much moisture is still in the pellets as low moisture results in clear smoke.

Are pellets suitable for low and slow cooking?
Do you like food that is cooked low and slow? Then don't forget to check.

Can I buy pellets in bulk?
If the pellets are low in moisture and you have a good storage container to store them, you can buy pellets in bulk.
Bear Mountain Pellets Vs Lumberjack Pellets – Short Overview
It is important to have a brief understanding about these two famous woods.

Check out the comparison between these brands' top 2 choices.
| | | |
| --- | --- | --- |
| Key Features | Bear Mountain Pellets | Lumberjack Pellets |
| Editor choice | Gourmet Blend Pellets | Competition Blend Pellets |
| Weight/quantity | 40 lbs & 20 lbs | 20 lbs |
| Quality | Wholesome flavor, Versatility, Less moisture, Longevity, Suitability and All-natural | Mixed and Fruity flavor, Durability, Good for low and slow cook, keeps food soft, High heat capacity, smaller diameter |
| Eligibility | All outdoor pellet grills or smokers, gas, charcoal, and electric grills | All outdoor pellet grills or smokers, gas, charcoal, and electric grills |
| | Check Price | Check Price |
You can skip the comparison table and go straight to the similarities and differences below.
In the realm of pellets, Bear Mountain is a well-known brand. Their extensive experience in producing premium smoking pellets makes them unique in this regard..

You may be sure that every product they produce is crafted with the utmost care and with natural materials. No filler, no chemical, and no flavoring agent. It meets the requirements of pitmasters at all levels, from amateur to expert.

They are made from compressed sawdust. Resultantly 100% hardwood pellets contain less moisture. Only 5% moisture remains in the pellets.

They quickly warm up the grill or smoker and distribute heat evenly..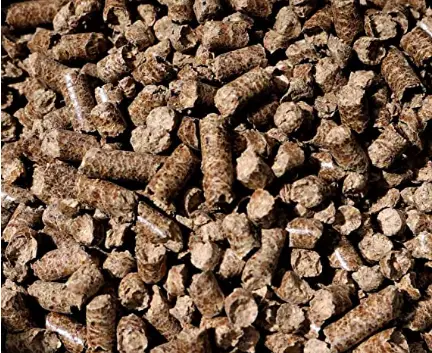 Talking about Lumberjack, it is also no less than Bear Mountain.
They use the outer layer or bark of the tree while making wood pellets, which improves the taste of the food.
The bark contains most of the flavor of the hardwood. It means the real smoky flavor is mostly in the bark.

Lumberjack Pellets only chooses top-notch wood chips, producing 100% pure wood pellets like Bear Mountain.

However, the Lumberjack has one drawback that puts them below Bear Mountain, namely the use of bark, which results in heavier ash buildup.

However, they outperform their rivals in terms of genuine smoky aroma.

Although they are both made in the USA, there is a tough competition between the two pellets in terms of quality control.

So, to know more in this aspect, let us compare a great alternative from each brand.
Gourmet Blend Pellets – Editor choice- from Bear Mountain
First of all I will explain in detail about Bear Mountain's most well-known product, the Gourmet Blend Pellets. 
Let's discuss the qualities, benefits, and drawbacks of Gourmet Blend Pellets.
Features
Brand: Bear Mountain Premium BBQ Woods
Material: Wood
Flavor: Gourmet Blend
Item Form: Pellet
Made of 100% all-natural hardwood
Contains zero fillers or artificial flavors, additives.
Provides a sweet-smoky flavor.
Suitable for all grill types.
Provides healthy aroma to your food.  
The Bear Mountain pellets are made of 100% natural hardwood with great quality.

No inferior wood chunks have been added to this Bear Mountain pellet to modify the flavor.

Additionally, these quality wood pellets don't include any wood oil, filler, binder, or chemical aroma.

Consequently, this won't be harmful to your health. You can rely on this pellet brand.

Its all-natural hardwood gourmet blend pellets provide a delicately sweet flavor.

The Bear Mountain Gourmet Blend pellets are suitable for any type of grill and smoker. Whether it's a gas, electric or charcoal grill. It gives you the traditional smokey taste.

In addition, it also imparts a well-balanced flavor to enhance the palatability of the dish.

The 20 lb. and 40 lb. bags of Bear Mountain pellets are both lightweight and convenient for carrying.

The best thing I like about the Bear Mountain Gourmet Blend Pellet is that it produces less ash.

Gourmet Blend Pellets have a lower moisture content, which burns cleaner than average wood pellets.

My recommendation is to get this bear Mountain pellet if you're looking for the best pellet to smoke steak, poultry, beef, seafood, vegetables, or anything else.

Since this flavor-enhanced pellet pack offers a completely genuine wood fragrance.
Pros
Natural wooden flavor
A quality aromatic flavor
A wonderful fusion of sweetness and smoke
The 20/40 pounds bag makes it simple to transport
Provides a cleaner burn with low moisture.
Produce less ash buildup.
Reaches maximum temperature easily.
Cons
A little difficult to light.
Competition Blend Pellets – Editor choice from Lumber Jack
Now we'll talk about Lumberjack BBQ Pellets and introduce their most popular item, the Competition Mix Pellets. It creates a unique flavor with the mixed three hardwoods that are used for smoking food.
Features
Brand: LumberJack
Item Weight: 9 Kilograms
Item Form: Pellet
100% natural wood
Comes in a 20 lbs bag.
Mix flavor of Cherry, Maple, Hickory.
Provides a reasonable amount of smoke.
Provides fruit flavor into food.
If you like your food to cook low and slow, then this Lumberjack Competition Blend pellet is for you.

This Lumberjack Competition Blend pellet keeps the tenderness of the food which is of great value for us.

Like Gourmet Blend Pellets, this Competition Blend is also suitable for grilling fish, meat, vegetables or seafood, etc.

The Lumberjack Competition Blend pellet has a large capability for producing heat.

This Lumberjack Competition Blend Pellet has a great feature that minimizes the chance of overcooking or undercooking while providing proper heat and smoke.

This allows you to evenly smoke turkey, poultry, brisket, or any of your favorite seafood.

Competition Blend comes in 20 lb packs containing a proportional blend of three types of wood – hickory, maple and cherry and it is made to last a longtime.

It would be great if the Lumberjack also came in 40 pound packs.

They don't have a fixed shelf life, it's true. Their integrity will endure as long as you prevent them from coming into contact with moisture.

The best way to keep them dry is to use a storage container.
Pros
Provides a nice combination of flavor and the smoke lasts a long time.
Awesome wooden aroma.
High heat production capacity. 
Good for low and slow cooking.
Keeps food soft.
Blending of three types of woods.
Cons
More ash accumulation.
Burns fast.
Differences between Bear Mountain Pellets vs Lumberjack
Let's find out the differences between these two premium wood pellets from two top brands.
Ash Build Up
The ash buildup is the first thing that sets them apart from one another.

Naturally, as lumberjack includes tree bark, a lot of ash is produced. However, Bear Mountain produces less ash, which makes cleanup a breeze.

Quantity
Both the brands are known for their exceptional packaging quality.

However, Bear Mountain gives you the option to select between the 20-pound or the 40-pound pack when it comes to weight.

The Lumberjack, on the other hand, only comes in 20-pound packs. Although it is easier to manage.

Cost
The second difference between the two pellet brands is their pricing and quantity of pellet packs.

While Bear Mountain comes with a 20lbs pack and a 40lbs pack, the Lumberjack only includes a 20lbs pack.

It's worth noting that Bear Mountain's 40lbs pack costs the same as Lumberjack's 20lbs pack.

Flavor
The flavors of the two BBQ pellets are also different.

Because of its delicious aroma, BBQ fans prefer the Lumberjack competition blend a little more.

Lumberjack contains tree bark, which has a healthy flavor.

Additionally, the subtle hickory flavor keeps the full flavor of the real wood smoke.

The  Bear Mountain, on the other hand, tastes a little bit sweet. Some people do not like this taste.

Heat efficiency
The same amount of Lumberjack pellets burn faster and exhaust faster than Bear Mountain pellets.

Compared to Lumberjack pellets, the same amount of Bear Mountain pellets last longer.
Similarities between Bear Mountain Pellets vs Lumberjack
Despite the differences between Bear Mountain pellets and Lumberjack, there are also some similarities. Because there are finally two brands of pellets made for your smoking and grilling needs.
Suitability
First of all, both BBQ's pellets work with gas, electric and charcoal grills and smokers.

Smoke
These two are the top-rated wood pellet brands, as I already mentioned.

Both kinds of pellets produce more smoke, which enhances the flavor of the food.

Both of these top BBQ pellets burn hot and cleanly, providing an alluring smokiness.

Unpolluted.
These two premium pellet packs, LJ and BM, are made from the finest wood blends.

Both pellets do not have any artificial aromas or additives and no additional filler or binder, they both include only natural wood.

Made in the USA
Bear Mountain and Lumberjack are both American companies that produce wood pellets to the highest standards.

The entire procedure, which involves gathering hardwood and processing it with minimal moisture, is done in the USA while upholding the highest health requirements. This is absolutely safe.
FAQs
# Who makes Lumberjack wood pellets?
Lumberjack wood pellets are manufactured by GLRE Great Lakes Renewable Energy.
# Where are Bear Mountain pellets made?
They are expertly crafted in the USA under the highest quality control.
# Can I use Bear Mountain pellets in a Traeger?
Yes, you can use Bear Mountain pellets in a Traeger.
All manufacturers' grills and smokers are compatible with them.
# Can I use Bear Mountain pellets in a Pit Boss smoker?
Yes absolutely you can use Bear Mountain pellets in a Pit Boss smoker.
# What are the best pellets?
I prefer Bear Mountain since they're not just terrific, they're also among the best BBQ pellets available right now..
# Conclusion
Finally, Bear Mountain Pellets and Lumberjack both provide premium options for wood pellets. The decision between the two is based on individual preferences, including desired wood flavors, accessibility, and cost. You may get mouthwatering and flavorful results on your pellet grill or smoker whether you prefer Bear Mountain or Lumberjack.