If you're craving the flavor of charcoal with your barbecue, I've got you some of the Best Charcoal Smoker out of all those great models.
I discuss the many different types of Charcoal Smoker and their advantages and disadvantages.
So, that, you will be able to find your favorite charcoal smokers on the market..
Is it something that you're looking for?
Like-
Best Gravity
Beginner
High-end
Vertical etc…
Let's dig in for more information…,
Recommended Reading:
– Know more about Charcoal Smoker in detail.
---
Best Charcoal Smokers
---
#1 Weber Original Kettle Premium,22″ (Overall)
Sale
Weber Original Kettle Premium Charcoal Grill, 22-Inch, Black
Holds up to 13 burgers made with a Weber burger press; Built-in lid thermometer. Rust-resistant aluminum dampers
One-Touch cleaning system with high-capacity ash catcher provides hassle-free ash cleanup
Porcelain-enameled lid and bowl retain heat, and won't rust or peel
Use the lid hook to avoid placing the lid on the ground while grilling
Cooking grate is hinged for easily adding charcoal while grilling
Features & Specs
Material: Porcelain
Color: Black
Item Dimensions LxWxH: 39.5 x 22.5 x 27 inches
Item Weight: 32.3 Pounds
A Weber Original grill smoker combo is a wonderful alternative for you if you want to save money and space by obtaining a grill and a smoker at the same time..
The Bad
Difficult to assemble
It's a little difficult to connect every little part.
Fixing the handle and leg is quite challenging because it must be tight.
Ash can is hard to remove
It barely fits into the receiver, and attaching the can requires squeezing the handle and pushing it in precisely the correct way.
The Good
Smokey flavor
Cooking in a smoker imparts a smokey flavor to the meal.
And this smoker will provide you the smokey flavor, making your cuisine even more delicious.
Fold up design
You can fold both the sides of the grate and add charcoal easily.

Removable ash catcher
This Weber comes with an ash catcher which is removable. It makes your work even easier.
Two zone cooking
You can optimise your two-zone cooking and temperature management.

One zone can be configured for indirect cooking or smoking, while the other can be used for high-heat searing.
You'll need a charcoal basket that works well and can assist you in setting up your two-zone grilling setup.
Easy to clean
This is a compact unit so removing parts and cleaning it will not take long.
Portable
This charcoal smoker is easy to move and you can keep it anywhere wherever you want.
Allows To control airflow
Through the grill's little vents, you can control the airflow.

Cooking grate
The movable cooking grate allows for easy charcoal addition while grilling.

The cooking grate has a diameter of 21.5″, while the charcoal grate has a diameter of 17″.

The cooking grate can be used in a variety of ways. It can hold up to 13 burgers.
Grill & Smoker
You can use this Weber as a grill as well as a smoker.

With a few tweaks and extra processes, a grill smoker combo can be used as both a grill and a smoker..
Includes:
Temperature gauge.
A ash catcher.
Rust-resistant aluminum dampers.
What do I love the most?
Grilling and smoking are also possible with this Weber. In addition, it gives your prepared meal with a smoky flavor. That's sufficient for the price. Isn't it?
Quick info
Good
Small.
Portable.
You can grill and smoke.
Bad
Little hard to assemble..
#2 Realcook Vertical 17 Inch (Budget)
Sale
Realcook Vertical 17 Inch Steel Charcoal Smoker, Heavy Duty Round BBQ Grill for Outdoor Cooking, Black
【QUALITY PROTECTION】 - Build-in thermometer with detailed temperature scale and adjustable air supply on lid for greater temperature control.Porcelain-enameled water pan and charcoal pan can provide you the stable use. The heat resistant bakelite handles make transport, basting and cooking a breeze.
【COOKING SPACE】 - 2 pieces cooking grids provide total 453 square inches cooking space. With crossbar and 4 hangers inside the lid, you can smoke different sizes and shapes of meat.
【MULTI-FUNTIONAL】 - Smoking is a popular method that allows food to be preserved longer, or to impart a different flavour to food, it can be used for cold or hot smoking. Cooks different ways - smokes/grills/steams/bake/braise/roast, offers huge flexibility.
【LATCH LOCKING SYSTEM】 - It's easy to assemble and easy to use. Two layers design you can easily take them apart to transport or clean. Use as a bbq grill or a smoker it depends on you. With the latch locking system, it can provide you more stability.
【2 ACCESS DOOR】 - The advantage of 2 access door is you can open the door according you request, more flexible than the one access door. When you need to check the status of foods, you just need to open the upper door. Open the other door, you can add charcoal or wood easier.
Features & Specs
Power Source: Charcoal
Color: 17″ Charcoal
Item Weight: 18.55 Pounds
Item Dimensions LxWxH: 22 x 17 x 35 inches
Fuel Type: Charcoal
Number of Racks: 2
Total Cooking Area: 453 Sq. In.
This Realcook Vertical Charcoal Smoker includes a variety of features that will give you a good return on your investment.
Let's know about the products in detail..
The Bad
Assembly takes time
Although assembly is simple, it is worthwhile to take the time to separate the hardware, as it is all packaged together.

Door
Doors need to be bent slightly to fit properly, but they don't entirely close.

Charcoal pan
It would be better if the charcoal pan was a little larger.
The Good
Adjustable  air supply and temperature
The temperature is controlled via a built-in thermometer on the lid. It also features a lid vent that allows you to control the air flow.
Two layers design
It has a two layer design that you can easily carry or clean.

Whether you use it as a grill or a smoker is entirely up to you.

You can grill with your family wherever and anywhere you choose.

This unit provides you with better stability with the latch locking method.

Pans quality
Porcelain-enamel water pans and charcoal pans can provide you with stable use and help make your BBQ even better.

Easy to assemble
It's very easy to assemble. It has a latch locking system. You can easily attach the two layers of this grill.

Access door
The benefit of having two access doors is that you can open them as needed, giving you more flexibility than if you only had one.

You only need to open the upper door to monitor the state of your food.

Open the other door to make it easy to add charcoal or wood.

Portable
It is convenient, you can move your Realcook easily anywhere.
It has heat resistant bakelite handles which allows you to transport, basting, and cooking.

Cooking space
This unit has two pieces cooking grids and it provides a total 453 square inches cooking space.
Meat's size or shape
You can smoke different sizes and shapes of meat using the crossbar and four hangers within the lid.
Multi functional
It's suitable for both cold and hot smoking. Cooks in a variety of ways, including smoking, grilling, steaming, baking, braising, and roasting, giving it a lot of versatility.
What do I love the most?
Hot and cold smoking
In this smoker, you can use hot or cold smoking to cook any size of meat.

Two layers design
It allows you to grill or smoke whatever you want.

The two doors allow you to monitor your food and add charcoal.

With a minimal budget, you can get a lot of features.
Quick info
Good
Portable.
Multifunction.
Built-in thermometer.
Bad
The charcoal pan could be a little bigger.
#3 Weber 18-inch Smokey Mountain Cooker (Beginner) 
Weber 18-inch Smokey Mountain Cooker, Charcoal Smoker,Black
Material Type: Steel
The Weber Smokey Mountain charcoal smoker helps you achieve an authentic smokehouse flavor at home
It can accommodate a whole turkey and an entire ham at the same time. Item weight- 39.1 pounds
Made of porcelain-enameled steel, this smoker comes with 2 nickel-plated 18-1/2-inch-wide cooking grates
Includes a water pan, thermometer, individual vents on bowl and lid, and heat-resistant nylon handle
Features & Specs
Color: Black
Item Weight: 39.1 Pounds
Item Dimensions LxWxH: 21 x 19 x 41 inches
Fuel Type: Charcoal
Material: Steel
Power Source: charcoal
With the Weber Smokey Mountain, Weber delivers a simple and genuine charcoal smoking.

It's a vertical smoker with plenty of space that is convenient.

If you're new to barbecuing, the Weber 18" is a great place to start.
The Bad
Hard to add water
It's difficult to add water in the middle of a smoke..
The Good
Flavor
The Weber Smokey Mountain charcoal smoker allows you to recreate the flavor of a traditional smokehouse at home.

Capacity
It has the capacity to hold a complete turkey and a whole ham at the same time.

Grates
This smoker has two nickel-plated 18-1/2-inch broad cooking grates and is made of porcelain-enameled steel.

Portable
This Weber smoker is easy to carry and move with its nylon handle. So, you can transfer anywhere.
Water pan
This unit comes with a water pan which adds moisture inside the cooking area.
In-built thermometer
The thermometer shows you what the temperature is within the smoker right now so that you can adjust the temperature as you need.
Vent on bowl and lid
There are vents in this smoker that allows to regulate the amount of oxygen and the temperature.
What do I love the most?
This smoker is easy to use and also you can carry and move effortlessly..

This Weber 18" is perfect for beginners because smoking in this smoker does not require a great deal of formality.
Quick info
Good
Portable.
Produce great flavor.
Includes Water pan.
In-built thermometer.
Bad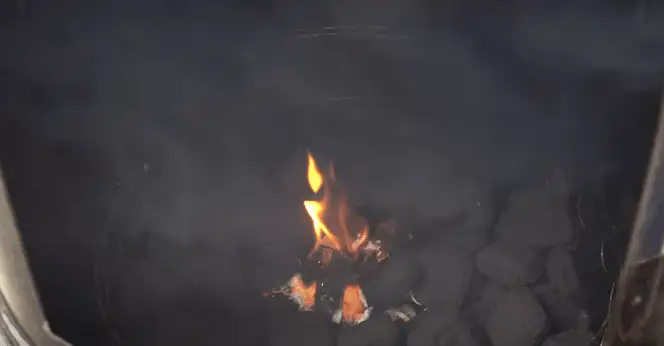 #4 Dyna-Glo DGX780BDC-D 36″ ( Best Vertical)
Dyna-Glo DGX780BDC-D 36" Vertical Charcoal Smoker Black
4 cooking grates
784 square Inch of total cooking area
Charcoal & ash management system includes charcoal chamber, charcoal grate & removable ash pan
Protect your smoker with a custom-fit Dyna-Glo premium cover - Model DG784GSC (Sold Separately)
Stainless temperature gauge with smoke zone indicates the ideal temperature for infusing smoke flavor
Features & Specs
Power Source: Charcoal
Color: Black
Item Weight: 56 Pounds
Item Dimensions LxWxH: 20.83 x 21.45 x 49.73 inches
Fuel Type: Charcoal
Material: Steel
Are you looking for the best Vertical charcoal smoker?
Let's dive in…
The Bad
Leakage
It's a common problem. You can Install a self-stick gasket to prevent leaks.

To eliminate leaking, place a gasket completely around the smoker's door.
Water pan
This unit does not come with a water pan. It is not a big issue because you can manage it using an aluminum foil bowl.
The Good
Cooking Grates
The Dyna-Glo DGX780BDC-D 36″ has four removable cooking grates that can hold huge amounts of food.

This smoker has a total cooking area of 784 square inches, which allows it to accommodate a wide range of food sizes and types.

I smoked 5 huge chicken breasts with bacon and 2 racks of ribs in my Dyna-Glo in one go.
Portable
This Dyna-Glo is very convenient. You can move easily because the smoker is lightweight.

Fits in small place
As you can see, this smoker has a great vertical shape. Its benefit is that it can be stored in a small space.

Ash pan
It has a removable ash tray that makes your work easy. It keeps filth from spreading.
Charcoal box
In this vertical smoker you will get a nice huge charcoal box which can holds more charcoals and wood.
Drip pan
This unit has a drip pan which collects all the grease and unimportant stuff.
Easy to assemble
This unit is very easy to assemble. It doesn't take much time.

Thermometer
This unit has an inbuilt  thermometer. Sometimes it doesn't show an accurate temperature.

In this term I would  recommend  buying a thermometer gauge which is suitable for this Dyna-Glo smoker.
You can also control the temperature by operating dampers…
What do I love the most?
This is the perfect vertical charcoal smoker which can put in a small place.
Helpful Tips
For more heat, close the air vents.
Add a remote meat thermostat so that it can make cooking easy and accurate. 
Quick info
Good
Need small place to keep.
Portable. 
Lightweight.
Four cooking grate.
Bad
#5 Masterbuilt Gravity Series 1050 (Best Gravity)
Sale
Masterbuilt MB20041220 Gravity Series 1050 Digital Charcoal Grill and Smoker Combo, 1050 sq. in, Black
Reaches 225°F in 10 minutes or 700°F in 15 minutes
Control temperature and cook time with the digital control panel or with smart device control using WiFi or Bluetooth
DigitalFan for precise temperature control
GravityFed hopper holds 10 lbs. of lump charcoal or 16 lbs. of briquettes for up to 8 hours of use
Convenient fold out cord storage in back of side shelf to prevent loss or damage to the power supply
Features & Specs
Power Source: Charcoal
Color: Black
Item Weight: 202.9 Pounds
Item Dimensions LxWxH: 33.07 x 61.02 x 52.17 inches
Fuel Type: Charcoal
Material: Stainless Steel, Aluminum
Cooking space: 1050 sq inches
Bluetooth: Yes 
PID Controller: Yes
Fan: Yes, Digital fan for precise temperature control.
When it comes to gravity smokers, the Masterbuilt 1050 is the first to come to mind.

So let's have a look at the reasoning for this…
The Bad
Half-burned charcoal falls to the bin
Earlier there was an issue that the charcoal used to fall into the bin without burning it completely.

If you are still going through this problem, then you can modify your charcoal grate or buy new charcoal grates so that the charcoal is not wasted.
The Good
Cooking space
As you can see, this smoker is quite large, and its cooking space is quite large as well.

So, the smoker has about 1050 sq inches of cooking space which is enough for a huge party.

This smoker is not only large, but it's also heavy, weighing in at 250 pounds with the box.
Software enable
This Masterbuilt 1050 comes with Bluetooth connectivity. You have to connect Wi-Fi with your smartphone and monitor the temperature.

This will help you because you will not have to sit next to a smoker all day and will be able to complete other tasks.

You can monitor through mobile even by staying away from the smoker.
Also it has a digital control panel that controls the temperature.

In this panel you will get an on/off and temperature control button.

Also the panel shows you the temperature in blue color.

So, this is very easy to operate..

Hopper capacity
The hopper attaches with this Gravity Fed Smoker. It can hold 10 lbs. of lump charcoal or 16 lbs. of briquettes.

That much lump charcoal goes up to 8 hours easily.

In such a vast cooking space, you can prepare a lot of food in 8 hours.

Folding racks
I love the folding racks of this smoker as I can cook any food as per requirement.

In this Gravity model you can fold the racks and smoke whatever you want which means you can grill, sear or smoke in that place.

Easy mobility
Although it is a heavy unit, you can easily move it from one place to another.

This smoker comes with very strong quality wheels which will help you to move alone without any hassle.

Also it has a nice cool handle that helps you to move your smoker.

Modification
Yes, I am going to talk about modification here because you will need it.
You don't want to exhaust stuff on a very small shelf right. Don't worry you can change it.

So you need to modify this, I mean you have to change the old shelf with a new one.

For modification please check the link.

All ready with gasket
The Masterbuilt Gravity comes with a gasket.

So in the beginning you will not face any problem.

After just assembling, you have to do seasoning and first burn then start your first cook.

Later, if the gasket gets damaged, then there is nothing to worry about because you can get a new one inserted.
What do I love the most?
Temperature 
I'm constantly experimenting with different foods. As a result, I learned that this Masterbuilt gravity smoker is quite good at cooking food at the ideal temperature.

It means, in 10 minutes, it can reach 225 degrees Fahrenheit, and in 15 minutes, it can reach 700 degrees Fahrenheit. So there is no chance of food spoilage.


Quick info
Good
It has a large capacity for cooking large quantities of food at once. 
Efficient design.
PID controlled fans.
Upgraded firmwares. 
Redesigned charcoal grates.
Quality built Material.
Heats up quite quickly.
Bad
The front shelf could have been a little larger.
#6 PK Grills Charcoal Grill and Smoker (Best High-end)
PK Grills PK 360 Portable Charcoal BBQ Grill and Smoker, Cast Aluminum Outdoor Kitchen Cooking Barbecue Grill for Camping, Backyard Grilling, Park, Tailgating, Silver
PORTABLE BBQ GRILL AND SMOKER - PK grills charcoal grill with smoker combo excels at both hot and fast (barbecue grilling) or low and slow cooking (smoking). Easy to set up with a unique capsule shape combined with 4-point venting, for real no-nonsense barbecue
FOUR POINT VENTING SYSTEM - Portable charcoal grill features two adjustable air intakes and two adjustable exhaust vents for maximum heat control in the cooking chambers. Enjoy hot and fast barbeque, sear meat, burgers, bird. Adjust heat for slow cooked meats, brisket, tender pork ribs, steak.
TWO ZONE HEATING - Zone 1 features direct heating for fast, sizzling char-grill. Zone 2 cooks food with indirect heat, great for smoking and slow cooked meats. Our bbq smoker can also be setup for cooking in two separate heating zones in one barbeque simultaneously.
CAST ALUMINIUM CAPSULE DESIGN - Superior, rust proof, thick cast aluminum bbq grill distributes heat evenly and 4x faster than steel, giving you the perfect cook every time. Capsule volume: 5374 Cubic Inches. All Pk grills are exceptionally durable, built to cook, and built to last.
PORTABLE OUTDOOR GRILL - Charcoal bbq grill detaches from its stand (riser) for independent use, easy to transport, sits on tabletops or other surfaces. This portable barbecue grill can be used as a backyard grill, camping grill, tailgate grill, travel grill, camp grill, and more.
Features & Specs
Color: Silver
Item Weight: 90 Pounds
Item Dimensions LxWxH: 23 x 54 x 43 inches
Fuel Type: Charcoal
Cooking surface: 360 sq inches
However, this Portable Kitchen (PK) Grill and Smoker is the next model from the original PK, its quality is not inferior to the rest of the smokers.

The PK360 has a capsule-shaped oven, a wider cooking surface, and radial and cylinder vents for temperature control precision.
The Bad
Smoker's low height
The height of the PK360 is very less, which can be a problem for a tall person. And cannot increase its height.
The Good
High quality  materials
The PK360 comes with a thick aluminum cast capsule.

Which means it has excellent heat conduction and can provide a consistent temperature even in the cold weather.
This versatile Grill and Smoker thick cast aluminum which never rust.

This smoker is very durable.
Also it has two reinforced high-heat resistant shelves of 218 square inches that allows you to keep your stuff.

Temperature 
It has a built-in Tel-Tru thermometer to display accurate temperature.

The radial and cylinder vents will assist you in getting the air intake to the ideal temperature.

I noticed that apart from controlling the temperature in this combo smoker, the temperature constant is also there during cooking.

Venting system
For maximum heat control in the cooking chambers, this smoker has two adjustable air intakes and two adjustable exhaust vents.

Cylinder vents are rarely found in any other smoker. You can find it on the bottom of the cooking capsule which rotates and enables airflow.
The cylinder vent makes this smoker unique.
Two zone
In this unit you can cook with direct and indirect heat.

In direct heat you will get more heat and fast grilling which allows you to sear meat, burger etc.

And the indirect heat means low and slow cooking and smoking which allows you to adjust heat for slow cooked meats, brisket, tender pork ribs, steak etc.
Cooking surface
It has stainless steel grates. You can cook large cuts of meat on about 360 sq inches of cooking surface.
And at the same time it's also possible to have upright chickens and multiple cuts of Boston Butt.

The PK360 has an benefit over its circular grill-and-smoker competitors because of its capsule design.

The hinged metal rack makes it easy to add charcoal or wood pellets while slow cooking or smoking meats.
Portability
This smoker is short and small so you can move easily. This is a portable kitchen smoker but you can use it also for camping or tailgating.

You can easily separate the capsule from the Control Tower stand for easy packing.

It has a sturdy wheel which helps you to shift one to another place..
What do I love the most?
Cylinder vent
The smoker has a cylinder vent which controls the airflow for ideal temperature.

This smoker depends on not only circular vents for better performance.

But it makes you worry free through both the vents.

Perfect for backyard
The PK360 is also ideal for a complete outdoor kitchen in the backyard.

Also you can use it for camping or tailgating.
Its material is very good and never gets rusty.

And, perhaps, as a result of all of these qualities, it's worth is a little high.
Quick info
Good
PK360 is made of rust-resistant, thick aluminium cast.
Cooking surface is 360 square inches.
Direct or indirect heat cooking with two-zone heating.
Radial and cylinder air vents control temperature and airflow .
Tel-Tru Thermometer.
It has a waterproof cover that also serves as a carry bag.
Bad
Cleaning up the ash could be more efficient.
There is no way to modify the height.
Little expensive.
FAQs
# What kind of wood can you use in a Charcoal Smoker?
We can use hickory, cherry, apple and oak wood in a Charcoal Smokers.

You should use hardwoods to get nice aroma or flavor..
# Can you put wood chunk directly on charcoal?
Yes, we can use wood chunks. Additionally, you can load wood chips in a smoker box separately and then put them in a cooking chamber…
# Conclusion
The top charcoal smokers available today offer exceptional flavor and adjustability for smokers.
The greatest charcoal smokers in their class have a reliable construction, precise temperature control, and efficient heat transfer.
They satisfy a range of smoking requirements because to their adjustable airflow systems and sizable cooking areas.
By purchasing one of these recommended charcoal smokers, users may boost their smoking game and enjoy the authentically smoky flavors that only charcoal can create.