Looking for the Best Backyard Offset Smoker?
You are in the appropriate location…

I have explained here about Offset Smokers which are suitable for your backyard..

Here's a List of Backyard Offset Smokers:

I've also covered usage instructions for the backyard offset smoker and relevant queries.

Dive in for more information…,
Recommended Reading-
– Choose an offset smoker based on your needs: Not all offset smokers are created equal. Discover how to select an offset smoker that meets your specific needs.

– Offset Smoker for Beginner: If you're new to the world of smoking, I've got you covered. Begin your adventure with this beginner-friendly guide to offset smokers.

– Know more about small Offset Smoker: Have limited space but still crave that smoky flavor? Learn about small offset smokers that fit perfectly in cozy spaces.
3 Top picks- Best Backyard Offset Smoker.
Features & Specs
Brand: Oklahoma Joe's
Color: Black
Outer Material: Stainless Steel
Item Weight: 180.8 Pounds
Item Dimensions LxWxH: 33.5 x 57 x 53 inches
Inner Material:  Stainless-steel
Fuel Type: Charcoal
Cooking surface: 900 Square inch
Talking about backyard or offset smoker, you cannot ignore Oklahoma Joe's Highland reverse flow smoker.

Let us know about this unit in detail…
The Bad
The paint peels off from the fire chamber.
The fire chamber's paint starts to flake off almost quickly. But don't worry; the firebox is constructed of high-quality materials.

This smoker leaks.
Although it also leaks like other smokers, you can fix it with the help of a gasket..
The Good
Durable smoker
It is made of good materials. It has porcelain-coated cooking grates and a strong gauge all-steel structure.

Changeable smokestack
It has a moveable smokestack so you can use it as a traditional or reverse flow smoker.

There are two optional smokestack locations above the smoker, you can mount it on any side.

Easy to use
This smoker is amazing. You can manage easily whenever the temperature fluctuates.
It is also simple to carry around…

Thicker baffles
This smoker comes with four baffles that are locked under porcelain-coated wire grates.
The heat travels under the baffles..
The baffles perform superbly! They ensure that the cooking surface is heated very evenly.

Versatile smoker
In this smoker, not only you can smoke but you can also grill..
The firebox of this smoker is suitable for grilling. So it allows you to easily grill your favorite food..
What do I love the most?
One thing I like is that it is a very durable unit, although it is a bit bulky.
It allows you to grill as well as smoke, which is another feature I appreciate.
Quick Info
Pros:
Durable.
Multipurpose unit.
Heavy Duty.
Sturdy wheel.
Cons:
Paint peeling.
Leakage issue.
Features & Specs
Product Dimensions: 20.5 x 43.3 x 20.9 inches
Item Weight: 140 pounds
Manufacturer: Char-Griller
Total cooking area: 719 square inch.
The Char-Griller Competition Pro 8125 is a grill that performs admirably.

This grill comes with a lot of space which allows you to cook your favorite food..
The Bad
The paint peels off from the fire chamber
The paint gets removed quickly from the firebox of this smoker. But with the help of some modifications, you can get rid of this kind of issue.

Cooking surface
It consists of three sheets of steel or iron with a 1″ frame instead of a wire rack.

It is tough to maintain or even clean because of the shape of the metal's holes.

Whenever food is placed on top of the frame, it cooks more quickly.

You can replace the sheets…
The Good
The temperature is easy to control.
The side box fire door and the smoke stack lever make it simple to regulate the heat and smoke.

Adjustable dampers will help you to maximize the heat.

Shelf for storage
There is a sizable bottom shelf and a good-sized front shelf for storage.
Moreover, there are usable hooks for hanging kitchenware.

Strong wheels
It comes with steel wheels which are sturdy and big. You may need support to move it.

Lid handle that stays cool.
The handle for the lid is designed to stay cool.
There may be some heat loss on the seal, but you get a neat tool to help you get rid of the leak.
What do I love the most?
This grill has more cooking space, so it is a very good grill for a large family.
Moreover  the handle of the lead remains cool, which is a must for safety.
This low cost grill is built with all the features that an expensive grill offers.
Quick Info
Pros:
Handle designed to cool.
Large cooking space.
Temperature easy to adjust.
Cons:
There is no way to drain grease in the cooking area.
Features & Specs
Brand: Dyna-Glo
Materia: Porcelain enameled steel
Color: Black powder coat
Item Dimensions LxWxH: 67 x 34.5 x 60 inches
Item Weight: 169.4 Pounds
Total Cooking Area (sq. in.): 962 sq. in.
With this smoker from the Dyna-Glo, you can cook with ease due to its amazing features and ample space.
Temperature adjustment is also simple.
The Bad
Removing the ashes is a bit of a hassle.
The ashes are difficult to remove. There isn't a gap. If the ashes could be readily scooped out, it might be better.
The Good
Heavy Duty
This  multifunctional unit is made of porcelain enameled steel which allows for maximum heat transfer and searing.

If we talk about the weight of this appliance, then its weight is 169.4 pounds which is quite heavy.

Easy to maintain
Anyone can use this smoker because it doesn't need much upkeep.
However, like any other smoker, it is your duty to protect it from inclement weather.
The temperature will fluctuate, but you will have the entire freedom to adapt.
Additionally, cleaning the porcelain-enameled steel cooking grates is simple.

Solid and long-lasting
It boasts a heavy-gauge steel body construction that resists rusting and allows for prolonged cooking.

Due to the thickness of the metal, it retains heat well.

High cooking capacity
Its cooking chamber is capable of cooking food for many people. Also it allows grilling in the fire chamber.
It is more suitable for a restaurant, a party, or another significant user.
Simple to install
Although it is a heavy unit, you can easily assemble it with the help of the given instruction.

Combined Grill and Smoker
In this smoker, there are two ways to cook. In two different chambers, you can simultaneously grill and smoke food.
What do I love the most?
I really enjoy how you can raise or lower the sturdy shelf, which is a huge advantage.
Another good thing about it is that it comes with big metal wheels.
Quick Info
Pros:
Durable.
Multipurpose unit.
Big sturdy wheel.
Moveable shelf.
Removable charcoal grate and ash pan.
Cons:
No drip cup is provided..
# How Does an Offset Smoker operate?
You'll need wood and charcoal first, which you should place in the firebox to generate heat..

The heat and smoke travel from the smoker's firebox to the main cooking chamber and eventually they exit the chimney or stack.

You can control the temperature and amount of smoke in a smoker's cooking chamber by using a damper on the firebox and a vent above the chimney.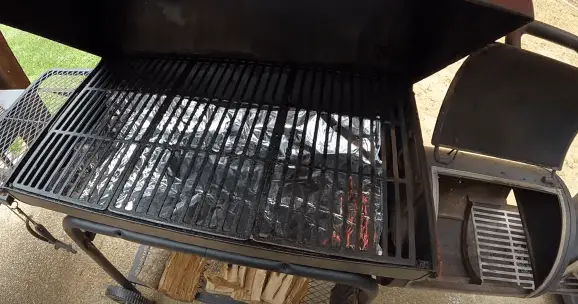 FAQs
# How thick should an Offset Smoker be?
An offset smoker needs to be at least 14 inch thick..
# Are offset smokers worth it?
Yes, offset smokers are worth it. They are perfect for preparing a lot of food at once.
You can easily add more fuel without opening the cooking chamber and also adjust the temperature and smoke levels.
# Can you use only charcoal in an offset smoker?
No, I can use or add wood chips, chunks, logs with charcoal in an offset smoker.
# Are offset smokers good for beginners?
Yes, offset smokers are good for beginners since it is easy to operate.
# Conclusion
In conclusion, the top backyard offset smokers mentioned in this post are superb choices for backyard barbecue lovers seeking to obtain real, smoky flavors.
These offset smokers have roomy cooking chambers, effective heat transfer, and accurate temperature control, resulting in reliable and mouthwatering results.
They are made to resist the rigors of outdoor cooking thanks to their sturdy structure and user-friendly features.
These top backyard offset smokers will give the smoky flavor and tender texture that barbecue enthusiasts yearn for whether you're smoking ribs, brisket, or pulled pork.
Improve your outdoor cooking skills with these dependable and effective offset smokers.