Knowing the difference between Oklahoma Joe vs Char-Griller is important. Especially if you are planning to get one.

Every smoker or grill has its flaws along with quality. Oklahoma Joe and Char-Griller are no different.

I have tried my best to explain the differences among them. It is purely based on my experiences in using both the smoker.

I hope it clears your doubt and you make your right purchase decision.
Be sure to check out

12+ Full List of top modifications of different grills, smokers and cookers etc.
---
Oklahoma Joe vs Char-Griller
---
Longhorn vs Char-Griller Grand Champ XD in Short
| | | |
| --- | --- | --- |
| Checkpoints | Longhorn Reverse Flow | Char-Griller Grand Champ XD |
| Cooking space | 1060 sq in | 1200 sq in |
| Cooking grates material | Porcelain coated | Stamped Steel |
| Grate | 4 | 2 |
| Dimension | 35.5 x 64.25 x 55.5 in | 72.13 x 34.62 x 57.00 in |
| Weight | 226 pounds | 254.0 lb |
| Ashtray | No | Yes |
| Bottom Shelves | Yes | Yes |
| Temp Gauge | Yes | Yes |
| Smoke Stack | Yes | Yes |
| Front Shelves | Yes | Yes |
The given capacity, weight, and size show that both smokers have different qualities and perform almost identically.

But I would like to mention one thing that you can convert a longhorn into a reverse flow smoker because Longhorn has an optional smokestack location.

Char-Griller has three different models.

For example-

(1) Char-Griller Grand Champ 8100,

(2) Char-Griller Grand Champ 8250, and

(3) Char-Griller Grand Champ 2020.

If I say about the thickness of the wall, then both the smoker is very thick, heavy, and they hold temperature and are well welded.

You can see both smokers' cooking chambers are different in design, mainly when it comes to baffle plates.
A Longhorn Reverse flow comes with four baffles, whereas Char-Griller has one heat deflector.

Char-Griller has an ashtray that is slidable, but the charcoal box is bottomless.
However, with Longhorn, you will get a fuel box but no ashtray and a drip pan.

Char-Griller Included dual dampers on the firebox.
Oklahoma Joe's Longhorn Reverse Flow Smoker
1,060 total Square inch cooking surface- 751 Square inches in the main chamber, 309 Square inches in the firebox chamber
Reverse-flow smoker employs a Series of 4 baffles to guide heat and smoke through the main chamber delivering an even and delicious result
Removable baffles and optional smokestack locations for a customizable setup. Number of Grates: 4
Firebox chamber features large stainless Steel fuel basket and clean-out door for easy ash removal
Heavy-gauge all-steel construction, porcelain-coated cooking grates and multiple dampers for easy heat and smoke control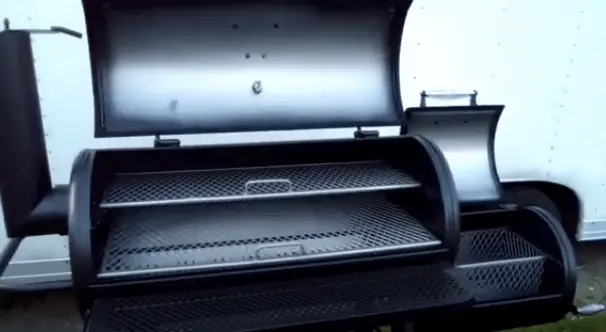 Major Difference
Cooking Space-The Longhorn has a total cooking space of 1060, and the Char-Griller Grand Champ comes with 1200 square inches.

Cooking Grates– Longhorn has four racks. You can smoke 8 lb brisket, 8 lb pork shoulders, ribs & turkey etc.

Char-Griller Grand Champ has two shelves and it can hold around eight briskets, ten chickens, and 11 ribs and fits 38 burgers.

One thing I like most is Char-Griller's heavy-duty slide-out racks, and the bottom shelf allows you to direct cook.

Dimensions (H: W: L:)- We can see here that the sizes of both smokers are different. But not too much. Char-Griller XD is a little bit bigger than Longhorn Reverse flow Smoker.

Longhorn Reverse flow smoker: L35.5 x W64.25 x H55.5 inches.

Char-Griller Grand Champ XD: Depth (in.)72.13 x Width (in.)34.62 x Height (in.)57.00 inches.

Weight- Char-Griller is heavier than a Longhorn Reverse flow smoker.

Reverse flow weighs 226 pounds, and Char-Griller Grand Champ weighs 254.0 lb.

Ashtray- Char-Griller XD has an ashtray which is slidable and easy to clean. But it will probably be sad to know that the fuel box is bottomless.

However, with Longhorn, you will get a fuel box but no ashtray.

Baffle plate- A Longhorn Reverse flow comes with four baffles, whereas Char-Griller has one heat deflector. Both smokers' baffle plates or heat indicators work well according to their design.

You can see that Char-Griller has a drip pan that is so huge and weighs 60 pounds. My opinion is you can choose which one is easy to remove and clean.

Smokestack- If you like the more smokey flavor, you must go for Longhorn reverse flow smoker.

Char-Griller XD has a big little stack, but it doesn't have optional smokestack locations. But it doesn't mean that the Char-Griller XD can not distribute the smoke the same as Reverse flow.
Other Difference
Charcoal box- According to quality Char-Griller Grand Champ has a lovely stainless steel basket, but it comes without a bottom portion. Anyway, there is an ashtray for ash and charcoal.

The reverse flow also has a stainless steel charcoal box with a bottom, and it doesn't come with an ashtray.

Sealed with Gasket– The door and lid area of a char-griller remains filled with a gasket. But reverse flow smoker doesn't come with heat leakage protection.

Temp Gauge- You have to add a gauge where the manufacturer has made a location already. Char-Griller XD allows you to add two more temp gauges on the lid, and Reverse flow will enable you to put one temp gauge on the top of the smoker.
Similarities
Front Shelves- Both smokers have sturdy shelves where you can keep or prepare anything for smoking. This shelf is a perfect workspace.

There is a place on the left side of your Char-Griller to hang your tools or tongs and I like very much of this flip-back metal shelf.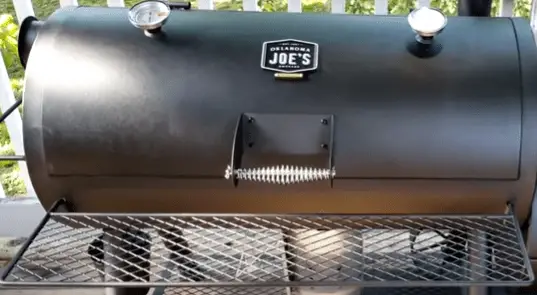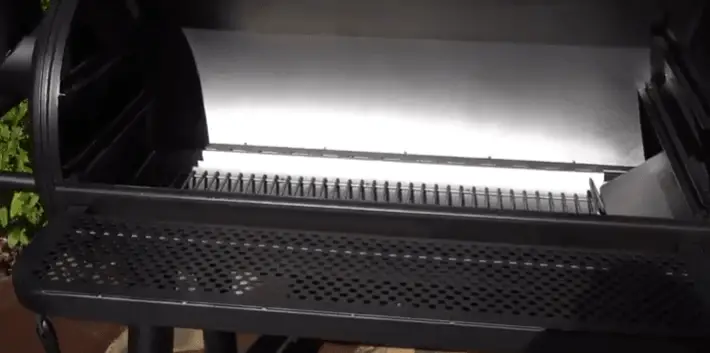 Bottom Shelves- Both smokers have bottom shelves to keep wood and stuff. I'm very impressed because I don't have to run around so much to bring any property.

Wheels- Char-Griller Grand Champ's heavy steel gauge metal wheels and Longhorn's large, wagon-style wheels make it easier to move from one place to another.

Fuel Capacity- The fuel Capacity of both smokers is almost the same. You can add on Char-Griller.

Handle- You will get cool-touch handles, similar to the firebox, which are very helpful.

Plate warmer- A plate warmer works well because it absorbs heat from the firebox and creates a lovely warm surface where you can keep prepared food warm. You can get these benefits from both smokers.

Carry Handle- You can take them to competitions or move them from the backyard to the front yard.
Issues
Reverse flow does leak smoke, so you have to do modifications wherever needed.

What I don't like

It could be better if the reverse flow had an ashtray.

What I like

And what I really like is that both of these smokers are a little taller. So whenever you smoke, you have no chance to bend yourself, and your back will not hurt you.
FAQs
Can I use a rotisserie on Char-Griller Grand Champ XD?
No. Because there is not any rotisserie attachment.
Can I use a wood log on Char-Griller XD?
Yes. But wood produces more heat which can damage the finish of your firebox.
What is the metal thickness of Char-Griller's main cooking chamber and lid?
It is 12 gauge carbon steel.
What's the metal thickness of the fire pit and barrel of the Longhorn Reverse flow smoker?
1″ 1/10th of an inch.
Is there a drain in the pit of the Reverse Flow Smoker?
Yes, there is a drain and a hook for a bucket.
Where do I get a Temperature Gauge for a Longhorn Reverse flow smoker?
You can easily get one on amazon . Here is one that I recommend.
3 1/8 inch Charcoal Grill Temperature Gauge, Accurate BBQ Grill Smoker Thermometer Gauge Replacement for Oklahoma Joe's Smokers, and Smoker Wood Charcoal Pit, Large Face Grill Temp Thermometer
This BBQ Grill Smoker Thermometer perfectly fits for Oklahoma Joe's smokers and most smokers or grills with 13/16 inch opening or hole.
with extreme accuracy, extra 3'' long stainless steel probe rod for accurate temperature readings and precisely measures internal temperatures of food with a quick 3 to 4 second response time.
3 1/8'' large 3 color coded zones grill thermometer with enlarged degree scales and numbers, easy data reading, allows you to grasp the temperature at a glance even at night. Face reads 100 to 550 °F
This grill temperature gauge is made out of stainless steel, which is sturdy and rust resisting, a safety and durability for your family.
Just insert the stem through the hole on your grill, and attach the kit included. This temperature gauge is designed to be mounted at the outer of grills, if utilized in liquid or environments with a good deal steam, may additionally fogged up with condensation, but the condensation will disappeared after some time.