Knowing the difference between Char Griller 980 vs Masterbuilt 1050 is important.
Especially if you are planning to purchase one.

I should say both the smokers are really good.
But like always I have tried to list out their goods and bad.

These information should help you to understand their major and minor differences.

Lets begin….,
Recommended Reading
– Oklahoma Joe vs Char-Griller (Longhorn vs Grand Champ)
– Char Griller Gravity 980 Mods
– 10 Effective Masterbuilt 1050 Mods
– Know about Char Griller Gravity Fed 980 in detail.
– Masterbuilt 560 vs 800 vs 1050.
– Learn what is the best Gravity Smoker.
Char Griller 980 vs Masterbuilt 1050 (In Short).
| | | |
| --- | --- | --- |
| Checkpoints | Masterbuilt 1050 | Char Griller 980 |
| Cooking Space | 1050 | 980 |
| Cooking Grates Material | Porcelain coated racks | Porcelain-Coated Cast Iron |
| Dimension (L.W.H) | 33.07 x 61.02 x 52.16 | 64.6 x 34.4 x 51.4 |
| Weight | 202.90 lbs | 213.0 lb |
| Folding Front Shelf | Yes | Yes |
| App | Yes | Yes |
| Controller | Yes | Yes |
| Bluetooth and WiFi | 2 | 1 |
| Slide Damper | Yes | Yes |
| Temp Gauge | Yes | No |
| Triple Walled Insulated Hopper | No | Yes |
| Ash pan | Yes | Yes |
| Grease cup | Yes | Yes |
| Bottom Shelves | Yes | Yes |
| | Check Price | Check Price |
Both grills work well. However, there is a difference in the design and size of both..
There were some issues with Masterbuilt, so they changed so many things in interior and exterior design.
As you know, about three-quarters of the hopper where you put your charcoal.
It's a great design of Masterbuilt.
When it comes to hoppers, you can not deny the Char-Griller one because you can independently lift its hopper and the best thing is Char-Griller hopper is triple-walled insulated.

Both grills hopper allows you to put Briquettes and lump charcoal, and you can mix chunks of natural wood in there to give you some additional smoke.
They both have a burn grate according to their grill size..

Masterbuilt has a nice burn grate which won't let the little piece of charcoal fall.
I appreciate the second design of Masterbuilt 1050. But according to thickness, the Char-Griller burn grate will last longer.
Masterbuilt and Char-Griller both come with ash buckets. The sizes are different, but no issue with their materials.
Another thing about both the grills is that both come in the market after being sealed with a gasket.
You can see the firebox door and lid attached with a gasket.
Not only there, but you can notice the gasket also around on the top of the hopper and lid.

But they have different gaskets.
Char griller added some high heat gasket, whereas Masterbuilt comes with a rubber-type gasket.

You can replace these gaskets. If you want to replace it, check out this modification post.
You can see their different locking systems, which are sturdy and easy to use.
You can adjust the tightness in Masterbuilt.
I have not faced any difficulty from both till now..
Talking about the controller, then my opinion goes to Masterbuilt because I tested both controllers temp.
Masterbuilt was showing the correct temperature, so a Masterbuilt air controller is better for me.
Additional heat diffuser allows you to be low and slow cook with all 980 cooking surfaces..
Masterbuilt doesn't have a heat deflector. You can't use low and slow on the bottom grate of 1050.
When it comes to searing, they both work well. But, Masterbuilt sears better.
They both have grease cups to collect grease.
I like the internal design and system of the Char griller for grease collecting.

You can add rotisserie in Masterbuilt and Char-Griller 980. The modification process is available in my other post. Please check out if you are interested…
Masterbuilt MB20041220 Gravity Series 1050 Digital Charcoal Grill and Smoker Combo, 1050 sq. in, Black
Reaches 225°F in 10 minutes or 700°F in 15 minutes
Control temperature and cook time with the digital control panel or with smart device control using WiFi or Bluetooth
DigitalFan for precise temperature control
GravityFed hopper holds 10 lbs. of lump charcoal or 16 lbs. of briquettes for up to 8 hours of use
Convenient fold out cord storage in back of side shelf to prevent loss or damage to the power supply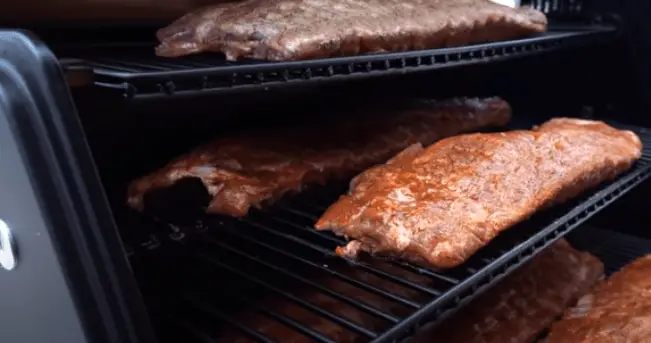 # Major Difference
Cooking Space: Masterbuilt comes with about 1050 sq inches of cooking surface, and Char-Griller Gravity Fed has 980 sq inches of cooking space.

You can smoke ribs, chicken, sausages, burgers and more in Masterbuilt.
Char-Griller also allows you to smoke baby backs, burgers, chicken wings, boneless skinless thighs etc.
That means both grills are experts to smoke, grill, sear, bake, roast, and so much more.

But you can't smoke for a huge party or family in Char-Griller 980. Masterbuilt is just the opposite. 

Cooking Grates: Masterbuilt have three levels of cast iron, and then porcelain coated grates.

Char-Griller has five individual top grates which are easy to remove and clean.

Masterbuilt grates are slidable. You can lift them, put those back, and you can store them in place.

Dimensions (H.W.L): If the Masterbuilt is bigger than Char griller 980, then obviously, the measurement is also high and different from the Masterbuilt.

Masterbuilt 1050 (HWL)- 52.16 x 61.02x 33.07

Char Griller 980 (LWH)- 64.6 x 34.4 x 51.4

Weight: Unbelievable. According to cooking space, Masterbuilt 1050 is more significant than Char griller 980, but when it comes to weight, Char griller is heavier than Masterbuilt 1050.
Not too much, but Char griller is heavy. 

So, here are the weights of both grills.

Masterbuilt 1050- 202.90 lb

Char-Griller 980- 213.0 lb
# Other Difference
Hopper: When it comes to hoppers, Masterbuilt 1050 and Char-Griller 980 both are about the same.

Masterbuilt 1050 can hold 10 lbs. of lump charcoal or 16 lbs. of briquettes.
Three quarters designed hopper does an excellent job.

A Char-Griller 980 hopper can hold about 12 pounds of regular Kingsford.

You can use Char-Griller full hopper for about 10 and 12 hours and Masterbuilt 8 to 10 hours.

But here I want to tell you that it is not only about the thickness that will bring good results.
How often you're opening up the lid and what type of fuel you are using like Briquettes or Lump Charcoal these all kinds of activities effects temperature fluctuations.

By the way, the Char-Griller hopper is triple-walled insulated and removable.
Its heat resistance material helps a little bit longer to hit consistency. Great design.

Front Shelves: Let's talk about front shelves. Char-Griller comes out about ten and a quarter inches, whereas Masterbuilt comes about eight and a quarter inches on a stainless steel shelf.
Both shelves are fold-able…

Wall: Char griller has the cylindrical type design, and Masterbuilt has a box design. They are both double-walled insulation.

Vent: The vent on the char griller is adjustable. Awesome design. 

Master built has a bigger one with a smaller slit on the backside, and that one completely open means there is no cover or anything.
So, it would help if you protected the vent from wind, rain and snow. It works pretty nice, and I don't have an issue with it.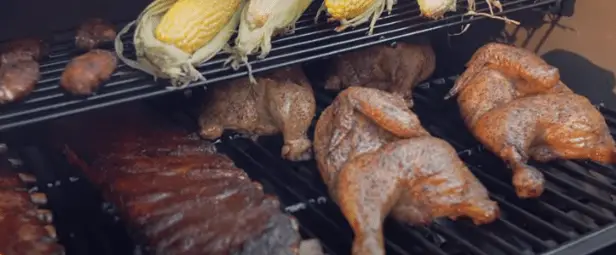 # Similarities between the Char-Griller Gravity 980 and Masterbuilt Gravity Series 1050 Smokers.
Controller and the App: The controller is mounted on the left side of both smokers, and both have tool holders off to the side. 

You can download new firmware. Masterbuilt had some problems with their controller, but they fixed it. 

Both have WiFi and Bluetooth connectivity. 5g doesn't work well with Char-Griller 980.

Masterbuilt has a little drawer backside where you can put fire starters and temp probes etc..

Bottom Shelves: They both have full bottom shelves eight inches. You can keep logs, charcoal bags or utensils.
They both have three-inch locking casters in front, so their side shelves are the same.

Slides (Damper): Masterbuilt has two sliders that you can pull out.
A little holder is located near the hopper to keep the slides.
On the other hand, you will get one slide with Char-Griller.
You can store it on the back..

Temp Gauge: Masterbuilt 1050 has a built-in temp gauge. In the case of Char-Griller Grand Champ XD you can add a temp gauge.

You can check my other article for modifications. There you will be able to know how to fix two gauges on a Char-Griller lid and more.

Meat Probe: They both have a place to put your meat probe. It's a good addition.

Char-Griller has two probes, and Masterbuilt has four probes, but you will get only one probe with both grills.
Although you have four options with Masterbuilt and you have two options in Char-Griller.

They both have temp probes. Masterbuilt says more accurate temp than Char-Griller.

Wheels: They both have three-inch sturdy locking casters in front.

Fuel Capacity: Masterbuilt 1050 can hold 10 lbs. of lump charcoal or 16 lbs. of briquettes similar to Char-Griller 980.

Fan: Both grilles have digital fans that a PID controller controls.
On the Masterbuilt, it's underneath the grill, and on the Char-Griller, it's mounted underneath the box.

Char-Griller has a turbo button for the fan; when you hit that, you can get up to 700 degrees.
With WiFi, it works well because you can control it easily.

Safety Device: A safety device is also an essential part of the grill.
If you were to open the hopper while it's running, the fan doesn't run, and the fan will not be able to do the work of moving the heat.

So, in Masterbuilt, you have two devices, one down on the charcoal hopper and one on the top.
Char-Griller also has one safety device on top of the hopper…
# Common Issues
Painting: The painting peels out over time in both smokers, especially the internal walls of the hopper lid..
What I like
Char-Griller 980 has a very effective heat deflector that is wide enough.
It spans the heat manifold, and you don't have to worry about grease coming into contact and causing unnecessary flare-ups.
Another thing I like most is the accurate temperature of Masterbuilt 1050..
What I don't like
It would have been great if Amazon could get ready-made modification equipment.
For example- vent slide, hopper cover kit, stainless steel firebox etc.

From where I am, it is difficult to purchase from any other site. Also I can't buy stuff to modify except gasket.

Perhaps other people like me would also find it difficult to purchases goods and modify..
# Conclusion
Overall Masterbuilt 1050 is the way to go for me.
Although Char Griller 980 has lot of similarities, Masterbuilt 1050 slightly has advantage over Char Griller in few areas. .

# Accessories:
FAQs
# What paint should I use on the Masterbuilt?
You can use Header Paint from Rust-Oleum on the Masterbuilt..
# How to wrap heat deflector parts in aluminum foil for easier cleanup?
Check out- Diffuser Modification to wrap heat deflector parts in aluminum foil for easier cleanup. 
# Can I leave the remaining charcoal in the Masterbuilt hopper?
Yes, you can leave the remaining charcoal in the Masterbuilt hopper.
# Does Masterbuilt have a cold smoke accessory attachment?
No. Presently Masterbuilt have no cold smoke accessory attachment.
# Should I clean my grill on a regular basis?
Yes. After each use, clean your grates and add a light coat of oil to them..
# What is the Masterbuilt Gravity Series 1050 burn-in procedure?
Steps to follow:
Fill the hopper with charcoal and close the lid.
Remove the dampers.
Light the charcoal.

Open the firebox door and put the fire starter in its place.
Now light the fire starter and close the door.

Activate your smoker's power.

Press the power button.
Set the temperature at 250 degrees.

Allow the temperature to rise to 400 degrees.
Allow it to cool once all of the coal has burned out.
Spray cooking oil inside the cooking chamber.
Now it is ready to cook..