Initially I struggled finding out a good resource for Char Griller Gravity 980 Mods.

After a lot of research and a lot of queries with the people I know, I managed to try modifications on my own.

I have put them together for people who are in a similar struggle. After all, my blog is all about the solutions and my experiences.

So here are my top Char Griller Gravity 980 Mods that worked charm.

And it is still one of my best attempts at modifications.

Hope it helps you in the same way.

Let's begin..
Also some smoker modifications frequently asked for that might be helpful :
Be sure to check out

12+ Full List of top modifications of different grills, smokers and cookers etc.
---
Char Griller Gravity 980 Mods
---
Mod 1 : Diffuser Modification.
# How to Modify a Diffuser?
Equipment:
Reynolds Wrap Non-Stick Aluminum Foil, 95 Square Feet
NON-STICK ALUMINUM ROLL—This package contains one Reynolds Wrap Non-Stick aluminum foil roll measuring 95 square feet
#1 BRAND OF ALUMINUM FOIL—Backed by over 70 years of quality & strength, home cooks of all kinds trust Reynolds foil for easy prepping, cooking & cleanup
FOOD LIFTS RIGHT OFF—Place foods on the dull side of this baking foil for easy removal from pans, or use to cover dishes with sticky toppings to ensure a perfect presentation when foil is removed
LOCKS IN FLAVOR—Use this versatile kitchen foil to cook packet meals, tent roasted meats, cover casseroles, protect leftovers from freezer burn & more
COVERS, PACKAGES & STORES—Whether you're covering pans to avoid messy splatters, wrapping food in a packet for maximum flavor & texture or simply storing leftovers, Reynolds aluminum wrap does it all
Steps:
Step 1: Remove the diffuser from your griller and place it on the table.
Step 2: Take a sheet slightly larger than the size of the diffuser so that it is easier to wrap.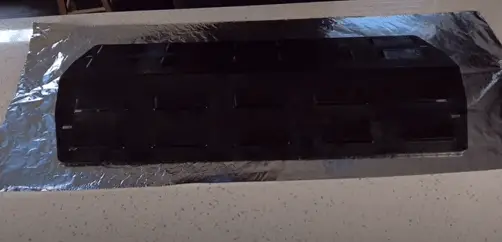 Step 3: Keep diffuser on the foil
Step 4: The bottom side of the diffuser should be up.
Step 5: Wrap around the diffuser with a sheet.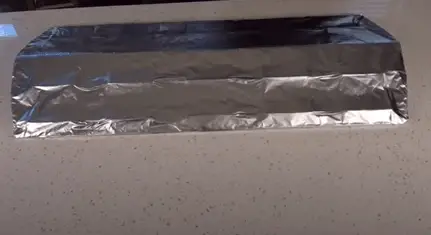 Step 6: After wrapping, flip up the wrapped diffuser.
Step 7: Get a good press down with your both palms.
Step 8: Take a knife and cut into each of these slits.
Step 9: Prepared Diffuser.
Step 10: If you are going to sear something, you can take the foil off.
Mod 2 : Sealing the Hopper
# How to seal up the Charcoal Hopper on the Gravity Series Char-Griller?
Equipment:
Fireblack® Hi Temp BBQ smoker Gasket Self Stick 15 ft High Heat 1/2 x 1/8 Black
🔥 【BLACK COLOR】Black 1/2 x 1/8" bbq smoker gasket. 15 Feet Long
🔥 【PROFESSIONAL GRADE】 FireBlack BBQ smoker gaskets
🔥 【HIGH HEAT】 BBQ smoker gasket self stick w/ LavaLock adhesive
🔥 【HIGH TEMP ADHESIVE】 - Easy Self stick application, just close and let rest lid to cure.
🔥 【MADE IN USA】 Perfect for BBQ smokers that needs to be sealed up. Our bbq smoker Gaskets carry expert USA support & Ship quick
J-B Weld 31314 High Temperature RTV Silicone Gasket Maker and Sealant - Red - 3 oz.
HI TEMP RED SILICONE GASKET MAKER & SEALANT: Is an RTV (Room Temperature Vulcanized) Silicone gasketing material, designed for use in mechanical assemblies where the existence of higher, continuous temperatures up to 550º F or 650º F intermittent might exist
COUNT ON US: For more than 40 years, our products have earned a loyal following from people who take pride in their work. With each product we innovate, we continue to provide the world's strongest bond for your projects
EASY TO USE: Curing when the product is exposed to the moisture in air, it forms a tough, waterproof seal on most surfaces. It will not shrink or crack, resists weathering and is sensor safe
VERSATILE & DEPENDABLE: Ideal for automotive, metal, oil pans, exhaust manifolds, water pumps, timing covers, differential covers, drive housings and oven doors
DO IT YOURSELF: Big or small, you can DIY it with J-B. Our heavy duty adhesives repair & restore it right the first time. JB Weld delivers the legendary performance of the World's Strongest Bond
Steps:
Step 1: Cut the gasket with a scissor according to the hopper top size.
Step 2: Open the hopper lid and put gasket material around the hopper with the help of Hi-Temp RTV.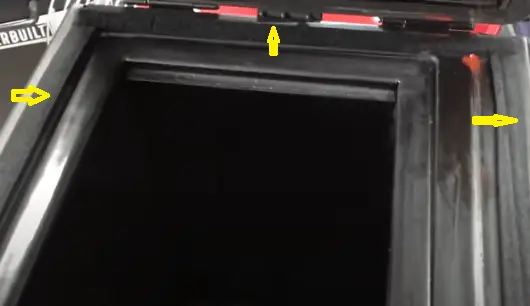 Mod 3 : Adding a Rotisserie.
# How to add a Rotisserie?
Equipment:
Steps:
Step 1: Mark the places where you make holes on your grill.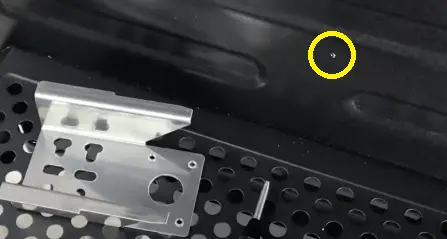 Step 2: Drill both sides near the grate holder to fix the brackets.
Step 3: Fix the bracket near the right grate holder with a sheet metal screw.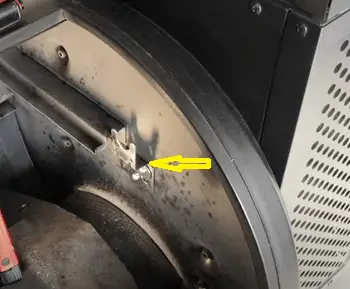 Step 4: Next, the motor mounting bracket will mount on the left side of the smoker near the side table.
Step 5: Drill one more hole to hold the rotisserie according to the motor mounting bracket hole.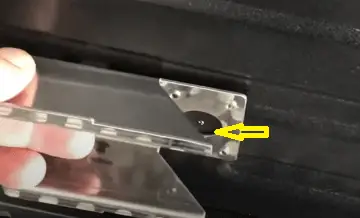 Step 6: Measure from the motor mounting bracket to the opposite side where the other bracket is located. So that you can know what the length of the rotisserie should be.
Step 7: Fix the thumbscrew with rotisserie to attach on the right side bracket.
Step 8: Attach the rotisserie with the motor through the bracket hole and fix the rest of the end with the right side bracket.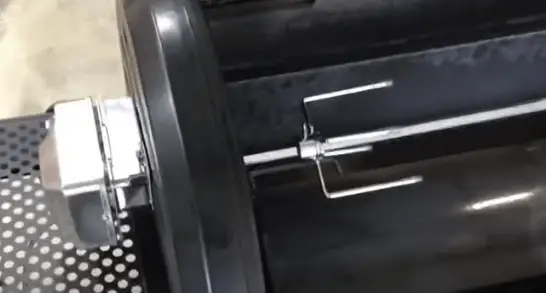 Mod 4 : Adding a Temp Gauge.
# How to add a Temp Gauge?
Equipment:
It's incredibly simple.
Steps:
Step 1: Mark those places at the same distance from the "char-griller" sticker located on the top of the lid.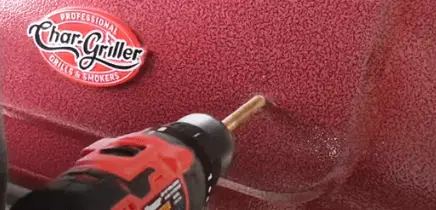 Step 2: Drill on the two marks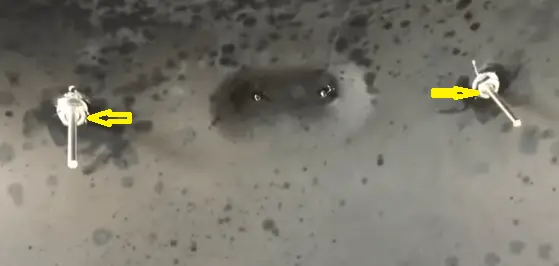 Step 3: Fix the temp gauge.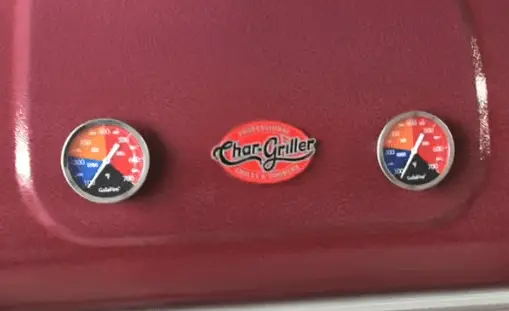 # How to Burn-in and Season Char-griller 980?
Take off all the racks and diffuser and spray canola oil or any cooking oil inside the grill.
You can coat the metal surfaces inside of the grill and drip tray.
Keep back racks and all and spray on them.
Close the lid of your grill.
Poor charcoal in the hopper and open the lid for airflow.
Open the fan cover door and ash clean out door.
Remove the damper and open the back vent.
Get on fire with starters or paper towels.
Close the hopper lid after 5 minutes or when you see the smoke billowing from the hopper. And also close the ash cleanout door.
Press your power button, turn it on, and set the temperature at 345F for 30 to 90 minutes.
Turn on the turbo button.
After the procedure unplugged your grill.
Close the fingerboard and keep back the damper.
FAQs
# Why is the Char-Griller 980 Gravity better?
Because it is easy to use, you can set your desired temperature and let it.
The onboard digital controller, automatic fan, and char griller app does the rest of the process.
Also, it is designed to maximize fuel efficiency.
The insulated grill's body and the charcoal hopper provide consistent heat and temp.
Char-Griller 980 is durable and lasts longer.
# What to do for extra smoke on Char-Griller 980?
Take pieces of wood chunks and keep those in the ash pan.
The little bits of coal and ash will fall from inside the firebox, and they slowly ignite the chunks and produce smoke.
This way, you will get extra smoke.
Or you can add directly to the charcoal hopper doing layers like a bit of charcoal first, then add a little more wood chunk.
You can repeat according to your need.
# How do I connect my Char-Griller 980 to WIFI?
Download the Char-Griller app, select Bluetooth or wi-fi from the setting page, then enter the controller's code.
# Why should I modify a diffuser of char-griller 980?
Because a modified diffuser can control the temperature and it doesn't affect your unevenness of cooking.
It will be easier to smoke, grill and barbecue, and catch some foodstuff or sauce in the bottom of the grill.

It's a good idea to keep your diffuser clean by using the foil in a diffuser.