Are you looking for a Masterbuilt Gravity Series 800 Review? You are in the correct spot.

Here you will know about the Masterbuilt 800 in detail.
In addition to providing a thorough explanation, I also discussed both the benefits and drawbacks.

If you want to know all the things in a short time, then you can see the short review given below.
Let's begin…,
Recommended reading:
– Char Griller 980 vs Masterbuilt 800
– Comparison of Masterbuilt 560 vs 800 vs 1050
– Know more about Char Griller Gravity Fed 980.
– Learn about different gravity smoker/grill.
– Masterbuilt 800 modification
Masterbuilt Gravity Series 800 Review-in detail.
# Quick Review
Checkpoints
Masterbuilt 800
Usage of the unit
Grill, Smoker, Griddle
Temperature Range (F)
100-700
Cooking Space
800 sq inches
Dimension (H.W.L)
51″ x 55″ x 30"
Cooking Grates Material
Reversible smoke/sear grates, Porcelain coated warming/smoking racks
Front Shelves
Yes
Stainless Steel
Bottom Shelves
Yes
App
Yes
Controller
Yes
Power Cord
Management Bracket
Yes
Drip Tray Location
Under the grates or food
Ash pan
Yes
Weight
204 pounds
Triple Walled Insulated Hopper
Double wall
Temp Gauge
Yes
Wheels
Yes
Black treaded wheel with gray hub and spokes
Inner Walls
Porcelain-Coated
Check Price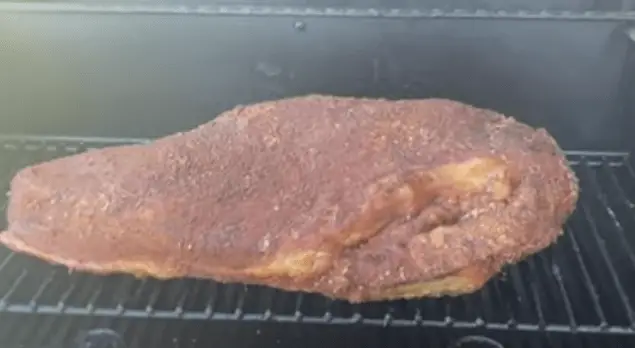 # About the product 
The Good
Reversible Grates.(one side for smoking and the other for grilling.)
Comes with a probe port. (to insert probe wires)
Foldable front shelf.
Comes with a griddle.
The controller includes a timer.
Easy to assemble..
The Bad
The paint of the Masterbuilt 800 Smoker tends to peel off very quickly.
The number of grates is less.
# Features and Specs
Brand: Masterbuilt
Model Name: Gravity Series 800 Griddle
Power Source: Charcoal
Color: Black
Outer Material: Iron
Item Weight: 204.2 Pounds
Item Dimensions LxWxH: 55 x 31 x 51 inches
Inner Material: stainless_steel
Fuel Type: Charcoal
Cooking Space: 800 total square inches of cooking area
Racks: two porcelain-coated smoking racks
Hopper Holds: 10 pounds of lump charcoal or 16 pounds of briquettes for up to 10 hours of use
Temperature Range: 225° – 700° F
Includes: a flat top griddle, cast iron grill grates, digital control panel allows WiFi or Bluetooth, Digital Fan, built-in temperature gauge and meat probe thermometer. 
# Masterbuilt Gravity Series 800 Review in Depth
#1 Built Quality
Masterbuilt 800 comes with sturdy material. Its inner material is made of stainless steel. Also double walls are porcelain-coated in Masterbuilt 800 gravity smokers.
#2 Cooking Space
The cooking space of the Masterbuilt 800 is huge. As the name suggests, it has a total of 800 sq inches of cooking space.

This smoker comes with a griddle so when you use the rack with the griddle you can cook a lot of food at once..
#3 Cooking Grates
The Masterbuilt 800 Gravity Smoker comes with two porcelain-coated smoking racks.
You can slide and lift the Masterbuilt 800's grates, reposition them, and store them.
Compared to other gravity smokers, the Masterbuilt 800 smoker rack is low in count,
#4 Hopper
The Masterbuilt 800 hopper has a double wall construction.
Because of its insulated design, it effectively retains heat and uses less fuel.
You can cook continuously for 8 to 10 hours with a Masterbuilt hopper.
#5 Dimensions
Masterbuilt 800-(H.W.L) 51″ x 55″ x 30"
The Masterbuilt 800 is 55 inches wide, 51 inches high, and 30 inches deep.
Although the size of the Masterbuilt 800 may seem modest at first glance, you won't believe how much space it actually takes up until you get used to it.
#6 Front Shelves
The Masterbuilt 800 features a foldable stainless steel front shelf that measures 23 inches wide by 8 inches deep.
#7 Bottom Shelves
The Masterbuilt 800 has a great bottom shelf where you can keep your manifold while it's not in use, and you can also use the bottom shelf to store logs.
#8 Side shelf
The Masterbuilt Gravity Series doesn't come with a side shelf.
A controller is attached to the right side of this smoker and the hopper is attached to the left. So it has only two shelves in front and bottom.
#9 Wall
The Masterbuilt 800 Gravity Smoker comes with a porcelain-coated double walled.
#10 Meat Probe
For faultless results and accurate temperature, the Masterbuilt 800 comes with meat probes.
#11 Temp Gauge
All Masterbuilt Gravity Smoker series come with a temperature gauge. However you can replace the gauge if you want.
#12 Wheels
The Masterbuilt 800 includes a black treaded wheel with gray hub and spokes.
The wheels are sturdy. Even if the wheels get damaged, you can buy and replace them.
#13 Griddle
Now we are going to discuss the most important part or beneficial thing of this smoker.

The Masterbuilt 800 comes with a huge griddle which allows you to cook different food simultaneously.

You also have the convenience of hanging the griddle in this smoker when you are not using it..
#14 Safety Features
This grill has a built-in safety feature.
When the lid is opened, this switch limits the temperature to 500°F/260°C.
This means that your grill or griddle will be as hot as 500°F as long as the lid is open.
Also to prevent chimney effect, hopper switches are located on the ash door and top of the charcoal hopper.
#14 Fuel Capacity
The Masterbuilt 800 hopper can hold 16 pounds of briquettes or 10 pounds of lump charcoal for up to 10 hours.
#15 Controller and the App 
The Masterbuilt 800 smoke comes with a controller and free app which allows you to control and monitor the temperature of your grill through bluetooth and wifi.
#16 Weight
The Masterbuilt 800 is 204 pounds in weight.
However, it will be heavy for someone but this Masterbuilt 800 is a best smoker for backyard.
#17 Portability
Although this is a heavy smoker, its sturdy wheels hold the whole body and also allows you to transport one to another place.
#18 Ease of cleaning
The Masterbuilt 800 is very easy to clean..
You may learn more about the cleaning procedure in my other article on "Masterbuilt 800 mods."
#19 Assembly
The Masterbuilt Gravity Series 800 is easy to assemble..
Two people can put it together quickly because one person can fix the screws while the other holds the parts.
The Masterbuilt 800's main body and gravity chute come pre-assembled. So you only have to connect a few parts.
# Accessories
FAQs
# How long does Masterbuilt 800 charcoal last?
Charcoal lasts up to 10 hours in a Masterbuilt 800 hopper..
# Can you grill on a Masterbuilt 800 gravity series?
Yes, we can easily grill on a Masterbuilt 800 since it comes with griddle..
# How do I season Masterbuilt Gravity Series 800?
Step 1: Light the charcoal..
Step 2: Remove the smoke blocking slider.
Step 3: Set the temperature to 250°F and leave for 15 minutes.
Step 4: Apply vegetable oil onto the griddle and racks using heat resistant gloves.
Step 5: Increase heat to 400 degrees for at least 15 minutes.(until the smoke stops)
Step 6: Reduce the temperature to 350°F.
Step 7: Apply vegetable oil and let the grill run for 15 minutes.
Step 8: Turn off the unit and place the smoke-blocking slider.
# How to use griddle in Masterbuilt 800?
Step 1: Remove the grates.
Step 2: Take off the grill manifold and place it under the grill.
Step 3: Place the  top of griddle manifold.
Step 4: Insert griddle flat top..
# Conclusion
Finally, the Masterbuilt Gravity Series 800 is a great addition to the grilling enthusiast's toolkit.
It produces precise and consistent cooking outcomes because to its unique gravity-fed charcoal method and high-tech temperature control.
The large cooking area and adaptable design provide for versatility for different cooking approaches.
Durability and usability are guaranteed by the practical features and strong construction.
The Masterbuilt Gravity Series 800 is an all-around dependable and high-performance choice that raises the enjoyment of charcoal cooking to new levels..