Are you curious about the Char Griller Gravity Fed 980 Review? You've arrived at the right place..
Here I have discussed all the advantages and disadvantages of the Char Griller Gravity Fed 980.
Also you will find features of this charcoal grill..
Here I have explained in detail the different functions of different parts..
For example-
Built quality
Hopper
Cooking chamber and Grates
Shelf
Heat deflector or Drip tray
Controller
Manifold
Ash tray
Fan box and more on.
Hope this char griller 980 review will give you complete information…;
Recommended Reading:
– Char Griller 980 vs Masterbuilt 1050
– Char Griller 980 vs Masterbuilt 800
– Char Griller 980 Mods
---
---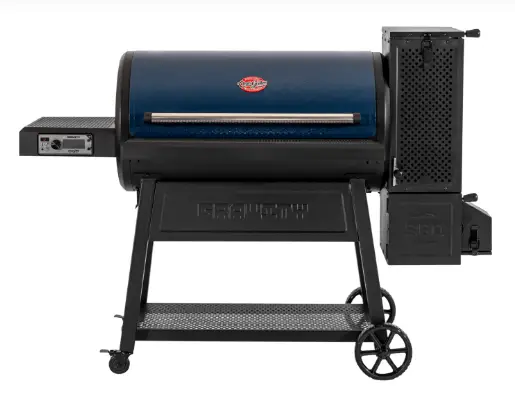 Specifications & Features:
Cooking space: Total cook area 980 sq inches, primary cook area 680 sq inches.
Hopper Capacity: 16 lbs of briquette charcoal
Dimension (LxWxH): 64.6 x 34.4 x 51.4
Weight: 213.0 lb
Porcelain-Coated Cast Iron Cooking Grates
Folding Front Shelf
Fixed Side Shelf
Digital LCD Controller with Bluetooth and WiFi.
Triple Walled Insulated Hopper
Insulated Barrel Lid
Built In Meat Probe
Precision Control Fan
Slide Damper
The Bad
Heavy
This Char Griller 980 is a little heavy..

However, it is helpful because the metal lasts longer and is easier to produce flavor and smoke in this charcoal grill.

Small wheel
The Char Griller 980's wheels appear to be smaller.

Small wheels will not be able to support the weight of such a large charcoal grill for very long.

The wheels should have been a bit bigger given the heaviness of the grill..
The Good
Built quality
This Char Griller has a sturdy built quality. It comes with heavy metal meaning it lasts longer. .
It has an insulated barrel Lid..

Also it contains a porcelain coated grates and triple walled hopper.

It is bigger in size and heavy..
Hopper 
The hopper stays on the left side of the Char Griller where you load the charcoal and mix chunks for cooking and you light it from the bottom.

There's a fan that blows through there and keeps air on the coals. 
This Char Griller also contains a controller that indicates if more heat is required or whether it should be turned off till more is required.

It means you can control the heat or temperature through the controller.

As that charcoal burns, it's replaced by fresh charcoal above it, so it always gets a steady supply of charcoal through gravity.

As the charcoal burns there's an ash bin out down there and ash falls into this pan and allows for easy cleanup.
So, it is a very simple concept…

So here let me tell you that this triple walled hopper can hold 16 lbs of briquette charcoal.
Cooking chamber and Grates
So let's talk about the cooking surface of Char Griller 980.

This charcoal grill is massive and heavy.

It has a total 980 sq inches of cooking surface with 680 square inches on the main bottom rack. It's roughly 36 by 19 or 18 and a half inches in size.

And this large cooking area inspires me to cook for more people.
I would also like to talk about its cooking grate.
This Char Griller 980 comes with 5 porcelain coated cast iron grates that are easy to clean.

These grates are small in size so you can use your dishwasher for cleaning.

Also it has one long grate that can hold a huge amount of food to smoke.
Shelf
Another nice feature of this grill is that front shelf.
I enjoy having a place where I can put things down.
Whenever you cook food, you will not have to rush to keep or pack things. So, this is very helpful..
Heat deflector or Drip tray
The next thing that I want to talk about is the heat deflector and this drip pan. 
So, the heat deflector and drip pan comes with this Char Griller.
You can slow cook, smoke, and bake with this heat deflector.

The heat deflector redirects the heat from your grill to cook evenly from all sides at the same time.

This is one of the most significant improvements to the masterbuilt gravity series.
Grease can damage your deflector so you should protect this kit.
And all these things can also have a bad effect on the food.
You can easily remove the coated drip or grease tray and clean it.
Manifold
There is also a large manifold at the bottom that serves as a path for directing heat.

The manifold raises the fire above the great's top, prevents side-scorching and allows for fantastic grilling over the top.
Which means the manifold properly distributes the heat released from the hopper to the food.
So let's talk about  the controller 
This gravity 980 has a PID controller.
PID controller controls and manages speed or temperature effectively in this griller.

Its LCD controller, which has Bluetooth and WiFi connectivity, lets you regulate the temperature of your grill and keep an eye on your cook from your phone.

There will be a power button to turn it on and a set temperature button to adjust the temperature range from 200 to 700 degrees Fahrenheit.
So, it's very easy to use, just start it and set it to 500 degrees and leave it to reach the set temperature.
So you'll be able to do everything from smoke to sear with a timer, probes, and a turbo mode on the fan.

This Char Griller contains two probe ports.

Damper
There is a damper in the back of this grill that you can open and close which helps to keep smoke and heat in or go outside whenever you need it.

You can close the damper and preserve the smoke or heat inside the chamber.
Wheels
It has a small rubber wheel. They allow you to balance the unit in place and avoid instability.

I can't tell if this wheel will be able to lift your griller for long.
Because the size of the wheel is too small.

Ash tray
This griller has an ash tray to collect all the ash and small pieces of charcoal.
The tray is located at the bottom of the hopper.

It also includes a grease pan built into the griller.

Fan box
A fan box is attached to the right side of the hopper.

The function of the fan is to transport heat and smoke from the hopper to the cooking chamber.

Don't forget to open or close it when you're done and when you're going to use it.

Slide Damper
And one important thing you should know is that it has a slider which is responsible for controlling the heat and smoke entering the chamber.

So if you don't move this slider out of its place, it won't allow smoke and heat to pass through.

It means whenever you are cooking, after burning the charcoal, take out this slider comfortably and keep it in the right place.

Assembly
It's a little difficult to understand the directions of how things connect..

I had a problem with the wiring. It took me time to understand and I kept doing it.
And the error code was not encountered..
What I like:
Large cooking capacity.
Well-built structure.
It cooks Effectively.
Provides nice flavor.
What don't like:
The size of the wheel could have been improved.
It takes time to assemble.
Little heavy.
Issues
Open error issue :
This video will assist you if you are experiencing open error issues..
1. Upgraded Precision Control Fan Replacement.
3. 2-pack on/off Hopper Lid Door Switch
5. Cover for Char-Griller Gravity 980
FAQs
# How do you season a Char Griller 980?
Here are the simple steps for seasoning, and burn-off..
Spray the vegetable oil on the rack and grates.
Close the lid.
Feel the hopper with ¼ full with charcoal.
Open the fan cover door for some airflow.
Then open the ash cleanout door.
Remove the damper to allow air to flow directly into the grill.
Open the back vent all the way.
Place some good fire starters on the small tray below the charcoal grate.
Use a butane torch or regular lighter to ignite the starters.
Allow three to five minutes for the fire to move to the hopper before turning on the grill.
Close the hopper lid and ash cleanout door.
Press the controller's power button and then set temperature at 350 degrees.
You can use the turbo button to increase the heat.
Let the grill continue for 90 minutes..
# How easy it is to store Char Griller 980?
When not in use, store your grill in a covered area to protect it from sunlight and water..
Protect your grill from dust, wind, and rain with a cover made by Char-Griller.
You can visit the link www.CharGriller.com for accessories..
# Is frequent cleaning required for Char Griller 980?
Clean your cooking grate and grill after each cook to extend the life of your grill and maintain hygiene.
# How long does it take the Char Griller 980 to cool down?
Your grill may take an hour and a half to cool down..
# Conclusion
In summary, the Char Griller Gravity Fed 980 is an exceptional smoker that combines practicality and outstanding performance. It ensures uniform heat distribution and effective fuel usage with its novel gravity feed system. Both novice and expert grillers will find it to be a great choice because to the spacious cooking space and strong build. The Char Griller Gravity Fed 980 produces excellent results whether you're smoking, grilling, or searing. With the help of this excellent smoker, you can improve your outdoor cooking abilities and easily taste great food..