Looking for the best gravity fed smoker?
You are in the right place.
I have updated recently about the latest upgrades from Masterbuilt too.
Some of the smokers here are very versatile.

For eg : I can go home from work, get the smoker ready for cooking at even 20 minutes and catch up with the cooking. While on weekends I can take longer duration to cook.

Both the options are viable..
Find out which one best suits your need..
Looking for best Kingsford charcoal for gravity feed smoker? Know more..

Note:
There are top notch range of smokers in the market like the vulcan gravity feed smoker series from Myron Mixon, stump smoker, old country gravity fed smoker which I have excluded in my list..

Simple reason is for its cost and availability.
I hope Weber too makes gravity feed smoker in the future. But as of now I don't see it..
So if you are looking for one here then you may be disappointed.
However the below mentioned smokers are affordable to most people.
---
What are the 4 Best Gravity Fed Smokers ?
---
Sale
Masterbuilt MB20041220 Gravity Series 1050 Digital Charcoal Grill and Smoker Combo, sq. in, Black
Reaches 225°F in 10 minutes or 700°F in 15 minutes
Control temperature and cook time with the digital control panel or with smart device control using WiFi or Bluetooth
DigitalFan for precise temperature control
GravityFed hopper holds 10 lbs. of lump charcoal or 16 lbs. of briquettes for up to 8 hours of use
Convenient fold out cord storage in back of side shelf to prevent loss or damage to the power supply
Specification :
Model Name : Gravity Series 1050
Color : Black
Item Weight : 202.9 Pounds
Item Dimensions : LxWxH 33.07 x 61.02 x 52.17 inches
Fuel Type : Charcoal
Heat Up time : 225°F in 10 minutes or 700°F in 15 minutes
Wifi : Yes
Bluetooth : Yes
Cover : Yes
PID Controller : Yes
Fan: Yes, Digital fan for precise temperature control
Hopper Capacity : 10 lbs. of lump charcoal or 16 lbs. of briquettes for up to 8 hours of use
Storage : Storage in back of side shelf to prevent loss or damage to the power supply.
So glad to bring you my take on this beast.
Many of us have been waiting for this for a long time.

MasterBuilt Gravity Series 1050 is one of the biggest smokers in the list of gravity smokers.
Also the best gravity feed charcoal grill in its category for price and the quality.
This is both a gravity fed charcoal grill and a smoker..

The Bad
Complaints or Issues
In previous models there were complaints about the charcoal grates that the charcoal were falling off without complete burning.
The Good
Reputation and Feedback's
This time they have come up with a complete grate design revamp.

Now it really protects the charcoal from falling off.

I am super satisfied about it.
Great job Masterbuilt..Keep listening to feedback..

Masterbuilt already has their previous version 560 which are very well received by the smoker community.

Also there were minor feedback's to the product..

There are huge improvements on previous versions.
A Giant
It is a giant that lets you cook a lot of items at a time.

It is 200 pounds although the box says 250.
Which means it is super heavy.
Safety
When you are working with fans that blow the heat and smoke you should really be careful.

To provide safety from anything wrong happening..
Masterbuilt has included a safety switch near areas outside the charcoal burning box.
Cool Handles
You will get cool handles. This is great as you can avoid hand burns.

The folding shelf is cool with a proper finishing.
I only wish it was a little bigger.

It also comes with a large bottom shelf around 8 inches tall.
Software & Connectivity
Also has bluetooth and wifi for connectivity.

Also it has cool handles, ash pans, grease trays etc..
Already with Gaskets
The door already has gaskets on it. This is well done. It prevents the leakage of heat and smoke.

Some really cool upgrades also include the charcoal grates redesign.
Recommended Readings :
– Get Modification Ideas from the our list of different types of Smoker Mods.
– Old Country Gravity Smoker Reviewed.
What do I love the most ?
It can reach upto 225 degrees Fahrenheit in 10 min and 700
Fahrenheit in 15 minutes.

At first I was skeptical about this, but after some trials it actually works and I totally agree.
This automatic charcoal smoker beats most of the smokers for its versatility.
Accessories that come handy with Masterbuilt 1050.
Quick Checks
Good :
It has a huge space to cook large amounts of food at a time.
Super efficient design.
PID controlled fans.
Upgraded firmwares.
Redesigned charcoal grates.
Quality built Material.
Very quick heat up.
Large capacity of the hopper..
Bad :
Front shelf could have been bigger.
Recommended Reading :
– Gravity Fed Smoker , Everything you need to know.
– Masterbuilt Gravity 1050 Modifications.
– How to Clean Masterbuilt Gravity Series 1050.
– Cookbook : Project Smoke (Steven Raichlen Barbecue Bible).
Have more questions on Masterbuilt Gravity 1050?
Check this :
– Queries on the Masterbuilt Gravity 1050 Smokers Section below..
Specification :
WIFI or Bluetooth : Yes
Temperature control Fan : Yes, Digital
Built-in temperature gauge : Yes
Meat probe thermometer : Yes
Hopper Capacity : 10 lbs. of lump charcoal or 16 lbs. of briquettes
Burn Time : 12-15 hours.
Grates : Reversible smoke + sear cast-iron grates.
Racks: Yes, Two porcelain-coated warming/smoking racks.
Cooking Space : 560 total square inches.
Masterbuilt Gravity Series 560 is an earlier version of the 1050 series.
This gravity smoker has everything that is needed to save smoke and heat.
This smoker can also be used as a gravity fed charcoal grill.

The Bad
Charcoal tends to fall off a few times from the charcoal grates without completely burning.
But this has been rectified in the 1050 model.
I already explained above..
The Good
Price
Everybody is not ready for an expensive smoker.
Especially when it comes to gravity smokers, the price can go very high.

However Masterbuilt has cracked it.
According to me this is one of the lowest priced gravity smokers out there in the market.

Temperature Control
The temperature control for this smoker is praiseworthy.
This is because of its double walled cooking chamber.

The 560 Digital Charcoal Grill is a fantastic multi-purpose backyard barbecue with a temperature range of 150 to 700 degrees.
So you can both smoke and grill meat or any food.

You can reach the start up temperature really quick.
Once the initial temperature is reached it then continues to maintain it very well.

Ease of Use and Connectivity
This unit is extremely easy to use and maintain.
Its bluetooth system is seamless and provides good connectivity.

It provides a Masterbuilt app with instructions for connectivity.
You would hardly face any problem in pairing with your phone and the WIFI.

Assembly is easy. You don't need an expert for this.
Smoke Flavours
Initially It took me a while to perfect smoking in this unit.

But eventually I understood that it was a slight mistake at my end.

Now I feel that this smoker is better than all my other smokers. It produces great smoke flavours.

Cooling Fan
Another cool thing about this smoker is its cooling fan.

This fan is electronically controlled and regulated.
Which means that you don't have to worry about excessive heat .

Spacious
It has plenty of cooking space. I have tried different meats such as chicken, porkbutt, brisket, ribs.. Etc.

And every time I loved it.

Fuel Retention
My unit easily runs for 10-12 hours without refueling.

The charcoal lasts really long because of its highly insulated walls.
What do I love the most ?
One thing for which I am a big fan of this smoker is its compact design.

Yet it has a good amount of cooking space.
Thanks to the designers.

I heard the manufacturers have put a lot of time and effort into coming up with this.

And as far as my experience with this smoker, I feel that it is quite true.
In short, it has good temperature control, heat retention, produces clean fire and good smoke flavor.
What else is required?

It is the best gravity smoker for the money.

Helpful Tips
This unit does not come with the cover. During the rainy season or winter you may need it to protect it.

It is a good idea to get it along with the smoker.

Accessories that come handy with Masterbuilt 560.

Quick Checks
Good :
Value for Money : This smoker beats all the smokers in its category in terms of price. The quality of insulation is praise worthy.
Heat Retention : Because of the double walls the heat retention is very impressive.
Temperature Control: You don't have to babysit to control the temperature, It does its job automatically.
Connectivity : Wifi enabled this unit to be controlled from a distance. This is very handy.
Has specially designed for longer cooking times.
Bad :
Wifi Range : I wish the range of the wifi is much longer.
Charcoal grates : Charcoal tends to fall off a few times without completely burning.
Recommended Reading :
– Masterbuilt Gravity 560 vs 1050 in depth.
– Masterbuilt Gravity 560 Modifications.
– How to clean Masterbuilt Gravity Series 560?
Have more queries on Gravity Smokers? Check these sections below:
– Know more about Gravity Smokers.
– FAQs
---
Specification :
Insulation Quality : Military grade
Hardware : Stainless Metal
Rounded charcoal chute – 20 lbs. capacity
Fire door : Double-sealed fire door
Racks : Nickel-chrome type
Removable water pan
Slam latch door
Integrated wire port
Approx weight : 880 lbs
Dimensions: 63" W x31.3" D x61.3" H
Cooking Rack : 7 STD/11 MAX
Cooking Capacity : 4678 sq/in STD, 7351 sq/in MAX
Burn Time : Up to 20 hours.
How can I not mention this smoker when it is about gravity smokers or gravity fed charcoal grill that we are discussing.
Myron Mixon Gravity smoker is a name to be proud of in this category.
For those of you who don't know, Myron Mixon is a big name in the BBQ industry.
He has hosted and judged many popular television shows.
We can be sure he knows about his stuff very well.
The Bad
This smoker may be out of budget for most people. However it delivers well as it promises.
The Good
Well Known Brand
Since it is Myrion Mixon himself. We can be sure that he knows his stuff very well.

And in the Gravity Smoker space, it has a very strong brand presence.
Toughbuilt Quality
This is far from the best in terms of its metal grading.
It is made up of military grade insulation.
Which makes it a very tough to compete smoker.
Better Burn Up Time
As a result, the burn up time can last up to 20 hours.
This is much higher when we compare it to a Masterbuilt Gravity smoker.
What do I love the most?
Stainless Metal
You don't need to worry about the metal getting corroded.
The metals used to build this smoker are stainless.
Accessories that come handy with Myron Mixon G33.
Quick Checks
Good :
Quality : The built quality is unmatchable. It confidently boast its military grade material used for its construction. This is really cool.
Burn up time : Easily this unit can have upto 20 hours of burn up time. This is what most of us always dreamt for.
Bad:
Price : It is too expensive for most people to even try out.
Recommended Reading :
– Cookbook in Amazon : Smokin' with Myron Mixon: Recipes Made Simple.
Have more queries on Gravity Smokers ? Check these sections below:
– Know more about Gravity Smokers.
– FAQs
---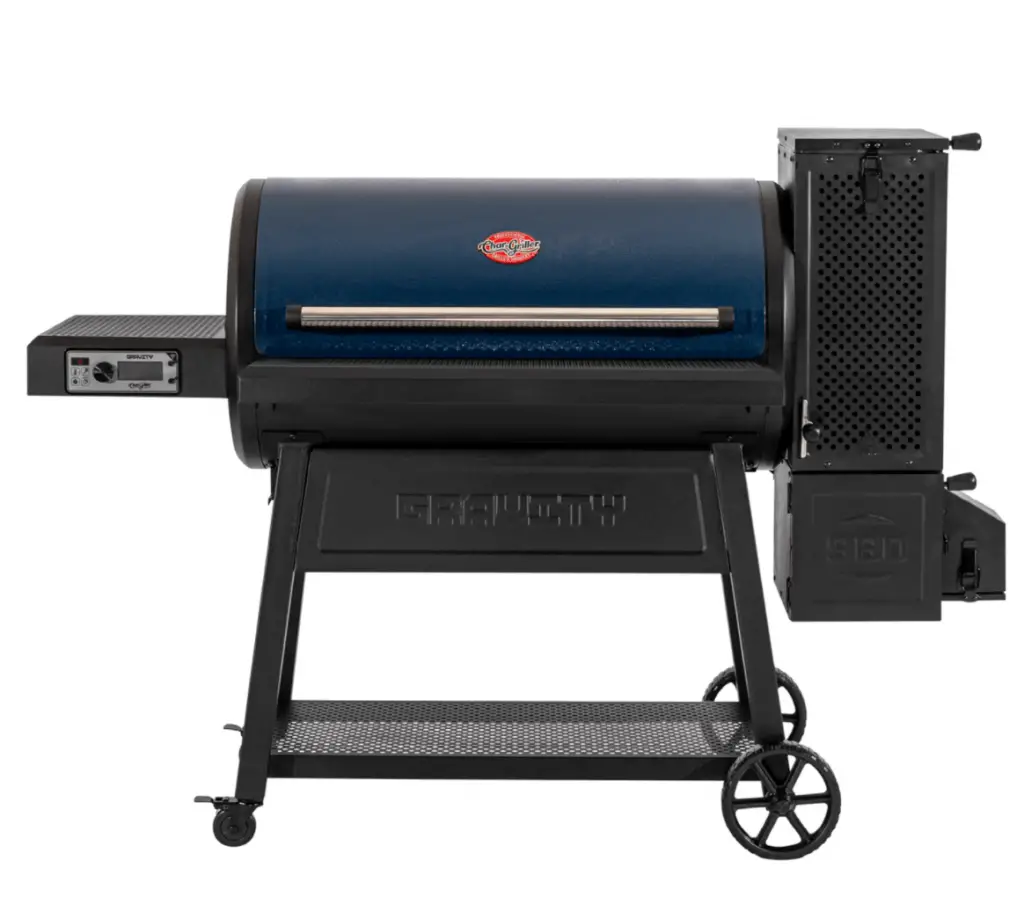 Specification
Cooking Grates : Porcelain-Coated Cast Iron
Shelves : Folding Front Shelf, Fixed Side Shelf
Controller Type : Digital LCD Controller with Bluetooth and WiFi
Hopper Type : Triple Walled Insulated Hopper
Lid Type : Insulated Barrel Lid
Probe : Built In Meat Probe
Control Fan Type : Precision Control
Slide Damper : Included.
Fire Channel type : Porcelain Coated
Char Griller 980 gravity fed charcoal grill or smoker is a choice for people who can spend very high but as well want a quality product in a middle range.
Char griller also produces a variety of other types of smokers.
They have a good customer base.
The Bad
Few of my friends have acquired it and have a lot of good things to talk about it.
Personally I am not in favour of this smoker just because of its look.
The Good
Spacious
Another thing this smoker boasts about is its large grilling surface.
Easy Clean Up
The smoker is easy to clean up and easy to start up.
We can easily try out different variations of temperature.
What do I love the most?
Efficient
However when it comes to efficiency, Char Griller Gravity smoker works like charm.
Which means you can be sure you are not wasting your fuel.
Accessories that come handy with Myron Mixon G33.
Quick Checks
Good :
Good Charcoal Flavour : This smokers is well known for the flavour it can produce.
Temperature control : LCD controller with bluetooth and wifi makes it lot easier to control the temperature..
Versatile : Works well with all type of cooking.
Bad :
Difficult Setup : It is not so easy to assemble this unit in the beginning.
Poor wifi connection : Wifi Connection range can be improved.
Recommended Reading :
– Char Griller Gravity 980 Smoker modifications.
– Masterbuilt 1050 vs Char Griller 980, A detailed guide.

---
Conclusion
---
Masterbuilt 560 is the one for me if I am on a tight budget and looking for an overall best budget option.
However if I would want to take advantage of the bigger cooking space and the improvements done based on feedback for the previous 560 model then I would go for Masterbuilt 1050.
Queries Section
# Why do I prefer Gravity Smokers more than other smokers?
Gravity smokers with its fast heating capability and its design has always been a major factor.
All these above mentioned smokers have extremely good built qualities.
And are well known in the community…
Still not satisfied… ?
Yes there are smokers which are popular out there in the market.
But I personally am not fond off because of specific reasons.
Don't worry I will be explaining…
---
---
If you are looking for a fully insulated gravity smoker, then Old Country Gravity Smoker is one of the best insulated gravity smokers out there.
However I have not included it here in my list as its availability and support is an issue.
Moreover I was more keen towards a vertical model, but damn it was not easy to even find it.
As of writing this review, there are no vertical options for this smoker.
Most of the time in academy.com it's out of stock and a struggle to buy. And I didn't want to refer to something which is not readily available.

Service and support is a critical thing for me. And I am not very positive about this too.
Incase you are looking for old country gravity fed smoker mods then you can check our extensive list of smoker mods.
You should get some idea to get kick started.
And I will be posting soon specifically on this mod.
However if you are interested to know about this smoker, I have put a detailed review on it. See below…
Recommended Reading:
Old Country Gravity Fed Smoker Review, 13+ Queries Answered
– Learn everything about Gravity Smokers.
---
---
Know more about Gravity Smokers
---
# What is gravity feed smoker?
Gravity smokers are a kind of smoker which uses the weight of the charcoal wisely in its design.
Because of its clever design, the charcoal does not require manual attention to keep burning.
Which means that you can put charcoal in the hopper, start the smoker. But you don't have to babysit to control the temperature.
This smoker's burn up time can range from 10 hours up to 20 hours.
# How does a Gravity Fed Smoker work?
Gravity Fed Smoker works on the principle of a sealed environment which means it does not allow the heat to pass through its walls.
The amount of the fire is controlled by the air passing through the valve to the fire box chamber.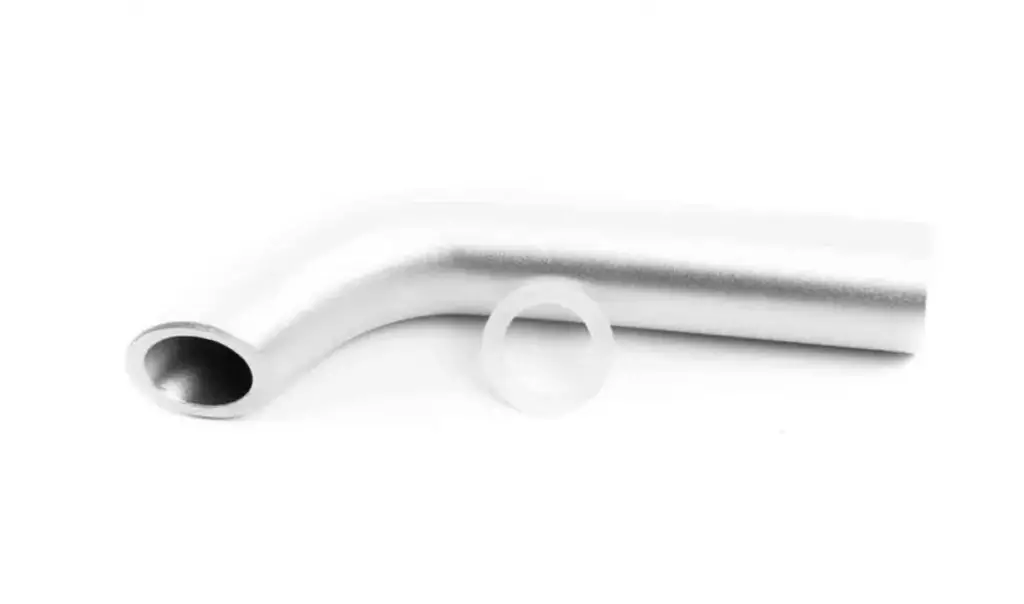 The fuel in it takes time to burn as fire takes time to travel in the whole of a chamber.
This is due to the lack of oxygen in the cooking chamber, this condition is called oxygen depletion.
The fuel burns to continue when the oxygen depletion is overcomed.
The oxygen supply is from the bottom bottom(4-5inches) of the chute and takes a little time to burn the whole fuel.
The air passes through the valve across the chute and burns the entire fuel.
The tube inside the chamber passes the heat and smoke to the cooking chamber.
The divider plate inside the cooking chamber distributes the heat and smoke evenly throughout its compartments.
# How to use gravity fed smoker?
Here is a video guide on how to use this smoker. But the example shown below is of an old country gravity smoker.
Which means that the real working can vary with specific brands and models. But sure enough you will get an idea of the working principles.
# Gravity smoker vs pellet grill. What is the difference?
The basic difference between the gravity smoker vs pellet grill is that gravity uses charcoal as a fuel, where as pellet grill uses different wood pellets as its fuel.

However below table should help you get a quick picture on their other differences.
Gravity Smoker
Pellet Grill / Smoker
Gravity smokers use Charcoal as a fuel . Works well with charcoal lumps and briquettes.
It Is mainly designed to use pellets as a fuel
Gravity smoker can produce stronger smoke flavours
Pellet smoker produces lesser smoke flavour in comparison to gravity
Gravity smokers operate by using gravity as the core technique along with the use of automatic fans.
Pellet smokers operate mostly using PID controllers.
Gravity smokers can last longer hours.
Pellet smokers may last lesser hours in comparison to gravity smokers.
Gravity smokers do not require much attention as it is fully automated.
It is like an offset smoker levelled up;..
Pellet smoker although automatic can require manual attention to refill .
Sometimes Auger gets blocks and you may need to check once a while.
Similarities
Beginner Friendly
Requires lesser manual attention than offset smokers or other types of smokers.
Gravity and Pellet Smokers both can produce smoke rings, although experience plays a role here.
---
# Gravity smoker vs offset. What is the difference?
Gravity Smoker
Offset Smoker
Gravity Smoker works best with Charcoal lumps and Briquettes.
Offset Smoker is best with woods and Charcoal.
Gravity Smoker is designed to for ease of use and to save time
Offset smoker requires a lot of time and manual attention.
Gravity Smoker is beginner friendly
Offset smokers are not so beginners friendly
There are not many options for Gravity Smokers
There are lot of options for Offset Smokers
Gravity smokers may or may not produce results like Offset smoker.
However this purely depends on personal choice on what's best for you.
If properly fire managed , results in offset smokers are usually considered to be better than quick smokers.
Gravity Smokers are like Offset smokers on steroids
Offset smokers I feel are more like the old and the expert way of smoking.
# Gravity fed horizontal smoker
Gravity feed horizontal smoker simply got its name because of its design.
Very few brands are building this type of smokers.
When it comes to horizontal smokers the first brand that comes to my mind is Stump.
Although most gravity smokers are already horizontal, they simply have clear branding with the name.
Honestly I am not a big fan of these smokers. It's just the design and the huge price tag that kicks me off. But yes they have their own uniqueness and quality for sure.
I can't say much about these smokers as I have very little information around it to share it as a value.
Here is a link incase for you to check out different ranges of Gravity Fed Horizontal smoker.
Queries on Masterbuilt Gravity 1050 Smokers
---
# How does MasterBuilt Gravity 1050 work?
You fill the charcoal or the lump charcoal or even chunks of wood into the hopper.
Start the fire with the help of a fire starter.
Internally the heat or the flame is pushed towards the cooking chamber with a PID controlled Fan.
The heat and the smoke flow super efficiently through the diffusion plates or area.
Finally reach the cooking chamber to cook your food.
# How to start a fire in the Masterbuilt Gravity 1050 series?
To operate, there are sliders for help. These slides can be taken out and hung while not in use.
You can slide in a fire starter. Then ignite the fire starter with a lighter in 2 – 3 minutes. Shut the door and turn on the smoker.
# Does the Masterbuilt Gravity 1050 series smoker have a lot of charcoal wastage?
No. You can always control it. Once you are done with the smoker.
You can easily shut it down step by step and again make it ready for use for your next cook.
This way the use of charcoal can be easily extended.
Personally I don't have any issue.
The creosote problem.
I have my Masterbuilt 560 series smoker with creosote collected.
This is common.
And incase you don't know. Cresotes are bad for health. There is a study on even how creosote can affect both children's and the adults.
Therefore I recommend using good quality charcoal. For eg :- Oak wood charcoal, Masterbuilt own charcoal..
This should avoid the creosotes in Masterbuilt 1050 series too.
I also have discussed more on getting rid of creosotes from a smoker. Feel free to check out.
Overall it is a beast. The Masterbuilt gravity 1050 series has a lot of rooms for cooking.
Super fast to heat up and start cooking. I am loving it…
As this list does not end here…
# What is the lowest temperature of Masterbuilt Gravity Series 1050?
The lowest temperature range of the Masterbuilt Gravity Series 1050 is 107°C (225°F).
And if you are somebody who is also looking for an option to modify or upgrade your smoker.
Don't worry, you can check about the Masterbuilt 1050 Smoker Mods here…

Also you can check about Masterbuilt 1050 firmware update here.
---
FAQs
---
# Are gravity smokers good?
Yes . Gravity smokers are extremely good for long hours cooking.
They are designed to run on Charcoal lump and briquettes and not on woods directly.
# Does gravity feed use pellet as a fuel?
No Gravity feed does use pellets as a fuel. Instead it uses either Charcoal Lump or Charcoal Briquettes.
# How to update the Masterbuilt Gravity Series Firmware?
You can easily update the Masterbuilt Gravity Series 560, 800,1050 with normal WiFi. And it is not difficult at all. You just need to download the latest firmware and update it.
I have updated to the latest firmware versions for both 560 and 1050. Works pretty well as of now.
# Who makes gravity fed smokers?
Masterbuilt, Chargriller, Old Country, Myron Mixon, Stump Smokers etc. are some few big makers of Gravity Smokers.
# Can I use wood in a gravity fed smoker?
Yes you can use wood chunks in a gravity fed smoker.
Also you can mix it with lumps and briquettes to have a combined flavor.
# What kind of smoker does Myron Mixon use?
Myron Mioxn uses a variety of grills and smokers and is not particularly stuck to one.
He also produces and endorses some products like water smokers, Gravity Fed Smokers, Pellet Grill, Flat Rack, Reverse Flow type smokers. Etc.
# Who makes Masterbuilt?
Masterbuilt Manufacturing is the company behind Masterbuilt products. It is also funded by the giant Dominus Capital.
# What is the difference between Masterbuilt 560 and 1050?
Mainly the difference between Masterbuilt 560 and 1050 is the size. 560 Model also came earlier than the 1050 Model.
Therefore 1050 has few improvements.
I have already discussed their differences above. Read More…
# How long does it take Masterbuilt 560 to cool down?
For me it usually takes around 90-120 minutes for Masterbuilt 560 to cool down. Then it can be easily handled at that temperature.
# Can you use pellets in a Masterbuilt gravity smoker?
No. Masterbuilt gravity smoker is not meant to be used with Pellets at all.
Charcoal Lumps and Briquettes are what you should be using.
Yes . Gravity smokers are extremely good for long hours cooking.
They are designed to run on Charcoal lump and britiques and not on woods directly.
# Is it possible to cook fish in a Gravity-Fed Smoker?
Yes, you may use a Gravity Fed Smoker to cook fish and other foods.
It can prepare any type of food.
# What type of charcoal is best for Gravity-Fed Smokers?
The ideal type of charcoal to use in gravity-fed smokers is Royal Oak Lump Charcoal, which burns cleanly.