Are you looking for an Old Country Gravity Fed Smoker Review? You are in the right place..
Since there are very few options for Gravity smokers, it becomes difficult to get a smoker which fulfills all requirements. 
When it comes to insulation, Old Country Gravity is a good deal.
However, it is not sufficient to decide a smoker based on a single aspect of it.
That's exactly what I'm going to explain here—all other aspects of it.
And also this smoker time and time has been out of stock and frustrated many.
Here I will help you to decide whether it is worth getting Old Country Gravity Smoker home…
Let's dive in..,
Recommended Reading:
– Learn about more Gravity Fed Smoker.
– Different types of Gravity Fed Smoker.
---
Old Country Gravity Fed Smoker Review
---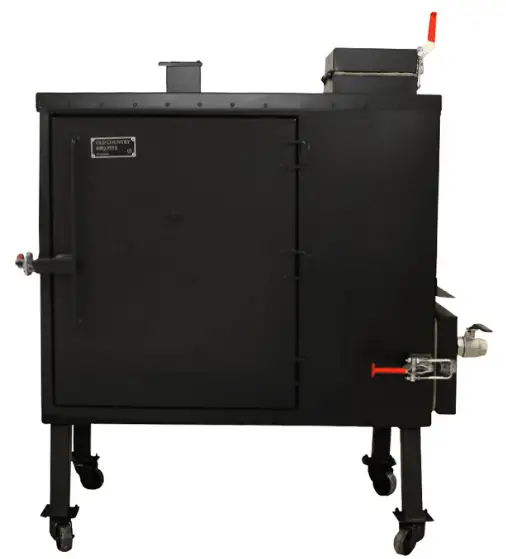 Don't have time ? Here is a quick overview..
What is so good about it?
Specifications
# Commercial grade intake and grease drain valve makes for easy clean-up.

# Fully insulated chamber allows for up to 12 hours of cooking without adding charcoal.

# Carbon-steel construction offers durability.

# 1,082-square-inch cooking surface provides ample space.

# Casters make the smoker easy to move.

# Holds up to 20 pounds of charcoal.
–Cooking surface : 1,082-square-inch 
–Charcoal Capacity: Up to 20 pounds
–Slide-out trays for easy access
–Three clamps ensure a tight seal
–Dimension (W.H.D in) : 23.56 x 51.31 x 45.31
–Product Weight (lb.) : 330
–Assembly Required : No
–Storage rack : No
–Rotisserie : No
–Electronic ignition : No
–Fuel type : Charcoal
–Tool holder: No
Looking for alternatives?

Check the price
Old Country Gravity Smoker is best known for its proper insulation. .
Not only is it good insulation but also it can give preferred flavor and moisture in your food while requiring less effort.
Let me explain about all of its features One by One. 
The Bad
Delivery issues
Old country smokers have some complaints about the delivery.

To maintain proper insulation, old country smokers are already welded. 

This has another advantage as you do not need to assemble it.

However, this also has resulted in product damages during the delivery.

We can't guarantee that the handling of the product during transportation is always going to be safe.

That's why it's essential to have a thorough check as soon as you get the product delivered. .

The Good
Insulation
Old Country Gravity Fed Smokers are fully insulated.

Its well-insulated interior thick wall maintains temperature very well. 

Wind and cold hardly has any effect on this smoker..
Construction & Materials
Old Country Gravity Smoker has incredible built quality and heavy-duty construction. 
The body of the old country smoker is constructed with carbon steel.
Although its weight is 330 pounds, its sturdy and steel casters control the whole weight of the smoker. 
When you close the door, its quality latch closes tightly. And this is very important for any smoker.

You do not want leakages through the door. 
Unfortunately this is a common problem in most smokers.
Leakages
I have not faced any problem regarding the smoke leakages in this smoker. 
There is no gap all around in the top part of the smoker where the screws are located. 
Since it comes with inbuilt gaskets on all doors, there is hardly any problem.
If I face any leakage problems in the future , I'll surely update if any mods are further required.
But for now everything works as expected.
Latches
This is my favorite. Unlike other smokers , it actually works very well. 
Its durable construction closes the door tightly so that smoke cannot escape from the chamber.
You can also loosen and tighten the latch as you need..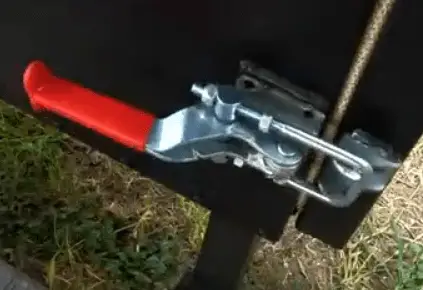 Hopper
I am satisfied with the hopper lid. It authentically deserves praise. 
The cover has a sturdy handle and can lock it too; it's incredible.
The Old Country Smoker also allows you to tighten and loosen the handle like its door latch.
There is a small grate at the bottom of the hopper, which prevents the charcoal from going down.
This is really helpful as it helps to use the charcoal efficiently.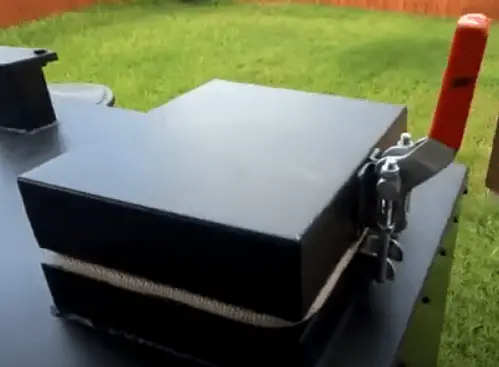 Wheel
This smoker comes with Steel casters which are super helpful to move the smoker around.
The size of the wheel is minimal for the big and heavy smoker, but you can see for yourself the wonders of the small casters.
Air Valve 
Air Valve helps you to adjust the temperature inside the chamber.
Open or close the valve for only as much oxygen as you want to allow.

This is indeed helpful when you want to have a proper control of the temperature.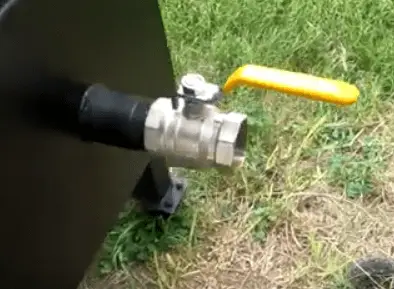 Thermometer Gauge 
Old Country Gravity Fed Smokers don't come with a thermometer. So you have to buy it separately.
You can not use a short stem thermometer in this smoker because a short stem does not protrude through the double insulated door. 
If you want to get an accurate temperature, then install a long stem thermometer.
Temperature Hold
The Old Country Gravity Fed Smoker performs a fantastic job of maintaining temperature. It holds temperature upto 250 to 300 degrees.

You can use a Billows fan to regulate the temperature. If the temperature in the cooking chamber is too low the bellow fan turns on the fan and the fan helps to raise the flame causing the temperature to rise too high.
Budget 
Compared to high end smokers and its quality, this smoker is worth buying . 
However it is almost double the price of other smokers like the Masterbuilt Gravity Series. 
So I have to say it lies in the middle when we are comparing different ranges of Gravity smokers.
Flavor
When I took this smoker, I made up my mind that I should get the taste of what I like along with the quality. After all, spending so much money on this only.
Old country fed smokers made my wish come true to produce more and better flavor. 
It's common to add your favorite chunk inside the chute with charcoal or underneath the chute. 
If you want the best offset flavor, I think you should follow these tricks.
Moisture Maintenance
I really enjoy how this smoker's design prevents airflow from passing through the pit. As a result, the moisture inside the cooking chamber is kept by this smoker.
Without a water pan, it maintains a moisture environment there, so, if you are cooking ribs or brisket, you don't need to spray every 15 or 20 minutes. There is no problem with burning and drying in it.
Cooking Capacity
This smoker has a vast capacity to hold a good amount of meat because this unit comes with three big racks. 
It does have about 1082 square inches of cooking surface where you can easily cook about 6 briskets, 15 pork butts, and more at a time.
Charcoal Capacity
The old country smoker hopper does hold about 20 pounds of charcoal, which helps you cook for 12 to 15 hours without adding more charcoal.
Mostly I use briquets, so I would recommend briquettes to get the best quality result that doesn't stack and feed fire simultaneously.
Lump charcoal is also good but small, and different sizes and shapes get stuck in the chute grate. If you are comfortable with lump charcoal, then go for it.
Inbuilt Gasket 
Old Country Gravity smoker comes with an inbuilt gasket. You can see that gasket all around the main cooking ash box doors.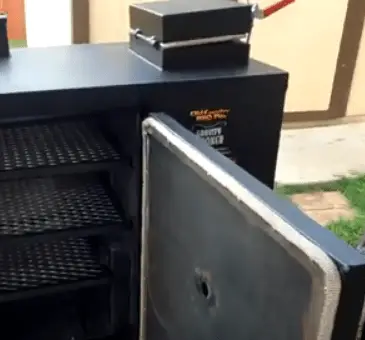 How easy is it to use?
Anybody can cook on this type of smoker. 
You can smoke:
Brisket
Ribs
pulled pork
Boston butt and more. 
Just fill the hopper with charcoal, keep your favorite food or meat inside the chamber and close the door—even no hassle to clean and carry grease and easy to access slide-out trays.
It allows you to set everything and do your other work. So the old country fed smoker provides comfort along with durability.
If you want to give your loved one a memorable Christmas gift, there is no better gift than Old Country Gravity Fed Smoker.
What I like
Awesome quality and construction
Fully Insulated
The old country gives you a moisture environment inside the smoker without a water pan.
Latches close the door tightly.
Worth it.
It saves the whole day from being wasted.
What I don't like
When I try to relight it, it doesn't reach the same temperature. It takes some time to get back to the previous temperature.
Recommended Reading:
–Best Gravity Fed Smoker
Recommended: Wood Temperature Chart and Flavor Profile .
Availability
Another common issue with Old Country Gravity smokers is its low availability. 
It is very frustrating to wait for a product especially when it has very few buying channels. 
Most of the time people end up buying other options at lesser price and easy delivery. 
It is simply not worth waiting to buy when you have other options. 
Dedicated Website
Another frustrating  thing is  they lack a good dedicated website. I wish they would come up with more outlets rather than focusing only on sales through  Academy.com ..
This can also bring doubt to the customers regarding their services .
What's my final take?
If you have a good budget , and  are looking for the best insulated smoker, then an Old Gravity fed smoker is the way to go. 

But if you are not  obsessed with the insulation and want something comparable in almost half the budget then I would highly recommend checking out Masterbuilt 1050 Gravity Series.
13+ Helpful Queries about Old Country Gravity Smoker 
#1 Why are you not able to find Old Country Gravity Fed Smokers online?
Sometimes Old Country Gravity Fed Smokers are out of stock. That's why people are not able to find them online.
Covid-19 Pandemic has also affected its production and manufacturing.
There has been a gap between the demand and the production of this smoker.
And only Academy is selling it as of now.
#2 What do I love the most about Old Country Gravity Fed Smokers?
The thing which I love the most about Old Country Gravity Fed Smokers is its fully insulated design. 
This design is perfect for retaining moisture, maintaining the temperature, and producing extra flavor.
#3 Alternative for Old Country Gravity Fed Smoker
Masterbuilt gravity series 1050 is a great alternative for Old Country Gravity Fed Smoker.
There are many similarities between the two. For example-
Temperature consistency
Easy to use
Big cooking chamber
Can cook 8 to 10 hours
Less smoke leakage
Flavor and moisture as required
If you want to understand more about Masterbuilt Gravity Series 1050, check out the list of Best Gravity Smokers.
What about the usage ?
#4 How to start a fire in an Old Country Gravity Fed Smoker?
Before starting a fire, you have to season your old country's gravity fed smoker.
Here are the steps to fire in your smoker.
Steps to Follow- 
Preparation: Spray cooking oil on all interior areas.
Light the charcoal in the chimney:

 Take your charcoal chimney and keep underneath some greasy butcher paper or any paper that can help get fire.
Take a half chimney of charcoal.
Use a torch to light the paper and charcoal.

Pour Burning Charcoal into the hopper: After 8 to 10 minutes, pour them into the hopper.
Open lids: Open the lid of the smokestacks.
Pour Leftover Charcoal: Fill the hopper with the remaining charcoal, which will be used to cook.
Control Air: 

Lock or close the hopper lid to stop air.
Stop air from entering from the top and only allow it to enter from the side.
The ball valve and the smokestack should be wide open so that it starts moving air, and you can bring it up to the proper temperature.

Add wood chunks: Now you can add a few wood chunks underneath the hopper where ash used to accumulate.
Adjust temperature: 

Close the ash box door.
After about an hour, now the process of dialing to get the exact temperature for cooking.
Regulate the temperature by controlling the amount of air that enters via the valve.
Allow the temperature to rise to 350 degrees and then slowly set up to 275/270 with the help of the valve.
I usually use briquettes, so I would recommend briquettes because they last for an extended period according to their size and shape.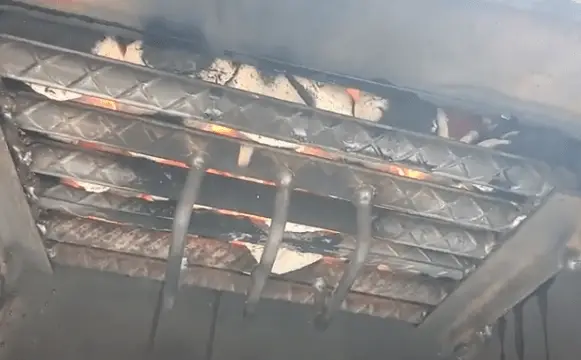 #5 How do you season on an Old Country Smoker?
It's effortless to season an old country smoker.
You may need:
Steps to follow:
Preparation: Take out all the components from the smoker.
Spray cleaner: Spray some oven cleaner on the interior side and door.
Leave for sometime: let it soak for about 15-20 minutes then wipe down with a paper towel.
Spray oil on the inner side first: Spray cooking oil on the interior side of the smoker and leave.
Spray cleaner on all components: Spray on all three racks and on the heat deflector.
Wait for sometime: After a few minutes, wipe all the parts.
Spray oil: Spray on all interior parts.
Keep back all the parts.
Next, you will do the burn-in process.
210 to 215 degrees is enough for the first initial seasoning.
Let it be 4 hours for proper seasoning.
#6 Accessories that come in handy with Old Country Gravity Fed Smoker
#7 Bonus Tips 
Use a Ball Valve to prevent grease leaks.
A Ball Valve is a little piece of equipment that attaches to a grease drain pipe underneath the smoker.
The advantage of installing a valve is that the ground won't get dirty due to grease spills, and you won't have to spend time cleaning it.
FAQ
#8 Can you use wood in this Smoker?
Yes. I use wood in an Old Country Gravity Fed Smoker.
#9 Where to buy an Old Country Gravity Fed Smoker?
You can buy an old country BBQ pit gravity fed smoker from Academy.
#10 How thick are Old Country Gravity Fed Smokers?
In the dual-layered and insulated body:7mm
In the lid:1.25 mm 
In the base and pipings:1.2 mm.
#11 Where are old country smokers made?
Old country smokers are made in Mexico..
#12 What is the temperature range of this smoker?
Old Country Gravity Smoker's temperature range is upto 250 to 300 degrees. It is easy to maintain and retain for long hours.
#13 What is the best thermometer for your old country smoker?
Longer Temp Gauge is the perfect thermometer for your old country gravity smoker..
#14 Does Ash Pan come with this Smoker?
No, Ash Pan doesn't come with an Old Country Gravity Fed Smoker.
#15 Does the Old Country Gravity Fed Smoker come with a thermometer?
No, it doesn't come with a thermometer or a heat gauge…
# Conclusion
In conclusion, the Old Country Gravity Fed Smoker is impressive for its sturdy design and effective operation. Long smoking sessions without continual supervision are possible thanks to its gravity-fed design, which guarantees even heat distribution. This smoker is a great option for both seasoned postmaster's and newbies wishing to up their BBQ game due to its big cooking capacity and user-friendly features.