Here is my Char Griller Grand Champ xd review.
Based on my experience I have discussed specs, dimensions, thickness, thermometer, cover, mods, models etc all in detail.
I waited for the release of this smoker with so much enthusiasm..
And now here it is…
I already have a lot of stuff, more good and less bad to share with you about this smoker…,
Recommended Reading:
– Char Griller Grand Champ XD Mods.
– Know about different offset smoker.
Other options for smokers you might want to have a look at :
Also some smoker modifications frequently asked for that might be helpful :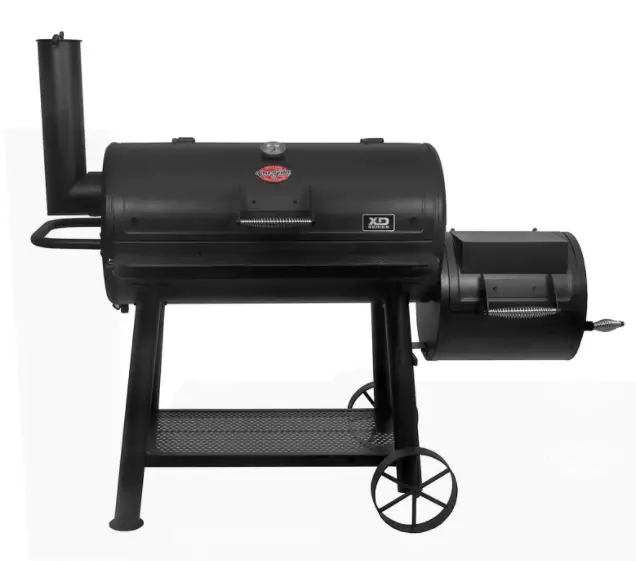 Let's face it. This smoker is a beast. At least for me.
Tough Body, Even temperature balance, and design that feeds exactly to my needs.
The amount of work the char griller guys have put on to improve this smoker is commendable. .
This has become one of my favorite smokers.
For its simplicity yet powerful combination of quality and the price range.
However it is also important to discuss other things in detail too and in perspective. 
I have tried to explain everything in a simple and precise way so that you get something out of it..
Let's dive in…
Feel free to skip the portions you are not interested in…
Pros:
-Reliable construction
-Smokes effectively and efficiently.
-Enough space for cooking.
-Holds temperature well without consuming excessive fuel.
Cons:
-It could have been good for beginners.
# Specifications
Color : Black
Fits No. of Burgers : 36
Front/Side Shelf : Fixed
Fuel Capacity (lb.) : 4
Grill Color Family : Black
Grill Grate/Surface Material : Stamped Steel
Grill Material  : Painted Steel
Grill Wheels  : Two
Grill/Smoker Category : Barrel
Grill/Smoker Fuel Type  : Charcoal, Wood
Ignition Type : No Ignition System
Primary Cooking Space (sq. in)  : 719
Product Weight (lb.)  : 140
Secondary Cooking Space (sq in.) :  293
Total Cooking Space (sq. in) : 1012
# Common Doubts
# Thickness :
There is no compromise in the thickness of the body. New models have been made thicker.
Thick enough to cause the pre-installed gasket to seal the stick.
There is no swing in the temperature.
The unit lasts longer. It is fuel efficient and you need to add fuel for a long time..
# Capacity
The capacity is large enough to smoke :
Ribs
Pork butts
And BBQ at the same time in a large quantity.
Basically it can smoke meat for the whole family…
# Temperature Hold or Leakages
As the temperature rises, it may cause uneven cooking of the meat. But it is easy to control and handle.
This provides the even cooking of the meat throughout the system..
Few leakages of smoke and heat can be expected but even it can also be reduced by using the gasket on the doors and sealing the gaps with the silicone..
# Why buy it ?
I think one of the main reason is the price range.
It beats most of the smokers in the category.
Typically the meat is cooked and seared quickly.
This griller does the reverse searing of the meat making it more tender and juicy which I really love.
It is also large enough to smoke 10lbs of  pork belly for bacon…
Buy Char Griller Grand Champ XD Cover and other accessories from Amazon by clicking here.
# Who should not buy it?
If you are a beginner then I don't recommend buying this.
Since there are lots of smokers in a better range and quality. For Eg : You can opt for Oklahoma smokers, Dyna Glo etc.
Saying that, I feel that beginners can go with lower price smokers.
Since most beginners are trying out for the sake of experiencing. And there are high chances you end up not liking smoking at all. .
Trust me, I have friends and families who ended selling their expensive smokers after a few months of use.
Take time. Try to learn and grow slowly. If you feel it is good for you, you can always upgrade later.
Else it might be another hurdle just to get rid of it…
# What accessories do we get with Char Griller Champ XD?
It is always a bonus when the unit comes with the accessories. The accessories included in this unit are:
Char griller grand champ xd thermometer—Yes
Charcoal basket——Yes
The easily dump ash pans—Yes
Char griller grand champ xd cover.—No. But you can always get one from the manufacturer site.
# What are the alternatives?
It's hard to compare Char Griller Champ with any other smoker of its range . Especially their latest upgrade. .
However there are few smokers which I found to be quite powerful. 
In terms of their price, material quality and mostly because of their customer base or feedback.
Oklahoma Joe's Longhorn comes to my mind. I love this smoker because of its famous reverse flow design and bigger size.
And of course the name Oklahoma joe. However if you are for a competition then I do not recommend you this..
This is how it looks like…
You can get detailed insight about offset smokers in one of our articles where we have also reviewed Oklahoma Joe's Longhorn offset smoker .
But in case you want to go for something smaller then you can go for the Highland Model of Oklahoma Joe.
But remember to take the reverse flow version . Both options are available in both the models.
In case you are interested in learning more about their difference find here..
# What are the different Models of Char Griller Grand Champ?
This is the deal . You can't go wrong with Chargriller Grand Champ when it comes to customer satisfaction. 
These guys are improving in all of their upgrades. Which is why you may find different models for their products. 
It's very important to choose the right one according to your needs. 
Char Griller Grand Champ 8100
Char Griller Grand Champ 8250
Okay, I will tell you their differences…
Char-Griller Grand Champ 8250 is thicker than Char Griller Grand Champ 8100.
Makes sense?.. Obviously there are few other differences but this is the primary difference between these models. Leave a feedback if you want me to explain more…
# Char Griller Champ Xd Modifications
I did few modification of Char Griller Champ Xd. The result has been terrific with less leakage of heat and smoke. Know more about offset smoker modifications..
# Is it possible to use the Char Griller Grand Champ XD offset smoker as a charcoal grill?
Yes, you can use it as a charcoal grill..

Simply place charcoal in the main cooking chamber and cook directly over it.

It's a really adaptable smoker…
# Social Proofs
Here are some response from different users…. I have taken the snapshots from comments (YouTube).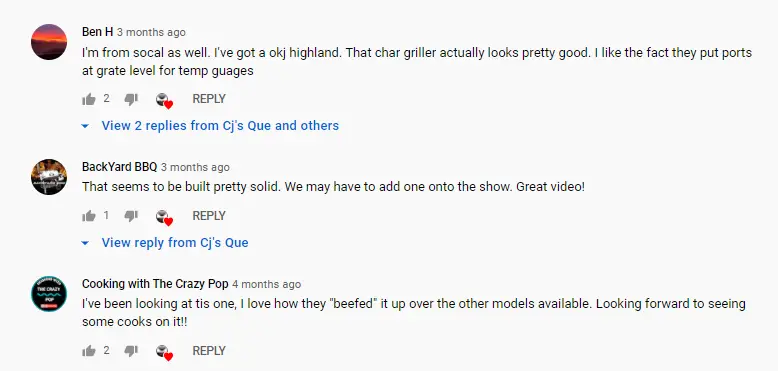 # My Final Take
# Go for it..
For me this is really a smoker that hits directly to my needs. If you are serious about offset smoking, or want it for a competition. You can go for it..
# Another Option Can be
If you are a beginner and looking to try out hands on offset smoker then you can opt for Oklahoma Joes.
# Looking for a specific purpose?
And if you are looking for a specific purpose then we have discussed all types of offset smokers in detail.
# Conclusion
In summary, the Char Griller Grand Champ XD is an exceptional smoker that provides top-notch features for grilling enthusiasts.
It provides great performance and versatility with its tough structure, wide cooking space, and precise temperature control.
The Char Griller Grand Champ XD is a worthwhile investment that will up your grilling game and dazzle your visitors with delectable, expertly cooked meals, regardless of whether you're a backyard grilling enthusiast or an experienced pitmaster.