I hear people say that the Best Pellet Smokers do not exist.
This is true in a sense that it might not produce every taste that you want.
But it surely does it if you know hows and whys.
These need a lot of research and understanding before buying.
You don't want to get it wrong.
But in case you are looking for the best pellet smoker for winter there is a detailed guide you can checkout…,
---
Choices
Best Small and Smoke Flavour
Best Economical and Outdoor
Image
Size
62.4 x 25.79 x 28.23 inches
Image
Size
62.4 x 25.79 x 28.23 inches
Choices
Best Small and Smoke Flavour
Image
Recommended Reading:
– Best Pellet Smokers for Vertical Use.
– The most effective Electric Pellet Smoker.
– Best Propane Smokers with multiple categories.
– Top Budget Pellet Smoker.
– Best Pellets for Pellet Smokers.
---
If you are very new to pellet smokers, knowing these might help:
Hopper : This is the place where you would fill your pellets.
Auger : This is responsible for transferring the required amount of  pellets from Hopper to the Fire Ignition place. 
Burn Out : The first unit of pellet smoker that comes home may have manufacturing chemicals intact. We leave it at 300 to 400 degree temperature for some time with an open lid. This cleaning process is known as burn out.
If gas is trapped inside and the lid is not open then it might even explode. You surely need to be careful there.
Timer Controller : This controls the temp and heat of the smoker based on time. You want to keep 300 for 1 hour then 200 for another 1hour. You can set through this controller.
PID controller : This is automatic. It uses an algorithm to understand the smoker present condition and tries to adjust the temp, heat, fuel based on that.
Ash Cleaning: It's always a good idea to clean the ashes collected from previous cooking. Otherwise it might block the ignitor and temp will drop down.
Smoke taste: The smoke in pellet smokers is on the lighter side.  Whereas in a stick burner the taste of smoke is heavy.
To save you some time in research, here I am going to share with you my list of best pellet smokers that you can choose to buy…
Specifications:
Over 1000 sq in porcelain coated cooking surface.
Digitally control board with LED read out with meat probe.
Innovative flame broiler for direct flame grilling.
31 lb hopper with purge system.
Four rolling casters.
Stainless steel side table with removable serving tray.
Temperature range 150 – 500 F.

This Austin XL is one finest model by Pit Boss. Also the top pellet grill  at this price. 
To let know that this is heavy and you might find it hard to assemble at first. Especially when the manuals are not clear.
So many people in the forums are giving their first hand experience on this smoker.
They are loving it. Especially if you are just starting and want to try some branded smoker. 
You need to be careful with the screws though. It is brittle. 
Apart from that they have very good Danson Customer support. I got my screws fixed and even replaced really quick .
There are two thermometers to help you in place. The first one is in the middle of the hood.
It means you are directly at the cooking area top. Also another thermometer attached to the pellet system itself.
You can always connect  a probe and use in this case .
I found the temperature  difference to be 75 to 100 degrees.
In this case getting a digital thermometer can help you get more accurate temperature information.
You have a pellet capacity of around 40 pounds. It is fully automatic. Of course why pellet smokers are there in the first place.
With this smoker you would be able to get some smoke rings but not in depth.
It produces a quality smoke. Clean and blue smoke. Surely this is important.
One thing I didn't like about it is the problem of cleaning out. It doesn't clean itself.
But again this is a common problem in almost all pellet smokers.
So, better clean out ashes before every 3 to 4 cooks. Or it might end up blocking the ignition itself.
You can easily take out the top grates and increase the cooking space.
Another thing I tried out with this smoker is that it doesn't perform very well in extreme winters. However it was just an experiment. I don't even need that often. 
If you want to set a very specific temperature then you might struggle. This smoker has a bigger range of temperature in the Knob.
Wheels are awesome. Especially I like the front wheels which have casters that are lockable..
Pros:
Starting time is quick.
Good Built.
Produces clean and blue smoke.
Good value for money.
Lockable wheels.
Cons:
Not very good for extreme cold weathers..
Temperature control knob doesn't have small units to set to a specific temperature.
Recommended Reading:
– Best Pit Boss Pellet Grills
---
#2 Pit Boss Pro 820 ( Best for Beginners & Searing)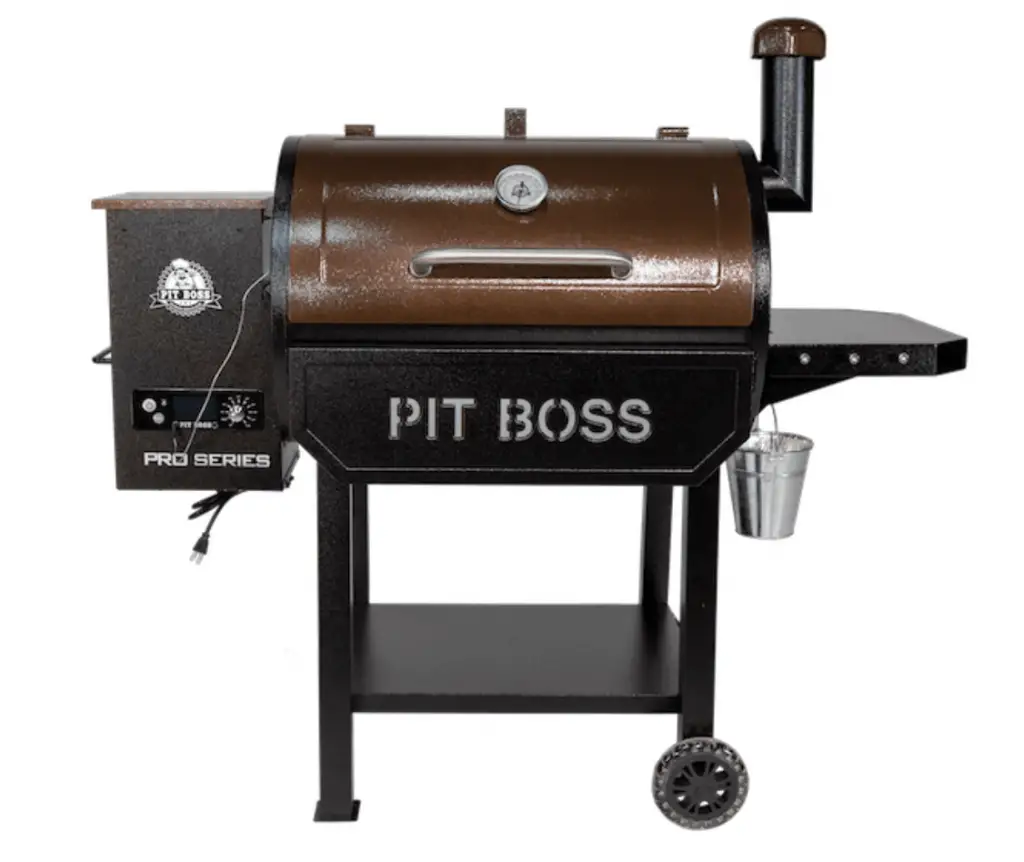 Specifications:
Dial-in digital control with LED read out.
Cooking space: 820 square inches
Burger capacity: 42
Hopper capacity: 19 pounds
Temperature range: 180 – 500 degrees F
BTU value: 40,000
Simple slide-plate flame broiler
Porcelain coated cast iron cooking grids.
8-In-1 cooking system.
If you are a beginner and want something with excellent build quality, this Pit Boss 820 Pro is top of my list. 
Pit Boss Pro series 820 pellet smoker is filled with cool features. The option to Directly grill and have the searing is what people love about this smoker. 
It has enough space to cook up to 35 burgers. 
Wheels are made for all types of terrain. It is sturdy and can last long. 
One thing to note about this smoker is that the controller it uses is time-based. This means you can specify the temperature as per your need for a particular time. 
The dial-in digital controller has built-in inputs to accommodate two meat probes, which means that you utilize these to measure different areas simultaneously. 
One of its coolest features is prime. If you set on prime, this can help you smoothly change the pellet flavors. It can also maintain the temperature, especially when you run out of pellets in the ignition.
This pellet smoker's range is 180 degrees on the lower side and 500 degrees on the higher side. And you can increment it with 25 degrees with the help of the temperature knob.
Suppose you are somebody who loves over the top cooking. Good news for you. It is possible. It might not be the best, but it indeed produces an excellent result.
It provides a foldable workstation so that you can keep your necessaries above it. Side shelf to hang some and a bottom shelf. These are great, especially when you want to keep your food sometimes out of the cooking chamber for any reason.
It is also provided with a utensil hook built-in into the grill. 
The type of thermometer it uses is a dome type thermometer. It is good to have an extra digital thermometer, though. Trust me, it always helps.
However, there is one thing and this pellet smoker can improve upon. Whenever you lift the cooking chamber, there is a frequent chance of the arm getting burned. This is because of its dome design lid. But If you are careful, you can easily avoid it.
This is a large grill at this price, and the way it holds the temperature is praiseworthy. Another thing that is worth mentioning pellet smokers is, it tends to save more fuel as it gets old. Of course, only if you use it more and more. 
Pros:
Good for searing.
Strong built for the price.
Good temperature range.
Cons:
The cooking chamber lid tends to burn the arm while opening the lid.
It isn't easy to set to a particular temperature value.
---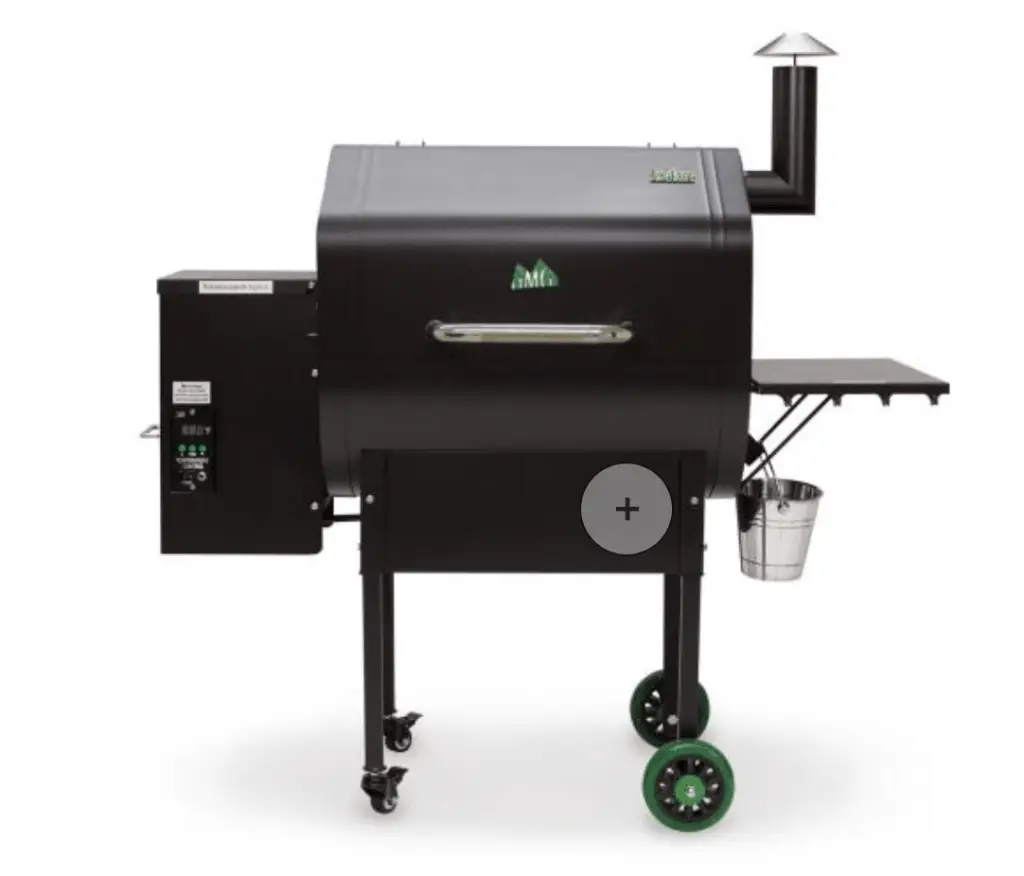 Specifications:
Voltage : 110V
Wattage : 240W start/60W cont.
Weight : 155 LBS
Dimensions : 51"H x 56"W x 24"D
Surface Cooking Area : 458 sq in.
Auger Motor RPM : 4.7~5.2
Fan Motor RPM : 0.45A; 4100 RPM
Grease Tray : 12 Gauge Steel
Lid : 13 Gauge Steel
SS Lid : 14 Gauge Steel
Body : 14 Gauge Steel
Igniter : 110V; 240W
Igniter (Hot Rod) Diameter : .625 in.
Height of Cooking Surface to Lid : 13.5 in. clearance
Hopper Capacity (LBS of pellets) : 17 LBS
Green Mountain Daniel Boone is a pellet smoker with many features directly taken from the smoker's feedback. 
With the combination of a giant wheel and a smaller wheel, it is both flexible and easy to travel to places.
It has a cool collapsible tray. Use it when you require and collapse it when not in use. This means the wise use of space.
There are side hooks for hanging your meats or anything as per your need. You don't have to look for another space.
This smoker comes with a grease trap bucket. This is very useful when you want to clean out all the leftover greases from your previous cooking.
You will get a small hole to connect to with your vacuum cleaner. This is super helpful. Cleaning the smoker is not what everyone is fond of.
Not to forget, this pellet smoker comes with a window on the hood of the cooking chamber. This is cool. You don't always have to open the lid to check the food inside. This will also save you a lot of smoke and heat.
There is also a guard to prevent your hand on the drill. This might not be a massive feature, but it still exists as a safety feature.
Also, you get a window on the hopper to see the level of pellets in the hopper. It is beneficial as we can always see it from the outside then make a decision quickly.
Green Mountain Pellet smoker also comes with wifi enabled. You get an app to monitor the smoker's temperature changes at the comfort of your room.
There are two temperature probes in the latest models. This means it is now more flexible in terms of temperature measurement.
Something which makes it very different from other smokers is that it has light embedded inside the cooking chamber. Ever faced an issue in checking meat in the dark? No more with this smoker. 
Even the small details this smoker tries to maintain. You get a beer bottle opener too. 
You will additionally get a floor mat too. Overall this is a smoker with power-packed feats.
Pros:
Full of features.
Windows on the hood and hopper. You don't need to open the lid to check the smoker's internal status.
Assembly is easy.
Wifi included with a monitoring app.
Comes with a handle tool and a socket.
Cons:
Few features may not be needed for some people.. 
---
Traeger Grills Pro Series 575 Wood Pellet Grill and Smoker with Wifi, App-Enabled, Black, Large
NEVER USE GAS OR CHARCOAL AGAIN: Traeger created the original wood-pellet grill as the ultimate way to achieve wood-fired taste; The Pro 575 takes it to the next level with precise temperature control. 500 °F Max Temp
WIFIRE TECHNOLOGY: WiFIRE technology connects your grill to home WiFi and the Traeger app allows the user to control the grill from anywhere.
VERSATILE BARBECUE COOKING: The Pro 575 pellet grill offers 6-in-1 versatility to grill, smoke, bake, roast, braise, and BBQ all on the same grill; The Porcelain grill grates makes clean up a breeze
THE MARKET LEADER IN PELLET GRILLS: The Traeger Pro Series is the best-selling pellet grill; The upgraded Pro 575 with D2 drivetrain starts quicker, heats up faster, and puts out better quality smoke
BUILT FOR FAMILY COOKING: 575 sq in of grilling space that can accommodate twenty four burgers, five rib racks, or four chickens effortlessly; The built-in meat probe allows you to cook to perfection
Specifications:
Brand : Traeger
Model Name : Pro Series 575
Power Source : Electric
Color : Black
Item Weight : 124 Pounds
Item Dimensions LxWxH : 27 x 41 x 53 inches
Fuel Type : Wood
Traeger Grills have been very long in the market. They are known for their quality and brand names.
Straight to the point. Suppose you don't have budget issues or are not a significant investment for you. But you want something small and which takes less space. Trager GRills 575 is the right option for you.
The set up is straightforward. This pellet smoker comes with an app. This app guides you through the installation process. It can take some time to download the latest software for wifi. 
This smoker will give you a comfortable grilling experience.
It is a good fit for 2 to 6 people.
The hopper capacity is adequate concerning its size. 
You get an increment option of 5 degrees. This means that you have more temperature control. 
The temperature can go up to 450 degrees. The latest models can go even up to 500 degrees; This is awesome based on its size and capacity.
I don't like this smoker because it is often annoying. The temperature controller is very annoying at times. Incrementing 5 degrees up can end up 10 degrees up. 
There are no additional slots for a temperature probe. But it is relatively easy to insert.
This smoker comes with a d2 drive motor. These are brushless motor. Theoretically, this should last for long.
It has a variable speed fan. This fan plays a vital role in controlling the temperature. This makes a very efficient pellet smoker.
It comes with wifi and an app to monitor the temperature. However, you cant control the smoker through the app.
Recommended reading:
– Traeger grill accessories
– For Traeger replacement parts visit here.
Pros:
Suitable for deck and Patio.
Wifi-enabled.
Good build quality. 
Efficient.
Right hopper size for a small-sized pellet smoker.
Cons:
Not very budget-friendly.
App cant control the smoker.
---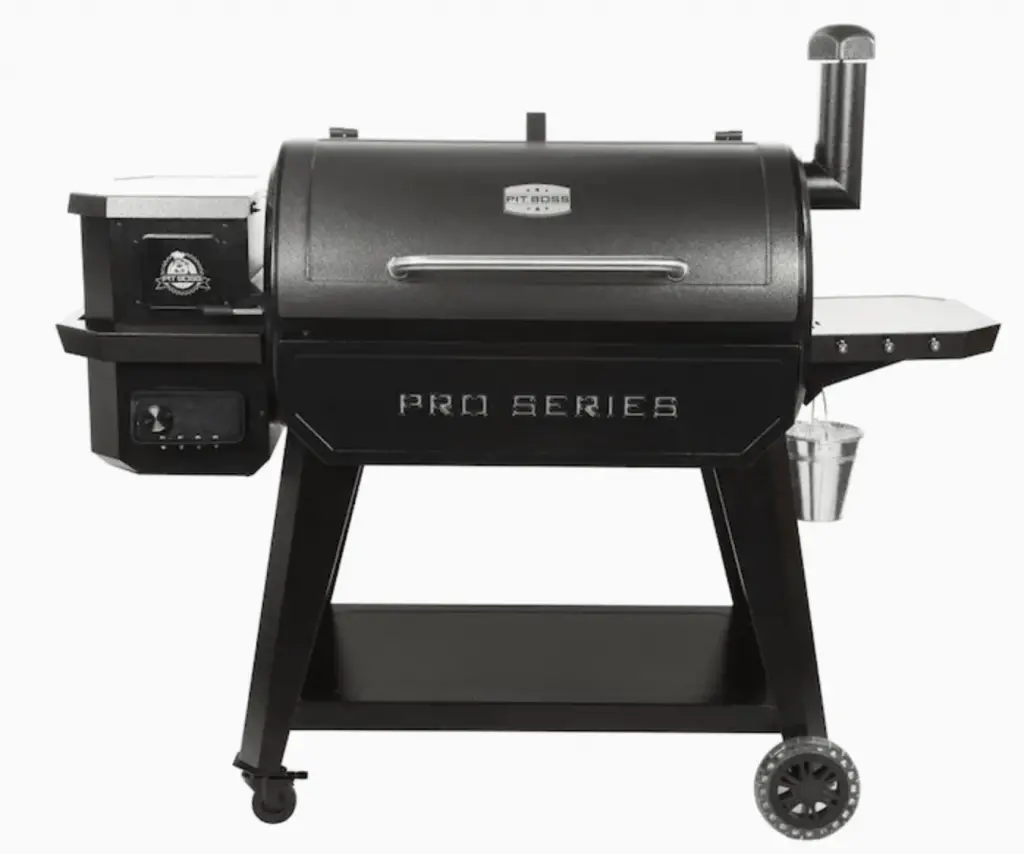 Specifications:
Wireless and blue tooth capabilities
32 lb. hopper capacity
Pairs with the Pit Boss smoke it application
1,155 Square inch cooking area
Removable ash management
Four meat probe ports and two meat probes
Grease management system with easy clean bucket included
Simple slide flame broiler
Porcelain coated cast iron cooking grates.
Pit Boss Pro series 1150 boasts its perfect PID controller. The temperature variations are significantly less in this Pit Boss pellet smoker. 
You can set it to a specific temperature and keep it locked too. 
PID stands for Proportional Integral Derivative Controller. This means that mathematical calculations are done to decide on the smoker's best temperature. It makes an intelligent decision. You don't have to worry about adjusting the temperature.
It comes with an app to monitor the temperature. What it lacks is a sound setting in the app. 
So we can set a temperature and fix the probe to the food. And as the temp goes off beyond the range, you can get an alarm on the phone. Currently, the alarm is simply the usual email notification sound. The app can be improved, though.
This smoker comes with a 32-pound hopper. It also has Bluetooth and a wifi module. 
It is also provided with an ash cleaning tray.
To assemble this, one person might not be enough. Two persons will be helpful while assembling.
Electronics assembly below the controller is relatively easy to unscrew. In case of quick fixes, this might be helpful.
Firepot is easily attached, and it comes out easily. Ash cleaning is easy in this smoker.
Some more accessories include a bucket, a utensils hook, a side table, and a front table.
It comes with four meat probes which means you can monitor four different cooking areas or food. 
Dumping out pellets is easy in case no longer required. 
Pros:
Windows are helpful.
All-new digital controller. 
Good build quality.
Cons:
The lid can burn the arm if not careful.
The temperature probe can be longer.
---
Z GRILLS ZPG-7002B 2020 Upgrade Wood Pellet Grill & Smoker, 8 in 1 BBQ Grill Auto Temperature Controls, inch Cooking Area, 700 sq in Black
ULTIMATE 8-IN-1 WOOD PELLET GRILL & SMOKER - bbq✓bake✓roast✓braise✓smoke✓grill✓sear✓char-grill, you can do everything on here
PELLET GRILL TECHNOLOGY - It's the best and easiest way to get wood-smoked flavors. Anyone will instantly realize the taste is better than a gas or charcoal grill
MAKES YOU A GOOD CHEF - One button starts up, this pellet grill will maintain the preset temperature within 10 degrees fluctuation and produce the optimal amount of smoke, easy and steady
FOR FAMILIES AND PARTIES - Features 700 sq inches of wide cooking space that allows you to place all at once and cook efficiently, 180° to 450° F Adjustable temperature range gives you great flexibility for different food
LESS PELLET FILLING, MORE SMOKING - The 20 lbs large-capacity pellet hopper offers a longer cooking time, eliminating the need to refill the hopper constantly
Specifications:
Brand : Z GRILLS
Model Name : 2020 Upgrade
Power Source : Wood Pellet
Color : 700 sq in Black
Item Weight : 84 Pounds
Item Dimensions LxWxH : 48 x 22 x 51 inches
Fuel Type : Electric, Liquefied Petroleum Gas
This pellet smoker grill combo model is one of the most successful models which Z grills have. This smoker is a good deal at a affordable price. 
Interestingly, the smoker is deceptively large even though it might not look the same from outside.
I would highly recommend this if you are planning on smoking. It produces perfect smoke. It can hold from 200 to 225 degrees very well and go up to 400. 
But this is not a good option for grilling or high heat cooking.
The Pellet Hopper is very straight forward, but it lacks a dump. However, the size of the hopper is large.
This smoker comes along with a cover; Very few smokers come with a cover. Usually, we need to buy it separately. The cover quality is decent and perfect, y fitting and not very tight.
Pros:
Large cooking space. 
Holds low temperature well. Good for smoking.
Cons:
Not suitable for grilling.
---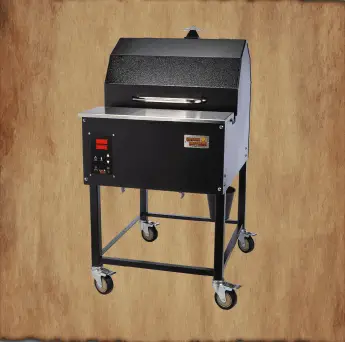 Specifications:
Premier Plus is an extension to the Smokin brothers Premier model's older model. It also includes some more benefits with it. 
This smoker uses something called Heatwave technology. This technology allows us to achieve high heat for cooking without worrying about flames.
It uses a detachable plate that allows the flow of heat and captures back the heat. This eventually adds up the temperature to almost 200 degrees. This unit is transferable to other pellet smokers too. 
The smoker is made of 304 stainless steel, which also means it is easy to clean. Also, the rain caps are made of this steel.
Another good thing about this smoker is that it has grill holders which can easily hold the 26-pound turkey. These grill holders are located at the bottom area. This makes wise use of space in the smoker.
It can also be used as a useful and heavy-duty grill.
It has no wind interference and can maintain low smoke very well.
The hopper's size is 20 pounds, and it works on the PID controller. 
I like this smoker because it recycles every 20 seconds and decides its temperature. 
Pros:
Good Build Quality.
PID controller.
Easy cleaning.
Extra grid holders.
Slidable cooking grates.
Cons:
---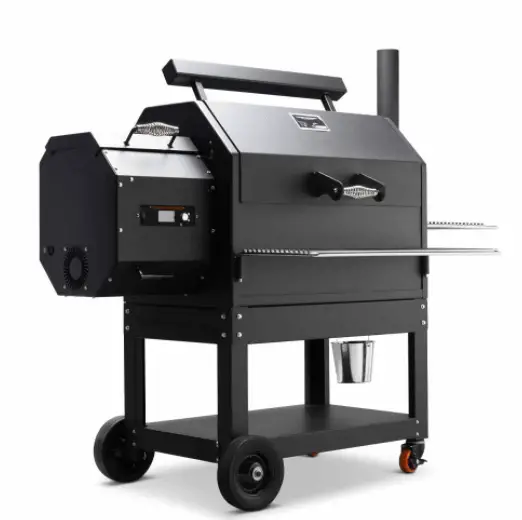 Specifications:
Yoder Smokers ACS (Adaptive Control System)
Two Integrated Food Probes
WiFi + Bluetooth Connectivity
Ceramic Ignition System
Two Piece Heat Diffuser with Access Door
Variable Displacement Damper
Competition Cart & Stainless Steel Shelves
8-inch Pneumatic Tires
2nd Level Slide-Out Shelf
Stay Cool Handles
Grease Drain
Door Counter Weight
Probe Access Port
Built-in Tie Downs
Standard Cart Colors: Orange, Black or Silver
Yoder has been a great name when it comes to building smokers. It is purely made in the United States. 
Yoder YS640 Pellet Grill Smoker is one of the best competition level smokers. It has exceptional built quality.
Using this smoker, you have reasonable control over the use of different flavoured pellets. 
Temperature controls are automatic and very accurate. It is easy to use and easy to clean.
This smoker comes with a variable damper inside the cooking chamber. This allows to tune the temperature to either increase or decrease at any side of the cooking chamber.
It also has a variable airflow chimney. 
If you are into indirect cooking, you can use the heat deflector or the damper inside the cooking chamber.
It consists of an upper shelf which means more area for cooking. These shelves are slidable are easy to adjust.
It also comes with a fan to control the amount of oxygen passing to the firebox. 
You can also keep extra grill grates above the firepit and get good heat to stake.
Pros:
Suitable for low and slow cooking.
Good quality of built material.
Variable heat deflector included.
Good customer support.
Cons:
---
Best Vertical Pellet Smoker 
---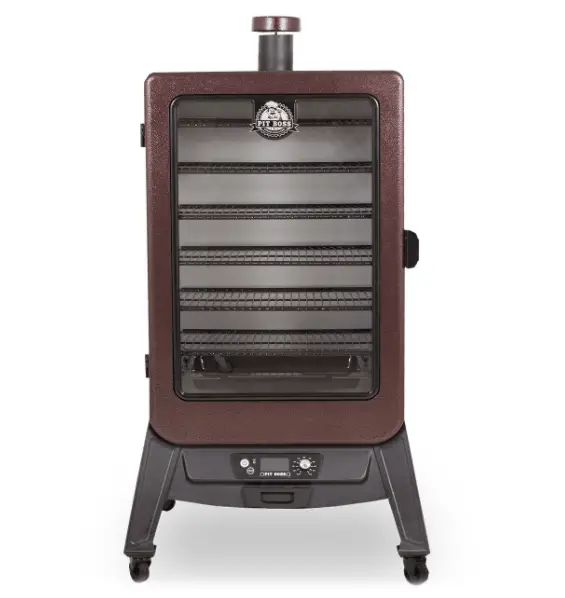 Specifications:
Control Type: VP1 – Digital Control Center
BTU Value: 20700
Count of Cooking Racks: 6
Cooking Area: 1853 SQ. IN.
Hopper Capacity: 55 LBS.
Pit boss vertical smoker comes with a great design and built quality. 
You can do both smokings and grill with this smoker at the same time. That is why they have their vertical design.
So if you have the same requirement, this is by far the most respected series in vertical smokers. 
Also, it is a smoker that can save your spaces. Its vertical design plays an important role.
It boasts a copper top that looks grand and provides a good finish. It makes it a great looking pellet smoker in the price range.
The smoker comes with a greased pan below inside the cooking chamber. So it is easy to clean the collected grease once the use is over.
With the size of 40-pound capacity, this smoker can input many pellets at a time.
And the clean up is relatively easy. You can clean the pellet hopper from the bottom. 
Easy latches are provided to open and close the doors.
The number of grates this smoker provides is four. So you can quickly cook more. And based on the requirement, you can always remove the grates and makes some additional spaces. 
The wheels are comfortable and can ride in most terrain. 
The smoker's size is around 12 inches deep and 15 inches wide. This is quite a lot of space.
I would not recommend this for a beginner, though. It is expensive. You can always start with something of lower cost. And if you like the whole process, you can always upgrade to this smoker. 
This is quite a heavy unit. Therefore you might require some help to move it around.
Assembling this might not be as easy it looks. You may need help here too. 
If you are looking at it as a gift, then this is a great buy to look into. 
Pros:
Suitable for Grilling and smoking together.
Good capacity. 
Quality built and pleasing look.
Cons:
---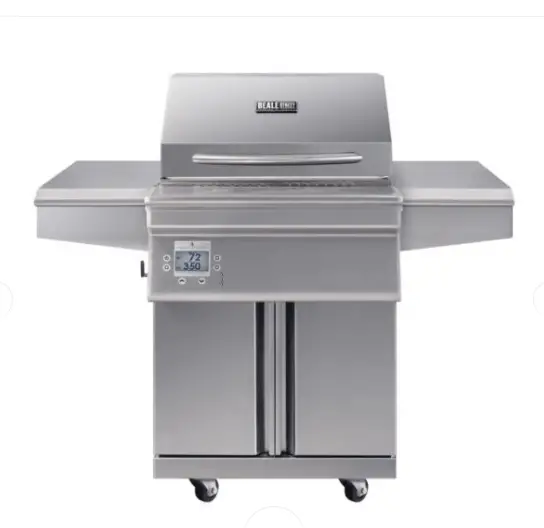 Specifications:
Smoke, grill, bake, sear, and roast
Convection oven cooking
180 to 550 degrees Fahrenheit
Cooking surface 558 to 817 sq. in. (optional grate)
Cloud based Wi-Fi*
12 lb pellet hopper capacity
Cabinet for storage
Open flame option
This is a luxury beast with quality. Beale Street Wood Pellet Smoker from Memphis Wood is made up of Quality Stainless steel. It looks grand.
It has 12 pounds hopper capacity. This smoker's unique thing is that it has a hopper on the front. Even the hopper is stainless steel.
It is heavy. This is due to the material and its quality being used to build the smoker.
This smoker can maintain 185 to 295 degrees in smoke mode well. It has fans to control the temperature.
Beale street is also consistent in all the weather. So you can relax in all conditions.
Also, it comes with a cloud-based app that can be used to monitor the smoker.
The smoker boasts its algorithm for a PID controller that can make intelligent decisions to make the smoker work in perfect temperatures. And it is a proprietary innovation.
You also don't have to worry about grease causing a fire. It has a specially designed unit that helps the grease slide down and not reaches the fire directly. The grease is collected in a drawer with a unique slot space below the cooking chamber.
The drawer below can hold 9 to 13 foil pans to collect grease.
In 10 to 12 min this smoker can easily reach up to 300 degrees And go to the maximum in the next 5 to 10 min. 
Using this smoker is super easy. It is also very consistent.
You can perform open flame grilling too if you want with this smoker.
Something unique to this smoker is that it has a mechanism to separate the hopper's pellets from the ignition well. This is a quite an impressive safety feature. You don't have a fear of catching the wrong fire.
Moreover, the probe that comes with this smoker is specially designed to last long and look good—also made of stainless steel.
If you have the money, you can't go wrong with this smoker. 
Pros:
Super built quality. Stainless steel body.
Safety features. 
Intelligent PID controller. 
Cons:
---
Also you can check out our latest detailed article on " List of best offset smokers in all categories. "
FAQs
# Is Wifi worth it on Pellet grill?
Yes. It is worth it. Most Pellet Grill also requires clean up. The pellet in the auger might get blocked because of ashes accumulation. Having a wifi helps you to monitor this from the comfort your room.
# Is Pit Boss better than Traeger?
Yes, Pit-boss is better in so many ways. It provide almost the same quality with more features than Traeger at the same price range.
# Is a pellet grill better than a smoker?
No, offset smoker is far better in terms of its taste. But the comfort of using pellet smoker is far better. Pellet smoker is best for people who wants to automate smoking to certain level. .
# Why is my pellet smoker not smoking?
Due to ashes getting accumulated and covering the ignitor. This is the most common reason.
# Why use a pellet smoker?
Pellet smokers are easy to use. It provides automatic heat and temperature control. Means less hassle during smoking.
# Can you grill on a pellet smoker?
Yes, We can grill on a pellet smoker. Some smokers comes with special Grill area. These areas provide very good heat for grilling.
# Can I use wood chips in a pellet smoker?
Yes, you use for sure. But It is not recommended as the pellet smoker are especially designed for pellets . Auger plays an important role . It might damage the smoker in long run.
# Can you grill steaks on a pellet smoker?
Yes, some pellet smokers allow direct heat exposure good for grill steaks.
For Eg: Pit Boss 820 Pro.
# Do you need power for a pellet smoker?
Yes, pellet smokers require energy because they have an electric auger, fan and digital control panel.
# Which smoking pellets are best for Pellet Smoker?
1. Bear Mountain Pellets.
2. Camp Chef Premium Hardwood Pellets.
3. Kingsford Pellets.
4. Weber SmokeFire Hardwood Pellets.
5. Lumber Jack Pellets.
6. Pitboss Pellets.
7. Traeger Pellets. 
# Can you grill steaks on a pellet smoker?
Yes, some pellet smokers allow direct heat exposure good for grill steaks. For Eg: Pit Boss 820 Pro.
# Do you need power for a pellet smoker?
Yes, pellet smokers require energy because they have an electric auger, fan and digital control panel.
# Which smoking pellets are best for Pellet Smoker?
# Conclusion
The top pellet smokers described in this article provide great performance and versatility for both inexperienced and seasoned grillers.
With the use of cutting-edge technology, exact temperature control, and effective pellet consumption, these smokers can easily produce mouthwatering smoked foods. They offer a dependable and pleasurable grilling experience because to its strong structure, generous cooking area, and user-friendly features.
These top-rated pellet smokers will improve the quality of your outdoor cooking, whether you're smoking meats, vegetables, or even baking desserts.
Pick the one that works best for you and begin relishing delectable, smoky flavors in your backyard.