Did you just buy a Dyna Glo vertical Offset Smoker and things did not work out as expected?
I have always struggled to find the right information for Modifications.
And Dyna Glo Vertical Offset Smoker is not an exception.
Therefore I have chosen to compile my own.
I have explained some problem and modifications to solve the issues such as-
Sealing the door or the lid.
Wrap aluminum foil around a cooking grate.
Sealing all the joints and so on.
Hope its helps you in some way…
---
Be sure to check out

12+ Full List of top modifications of different grills, smokers and cookers etc.
Also you can check our detailed guide on :
– top 10 offset smoker modifications in 2021 where we have used Oklahoma Joe's Highland as an example.
or
– 6 Excellent Char Griller Modifications that might give you more insight in to the techniques and idea behind modifications..
Dyna Glo vertical Offset Smoker
---
# Problem 1: Inconsistent temperature
---
Reason:
This is because of the leakage of smoke and heat through the smoker.
Mainly through the lid of the chamber…
Modification 1: Sealing the door or the lid.
– Material Used:
a) Gasket..

b) Brush
Wire Brush,Heavy Duty Carbon Steel Wire Scratch Brush for Cleaning Rust with 14" Long Curved Beechwood Handle,Large
PRACTICAL: Wire brushes are ideal for removing paint stains, rust, welding slag,solder,scale, Great for remove corrosion and more from parts, equipment, machinery and other surfaces. Also great for cleaning threads, grills or tile.
Ergonomic Long Curved & Durable Beech Wood handle with pre-drilled hole for hanging-Smooth finish nice naturally beech wood provides excellent hand feeling, Easy to Use.
Heavy duty Carbon Steel wire brush: wire scratch brush, solidly imbedded carbon steel bristles, Hardened steel wire for reduced wire breakage & longer life, Rugged and durable.
Perfect size: 14" Overall Length, Bristle Area length is 5.5", the Bristle length is about 1", Bristle Area 3X19 Row. Fine Kraft paper packaging box
High quality- We are a professional brush manufacturer since 1992, MAXMAN Factory has specialized in creating finest quality Wire brush, paint brush, All kinds of brushes, It integrates product development, designing, production, sales trade and one of supplier of big hardware market in U.S.A.
120 to 3000 Assorted Grit Sandpaper for Wood Furniture Finishing, Metal Sanding and Automotive Polishing, Dry or Wet Sanding, 9 x 3.6 Inch, 36-Sheet
MEETS ALL YOUR NEED - Including 3 sheets of each grit: 120/220/320/400/600/800/1000/1200/1500/2000/2500/3000, total 36 sheets.
PREMIUM QUALITY - Made of waterproof silicon carbide, electro coated ensures the grit distributed homogeneously, good for wet and dry sanding.
MULTIFUNCTIONAL - Suitable for use in art and craft, wood work, automotive, metal, and plastic applications for buffing and polishing.
EASY TO IDENTIFY - The grits of the sandpaper are printed on the back for easy identification.
Product size: 9 x 3.6 inches, also can be cut into any smaller size you need easily.
– Steps to Follow:
Preparation :
Remove the dirt or the paints from the lips to put on the gasket.
Action :
Put the gasket on each of the firebox's lips or the cooking chamber to reduce the loss of heat and smoke.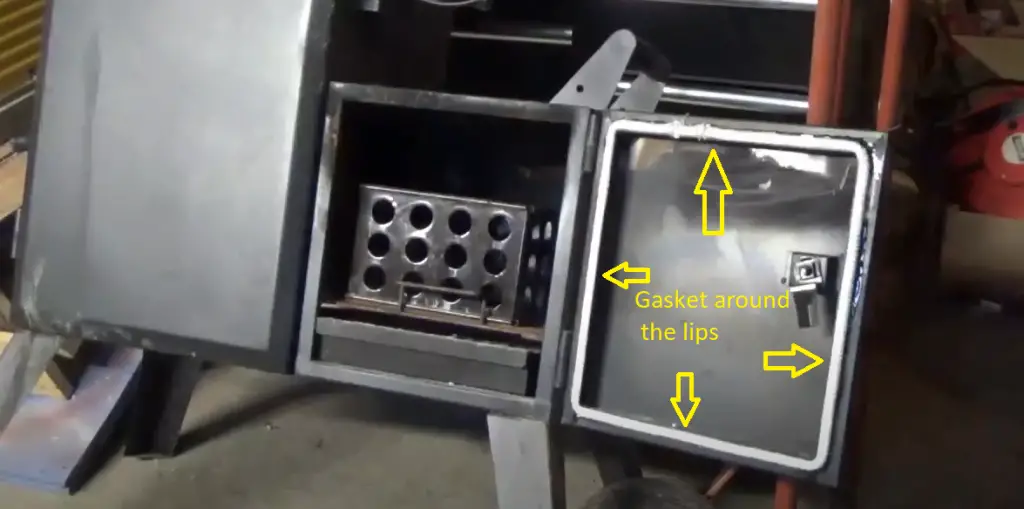 Modifications 2: Wrapping the aluminum foil around the cooking grate.
– Material Used:
Reynolds Wrap Aluminum Foil, 200 Square Feet
200 SQUARE FOOT ALUMINUM ROLL: This package contains 1 Reynolds wrap aluminum foil roll measuring 200 feet long by 12 inches wide (200 square feet total)
ALUMINUM FOIL: Backed by over 70 years of quality & strength, home cooks of all kinds trust Reynolds foil for easy prepping, cooking & clean-up
LOCKS IN FLAVOR: Use this versatile kitchen foil to cook packet meals, tent roasted meats, cover casseroles, protect leftovers from freezer burn & more
BUILT-IN EASY TEAR EDGE: Get the right size piece of baking foil every time with the easy tear edge, built right into the package for convenience
COVERS, PACKAGES & STORES: Whether you're covering pans to avoid messy splatters, wrapping food in a packet for maximum flavor & texture, or simply storing leftovers, Reynolds aluminum wrap does it all
– Steps to Follow:
Preparation : 
Clean the lowermost cooking grate to remove the dirt.
Cut the foil in a size larger than the cooking grate.
Action :
Wrap the aluminum foil around the cooking grate from the lower portion.
Make it look like that of food damper also.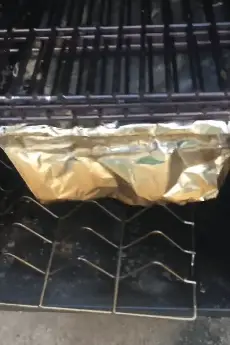 ---
# Problem 2: If the temperature goes beyond what is required.
---
Reason:
This happens when fuel is put at a higher rate, and no escape of heat is allowed..
Modification 3: Keep ready the water can.
– Material Used:
A can that can hold up the water. It maybe any old bucket of your house..
– Steps to Follow
Preparation : 
Take a can filled with cold water.
Action :
Start sprinkling water over the cooking chamber's surface when the temperature starts rising above the desired temperature.
---
# Problem 3: Leakage of smoke:
---
Reason:
When the joints are not correctly sealed.
The loose or incorrect sealing of the joints will allow the leakage of smoke or heat without the knowledge of ours..
Modification 4: Sealing all the joints
– Material Used:
LavaLock Smoker Sealer High Temp BBQ Gasket & Adhesive Smoker lid Door Tape GL-1/2 & LL3R
✅ 【HIGHEST TEMP】Highest temp bbq smoker GASKET & ADHESIVE KIT by LavaLock
✅ 【1/2 WIDE x 1/8 THICK】Size 1/2 inch x 1/8 inch gasket smoker sealer & LavaLock RTV600
✅ 【15 Ft LONG + 600f RTV】125 x .5 x 15 ft self stick bbq smoker gasket & 3 oz RTV 600F
✅ 【EASY SELF STICK】Self adhesive tape backing for easy press and stick installation, self cure seam sealer
✅ 【MADE IN USA】The best BBQ gasket that we sell for smokers .125" x .5" x 15 ft PROUDLY MADE IN USA
Preparation : 
Clean the area or the chamber's joints, which includes joints between the firebox and cooking chamber, joints of the bolts and nuts..
Action :
Apply the silicone sealant over the joints and keep it for a brief time to let it dry.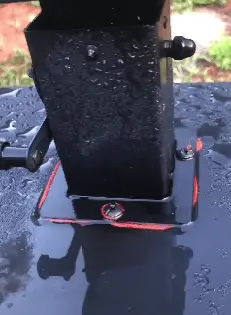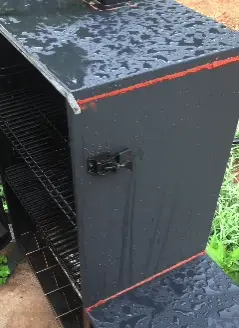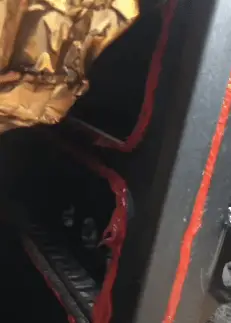 # Video of Pork Butt after modifications
# Accessories:
FAQs
Dyna Glo is manufactured by GHP Group, Inc.
They focus mainly on electric fireplaces, fireplace glass doors, fireplace accessories, electric log sets, portable heating products and barbecue grill products..
# Where are Dyna Glo grills made?
Dyna Glo Grills are made in the USA.
The company is located in 6440 W Howard St, Niles, IL 60714.
Know more about the company here.
# How often do you add wood to offset smoker?
You should add new wood to your offset smoker every 30 to 45 minutes to achieve the best flavor when smoking meat..

For about an hour of smoking, two to three handfuls of wood chips are needed..
# Are you able to control your temperature?
Yes, I am able to control the temperature with the water pan at around 230-250 for 12 hours..
I'm sure if I wanted higher temps, I could remove the water pan..
# Conclusion
In conclusion, these modifications can significantly increase the Dyna Glo Vertical Offset Smoker's performance and utility. A heat deflector, gasket seals, and tuning plates can all be used to improve temperature control and distribute heat more evenly. A smokestack extension can improve smoke and heat retention, while the installation of a charcoal basket and ash pan facilitates maintenance. You may improve your smoking experience with the Dyna Glo Vertical Offset Smoker by making these changes..