It was very easy for me to prepare the list of best offset smoker for beginners. I know exactly the struggle I had as a beginner.
I remember when I was starting out as a fresh graduate putting my hands into the work of Grilling and Smoking.
I used to think the smoker needs to be heavily built and only then I can get the top result .
For me , It wasn't true. I ended up starting my smoking journey with a low end smoker. Obviously it wasn't easy because of leakages. But I can assure you that you can level up as you go.
I did some modifications and it turned out to be a wise purchase.
That said I simply don't suggest cheap smokers that do not work.
But at the sametime I know that most people simply wants to try out smoking. And don't make much sense to spend a lot of money on that.
You can always upgrade later if you find that its worth it.
If you are a beginner there are lot of low cost smokers out there that does their job well . And sometimes even can beat expensive smokers.
Image
Size
53.7 x 28.2 x 48.8 inches
35.5 x 64.25 x 55.5 inches
Image
Size
53.7 x 28.2 x 48.8 inches
Image
---
Best Offset Smoker for Beginners
---
Be sure to check out

12+ Full List of top modifications of different grills, smokers and cookers etc.
Sale
Royal Gourmet CC1830SC Charcoal Grill Offset Smoker with Cover, 801 Square Inches, Black, Outdoor Camping
Heat Resistant: New black coating withstands high temperature up to 400℉, will not easily peel off. Easy assembly. Delivery includes a grill and a free cover.
801 Square Inches: Includes 443 sq. in. porcelain-coated steel wiring grates, 169 sq. in. chrome-plated warming rack and 189 sq. in. offset smoker.
Offset Smoker: Seamlessly attaches to grill, ensuring good circulation of heat and smoke. Easy to open side door to add charcoal and remove ash; air vent stocks fire instantly.
Adjustable Pan: 2-level adjustable charcoal pan creates better heat control, holds up to 4.4 lbs. of coal.
Ample Space: Front and side shelves offer space for seasonings and grilling tools. Bottom shelf provides extra storage space and holds up to only 20 lb. accessories when they are evenly distributed.
Specifications :
Brand : Royal Gourmet
Material : Stainless Steel
Colour : Black
Item Dimensions : LxWxH 115.1 x 68.1 x 121.9 Centimeters
Item Weight : 57 Pounds
Finish Type : Black
Model Name : CC1830F
Frame Material : Alloy Steel
Assembly Required : Yes
The assembling of this offset smoker is easy with the new process's arrival. The body is made of heavy-duty steel to make it last longer.
The cooking area is 782 sq inches long enough to cook for 7-8 people.
The built-in thermometer allows a precision temperature control. This allows you to cook confidently.
It also contains a built-in vent and side door to control the temperature if required. The firebox and the cooking chamber forms an efficient heat transfer.
The warming rack that comes along with it gives an extra cooking space. You can provide exceptionally delicious food to your families and friends.
The paint on the burn box won't flake off soon. The chamber holds the heat very well.
Meat cooked over it becomes tender and juicy.
The damper is flexible and adjustable, which allows for a better flow of heat.
It has a big stack and a cool-touch spring handle. It also has a side door for the addition of charcoal too.
The shape and size of this chamber is eye catchy for me. I love the way my friend assembled it so fast.
I had some problems with the paints. But I could easily fix it by preheating the chamber to harden the paint.
I used the instruction manual provided with the smoker to fix this.
Pros :
It lasts long
Made from heavy metal
Holds heat very well.
Cons :
Paint flake out if kept longer in an open area.
Dyna-Glo DGO1176BDC-D Vertical Offset Charcoal Smoker
Vertical design lends itself to naturally rising heat, achieving greater efficiency and improved smoke flavor. Offset design keeps direct heat away from the food, allowing for slow cooking.
Six height-adjustable cooking grates accommodate various sizes of food. 784 square Inch of total smoking area; 1176 square inches of total cooking space with 25-pounds capacity per grate.
Porcelain-enameled steel charcoal chamber is designed to keep briquettes stacked tightly for improved burn efficiency.
Charcoal & ash management system with the charcoal chamber, grate, and sliding, removable steel ash pan. Designed to handle large amounts of ash for hours of maintenance-free cooking.
Smoke stack features an adjustable flue for additional flavor and temperature control.
Specifications :
Color : Black
Brand : Dyna-Glo
Model Name : Dyna-Glo DGO1176BDC-D Vertical Offset Charcoal Smoker
Power Source : Charcoal
Color : Black
Item Weight : 57 Pounds
Item Dimensions LxWxH : 20.2 x 34.52 x 47.03 inches
Fuel Type : Charcoal
As the name suggests, it is a vertical offset smoker.
The total length from the bottom to the top of the cooking chamber is 44 inches. That means you can easily cook variety of food together placed in different grates.
From the bottom to that of the chimney is approximately 49 inches. Which means it has enough space for smoke to travel around the food.
It weighs almost 77 pounds. It has got legs and no wheels. But it has two handles on two sides where two persons can carry it out.
It has a cooking area of 493 square inches. It comes with 6 stainless racks. These racks can be adjusted to certain degrees. One rack can hold almost 25 pounds of cooking items.
The bottom portion is slanted, which allows the grease droppings to drip in the pan.
The firebox is 88 square inches which is a little small. It perfectly sits on the grates, which has an ashtray underneath. It can be pulled off to clean it time and again.
There is metal insulation between the firebox and its roof, which can be used for warming the pot.
There is a sliding on the side for the adjustment of airflow. Open it up to allow the air flow and close it to reduce its flow.
The chimney has a lever that can be adjusted such that more smoke is allowed to stay inside the chamber if wanted. The handle is super nice.
One of my family members use this smoker. He is quite happy about it. Especially he likes to smoke .
It seems the smoker utilizes the heat and smoke very well with some modifications. The result taste can be enhanced.
One thing I noticed is that because of small size of the grate, the brisket had to be diagonally placed. This is not good, since it takes up space.
Overall it is a perfect smoker for beginners who are interested in the vertical design.
Pros :
Easy to clean.
Effective inbuilt thermometer
Can cook for an average family
Cons :
Oklahoma Joe's Longhorn Reverse Flow Smoker
1,060 total Square inch cooking surface- 751 Square inches in the main chamber, 309 Square inches in the firebox chamber
Reverse-flow smoker employs a Series of 4 baffles to guide heat and smoke through the main chamber delivering an even and delicious result
Removable baffles and optional smokestack locations for a customizable setup. Number of Grates: 4
Firebox chamber features large stainless Steel fuel basket and clean-out door for easy ash removal
Heavy-gauge all-steel construction, porcelain-coated cooking grates and multiple dampers for easy heat and smoke control
Specifications :
Brand : Oklahoma Joe's
Model Name : 17202053
Color : Black
Item Weight : 226 Pounds
Item Dimensions LxWxH : 35.5 x 64.25 x 55.5 inches
It is a kind of smoker where the chimney and the firebox are on the same side, allowing even the meat's cooking.
It also has an optional smokestack, which allows choosing between the reverse or traditional smokers' flow.
Reverse flow : It is a kind of smoker where the smoke passes from the firebox.

It then passes through one end of the cooking chamber to the other end.

The smoke travels below the cooking grates. Once it reaches the other end it travels back.Then it flows out through the chimney .

Which means the chimney and firebox are on the same side.
Two thermometers support 8-degree differences in temperature.
It has four baffles locked under porcelain-coated wire grates that deliver even heat and smoke throughout the cooking chamber.
It contains a large charcoal basket that provides efficient burn, easy trending, and the convenient firebox door makes cleaning up quick and easy.
The primary cooking space is 1060 sq inches. The warming area on the firebox adds versatility to cooking.
The cool-touch handle protects the hand from the heat. The professional temperature gauge measures accurate temperature.
The large wagon-style wheels allow easy mobility. The bottom shelf allows the space for keeping utensils and additional fuel close by, and the stainless steel charcoal basket holds the fuel as charcoal.
The whole of the chamber is coated with high-temperature paint.
I don't own this smoker but I have a first experience in using this smoker in one of our workshops.
Honestly, I didn't find it to be super heavy or of highest quality. However the result smoke flavour was quite impressive. It is one of the best products for the money I have seen so far.
I also had people complaining about it being very small. This is not so true because there are smaller smokers than this. The size is quite descent in my opinion.
Pros :
Easy to move
Even smoke distribution
Even heat distribution
Fewer temperature spikes
No water and grease tray
Fast temperature recovery
Improved flavor and moisture
Cons :
Over smoked meat
More fuel to maintain the temperature
Longer to adjust the temperature.
Harder to clean
---
Used Smokers for Sale
Alternatively you can also buy used smokers from different groups or community online.
If you are lucky you might find some good smoker pits, bbq pits.
For eg : Last month I saw very good sales going on in some of the facebook groups.
Somebody from texas was selling his bayou classic offset smoker in an excellent condition at a very reasonable price.
You may want to checkout .
Incase you want to check join I have listed the groups below…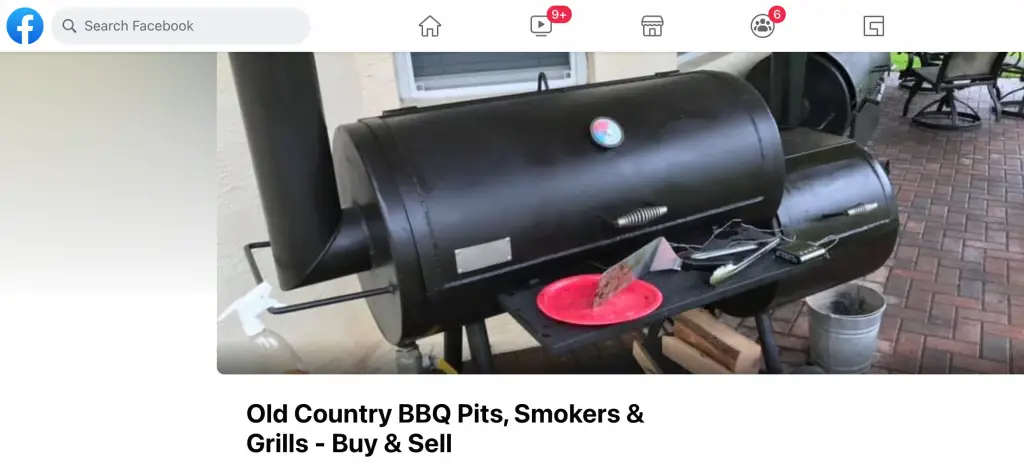 Other Options
You can also buy other types of offset smokers if budget is not a constraint for you.
Also if you are looking for a very specific purpose.
We have discussed further all types of offset smokers for all purposes . Kindly leave your feedback or you can write to us about your favourites.
Good to Know Guide :

Understanding these things helped me as a beginner :
– Offset smoker:
It is a kind of smoker where the wood and charcoal is burned on the fire box .
And smoking is done on the cooking chamber.
The heat travels from the firebox to the cooking chamber.
– How does it work ?
The heat and the smoke from the fire box moves towards the cooking chamber.
Then it circulates around the cooking chamber and leaves through the chimney.
The air flow can be adjusted through the air intake and exhaust vent.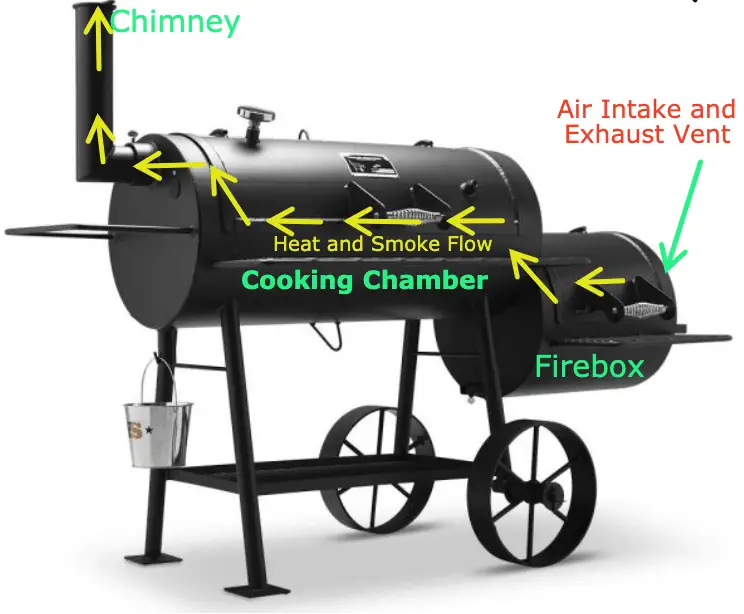 ---
FAQ:
Is offset smoker even better than pellet smoker?
Yes, it is far better in terms of taste. However if you are a newbie than Pellet smoker are best . Pellet Smoker are automatic.
Do you need a water pan in an offset smoker?
Yes, it serves as a heat sink.But it is not compulsory if your smoker is already maintaining good temperature.
What should I look for in a smoker?
Temperature control : How easy is it to control the temperature of the smoker?
Body makeup : How is the built quality of the smoker?
Even heat : Can it maintain even temperature throughout the cooking chamber?
Dampers : Does it have dampers to control the smoke exit?
Warranty : How much warranty the manufacturer provides for the product?
Capacity : How much food it can accomodate during a single cook?
Easily movable : It is portable?
Airflow : How efficient it is on allowing the air to the firebox?
Are vertical or horizontal smokers better?
For me, it is vertical smoker. As in Vertical smoker the control of temperature is very easy.
What does a water pan do in a smoker?
It helps in controlling the temperature of the smoker.
Which charcoal is best to use for smoking?
For smoking it is best to use Charcoal Briquettes . They are meant for long hour cooking therefore last long.