Looking for the best value propane smokers that can meet your needs?
It was long back when one of my friends introduced me to propane smokers. I am usually fond of smokers with traditional tastes. 
However with my other smokers (Pellet ) I was not able to achieve the taste I want. It was more of a thin smoke experience. 
Propane smokers seem to be different. It is simple to use. And also produces results similar to the traditional offset smokers. 
After my deep dive into these smokers, I have come up with a list of 8 best propane Smokers that  might help to make your choice,
---
Image
Size
19.3 x 18.1 x 38.6 inches
Image
Other topic you might be interested : "10 Best Pellet Smokers for 2022  "
---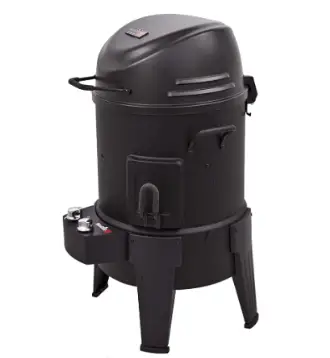 Specifications :
Product Dimensions : 23.1 x 23.4 x 36.2 inches
Item Weight : 22.68 pounds
Manufacturer : Char-Broil
Item model number :14101550
Style : smoker, Roaster and Grill
The Char-Broil The Big Easy Tru Infrared Smoker, Roaster, or Grill all in one is an easy-to-use product. There are no flare-ups so as a result, you will consume evenly tender and juicy food.
The 1200 square inch smoking and roasting basket keep large cuts of meat. You can grill more than 25lbs of meat.
The 180 square inch grill grate has sufficient space to grill steaks, burgers, and chicken. Grill grates are removable and porcelain-coated stainless steel. Food can't fall between the grates and no flare-ups occur in the cooking chamber.
Char-Broil Tru infrared cooking system is best for juicer food.
The Char-Broil 3 in 1 is portable and easy to use. It provides a wide range of temperatures.

It is very simple to connect a standard liquid propane tank with Char-broil, by just turning one knob to switch it on and turning the other knob to light the unit.
It has a sturdy base frame with steel legs, which help to maintain stability. 
You can access the side-mounted smoker box from the outside of the unit. Water pans or air dampers are not required due to the use of infrared heating system equipment.
Without opening the lid the unit allows you to add your favorite wood chips and get the real smoke flavor from your food.
The Char-Broil 3 in one is a quality construction grill and it gives you great value. The measurements of the assembled unit are 36.2 inches H x 23.4 inches W and weigh 50 pounds.
This unit comes with cooking chamber, smoking and roasting basket, removable grease tray, hose with regulator, basket lift hook, two half shelves, smoker box, metal thermometer, rotary ignition, and product guide; these all features comes with Char-Broil 3 in 1.
You need to purchase a propane tank. The 18,000 BTU burner of the Char-Broil maintains a constant temperature and has a large temperature range..
Two side-mounted handles allow the unit to be moved around easily. The portable facility makes it ideal for picnics and tailgate, or in your backyard. All the given features make the Char-Broil 3 in 1 a real unique product. So you can peacefully use this Big Easy Char-Broil infrared smoker, grill, roaster.
Please comment and share your cooking experience…
Pros :
Temperature can be set at 325 and 450 with the gas control knob.
It's an Extraordinary roaster/ oil-less fryer.
You can cook food in less time and get great results.
It makes perfect grill marks.
Tru – infrared provides a wide range of temperatures.
Less gas consumption.
One product with 3 kinds of cooking facility.
Many accessories are available to make cooking faster and easier.
Cons :
No thermometer at the top of the char – broil.
The cooking grates are very difficult to clean.
Screws stripping issue.
Difficult to see if the unit is lit or not.
---
---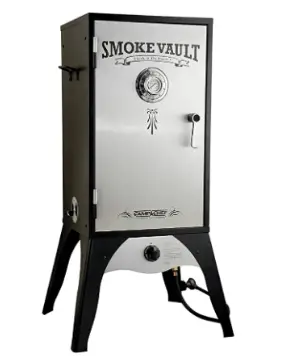 Specifications :
Body Dimensions(w/out) : 18'' W x 16'' D x 30'' h
Total height (with legs) : 44''
Door Dimensions : 16'' Wx 28'' H
Cooking Racks Dimensions : 15'' W x 14'' D
Total Output : 18,000 BTU/hr
Maximum Temperature Reading : 400 degrees
Shipping Dimensions : 19'' x 17.5'' x 30.5''
The Camp Chef 18'' is the best small propane smoker. It is made of thick and sturdy material..
You can smoke all types of cooking food like ribs, fish, poultry, and you can also bake pies. It has a Specially designed rack for fish and beef jerky.
Body dimension 18 by 16 by 30, total height 44 inches, weight – 65 pounds, and dimension on this door 16 by 28 with stainless steel.
You will get an 18000 BTU burner and a nice temperature gauge on the door, which can read a maximum temperature of up to 400 degrees.
The door hinges are very strong and of good quality. It has a nice rubber molding handle, which prevents your hands from burning.
It provides three racks. The first rack can be used for fish, beef, jerky, etc. You can slide out the racks and these are 15 by 14 inches. I want to assure you that you can easily fit a 12-pound turkey on the rack.
It has one heavy gauge steel water tray and one chips tray. All the greases drip down on the water pan. The water pan helps to keep the meat moist. Trays are removable porcelain base trays for easy clean-up.
From the interior of the smoker, you will get from bottom to top a total of 7 different levels to smoke different items. All parts of the interior are strong stainless steel.
The temperature gauge is located at the bottom, you can change to high, medium, or warm, any temperature you want.
 One more important feature is that the Camp chef has two grab handles on each side.
For ventilation, you have 3 adjustable damper valves one on the top right and one on each side of this propane smoker..
I appreciate the manufacturer design of this Camp Chef 18''.
Pros :
Easy to assemble.
Well – built.
Quality unit.
Easy to regulate the temperature.
Cons :
You have to purchase a Propane tank separately.
The single gauge cannot read internal heat accurately. 
---
Specifications :
Product Dimensions : 20 x 20 x 46 inches
Item Weight : 40 pounds
Manufacturer : Cuisinart
Item model number : COS-244
Power source : Propane
Color : 36'' Propane
The Cuisinart COS- 244 vertical 36'' Propane Smoker unit comes with four cooking grates. The exterior of the smoker is made of good, solid steel and it is durable like its interior is similarly well-made. It will certainly not rust and break.
However, it can smoke a lot of food reliably, while it has a bit lacking in the power department.
You can make meals for a good number of people with this Cuisinart smoker. This Interior cooking space is – 785 square inches and racks are 14 by 14, you can easily fit in the smoker.
This vertical Propane has an adjustable temperature control thermometer.
The porcelain enamel steel heavy-duty tray holds the wood chips and water. The water around the woods ensures that the meat is exposed to an equal degree of smoke and moisture. You can easily clean the dripping pan and wood tray.
The smoking chamber measure is 5.45 cubic feet. It is approximately 69.5 pounds lightweight.
Many vertical smokers don't have a proper way to seal the door. It also helps with temperature control.
It has a 40-inch hose and includes a regulator so you can easily attach them. Also, It has a tight- twist-lock door and handles as a secure seal.
There is a strong bottle opener mounted to the side of the frame.
The proximity of the pan to the burner also reduces water rapidly so you have to refill it.
This smoker will not be a bad option if you want to host backyard parties. You can use three racks for meat and one for vegetables or you can vary it however you want.
If you want to cook big chunks of meat or turkey you can easily take out some racks and make more space.
You can control the amount of cooking temperature and feel joy with the savory, smoky and flavored meals.
Currently, Natural gas conversion kits are not available in this propane smoker.
The Cuisinart COS 244 offers great value as the best mid-size Propane Smoker.
Pros : 
Excellent value for money.
Well-built interior and exterior.
Great cooking space.
Two doors easy to access.
Nice warranty.
Cons :
Its insufficiently powered.
Tray of water and wood is inconvenient if replenishing wood chips. 
You have to refill the water rapidly on the water pan.
No natural gas conversion kit. 
Cuisinart COS-244 Vertical Propane Smoker with Temperature & Smoke Control, Four Removable Shelves, 36", Black
5. 45 SQUARE FEET OF INTERIOR: The spacious 5. 45 square foot interior means there is plenty of room to smoke a variety of meats along with several trays of vegetables. The vertical footprint makes it a perfect size for patios and barbecue kitchens.
Product Dimensions: 19.3" L x 18.1" W x 38.6" H | Weight: 69.5 lb
FOUR 14 X 14-INCH REMOVABLE STAINLESS STEEL SHELVES: Four stainless steel racks can be easily removed for smoking whole birds or large cuts of meat. Racks are dishwasher safe, making cleanup easy.
BUILT-IN THERMOMETER: Features easy-to-read thermometer on the front door for accessible monitoring of the internal temperature.
TOTAL TEMPERATURE AND SMOKE CONTROL: An adjustable gas supply gives control over the amount of heat. Optimal smoker access through two doors and a rear vent can be opened or closed to control the amount of heat and smoke exiting the oven.
---
Specifications :
Product Dimensions : 24.5 x 30 x 60 inches
Item Weight : 100.00 lbs
Material : Steel
Manufacturer : Outdoor Leisure Products
Item model number : 44241G2
Power source : Propane
Color : Black
The Smoke Hollow 44 inch double door cabinet system is a large smoker. It offers various features to make the smoking process easier for you. Its powder-coated steel sheet metal manufacturer makes it long-lasting and sturdy and permits it to perform well in utmost weather conditions.
It has dual stainless steel burners 12000 BTU. You can do some adjustments to the temperature inside the cooking chamber. The burners can produce heat up to 400 degrees F. It maintains the set cooking temperature in cold weather.
This smoker is perfect for those who want to smoke a large quantity of food at once. The unit measure of the smoker is 24.5 x 33 x 60 inches. Therefore, you will get plenty of room for smoking.
The smoke hollow has a dual door. The second door allows you to feed the water and wood chips without having to open the top door and without losing the heat and smoke.
This 44'' smoker hollow has one porcelain-coated large water pan and two wood chips pan and also one thermometer gauge.
Smoke hollow 44'' comes with 5 cooking grates. 2- standard cooking grids,2- jerky grids, 1- rib rack, and 1- sausage hanger. Grates are removable, it can fit several types of dishes. Also, you will get a sausage hanger with eight hooks.
You will have a nice experience with 6.5 cubic feet of huge cooking space. You can smoke 70 pounds of ribs at once. Good for large gatherings or parties.
For the tank's safety, you should turn on the smoker before turning on the gas tank. Turn the gas flow a quarter of a turn, light the smoker then turn the gas tank fully open after flaming to avoid activating the valve. 
A detailed instructional guide comes with the smoker which can make it easier to assemble and process.
It is amazing and delivers perfect results..
Pros :
Removable porcelain-coated water pan and chips pan.
Dual door.
Huge cooking surface.
Strong steel built.
Easy to use.
Dual wood chips pans.
Powder-coated steel sheet metal construction.
Easy to clean.
Maintains the moisture in food.
 Cons :  
It takes time to assemble.
Difficult to move.
Masterbuilt 44241G2 Gas Smoker, 24.50" L x 60" H x 33" W, Black
6. 5 cubic feet of cooking area capacity to easily handle enough food for LARGEST gatherings
5 cooking grids: 2-standard cooking grids, 2-jerky grids, 1-rib rack 1-sausage hanger
Dual door design with tempered glass viewing window
Dual stainless steel burners operated independently for optimum performance and temperature control
Large porcelain coated water pan
---
Best Dual Fuel Propane Smoker
Specifications :
Product Dimensions : 20.47 x 20.86 x 43.5 inches
Item Weight : 65.9 lbs
Material : Porcelain, Stainless_Steel
Manufacturer : Masterbuilt Manufacturing, LLC 
Item model number : MB20051311 
Power source : Propane
Color : Black
Fuel-Type : Liquefied Petroleum Gas
The Masterbuilt dual fuel propane smoker is a wonderful smoker, it comes with dual fuel capacity. You can cook with both propane and charcoal fuel sources.
It has one adjustable air damper for controlling the smoke and also one strong door latch and inner door liner that helps keep heat inside.
The patented porcelain coated flame disk bowl is located over the gas burner and this flame disk bowl is under the water bowl. Whenever you want charcoal smoky flavor, you can add the wood chunks to this bowl.
The water bowl is a very important part and it is also patented porcelain coated. Boiling water keeps the meat moist and gives you juicy soft meat tests with a nice flavor. It is removable.
The grease tray helps us to keep the interior clean of the smoker and it saves our time.
You can remove the drip pan for clean- up.
With the help of a raised handle and sturdy wheel, you can move the dual fuel smoker from one to another place.
Dual fuel propane smoker allows you to experience the consistent heat, delicious food, and your sweet flavor or charcoal
The Masterbuilt dual fuel smoker has some great features like four chrome-coated racks providing sufficient room for cooking. You can prepare a large amount of food. These racks can fit easily. Masterbuilt MPS 230s Dual Fuel Smoker provides you 734 total square inches of smoking space. Masterbuilt MPS 230s Dual Fuel Smoker claims that it can handle up to 8 chickens, 2 turkeys, 4 racks of ribs.
There is a separate door for the firebox and one more door for the main cooking chamber.
This module gives you a dual front door so you can use wood chips without losing heat and you can refill the water according to the need.
The Masterbuilt MPS 230s Dual Fuel Smoker module has a 15400 BTU stainless steel burner, control knob, and also piezo push-button ignition. The regulator and hose come with this Propane smoker.
The built-in temperature gauge monitors the cooking temperature. During prolonged cooking, you have to add coals to the firepan 4 to 5 times to maintain the temperature.
The dual-fuel feature of the Masterbuilt is the main reason to love this unit. We can consider this smoker to be one of the best propane smokers at its price.
If you want delicious food without worrying you must use wireless alarms. You should be careful to use the prob wire otherwise it can be damaged. Save from sunlight and rain to last longer. Keep the smoker clean and cover it after cooking.
Pros : 
Easy to use.
Built-in temperature gauge.
Push-button ignition light.
Wire handles.
Porcelain-coated wood chips tray and water bowl.
Easy to clean – up.
Four chrome-coated racks.
Good for winter.
Cons : 
Temperature probe need periodically clean. 
Lightweight.
Limited temperature control.     
---
Specifications :
Product Dimensions : 22.8 x 28.7 x 53 inches
Item Weight : 92 pounds
Material : Porcelain, Stainless_Steel
Manufacturer: Masterbuilt Manufacturing, LLC 
Item model number : MB20051316
Power source : Propane
Color : Black
Fuel-Type : Liquefied Petroleum Gas
The Masterbuilt Thermo Temp X-Large smoker is very simple and safe. Without monitoring or adjusting the temperature, you can cook easily. Masterbuilt Thermo Temp XL Propane Smoker comes with various features. It looks classic.
Let you know about this smoker whatever I experienced the previous day. I hope my research and experiment will be helpful to you.
This propane smoker is controlled thermostatically which is connected to the burner. Patented Thermo Temp innovation will help you to set the temperature and the shut-off valve provides you a safe smoking experience.
There's a push-button which you can just start and set the smoker however you want. Push and ignite continue for 5 to 10 seconds then leave it until cooking is over. No need to adjust and monitor the smoker. This smoker is good for everyday cooking. 
The temperature sensor controls the burner to maintain the temperature. Whatever temperature we set, the thermostat will hold it there.
 You can attach the LP tank to the side of the smoker with a retainer bracket. This is good for putting a smoker and tank together. Fuel tank gas level gauge will help you to know how much gas is left in your tank. The burner has a flame sensor. If the flame will go out for any reason this flame sensor will shut off the gas flow. So no need to worry about the temperature. It will continually adjust the flame. No electricity is required. So it's a safety feature.  
 For your information, a 20-pound gas tank lasts over 50 hours which gives you a very   nice smoke safety.
The 40- inch Thermo Temp X-Large gives you several features like 4 smoking racks provides plenty of room to smoke up to 16 chickens, 6 turkeys, 8 racks of ribs, or 8 pork butts. You can smoke multiple meals on it at the same time with patented technology.
The Masterbuilt Thermo Temp X-Large smoker can be your smart choice for some major reasons that are beneficial for you.
These are the reasons:
1. Thermostat control– means you can control the temperature as your desire and no more monitoring. 
2. Capacity– 4 chrome-coated smoking racks with 961 square inches of cooking surface. 
3. Safe shut-off– if the flame is extinguished, the safety valve shuts off the burner. 
4. Thermometer sensor controls the burner-to maintain the preferred temperature. 
5. Safety valve– shuts off the burner if the flame is blown out. 
6. Tank fuel level gauge– signifies the amount of propane in the tank. 
7. 15,750 BTU stainless steel burner.
With this smoker, you will get a grease tray, which you can easily slide out from the lower left. Also, it is easy to clean. It has two clamps-down handles for two doors and also a one-handed large latch to open and close doors. You can easily add wood chips without losing the heat and smoke because it has a dual door. you will get two locking caster wheels and a strong handle to make it easy to move.
A water pan has been fixed under the lower rack on a frame, it is removable and great for adding moisture. Don't open that smoke box up while you are cooking. The wood chip trays are made of stainless steel that is mounted on the lower door. It is easy to access.

 Pros : 
Well -built.
Simple and safe.
Easy to clean.
No more monitoring.
No adjusting temperature.
Holds constant temperature.
Without losing heat and smoke you can add water or chips.
Easy to clean the glass.
Clamps are good.
Cons : 
Hard to assemble.
Hard to access water pan.
---
Best Portable propane smoker
Specifications :
Product Dimensions : 15.91 x 23.62 x 23.15 inches
Item Weight : 22.21 lbs
Material : Stainless Steel
Manufacturer : Masterbuilt Manufacturing, LLC 
Item model number : MB20050116
Power source : Propane
Color : Black
This cabinet-style smoker is a perfect choice for those who are looking for a small and portable smoker. Also, this is the best smoker for small gatherings or occasions.
There are so many features of this smoker but not impressive compared to other bigger propane smokers.
It has only 5000 BTUs output power. Compared to other smokers it is very less.
However, this smoker does not require a huge place in your backyard for smoking. This is ideal for traveling and camping.
This smoker has high-quality cooking grates like a bigger propane smoker.
The ignition system is easy to use.
The two trays come with this propane smoker. One for water and another one for wood chips and these are removable. And these are located above the burner of the smoker. It has a total of three racks, one for two trays and two more for smoking.
Easy to use, the door latch of Masterbuilt MB 2005o116 MPS 20B patio- 2. It has one thermometer gauge. It doesn't heat up to 300.
There are two handles on each side. It can fold down and up. The legs of the smoker can fold up as well. The rest of the features it has a drip pan.
You can control the heat and smoke with adjustable air damper features.
Choose the best propane smoker based on your circumstances, criteria, or requirements.
Pros : 
Lightweight and easy to use.
Does not require a huge place.
Small and portable. 
It is perfect for traveling and camping.
Good power output according to size.
Cons :
Not ideal for large smoking food.
---
Specifications :
Product Dimensions : 27 x 19.2 x 46.46 inches
Item Weight : 54 pounds
Material : Cast Iron
Manufacturer : GHP Group
Item model number : DGY784BD
Power source : Propane
Color : Black Powder Coated
Fuel Type : LP Gas/Propane
The Dyna-Glo DGY784BDP Liquid Vertical Propane Gas Smoker offers versatility and quality performance with 784 square inches of total cooking space with a 25 pounds capacity per grate and four stainless steel cooking racks. 
Here are some feature of the Dyna – Glo 36'' Vertical – 
Two-door design– It helps to minimize losing heat when it requires heat inside the chamber.
Electronic-pulse ignition– is for starting the burner.
15000BTUs Burner– is a heavy-duty cast iron for durability and consistent heat also for adjustable cooking grates. It can be raised or lower according to need.
Water bowl– The high-capacity water bowl is made of heavy enameled steel for durability and maintenance of the cooking temperature.
You can customize the temperature and control the flavor with the adjustable top and side damper doing open and close.
The Dyna – Glo is designed with a unique grease and moisture management system. The door latches are easy to use. A caring handle comes with a wood chips box so without trouble, you can hold and clean- up.
You will get a temperature gauge with Dyna- Glo smoker to read the temperature of the cooking chamber. The "smoke zone" will indicate the ideal temperature for saturating the smoke flavor.
The wide grip handle will help you to transfer the smoker before and after use. The chrome-plated wire handles are very strong. Your hand will not burn, it is cool.
The thick walls of the Dyna-Glo help to keep heat in.
The Dyna-Glo 36'' vertical gas smoker is good and stylish with high temp powder coat black finish. But the manufacturer recommends that you get an additional thermostat thermometer with its prongs. You can get this from amazon.
Pros :
Low maintenance cook.
Powerful cast iron burner.
The double door allows you to add wood chips.
Large water tray.
Thick wall keep heat in.
Large cooking space.
Cons :
Need some gasket modification on the door (according to customer review).
A built-in thermometer is not so good.
Dyna-Glo DGY784BDP 36" Vertical LP Gas Smoker
A total of 784-square inch of cooking space for smoked flavored foods. 4 adjustable steel wire racks
A 15,000 btu cast iron burner with an electronic push button ignition, and a large control dial
Porcelain enameled steel wood chip box with handles and lid for choice of wood chips and porcelain enameled steel water bowl
An easy to use double-door design (upper/lower) for greater heating/smoking, cooking control, sliding air dampers on top and sides for the choice of smoked/cooking heat control options, and a nice decorative temperature gauge with decor ring
Csa certified. warranty 1 year limited. assembly dimensions length 27-inch by depth 19.20-inch by height 46.46-inch weight 54 lbs
---
FAQs 
# Things to consider when buying a smoker?
If you are thinking of buying a smoker, consider these important factors :
Cooking area size
Temperature gauge
Dampers
Construction & Design
Durability
Price
# How do you use wood chips in a propane smoker?
The wood pan is above the burner where you add the wood chips. Allow the unit to continue preheating and build smoke in the cooking chamber. The door should be closed while smoking the food..
# How do propane smokers work?
Propane smokers work the same as charcoal or wood smokers. Only the difference is a heat source and propane smokers are easy to use as electric smokers.
Most smokers have the same inner design and functions…

Gas Burner: located at the bottom of the smoker. It is connected to the propane tank by hose and helps to start the smoker.

Wood Tray: it is an important part of the smoky flavor. This tray above the burner is filled with chips and it burns and provides smoke inside the cooking chamber. So it is used for a smoky flavor.

Water pan: It helps to moisturize meat, catch the grease from the food above.

Cooking Rack: Typically a propane smoker has 2 – 5 racks to place different types of cooking items.

Damper: It regulates the airflow and maintains consistent smoke and heat.

# How long does a propane tank last on a smoker?
A 20lb propane tank will last about 19 hours on a medium-size smoker if used continually.
# What is the benefit of Propane Smoker?
Propane Smoker has so many features according to your criteria. It provides consistent heat, does not require much labor, keeps your food clean, thermostatically controlled temperature, has a large cooking area, moisturizes from the water pan, and is easy to clean..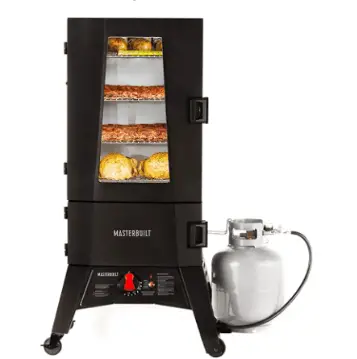 # Conclusion
In conclusion, researching the top propane smokers provides a variety of solutions that can satisfy different requirements and tastes. These propane smokers provide comfort, simplicity, and effective cooking. There is a propane smoker for every occasion, ranging from small, space-saving models to larger ones for larger groups. When choosing the best propane smoker, factors like temperature control, cooking capacity, and durability should be taken into account. Purchasing a premium propane smoker, whether you're a novice or seasoned smoker, will improve your outdoor cooking experience and produce mouthwatering, smoky flavors.