There are various types of reverse flow offset smokers in the market. And it can be quite confusing to find out the right one according to our needs.
Just being reverse flow in its operation doesn't mean that it will be efficient . We should always make sure about the other factors like thickness of the metal, size of firebox , cooking chamber area etc. too. Avoiding very cheap smokers is another thing to consider.
Keeping these factors with users' experiences we have compiled the "Best reverse flow smokers". 
To keep things easy and simple , we have categorized it based on your needs.
Hope these lists benefit you.
---
---
Best Value Reverse Flow Smoker
Specifications:
Brand: Char-Griller
Material: Black
Color: Black
Item Dimensions: 62 x 29 x 50 Inches
Item Weight: 113 pounds
If you are looking for high quality with various cooking facilities on a low budget, the Char-Griller E1224 Smokin Pro Reverse Flow Smoker & Grill combo can be a great choice.
The Char-Griller E1224 Smokin Pro is a reverse flow smoker. If you want to improve your smoking skill, you must try Char-Griller E1224 Smokin Pro. It is affordable and easy to use.
This Char-Griller is excellent for large families and also a few members. The Char-Griller Smokin Pro provides 580 square inches of cooking surface area, 250 square inches side firebox for Grill Either charcoal cooking or smoking. The total cooking area with a char- griller grill and smoker is 830 square inches.
It has two wheels to help you move without effort. A temperature gauge shows the temperature inside the cooking chamber. A removable charcoal drawer and one storage rack come with this smoker.
This traditional charcoal grill with a side firebox offers more options for the Texas-style barbecue.
The cast iron grill saves from the increasing heat for a lifetime. It has a classic barrel design for smoking.
This Powder-coated steel is to withstand high temperatures, adjustable dampers, and fire grate.
Without investing so much, you can smoke and grill with Char-Griller E1224 Smokin Pro, and you can improve your smoking skill.
Pros:
Easy to clean
Removable charcoal drawer
Can be adjusted grate height
Cons:
Leakage from door.
Build-in temp gauge quality
Paint peeling
---
Best Reverse Flow Smoker For Beginners
Specifications:
Brand: Oklahoma Joe's
Model Name: 17202053
Color: Black
Item Weight: 226 pounds
Item Dimensions: 35.5 x 64.25 x 55.5
Oklahoma Joe's Longhorn reverse flow smoker from Char-Broil company brought out one more smoker called Highland reverse flow smoker. Char-broil is a larger company. They also designed without reverse flow Longhorn and Highland smokers.
We have already explained the reverse flow smoker in the topic "Oklahoma Joe's Highland reverse flow smoker".
So Oklahoma Joe's Longhorn reverse flow smoker also has a smokestack mounted on the firebox side.
According to traditional offset smokers, whatever smoke and heat come out from the firebox, travels through the cooking chamber smoke and cooks your food and exhaust out of a smokestack located in the opposite direction of the firebox. But in the reverse flow smoker, all the smoke and heat pass through the cooking chamber and comes back above the food, and it goes out from the smokestack, which mounted near the firebox side.
It has 751 square inches in the main cooking chamber, 391 square inches in the firebox. The total cooking surface is 1069 square inches with heavy gauge steel construction.
Longhorn reverse flow has four removable baffle plates, porcelain-coated cooking grates, multiple dampers, a cool-touch handle, a large stainless steel basket for the firebox. Also, it has a professional lid-mounted temperature gauge, wheels for easy to move, and 2 and 1/2 millimetre cold rolled steel for your firebox and smoke chamber construction.
This reverse flow gives you alternative option smokestack location, clean out door, and firebox convenient access door.
The Longhorn reverse flow and Highland reverse flow of Oklahoma Joe's are almost the same, and only the cooking chamber dimension is different.
Pros :
Wagon style wheels
Heavy gauge steel construction
Bottom metal shelf
Large cooking space
Grilling and smoking combination
Cons :
Prone to leakage from the door.
---
Best Vertical Reverse Flow Smoker
Specifications:
Brand: Dyna-Glo
Power Source: Charcoal
Color: Black
Item Weight: 124.3 pounds
Item Dimensions: 45.5 x 24.9 x 58.8 Inches
This signature series vertical reverse flow from Dyna-Glow provides versatility, firmness performance. It has multiple functionality grilling and smoking capacity.
This heavy gauge steel smoking chamber has a total of 1382 square inches cooking surface, and it comes with pre-installed chrome-plated sausage hooks, which gives you flexibility for additional cooking.
A professional stainless steel temperature gauge features a "Grill zone" and "Smoke zone" indicator to maintain the temperature.
Five chrome-plated steel cooking grates give you sufficient space to smoke and grill a variety of food types and sizes.
This reverse flow has two cool-touch handles to access food and fuel during the cooking procedure safely.
The firebox of this Dyna-Glo has a porcelain-coated grill where you can sear and smoke. You can easily side the firebox's tray without losing the heat. And easy to clean – up.
Pros :
Removable ash pan
Heavy gauge steel body construction
Wheels for easy to move
Cons :
Pretty tough to get the tray
It opens up a bit around the firebox side and you lose the heat.
You can cook only 3-4 hrs in the firebox without stopping and starting.
Cooking grate and fire grate so close.
---
Best Backyard Reverse Flow Smoker
Specifications:
Product Dimension:17 x 16 x 13 Inches
Brand: Backwoods Smoker
Power source: Charcoal
Color: Black
Fuel Type: Charcoal
Model: Chubby 3400
Weight: 130 lbs
The Chubby 3400 vertical outdoor charcoal smoker is a smaller model, but it is a professional smoker. This heavy-duty smoker is perfect for backyard cooking. This Chubby 3400 is versatile, and it has multiple uses because it can be converted into a grill or a BBQ pit by simply removing the water pan.
This smoker has stainless steel four racks 16 1/2 x 15 1/2 inches with an extra slider, removable stainless steel water pan, dual door with slam latches, and temperature gauge. Also, it has a Heat diverter, pre-drilled caster bolt hole pattern on the bottom of the three-inch feet, 1⁄8″ nickel-plated racks, and 1″ insulation standard.
Approximately cooking degrees are180 to 300, and 6 to 10 hours will prepare the food. You can cook meat- 8 slabs of baby back ribs, 2-3 briskets, and 2-4 Boston butts.
This award-winning model provides you with multiple cooking facilities. It has a competitive quality to your outdoor cooking.
This smoker will help you to cook for small gatherings. The cooking surface of the chubby 3400 is 13 x 17 x 16 inches, and the firebox is 2 x 18 x 16 inches.
I hope you liked it. If you have any suggestion or comment, please connect through our email given below.
Pros :
Double-wall design with insulated
It comes with a fully assembled
Cons :
---
Best Overall Reverse Flow Smoker
Specifications:
Item Dimension: 33.5 x 57 x 53 Inches
Item Weight:180.80 lbs
Material: Steel
Model Number:17202052
A traditional offset smoker creates fire inside the firebox, produces heat and smoke, passes through the chamber, cooks the food, and smokes it. Then the heat and smoke exit through the smokestack. The smokestack mounted opposite the firebox.
You can see the smokestack mounted on the firebox side on a reverse flow. So let me explain the functions inside the cooking chamber.
The Highland reverse flow has four tuning plates: a porcelain coated plate—these tuning plates located inside the smoke chamber just underneath the cooking grates.
Smokestack and four tuning plates work together, which mean all that smoke and heat produced in the firebox travel underneath the cooking surface beside and around. It comes out from the smokestack, which mounted on the firebox side.
So, as a result, more consistent heat across the cooking chamber and even you will get some convected heat off the tuning plate, which helps the cooking of food. So it produces much more consistent heat and smoke throughout the cook.
You can notice that Oklahoma Joe's provides a secondary plug. So if you want to use it more like a traditional offset smoker, you have that option. You unscrew the smokestack from the mounting point and swap the cover and get a conventional smoker to offset if you want to use it that way.
You will get a charcoal basket made of stainless steel with a reverse flow smoker that you use in a firebox. So this basket contains the fire and makes it easier to maintain throughout the cook.
The Oklahoma Joe's Highland reverse flow gives you a high-quality product of two and a half millimetre cold rolled steel in your firebox and smoke chamber construction. It is all coated in high-temperature paint.
For a smoke chamber 619 square inches and 281 square inches in the firebox total, you will get 900 square inches of cooking surface.
A cool-touch handle, high-quality temperature gauge, wheels for mobility, shelf attached to the cooking chamber, and bottom metal shelf comes with this reverse flow. You can easily access the firebox door.
If you want to learn more about those features, let us know your opinion.
I hope you liked it and hope you like this reverse flow smoker.
Pros :
You can easily access the firebox door
Removable Baffle tray
Built-in temp gauge
Wheels for easy to move
Cons :
You have to seal the door.
---
Best High End Reverse Flow Smoker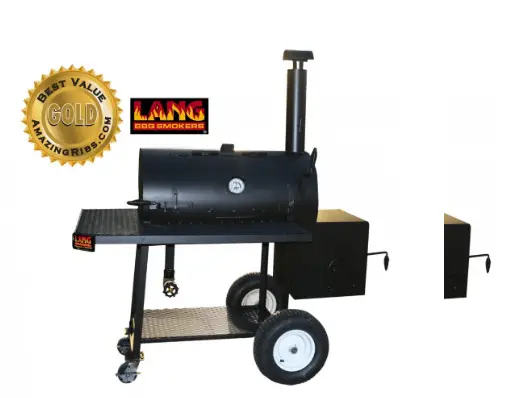 Specifications:
L x H x W: 70″ x 73″ x 39″
Weight: 665 lbs
Bottom (2) Racks: 18″ x 15″
Upper Rack: 23 1/2″ x 17″
Firebox: 17″ x 17″
Gauges: 1
Lang 36″ is a smoker with a barbecue grill. You can call it hybrid. Therefore, this Lang 36″ is quite popular and capable of many different foods as it can grill and smoke at a diverse range of temperatures.
It has six cubic feet of cooking area, and it can hold around 75 pounds of food simultaneously. The lang 36″ helps a variety of different foods and is beneficial for large parties.
The Lang 36″ Patio is known as a reverse flow Smoker. Because the smoker's smokestack mounted near the firebox, it is opposite to a traditional smoker. It means heat and smoke go down the grates to the opposite side and come back through the upper side of the grates' foods, and it goes out through the chimney.
The Lang 36″ patio is heavy steel body construction. A charcoal basket and a firebox come with a Lang 36″ patio.
The door has tight sealing, and The door intake damper. You can open the firebox with a sturdy handle.
Lang 36''has stainless steel racks, stick burner smoker cooker, fixed wrap around prep area, slide-out top shelf, bottom storage rack, patio cart, ⅜" thick, strong handle, two 8″ Turf pneumatic tires and two 4″ locking steel caster wheels. You can get standard features on Lang BBQ Smokers.
The large ball valve catches all grease from the bottom of the cooking chamber and throws it out. You can do some modifications to collect sticky and messy stuff.
Lang 36″ patio is 750 pounds. It has heavy-duty two 8″ tires wheels for removing one to another place.
This Hybrid model is a good option for those who want to use 2 in 1 cooking to grill and smoke.
It is expensive, but you will get benefits also. It gives you two different machines in one, and it is a reverse flow design. You can save your money when you purchase the product. The grill and smoker come with Lang 36".
Pros :
It's a Hybrid, grill and smoker.
Heavy-duty wheels
Variant temperatures
Cons :
---
Best Reverse Flow Smoker For Competition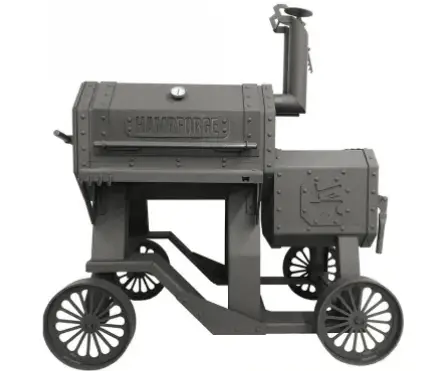 Specifications:
Product Dimension: 71'' tall, 64'' wide, 37'' deep
Weight: 1200 pounds
Model number: SB-0000- 1 + SB-7000-0 + SB-8000-0
The Hamrforge Beast Smoker Bundle pack- SB-0000- 1 is the fantastic expensive and highest quality reverse flow, smoker. The thickness of the product is an incredible and excellent design.
The Hamforge Beast is a reverse flow smoker, so the heat and smoke go from the firebox through underneath the cooking chamber and comes back and goes out direct the chimney. It has two heavy smokestacks.
It would help if you had some strength to open the cooking chamber. The Hamforge is a little bit tall.
Inside, you can put up a trigger. It comes with one regular, but you can put up to three grids, and you can slide the grids. It's not only for smokers but also for the grill.
It has unique features. It has 758 square inches of cooking area. With optional adding three grates, space will be 2275 square inches. It is a reliable product, and you can get a lifetime purchase warranty.
You can cook anything. You can access the foods and grates from the side of the chamber.
The heavy firebox chamber comes with a charcoal basket which you can remove and clean. It is designed with a double wall and insulated. There is one steering attached with a firebox to access the damper, and you will get the temperature according to your wish.
The wheels are big and strong, and it has a locking system. The total weight of the Hamforge is 1200 pounds. The temperature gauge is stable, and it can read the accurate temperature.
One big long handle comes with this Hamforge Beast to move the smoker. This handle fixed between two holes.
Lastly, we want to say everything designed perfectly to cook so you must try this. Also, we are thankful for the expert craftsmanship.
Pros :
No leakage problem
Enough cooking surface
It comes with many features
Cons :
It is too heavy and expensive.
---
Also you can check out our latest detailed article on " List of best offset smokers in all categories. "
FAQ :
Is a reverse flow smoker better?
Yes Reverse Flow smokers are better than normal smokers. Reverse Flow Smokers provide great temperature and efficient smoke flow. They are a great device to make flavoured smoked food. Therefore Reverse Flow Considered to be a better alternative to traditionally designed offset smokers.
Who makes the best reverse flow smoker?
Some expensive ones include Lang , Meadow Creek . Oklahoma Joe's makes the most values reverse flow smokers in terms of cost and quality. Every company gives their best. However, not everyone can access the Reverse Flow smoker. If you are a  beginner and want to make your barbecue better and easier, you can choose Oklahoma Joe's.
What is reverse flow on a smoker? 
A Reverse flow is a barbecue smoker. Reverse flow on a smoker means air and smoke with consistent temperature travel from the firebox to the opposite side through the cooking chamber's bottom. And comes back through the grate's top and exits through the chimney.
Are offset smokers worth it?
Yes it is worth it. Especially if you are looking for the taste of traditional smoking..These can produce very high quality, championship-level worthy food. Offset smokers are also known as barrel, side firebox and cookers.