If you are looking for the best salmon for smoking, then knowing its types, tenderness, taste will certainly add up to choosing the right one for your need.

In short there are five kinds such as King, Sockeye, Silver, Pink and Chum..

All of these kinds look similar to each other with bright silver and darker colored backs..
It becomes challenging to identify in their initial stage; Even the seasonal fishermen find it difficult to do so…
Lets try to dig in…,
Best Salmon for Smoking
Recommended Reading:
– Best Wood for Smoked Salmon
– How to Smoke Salmon in a Smoker
1. King/Chinook (Best for Smoking)
King salmon is by far the best salmon for smoking. The main reasons for its popularity in cooking are its oil content, deep red color and its flavor.

Typically the length of this salmon varies within the length of 36 inches and weighs around 30 pounds. But they can grow more significant than that, too. 

They have bright silver bodies with bluish-grey colored backs. more minor irregular spots found in the back dorsal.

Its fins and upper and lower portion of the tail are thin, bony, and covered in scales, with a curved shape that tapers to a point. Distinctively it has a black mouth and black gums. We need to pay special attention to identifying this..
AWARD-WINNING, PREMIUM Regal New Zealand King Salmon – Manuka Wood Smoked Slices (3.5 oz - 6-pack)
PREMIUM NEW ZEALAND KING SALMON: Our Regal King salmon is known for its incredible flavour, colour and texture which is smoked to perfection. Enjoy the finest salmon that nature has to offer from the majestic waters of New Zealand.
RICH MANUKA FLAVOUR: Our Regal Manuka Wood Smoked Salmon is cured with natural sea salt and brown sugar slowly over several hours over Native New Zealand Manuka wood. Resulting in a rich aroma, vibrant colour, and deliciously delicate on the palate.
WHY TRUST OUR BRAND: GMO Free, Antibiotic Free, Gluten Free, BSE Free, Kosher Certified, Ocean Wise Certified, sustainably raised and ethically sourced from the clean, green waters of New Zealand.
SUSTAINABILITY: We have set a goal of 100% reusable, recyclable, or compostable packaging across out entire business by 2025. We are annually audited and certified by the Global Aquaculture Alliance and have received a Seafood Green/Best Choice rating, the first out of our competitors to do so.
HEALTH & NUTRIENTS: Our King Salmon is packed full of essential nutrients for your health such as Omega 3s, Protein, Zinc, Vitamin B, Vitamin D, Selenium and Astaxanthin. These vitamins and minerals improve immunity system function, heart, joint, brain, and skin health.
2. Coho/Silver
Coho salmon is lower in fats than Sockeye and King Salmon. However it has enough oils to be ready for smoking.

The length varies from 24-30 inches and weighs around 8-12 pounds. They have a beautiful bright coloration with a greenish-blue back.

However, the spots on the silver salmon are more uniform in appearance and are usually on the upper section of the tail. It has a black mouth and white gums at the base of the teeth.
PrimeWaters Coho Salmon Portions, Sustainably Raised off the Coast of Chilean Patagonia, Healthy & Nutritious Fish, No Antibiotics or Added Preservatives, Frozen at Peak Freshness, 5 ounces, (14 portions)
SUSTAINABLY RAISED & TRACEABLE: Our Coho Salmon is ASC certified, raised in the glacial waters of Chilean Patagonia with no antibiotics or preservatives. Each order includes a QR code tracing your order to the sea farm where the salmon was sourced.
HEALTHY & NUTRITIOUS: This frozen Coho salmon is Heart-Check certified by the American Heart Association. Each 100g of fish has 1500mg Omega-3s and is an excellent source of Vitamin D, and packed with 22g of protein per 4 oz. serving.
DELICIOUS TASTE: Our Coho Salmon has a large flake, meaty steak-like texture & rich color. It has a light, clean flavor & pairs well with a variety of flavors & cuisines. Frozen at the peak of freshness to ensure optimal taste & texture.
PREMIUM EXPERIENCE WITH CONVENIENCE: Shipping is included in the price of each order for your convenience. PrimeWaters Coho Salmon is healthy, quick to prepare, and a great value for premium fish.
PRODUCT INFORMATION: Each order contains 14 frozen, individually vacuum-sealed Coho salmon portions (boneless with skin-on) and should be kept frozen until ready to use.
3. Sockeye/Red
Sockeye salmon has higher oil content than the coho salmon..

The flesh is denser when we compare it with other salmon. It holds well during the smoking process. Personally I like king salmon more than sockeye.

However I know many people who prefer the other way around.
They measure around 18-31 inches and 4-15 pounds on average.

They are super easy to recognize during the spawning phase as they are slightly humped back and have a deep brilliant scarlet colored body with a green head.

Another way to acknowledge this includes a dark blue to even bluish-black colored back with no distinct spot on the back.
365 by Whole Foods Market, Value Pack Salmon Fillet Sockeye Wild Frozen MSC, 32 Ounce
This product is Marine Stewardship Council (MSC) certified. In order for a fishery to earn MSC certification, they're evaluated by an independent third party in accordance with the MSC Fisheries Standard for healthy fish populations and ecosystems, and effective management.
Certain preservatives prohibited, including sodium bisulfite and STPP
Traceable to farm or fishery
Traceable to farm or fishery
4. Pink/Humpy
I don't prefer it much because of its tenderness. However smoking this is really quick and can be handled even with very less charcoal.

I usually smoke it in an hour or two for this salmon.

It is counted as the smallest of the pacific salmon.

Measuring around 20-25 inches and weighing about three and a half to 5 pounds before undergoing metamorphosis.

It has a bright silver with a greenish back and large dark spots over the body and its tail fin. These have small scales compared with others.

During spawning, males develop a large hump on their back. The upper body turns into dark greenish grey and lower into white.
Chicken of the Sea Wild Caught Alaskan Pink Salmon in Spring Water, 2.5 oz. Packet (Box of 12)
DELICIOUS, WILD CAUGHT SALMON: Our wild caught pink salmon packets contain high quality cuts of boneless, skinless wild salmon. Perfectly seasoned with a hint of salt and packed in spring water, our pink salmon uses only simple ingredients. It's also gluten-free and contains no preservatives.
CONVENIENT, READY-TO-EAT PACKETS: Our convenient salmon packets don't require draining, so you can just tear them open and go. Take them with you in your backpack or gym bag for a delicious, nutritious snack or lunch.
HIGHLY NUTRITIOUS: Wild caught salmon is rich in a wide range of essential nutrients, including protein and vitamin D, plus heart-healthy omega-3s. Each packet of Chicken of the Sea Pink Salmon contains 15 grams of protein, 1 gram of total fat, and 0 carbs—ideal for keto, paleo, and Mediterranean diets, or any active lifestyle.
RESPONSIBLY SOURCED SEAFOOD: Chicken of the Sea salmon is wild caught, Marine Steward Council (MSC) certified, and responsibly sourced. We're leaders in sustainability efforts to ensure that we are responsible stewards of our seas now and for future generations.
BULK 12-PACK: Stock up on salmon and save! Our convenient, single-serve pouches are easy to store and ready whenever you need them—perfect for satisfying snacks, quick pantry dinners, and your favorite recipes.
5. Chum/Dog
This one is the last in my list. I have seen people rarely using it.
The chum/dog measures around 24-28 inches long and weighs 10-13 pounds, with males much larger than the females. They are found in bright silver out in the ocean.

They have grey backs with a slightly yellowish-green coloration on the sides, which are hardly noticeable when fresh.

One great thing about this is it has a vast eye pupil that covers almost the entire eye.

They are the fastest among all to change in the spawning colors.

They quickly change from silver into a dinosaur looking coloration.

The male develops enormous canine teeth, which can be used for making a fabulous necklace.

They have a unique look in their spawning colors.

Some of this can go big up to 58 inches and up to 126 pounds.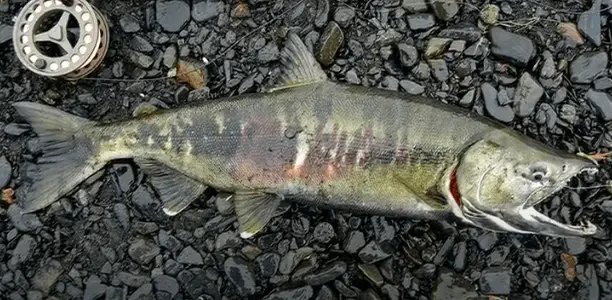 How to Smoke Salmon in a Smoker
FAQs
# Is sockeye salmon good for smoking?
Yes, It is one of the kinds which is denser than other salmon types. It has a high oil content and stays firm during the process of cooking the best salmon for cold smoking.
# How long does it take to smoke salmon?
It depends on the internal temperature. Suppose you heat it around 145 F, which is the general temperature for the salmon, then you have to cook for half an hour.

It ensures the killing of bacteria too…
# Can you smoke Atlantic salmon?
Yes, you can smoke Atlantic salmon. It is rich in nutrients, vitamins, omega-3 fatty acids etc..
# Where does the best salmon come from?
The best salmon comes from the countries along with the Pacific Oceans..

When discussing the varieties of the salmon, the best of all of them is King, also known as Chinook. It has high oil content, butterfly texture and is rich in omega 3. It is also regarded as one of the most flavorful flesh. 
# Where can you find Atlantic salmon around the world?
The top three countries in the world that produce the bulk of Atlantic salmon are the United Kingdom, Chile and Canada.
# Is it permissible for me to smoke farm-raised salmon?
Yes, it is. Farmed salmon has a more delightful flavor, and is oilier. Also some believe that it is even tastier than wild salmon…
# Conclusion
In conclusion, choosing the appropriate kind of salmon is essential for creating great flavor and texture when smoking salmon.
There is a salmon selection to fit your taste preferences, whether you prefer rich and fatty options like King or Chinook salmon or milder choices like Sockeye or Coho salmon.
You may further improve your smoking experience by keeping things like freshness, source, and sustainability in mind.
So pick the best salmon to smoke, light your smoker, and get ready to tuck into some delectable smoked salmon treats..