Looking for Oklahoma Joe Rambler Review? Right into the place.
I have multiple grills or smokers .
But I always struggled to get something small yet versatile that's perfect for tailgating.
And I finally found one. 
Rambler is small sized yet superbly built  and well designed.
Here I have explained about Rambler's different parts like thermometer, ash pan, stand, cover etc…
Also I have included specification, advantages and disadvantages of this unit.
Let me explain in detail..
 # Review in Short
It is tough and has good build quality.
Cooking grates are made of cast iron. Retains more heat and is good for searing.
Easily adjust the height of the charcoal tray. Simple to control heat. 
Air damper is large. This is good for accurate airflow control. 
Easy to remove the ash pan by sliding. Easy Clean.
Cooking chamber lid handle stays cool.
Temperature gauge glows in the dark. Perfect for night use.
Strong side handles. Therefore easy to carry and move around. 
Around 2 3 inches gap. The bottom doesn't heat much. This means it fits on most of the table. 
Easy to assemble.
If you can carry 50 pound easily then rambler  is easy to carry too. 
Can be used as a smoker. While the quality of smoke depends on your skills.
No need for modifications required for grilling. However, for smoking, it is better to seal some areas. 
Sale
Oklahoma Joe's 19402088 Rambler Portable Charcoal Grill, Black
Heavy-duty Steel construction ensures durability you can trust
Thick cast-iron grates produce a perfect sear
Height-adjustable charcoal tray lets you grill with high heat or cook Low and slow
Large air dampers allow for accurate airflow control
Full-size, removable ash pan makes clean-up easy
Recommended Reading : Know more about the best small charcoal grill for camping..
# Oklahoma Joe Rambler Review in Depth
# About the product 
The Bad
The ash tray doesn't come out easily.
A hinge allows you to lock the ashtray. But sometimes it is difficult to remove the ash tray due to the bent hinges.

Please double-check once you've received the item. If a part is defective, contact customer care as soon as possible.

Also Charcoal tray is not wide enough, it is difficult to clean if a piece of charcoal falls under it.
The Good
First of all Oklahoma Joe's Rambler  is a small beast when it comes to a portable grill for tailgating and rving.
This grill has been reworked for maximum portability. 
I was not expecting much on the construction and the material .
However I should say it is pretty tough in built quality. It has heavy gauge steel construction and is also durable. 
Another good thing is that the cooking grates are made of cast iron which are excellent for searing. It also means that it can retain more heat and lasts long.
It has two vents. One for the smoke to exit and another is a damper to control the air flow. Check out how cool the damper is designed .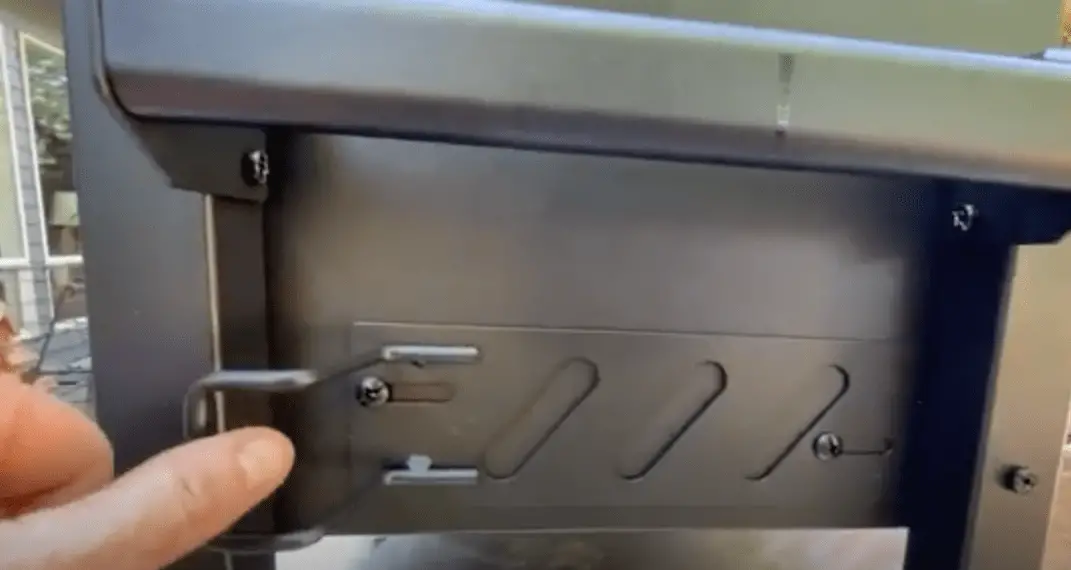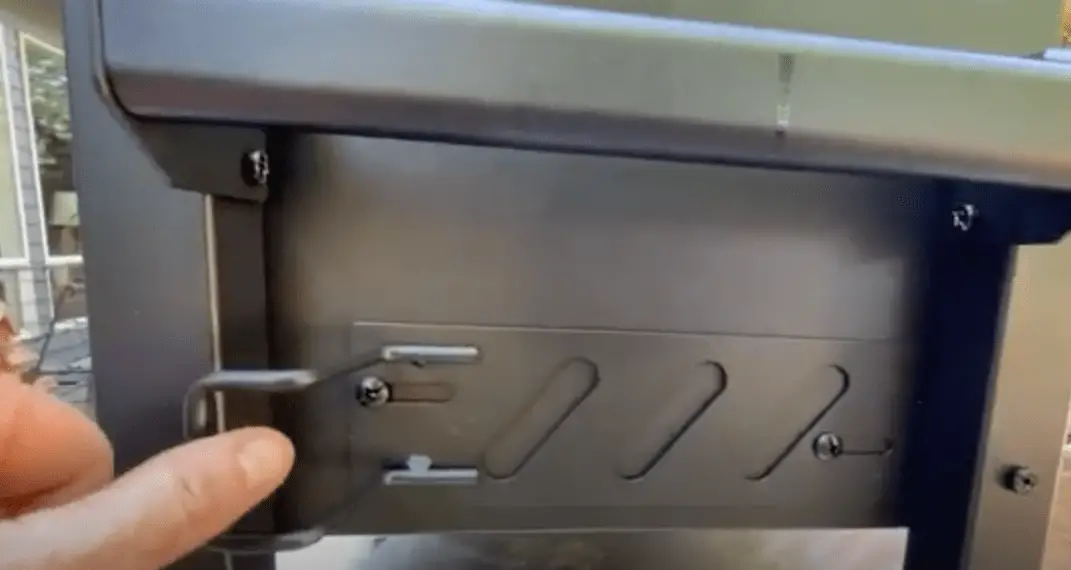 It is easy to clean and maintain this grill. 
The cooking chamber lid handle stays cool. This is due to its rubberized design and material used.
All these qualities also make it perfect for camping . 
# Features and Specs
Assembly Required :    Yes
Removable ash pan : Yes    
Cooking System : Charcoal
Temperature Gauge : Lid
Number of Main Burners : 0
Wheels : N/A
Weight (lbs.) : 48.50
Assembled Dimensions : 19.5 x 21.8 x 26.8
Assembled Width : 26.8
Assembled Height : 21.8
Assembled Depth : 19.5
Primary Cooking Area : 218
Grate Material : Cast Iron
Cooking Grate Material : Cast Iron
Material : Painted Steel Body and Exterior Components
# What are the opinions of customers?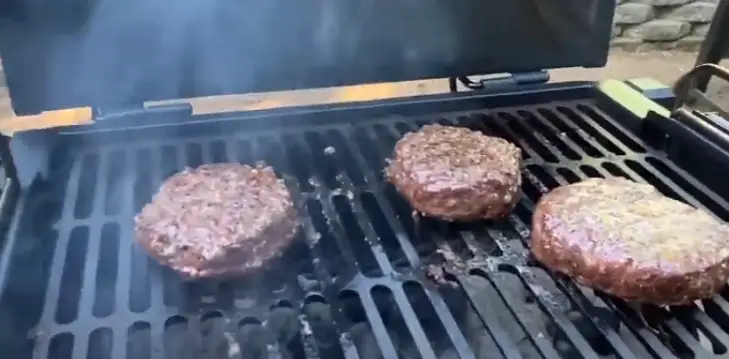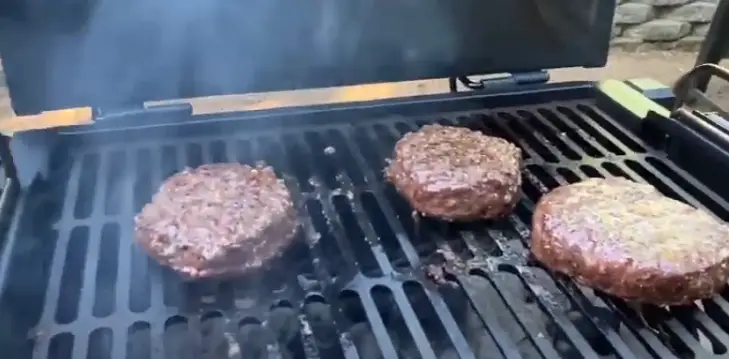 Visit Amazon.com to see customer reviews.
# What about the accessories?
Oklahoma joe's Rambler Stand
If you are expecting a stand to come with this grill then I am sorry.
You may need to buy a seperate stand . Or use any table which you think would not easily melt. 
Don't get me wrong. The grill's bottom doesn't heat much but it is always good to prevent easily melting materials nearby.
I just tried putting the rambler on my blackstone stand which I already had .
It works fine for me.
Oklahoma Joe Rambler Grill Cover
I didn't get any cover with this grill . 
I had to buy one. However there might be an option where you get the grill and the cover together.
The quality of the cover I would say is decent. It is water resistant. This is needed to protect from rain.
I would strongly suggest getting one if you are planning for outdoors and travelling. It is worth it.
Thermometer
The thermometer is around 3 inches at the top and is of good quality. 
 Since it glows in the dark it is very handy at night too.
While testing it out and comparing with my other thermometers I found it to have some difference of about 25 degrees.
However this may be due to the placement of the inner probes. It can also vary due to the style of cooking. 
Ash Pan
I have heard many people complain about the ash cleaning. But honestly for me, it is never a headache. 
 In fact I find it to be a very cool design. 
The ash tray slides out at the bottom easily. Just take it out and get rid of all the ashes. 
Also since the ash tray is locked  with the help of a hinge.
It is great especially when you are tailgating and you don't want the ashes dropping out.
Just so perfect for keeping in the car.
Color  
Oklahoma joe's rambler charcoal grill comes in a  black color and a premium look.
# Dimensions , Weight etc.
Rambler has a perfect size for a tabletop charcoal grill.
It is  a perfect choice for RVs  because of its portability. Also not too small for tailgating. 
Can be used at home too. 
The Assembled Dimensions  are 19.5 x 21.8 x 26.8 inches. 
The chimney has a 2.5 inches diameter. which is big enough for a tabletop grill.
There are two 8.5 inches x 12 inches grills side by side . And is 12 inches deep. 
It consists of two cooking grates . Each one measures 12.4 inches x 8.5 inches. 
You can literally feel that rambler is a mini version of Oklahoma Joe's Judge Charcoal Grill.
It weighs about 50 pounds. Which means it is easy to carry . It has handles that makes it even easier to carry.
# Cooking on Rambler
Rambler has enough cooking space of around 218 square inches. 
To get ready for cooking you should season the entire interior of the grill before its first use.
It stays hot for a long time. 
Perfect grill to serve around 4 people. 
You can smoke full briskets with a water pan if the pan is not too large. 
If you are looking to put turkey in there then It might not fit the whole big turkey but smaller ones would surely fit in. 
Seasoned cast iron is not going to rust too. 
While cooking you have the luxury of two stainless steel handles on each side.
These handles allows to raise the charcoal tray up closer to the grate.
Which means more control over heat. Don't you think it's perfect for searing?
I mostly use briquettes and a little hickory chips.
# Assembly
It hardly takes an hour to assemble. It is simply easy. Also comes with screws required and you don't have to worry. 

Here is a guide on how to assemble.
# Can you cook on a folding table?
Yes. You can. The bottom height is around 2 and half inches. 
It does not warm much at the bottom. 
# How many burgers can you cook at once? 
I have tried 9-12 large patties. I can say around 6 pork chops fit well. 
Also recently I tried up to 6 lbs of wings on it. Good sized wings  I mean.
# Can this be used as a smoker?
Yes. Sure. But you should be careful not to over due charcoal. 
# Any modifications required to improve it yet?
If it is for grilling then I would say no modifications are required. 
While if it is for smoking then it is better to save some smoke by putting some modifications with gaskets. Seal it from the bottom. 
That doesn't mean you cannot do it without modifications. And the cover will surely help to protect it from sun and rain.
Surely you can.
# What I think can be a hassle sometimes?
Since  the ash tray is not wide enough, if a piece of charcoal falls down below .
It can be difficult to slide the ashtray out. Just a thing to be careful about.
# What kinds of food can I prepare on the Oklahoma Joe's Rambler Tabletop Charcoal Grill?
It can do everything a regular grill can.

You can prepare chicken, steak, burger, corn on the cob and anything else.

You can also smoke food here in very less charcoal.

Just keep in mind that the adjustable tray is on the bottom and that all of the vents are open.

Also, make sure the gauge needle stays in the 'smoke' area.
# Is Oklahoma Joe's Rambler a Good Investment?
Considering all of the data, Oklahoma Joe's Rambler is undeniably worthwhile.

As this Oklahoma Joe's Rambler review demonstrates, this product has good pricing and results, resulting in positive feedback from customers.

I have explained in detail earlier, if you want to know more about Rambler, then you can skip this part.

Oklahoma Joe designed it with tailgating in mind. Hence hinges have been used to keep the ash tray stable.

However, some people's reviews have shown that the ashtray is troublesome to remove.

But if you see their positive side then it is very good product in this price.

For example- no modification is required for grilling.

The build quality of Rambler is good.

You will also be easy to transfer as it is about 50 kg.

It has vents to adjust the temperature and includes many features.

I would definitely recommend it because this Oklahoma Joe Rambler is worth it.
# Where to buy Oklahoma Joe's Rambler?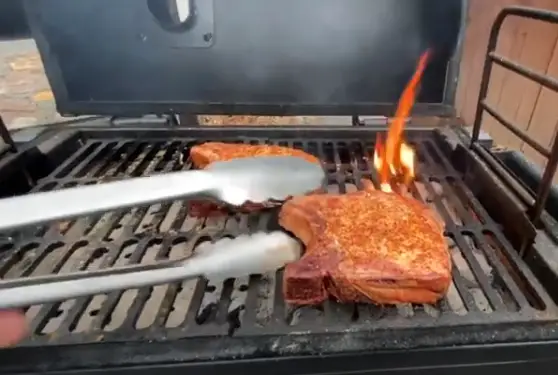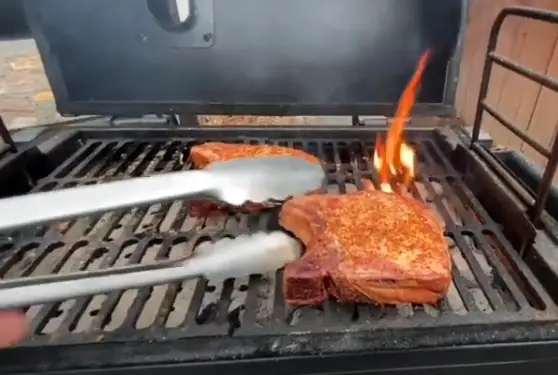 Oklahoma Joe's Rambler is available for purchase at the following sites.
# Alternatives
Akorn Jr from Char Griller can be considered an alternative for Rambler.
I do not like it for its design. But you are always free to check it out..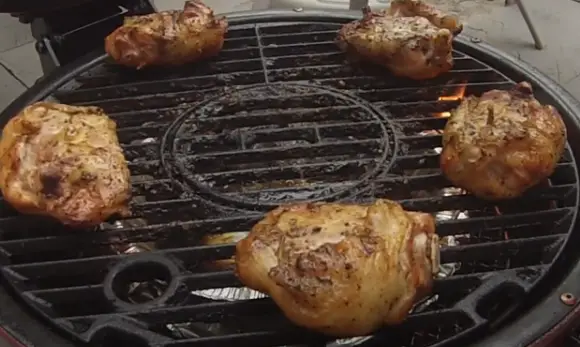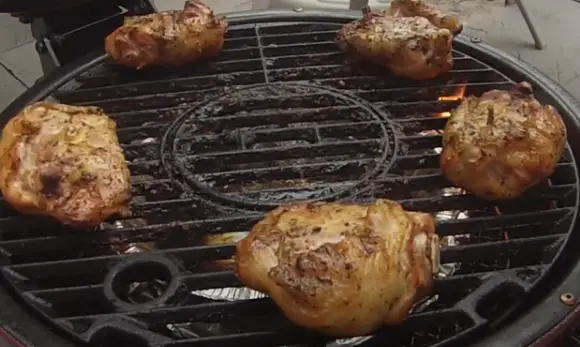 Visit amazon.com to read customer reviews.
# Social Proofs


Sale
Oklahoma Joe's 19402088 Rambler Portable Charcoal Grill, Black
Heavy-duty Steel construction ensures durability you can trust
Thick cast-iron grates produce a perfect sear
Height-adjustable charcoal tray lets you grill with high heat or cook Low and slow
Large air dampers allow for accurate airflow control
Full-size, removable ash pan makes clean-up easy
# Conclusion
If you are looking for it for portability, quality, rv-ing, tailgating , searing then simply go for it. 
However If you are thinking of serving more than 4 people at once then please do not consider buying this grill.