Looking for the best small charcoal grill for camping? You are right in the place.
It took me almost six months to decide which one to go for..
I was looking for such a small portable, charcoal grill perfect for camping.
I have already shared about Oklahoma Rambler which is still one of my best purchases..
But this time I am going to share with you some other smaller charcoal grills which are really my favorites for camping…

Lets dive in…,
Recommended Reading:
– The most effective Charcoal Smoker.
4 Best Small Charcoal Grill for camping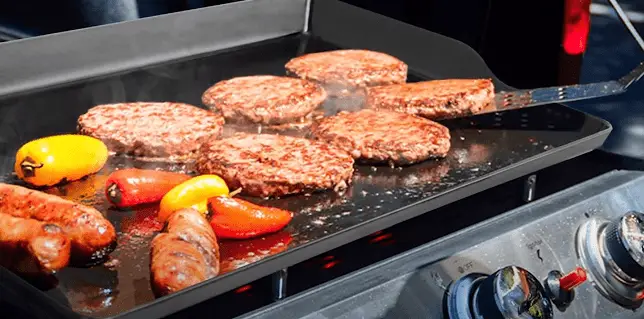 #1 Best Overall – Weber 121020
Feature & Specs:
Brand: Weber
Material: Porcelain-Coated Cast Iron
Color: Black
Item Dimensions LxWxH: 12.2 x 21 x 14.5 inches
Item Weight: 6100 Grams
Material: Porcelain-Coated Cast Iron
Power Source: Charcoal
Item Weight: 13.45 pounds
Item model number: 121020
Size: 14.5″ H x 21″ W x 12.25″ L
Batteries Included / Required?: No
Sale
Weber Go-Anywhere Charcoal Grill, Black
Holds up to six burgers made with a Weber burger press
Compact and lightweight for grilling on the go
Porcelain-enameled lid and base retain heat, and won't rust or peel
The lid locks for easy portability and dampers allow you to easily control the temperature inside your grill
Durable plated steel cooking grate retains heat and is easy to clean.Primary cooking area (square inches):160
As you might already know, Weber Charcoal Grill is the most popular lightweight grill. It comes with awesome facilities and features..
Portable and smaller size makes it easier to take and travel.
It's kind of funny but I like its lid lock and folded leg so much. Because these two features make it a lot easier to pick the grill up and move one to another place.
The porcelain enameled lid provides constant temperature. So we can save our time in the campaign.
The lids material quality is just perfect I feel. It helps to reduce the temperature.
In case you are cooking with lids open, there is a mechanism to hold the lid from the back. This is often very handy.
Another thing that counts to me is that of its shape. Since it is rectangular it is a good fit in my car. It should in most cars anyway.
In case you don't know this shape is so much easier to set up for both direct and indirect cooking.
The leg is manufactured in such a way that it does not tumble. So whenever you want to cook you just fold these legs down and start to cook.
The heavy duty charcoal clean plated steel cooking grate retains heat consistently.
You can cook six burgers at a time or a full pack hot dog.
Few things you have to keep in mind. Before you have to cook, put aluminium foil in the bottom so that your grill will not be messy.
The dual air vents located on the top which control the air flow. So that you can adjust the airflow during the cook without lifting the lid.
One more best part of this grill that you can cook even with less charcoal.
This grill doesn't damage your floor but may do little damage to your grass.
Overall if you are looking for a small, foldable, durable and easy to carry grill, then this grill with its rectangular shape and folding capability makes it a strong bet.
It is hard to find another grill in the same range…
What I like:
It is Small and Portable.
The rectangular shape of product.
It easily fits in the car.
Sturdy "leg" and "lid".
Lid can reduce the oxygen flow. Best for maintaining temperature.
Consistency of temperature.
Lightweight makes it so easy to carry.
Easy to clean plated steel cooking grate..
What I don't like:
I find it a little difficult to add more coals for the second layer.
However this might be a point of concern for most of you..
#2 Best Budget – Red Cuisinart
Feature & Specs:
Brand: Cuisinart
Material: Steel
Color: Charcoal Grill, 14-Inch (Red)
Product Dimensions: 14.5 x 14.5 x 15 inches; 2 Pounds
Finish Type: Painted
Product Dimensions: 14.5 x 14.5 x 15 inches
Item Weight: 2 pounds
Sale
Cuisinart CCG-190 Portable Charcoal Grill, 14-Inch, Black
196-SQUARE-INCH CHROME PLATED GRATE: The 196-square-inch chrome plated cooking rack gives a spacious cooking surface is able accommodate lots of food at one time while still distributing heat evenly and efficiently.
DUAL VENTING SYSTEM: Features a Dual venting system, giving you the ultimate charcoal management and temperature control.
THREE SECURE LID LOCKS: The grill features three secure lid locks for easy and safe transport.
COMPACT ENOUGH TO TAKE ANYWHERE: The grill measures 14.5 x 14.5 x 15 inches and weighs only 2 lbs., making it easy for transport and ideal for decks, patios and balconies, camping, tailgating and more.
ENAMEL COATED FIREBOX AND ASH CATCHER: Features a durable enamel coated firebox and convenient mess-free ash catcher for safety and ease.
My second choice is Cuisinart portable charcoal grill. This unit is also very easy to handle.
The Cuisinart portable charcoal grill is a small, sturdy and portable grill. Which everyone desires to use.
The 150 square chrome plated grate of this grill gives you enough cooking surface. So you are able to cook lots of food at one time.
As per your wish Cuisinart as always distributes heat evenly and efficiently.
This small grills dual venting features system will never disappoint you. Because the unit manages the charcoal itself and controls the temperatures.
I like most the three secure lid locks feature of this grill. Lid locks make it easy and safe to transport without making a huge mess.
Cuisinart's size, measures and weights are easy for transport. It's ideal for desks, patios, camping, tailgating, balconies, backyard and more. You can use it as a tabletop grill.
The Cuisinart has enamel coated firebox and convenient mess-free ash catcher. Which will make you happy anyplace you love most..
This two pounds compact grill will fit neatly into the trunk of a small car so you can carry anywhere you go.
So this unit is perfect for grilling. Mostly I cook chicken breasts, burgers and hot dogs.
It is a versatile grill you can cook anywhere for your small family or 2 or 3 friends.
I found some difficulty in this grill that some parts can't allow me to pack neatly. Because the legs are not designed to be removed.
Another problem is the ashtray. Which you can't remove. Hard to clean it properly.
The third issue is the color of the lid fades quickly.
So, if you are planning to buy, then better be ready for modification or buy paint also with this grill. But these modifications are worth doing.
Although I don't own this at present, I still use it often at my friend's place. For me, currently Weber has taken the place. However if I have to go for the next option then it would still be this.
What I like:
Versatile.
Fits in car.
Three lid locks.
Enamel coated firebox.
Enough cooking surface.
Consistency of heat.
Compact and portable.
Less price than Weber.
Easy assemble.
Light weight.
What I don't Like:
Ash catcher hard to clean.
Legs are not designed to remove.
The color of the lid fades quickly.
Paint comes off.
#3 Best High End – Kamado Charcoal Grill
Feature & Specs:
Brand: Char-Griller
Material: Ceramic
Color: Red
Product Dimensions: 20.5 x 21.5 x 25.3 inches; 37 Pounds
Model Name: E06614
Product Dimensions: 20.5 x 21.5 x 25.3 inches
Item Weight: 37 pounds
Manufacturer: Char-Griller
Char-Griller E06614 AKORN Jr. Portable Kamado Charcoal Grill, Red
PORTABLE CHARCOAL GRILL - Kamado style Portable BBQ Grill & Smoker perfect for both high heat grilling and low-and-slow cooking
GRILL ANYWHERE - Grilling on-the-go has never been easier thanks to the convenient handles and compact frame, perfect for tailgating, camping, barbecuing at the park, or at home in the backyard
BEST IN CLASS FEATURES - Insulated design with locking lid traps smoke, heat, and moisture like expensive ceramic kamados producing flavorful barbecue and allowing you to use less charcoal
HEAVY-DUTY CONSTRUCTION - Made from heavy-gauge powder coated Steel with thick Cast Iron cooking grates for maximum durability and heat retention
EASY TO USE & CLEAN - Control the heat levels with ease using the indexed adjustable dual dampers and thermometer, and quickly clean up after grilling using the removable Easy Dump Ash Pan
The Char-Griller Kamado Charcoal Grill is compact and lighter weight than ceramic grills.
This is a great looking grill for road trips, beach trips,tailgating, RV, camping or park.
All important features of this grill are manufactured considering your comfort and safety.
My reason for choosing this unit is triple wall steel with insulation. Means it will keep the temperature at the same level for a long time.
I appreciate the cast iron grates and the porcelain interior of this grill. Because it holds the heat with less charcoal.
This grill has an ash pan which is easy to wash, hinged locking lid, and heat gauge. Also it has convenient handles for portability.
Top and bottom damper manage the temperature inside the grill from 200F up to 700F.
You can smoke briskets, grill burger BBQ, some rib sear steaks and make pizzas anywhere.
You can turn and detach the ash catcher by hand easily.
One thing I don't like about this grill that you can't wash in the dishwasher. It is completely mismatched. So here I want to suggest you re-season with cooking oil. Water can rust it.
I hope this 37 pounds grill will be easy to lift with two side handles. It fits in the trunk. It will be easier to lay down without charcoal inside the trunk.
Handles are metal so it will be a little warm. Use gloves whenever you need to move in cooking time.
Still I'm not using the smoking stone. If you want to cook with indirect heat or in low and slow temp then place smoking stone under the grate..
What I like:
Triple wall steel with insulation.
Can use anywhere.
Compact and portable.
Convenient handles.
Consistent heat with less charcoal.
Versatile.
What I don't like:
#4 Best Tabletop – Rambler
Feature & Specs:
Brand: Oklahoma Joe's
Material: Steel
Color: Black
Item Dimensions LxWxH: 19.5 x 26.8 x 21.8 inches
Item Weight:2.2 pounds
Item model number:19402088
Oklahoma Joe's® Rambler Tabletop Charcoal Grill – 19402088
CHARCOAL GRILL: This grill is fueled by lump charcoal or briquettes, sold separately. It's designed to cook food over hot coals, arranged in various configurations to provide direct and indirect heat options.
COOKING AREA: Grill up to 6 burgers, 4 steaks or 12 brats on the 218-square-inch grate.
GRATES: These cast-iron grates retain heat to cook food evenly and leave impressive grill marks.
CHARCOAL TRAY: Raise and lower the height adjustable charcoal tray to regulate temperatures when grilling.
ASH PAN: A removable ash pan neatly collects ash from cooking, making clean-up simple.
We also have a detailed article on Oklahoma Joe Rambler. Feel free to checkout.
Rambler is one of the best grills of Oklahoma Joe's. Which is especially manufactured for tabletop and RV or you can say camping.
The Heavy-duty Steel construction Rambler comes with cast iron cooking grates. Which never fails to provide consistent heat.
The two cool stainless steel handles each side that allows you to lift the charcoal tray to carry in your car or rv.
I am not satisfied with the three inch thermometer. However the differences I found in temperature are little.This is not a big deal.
Temperature gauge designed especially for night time. So that you can check without light.
It has large air dampers which control and deliver accurate airflow.
One more important thing I want to make clear here is that the stand does not come with this grill. You have to buy that separately or either you can manage from your unused furniture. Make sure the table should not melt or loose.
No chance to mess your cooking area because the ash tray slides out at the bottom easily. I personally thank Oklahoma that they save us from messy cooking . So don't bother especially when you are planning for camping or tailgating.
Lid can stay back and not flip. It's a good sign because the grill is heavy and you will keep it on the table.
So, far Rambler is the best tabletop grill and perfect for RV camping.
Since it is my latest addition, I am yet to go through a lot of experiments and testing. I have already put out a detailed review on it. I will share my experiences with it more in the days to come.
For now I am absolutely loving it..
What I like:
Build quality good.
Strong.
Adjustable charcoal tray.
Ash tray can easy to remove and clean.
You can check temp easily in night time.
Easy to assemble.
Large air damper.
What I don't like:
Can't cook for large party.
# How to use charcoal grill in camping?
Before you use the charcoal grill, clean it for next cooking. And make sure all equipment, food ingredients are ready.
You can use the shelter in a cooking place. So that protects your grill and smoke from unwanted wind and rain.
So the,
Step 1- Clean the grates and remove all the ashes from the last used.
Step 2- Measure out charcoal.
Decide how much you will need for the meal. One layer charcoal is perfect for burgers and steaks. If you are grilling something which will take a longer time to cook like a chicken or a roast you will need two layers.
Step 3- Choose your lighting option.
Heat up the charcoal. After ten minutes charcoal allows you to cook. You can add some extra charcoal on top if needed.
Here you have few options to ignite the charcoal. Chimney starter, organic fire starter and electric starter.
Step 4- Wait for the coals to heat up.
Before you put any food on the grill you need to make sure the coals are hot. Spread the hot coals using the long handled tong.
Step 5- Prepare your grates.
Lightly oil the grates with some cooking oil and a brush.
Step 6- Place the food on the grill.
Now you have to place your food over the grill grate.
Step 7- Control the heat.
You can control the heat using both vents when you are cooking.
Step 8- Clean up.
You have to clean it after cooking.
Close all the vents. Scrub the grates with a grill brush while there is still hot.
FAQs
What to cook on charcoal grill camping?
You can cook chicken breasts, burgers, hot dogs, sausage and chicken etc. Or a whole chicken if you want..
# In Weber what is the long silver plate towards the bottom of the grill connected to the legs?
The long silver plates are for controlling the heat. It depends on what you're cooking. Silver plates bring more oxygen to the charcoal.
# Can I paint the top of the Cuisinart grill?
Yes, you can paint the top of the Cuisinart grill. You can purchase high temp grill paint on amazon.
# How to place the smoking stone onto the grill grate?
Inside the grill there are three tabs under the grate which holds the stone. Which means stone stays below the grate. And the coal stays below the stone so that you can have indirect heat on your food.
# How to place the smoking stone onto the grill grate?
Inside the grill there are three tabs under the grate which holds the stone. Which means stone stays below the grate. And the coal stays below the stone so that you can have indirect heat on your food..
# Is it easy to clean the craycort (cast iron) grate?
Yes, easy to clean. Biggest worry is rust, better keep it well oiled and dry..
# Conclusion
In conclusion, those looking for portable cooking choices for outdoor activities will find the finest tiny charcoal grills for camping featured in this article to be the ideal partners.
These grills are perfect for camping vacations because of their small sizes, light weights, and simple setup.
Their superior heat retention and robust construction guarantee dependable operation even in challenging settings.
These grills offer adaptability for various cooking ways thanks to features like adjustable vents and grill grates.
These excellent little charcoal grills will produce wonderful results whether you're grilling burgers, hot dogs, or kebabs, making your camping trips even more memorable..