Are you searching for the perfect small offset smoker? You're in the right spot!
I've carefully picked out some of the best small offset smokers that I think you'll love. I've broken them down into easy-to-understand categories:
Best for the Backyard
Most Portable
Strongest and Most Durable
I hope this guide makes it easy for you to learn about small offset smokers and find one that's just right for you.
Want to learn even more? Check out these easy reads:
– Find the Perfect Offset Smoker for Newbies.
– Discover the Variety of Offset Smokers Available.
Best Small Offset Smoker
Quick Specs:
Brand: Char-Griller
Materia: Black
Color: Black
Item Dimensions LxWxH: 62 x 29 x 50 inches
Item Weight: 113 Pounds.
My Experience:
I've found the Char-Griller Smokin Pro to be a fantastic choice for backyard smoking. It's compact, but don't let its size fool you – it's a powerhouse..
The Bad
Leakage problem
It's true, this smoker might need some tweaks. Some folks have mentioned it has a leak, but with a bit of DIY, it seals up nicely.

Built-in thermometer does not work properly.
The thermometer might be a bit off, but that's an easy fix with a replacement.
The Good
Built Quality
Construction is made of thick steel..

The grill barrel and side firebox are made of heavy-gauge powder-coated steel.

For uniform heating, you can use its nonstick cast-iron cooking grate.

Cooking capacity
The main cooking space is 580 square feet, with an additional 250 square feet in the firebox for grilling or warming.

Budget friendly
This offset smoker is affordable in comparison to other offset smokers and can function well with a few simple modifications.

Additional features
This smoker comes with a temperature gauge, a storage rack, and also includes two wheels for convenient movement.
Users can easily add charcoal and dump ashes thanks to the removable charcoal drawers.

It also features a double bottom for additional strength…
Why I Recommend It:
If you're after a traditional smoking experience without breaking the bank, this is your go-to smoker. It's perfect for those backyard get-togethers and won't let you down once you've given it a little personalized touch.
Quick Info
Pros:
Removable charcoal drawers.
Perfect for backyard.
Low price.
Cons:
This offset smoker works really well with modifications..
Quick Specs:
Brand: Dyna-Glo
Material: Porcelain enameled steel
Color: Black powder coat
Item Dimensions LxWxH: 52 x 33.86 x 59.84 inches
Item Weight: 123.2 Pounds
My Take on It:
The Dyna-Glo barrel and offset smoker is a small cooker that can cook wonderful meat even when space is limited.. 
When the room is limited but you still want a conventional shaped smoker, this is the smoker for you.
The Bad
Limited cooking capacity.
This offset smoker won't be suitable for a large family and party because its cooking area is even smaller than the Char-Griller Smokin Pro.
The Good
Built quality
This smoker is made of the same heavy-gauge steel as other top offset smokers.

It includes porcelain-coated racks, an ash pan that can be removed, and a temperature gauge.

Portable
This smoker comes with a cool-touch spring lid handle and oversized steel wheels for ease of movement.

Cooking space
It features a total cooking area of 730 square inches, with 443 square inches of primary cooking space and 287 square inches of offset cooking space.
Perfect for small meals
This smaller size offset smoker saves fuel and is ideal for those who do not want to cook huge quantities at once.

Smaller size
Since of this smaller size you can use it in a smaller yard or deck.

You can fold the front working table and move it around quickly for storage when you're not cooking or smoking.

The Dyna-Glo barrel smoker, on the other hand, has an auxiliary grill in the firebox, which is ideal for grilling sausages, burgers, or veggies when the smoking is almost complete.
Why It Stands Out to Me:
For those who need a smoker that fits in tighter spaces and is easy on the budget, this Dyna-Glo model is a gem. It's especially great when you're cooking for a few and not a crowd.
Quick Info
Pros:
Reasonable price.
Smaller footprint.
Cool touch handles.
Removable charcoal grate and ash pan makes it easy to clean.
Cons:
Quick Specs:
Brand: Broil King
Model Name: Regal Charcoal Offset 400
Power Source: Charcoal
Color: Black
Outer Material: Steel
Item Weight: 186 Pounds
Item Dimensions LxWxH: 50 x 26 x 52.5 inches
Inner Material: Stainless_steel
Fuel Type: Charcoal
My Honest Thoughts:
This is a pretty small footprint offset smoker with effective features, but it is a little pricey.
Let's take a quick look at it…
The Bad
Expensive
The Broil King Offset Smoker is a little expensive but it works really well.
The Good
Construction
The body of the Broil King Regal Charcoal Offset 400 Smoker is made of 2mm steel.
It comes with heavy duty cast iron cooking grids.

Cooking space
You'll have plenty of room to smoke all of your favorites with 500 square inches of primary cooking space.

Additional space for smaller items is provided by the 188 sq. in. warming rack.

The offset barrel gives you an extra 175 square inches of cooking space when it's not being used for smoking.
Powerful features
The Roto-Draft damper allows for easy temperature adjustment. It's simple to use.
A good quality thermometer, which is built into the lid, is incredibly accurate and provides a clear indication when the temperature needs to be adjusted.

In both cooking chambers, it has dual-purpose smoke diffusing charcoal trays and a removable ash tray.

It has a removable front shelf with four tool hooks.

Apart from these features, this smoker has a robust steel bottom shelf, steel access doors with stainless steel handles, an inbuilt bottle opener, two huge crack-resistant wheels for extra mobility.

Easy to clean
Each barrel has stainless steel ashtrays below the charcoal trays.

Allowing you to swiftly and elegantly dispose of any accumulated ash, ensuring that your smoker is always at its peak performance.
Why It's a Top Pick for Me:
It is, however, somewhat costly, but it is really robust and will provide you a traditional cooking experience..

Quick Info
Pros:
Durable.
Perfect vent system.
Easy to clean.
Small footprint.
Cons: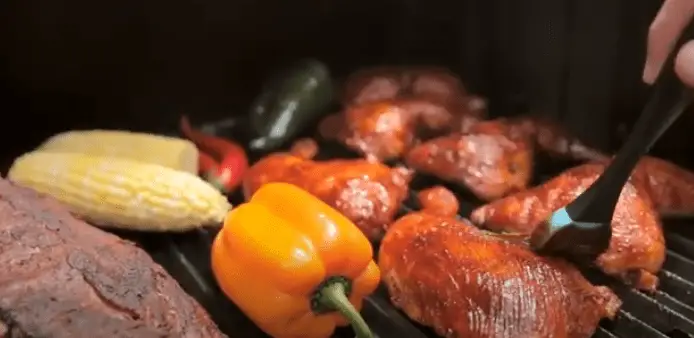 Quick Specs:
Brand: Royal Gourmet
Model Name: CC1830SC
Power Source: Charcoal
Color: Black
Outer Material: Steel
Item Weight: 54.3 Pounds
Item Dimensions LxWxH: 53.39 x 27.95 x 48.82 inches
Inner Material: Stainless_steel
Fuel Type: Charcoal
My Honest Thoughts:
Royal Gourmet Grill & Smoker Combo is very good for the backyard which is available at affordable prices.

The Royal Smoker isn't too little to create great meals for your family. At the same time, it is not so large that it is difficult to move in the backyard.
The Bad
Metal Thickness
It has superb finishing. It would have been fine if the metal had been thicker. But it is surprisingly light and convenient to transport.
The Good
Cooking Space
The Royal Smoker offers a total cooking area of 811 square inches, including 443 square inches of porcelain-enameled steel wire cooking grates, 184 square inches of chrome-plated warming rack, and 184 square inches of offset smoker.

The smoker is large enough to hold two slabs of ribs or a whole chicken.
Good value for money
This smoker is much cheaper in terms of features. You will not be disappointed.

Good for beginners
It is very easy to use this smoker so if you are a beginner then it is a good option for you.

Easy to assemble
Two persons can make assembly even easier and faster. Stick to the instructions and don't undertake any extra effort.

Easy to clean
This smoker comes with an ash tray that helps you to clean the firebox. Also this smoker is small in size so that you can easily clean it in less time. Once done cooking, you should clean the smoker to avoid creosote.
Visit here if you want to know how to get rid of creosote from a smoker.
Features
It has front and side tables that provide space for seasonings and grilling equipment.

Also it has a lid-mounted thermometer gauge that allows you to check and monitor the cooking temperature.

This smoker has a 2-level height-adjustable charcoal pan that allows for effective heat control and can accommodate up to 4.4 pounds of coal.

The side door on this smoker is easy to open to add charcoal and remove ash, and the air vent helps to regulate the fire..
Why It's a Top Pick for Me:
One thing I noticed about this smoker is that it is quite handy and has superb temperature control. For a wonderful gradual smoke, you can keep your grill at 225° or 250°.
Quick Info
Pros:
Affordable.
Good for outdoor camping.
Good heat regulation.
Good for beginner.
Cons:
If left in an open place for too long, paint will flake.
# How does an offset smoker work?
At the first you have to put charcoal and wood in the fire box so that it will ignite.
It is the only heat source for use in cooking.

The heat and smoke are sent through the firebox to the main cooking chamber of the smoker.

The smoke eventually comes out of the stack or chimney..

You can regulate the temperature and quantity of smoke inside the cooking chamber of the smoker by using a damper on the firebox and a vent on top of the chimney.
# What to consider before buying an offset smoker?
Here are some general features to look for before choosing a particular model.
Building efficiency
Heavy Metal
An offset smoker needs to be made of steel that is at least ¼-inch thick and has well-formed food chamber doors and vents.
Decent ventilation
We use vents to regulate the temperature of our grills.

However, you won't be able to control your temperature if the vents are too small or difficult to modify. Internal ventilation is also crucial.

So you need to check the vents before purchasing..
Quality Paint Job
In addition to having thick metal, it is important to have good high heat paint in a smoker that can absorb the temperature.
Thermometer
Check whether the smoker you want to use has a thermometer gauge or not.

It is very important for you to know at what temperature the food is being cooked.

So, with a temp gauge you can check and set your temperature.
Size
This is really important. Before making a purchase, measure the area you want to install the smoker in and compare the two. So that you don't have to regret later.
Price
Don't purchase a cheap or low-quality smoker to save money. However, any smoker will require adjustment.

You should expect to pay between $800 and $1000 for a well-built offset smoker.
However, that is not inexpensive.

You should spent the extra money on better build quality smoker.
Wheels
If you want a portable offset smoker, then choose a smoker with wheels or choose one in which you can adjust the wheel.
# Conclusion
In conclusion, this article's selection of the top small offset smokers provides outstanding performance in a portable design.
For people with a small room or who prefer a portable solution, these smokers are ideal.
You can make amazing barbecue with them despite their smaller footprint since they provide superb heat distribution and real smoke flavor.
These compact offset smokers make excellent investments for both novice and seasoned pitmasters due to their sturdy design, accurate temperature control, and user-friendly features.
Select the ideal little offset smoker that suits your requirements, and revel in the delight of tasty smoked meats in a portable container.