Here, I have provided a detailed comparison of the Char Griller 980 with the Masterbuilt 800.
Additionally, I have used a comparison table to compare all of these advantages and disadvantages..
I also tried to cover the majority of your queries' answers.
So let's get started.
Recommended Reading:
– Char Griller 980 review
– Masterbuilt 560 vs 800 vs 1050
– Masterbuilt 560 vs 1050
– Char Griller 980 vs Masterbuilt 800
– Masterbuilt 800 Gravity Fed Smoker Review
Char Griller 980 vs Masterbuilt 800
Checkpoints
Masterbuilt 800
Char Griller 980
Usage of the unit
Grill, Smoker, Griddle
Grill, Smoker
Temperature Range (F)
100-700
200 – 700
Cooking Space
800 sq inches
980 sq inches
Dimension (H.W.L)
51″ x 55″ x 30"
51" x 65" x 34".
Cooking Grates Material
Reversible smoke/sear grates, Porcelain coated warming/smoking racks
Porcelain-Coated Cast Iron Cooking Grates
Front Shelves
Yes
Stainless Steel
Yes
Bottom Shelves
Yes
Yes
App
Yes
Yes
Controller
Yes
Yes
Power Cord
Management Bracket
Yes
No
Drip Tray Location
Under the grates or food
Lower Front
Ash pan
Yes
Yes
Weight
204 pounds
213 pounds
Triple Walled Insulated Hopper
Double wall
Yes
Temp Gauge
Yes
No
Wheels
Yes
Black treaded wheel with gray hub and spokes
Yes
Small rubber wheels
Inner Walls
Porcelain-Coated
Insulated Lid and Grill Body
Check Price
Check Price
The Char Griller 980 and Masterbuilt 800 both are insulated smoker or we can say Gravity smoker.

Both have some similarities and differences and also they have some issues which we will discuss below.

Apart from this we will take a look at the upgrades and improvements of both those smokers.

I've also added here the user experience of the Char Griller 980 and the Masterbuilt 800 Smoker. So that  you can easily know people's opinion about these smokers.

The Masterbuilt has two hooks on the bottom of the controller shelf that are specifically designed to store or hang the grill top when not in use.

The bottom shelf of the Char Griller is present, but it cannot be used to store the warming rack since it slides off when the griller is moved from one spot to another. It is perfect to store for manifold.
# Major Difference
Cooking Space
Char-Griller Gravity Fed has 980 sq inches of cooking space and Masterbuilt Gravity 800 smoker has 800 sq inches of cooking space.

This means both the smokers are known according to their cooking area.
You can smoke or grill large quantities of food in Char Griller 980 more than a Masterbuilt 800. 
Cooking Grates
While the Char Griller 980 has five separate top grates that are easy to remove and clean, the Masterbuilt 800 Gravity Smoker comes with two porcelain-coated smoking racks.
You can slide and lift the Masterbuilt 800's grates, reposition them, and store them.

Compared to other gravity smokers, the Masterbuilt 800 smoker rack is low in count, but it does come with a digital charcoal grill. However, the Char Griller 980 doesn't have a griddle.
Dimensions (H:W:L)
Masterbuilt 800-(H.W.L) 51″ x 55″ x 30"
Char Griller 980-(H.W.L) 51" x 65" x 34".
The Masterbuilt 800 has the following measurements: 55 inches wide, 51 inches high, and 30 inches deep.

Likewise, the Char Griller 980 measures 65 inches in width, 51 inches in height, and 34 inches in depth.

That means the Char Griller 980 is 10 inches wider than the Masterbuilt 800.

Although they have the same height, the Char Griller 980 is about four inches deeper than the Masterbuilt 800.
Weight
The Masterbuilt 800 weighs in at 204 pounds, while the Char Griller adds another nine pounds to the total weight to reach 213 pounds.

The Char Griller 980 is easy to move, although it is heavier than the Masterbuilt 800.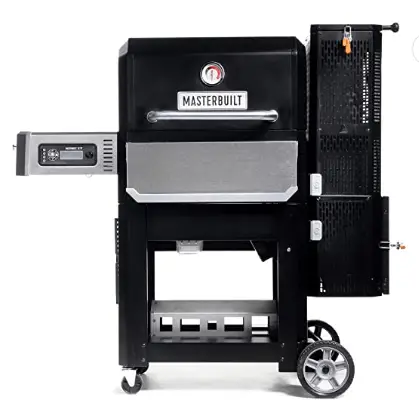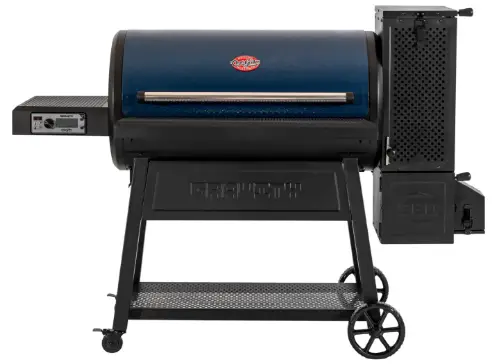 # Other Difference
Hopper
The Masterbuilt 800 Charcoal Chute has double walls, while the Char-Griller 980 has a triple-wall insulated hopper.

The insulated construction of both the units is effective in retaining heat and conserving fuel.

You can use a Masterbuilt hopper for 8 to 10 hours, although the hopper on a Char Griller can be used for 10 to 12 hours.
Front Shelves
The Masterbuilt 800 comes with a foldable stainless steel front shelf which measures 23 inches wide by 8 inches deep.

The Char Griller 980 also has a folding front shelf that is 34 inches wide by 10 inches deep.
Bottom Shelves
The Char Griller 980 has a solid with imprint bottom self which is used especially for manifold.

The Masterbuilt 800 also has a fantastic bottom shelf. You can keep there while the manifold is not in use, and it's also a good idea to store logs on the bottom.
Temperature range
The Char Griller's temperature range is 200 degrees to 700 degrees Fahrenheit, while the Masterbuilt has a range of 150 degrees to 700 degrees Fahrenheit.

However, both units allow you to set temperatures in five-degree increments..
Temp Gauge
The Char Griller 980 doesn't come with a temperature gauge.

However Masterbuilt 800 Gravity smoker includes a temperature gauge which shows accurate temperature and allows you to monitor the temperature.
Wall
The Char Griller 980 is constructed  of high-quality materials which means it will last longer. It also has an insulated barrel lid.
Masterbuilt 800 gravity smokers have porcelain-coated double walls.
# Similarities
Controller and the App 
The Char Griller 980 contains a PID controller.
This PID controller allows you to regulate and maintain temperature in this griller. Also you can watch your meals on your phone and manage the temperature via its Bluetooth and WiFi-enabled LCD controller.

The Masterbuilt 800′s controller also has Bluetooth and Wi-Fi capabilities, so you can manage the temperature and monitor your cook's progress using your phone.
Slide Damper
Both grillers have a slider that controls the amount of heat and smoke entering the cook chamber.

As a result, the smoke and heat will not travel until you move this slider out of its current position.

So, when you start cooking, take out this slider and place it in the proper place.
Meat Probe
Furthermore, these grillers come with meat probes for flawless outcomes and precise temperature.
Wheels 
When it comes to mobility both smokers have two lockable swivel casters and two large wheels that make transportation around the patio easy.

However, if you move the Char Griller after cooking, the grease tray becomes loose and the hot grease can spread and drip onto the patio.

Because the grease tray of the char griller moves slightly in its place.
Warming rack
Both grills have a warming rack or upper shelf; Which you can easily remove if you need.
Fuel Capacity
Both the Masterbuilt 800 and the Char-Griller 980 have almost the same hopper capacity.
The hopper of a Char-Griller 980 can hold 12 pounds of Kingsford charcoal or 16 pounds of briquette charcoal. Whereas the Masterbuilt Charcoal Hopper can accommodate 16 pound or 10 pound briquettes.
# What I like?
Masterbuilt 800 Gravity Smoker:
Grates are reversible.(designed with one side for smoking and the other for grilling.)
It has a probe port. (it makes easy to insert probe wires)
Foldable front shelf
Comes with a griddle
The controller has a timer that is good for beginners.
Easy to assemble
Char Griller 980:
Large grilling surface
Portable
Easy to operate.
# What I don't like?
Char Griller:
It takes time to put together.
A little heavier
The wheel size could have been bigger.
Masterbuilt 800 Gravity Smoker:
# Conclusion
Overall, the Masterbuilt 800 is the best option for me.
Although Masterbuilt 800 and Char Griller 980 are very similar in many ways, Masterbuilt 800 has a minor edge in a few instances.
# Accessories
FAQs
#1 Can you use lump charcoal in Char Griller 980?
Yes, since Char-Griller recommends lump charcoal for good performance, though you can also use hardwood charcoal briquettes.
#2 How long does a hopper last Masterbuilt 1050?
A hopper of the Masterbuilt 1050 and 800 Gravity Smoker runs for 8 to 10 hours.
#3 Can you grill on a gravity smoker?
Yes we can grill on a gravity smoker. Since the gravity smoker contains the reversible cast-iron grates which are perfect for smoking or searing. 
#4 Can you use the Char Griller 980 in the rain?
However, the Char Griller 980 is made of sturdy high-quality material so it can bear through the rain or any bad weather.
But I don't think this or any grill should be used in the rain. If you do not want to use it for a long time, then you can use it.
#5 Can you use wood in Char Griller 980?
Yes you can use wood in Char Griller.
#6 Can I use wood chunks in my Masterbuilt smoker?
Yes, you can use wood chunks in your Masterbuilt smoker.
#7 How many racks of ribs can you fit on a Masterbuilt 1050?
On the Masterbuilt 1050 can fit 4 racks of ribs.
#8 Does the Masterbuilt 800 have a griddle?
Yes, the Masterbuilt 800 comes with a griddle.