If you are looking for Oklahoma Joe Accessories, you are in the right place..
I have covered common and model based accessories or attachments here for possible upgrades or modifications..
Hope this will be helpful…
Dive in…,
Recommended Reading:

Recommended Reading:
– Must-Have Oklahoma Joe Bronco Accessories: Discover the upgrades that will transform your Bronco experience.

– Customizing Your Cook with Oklahoma Joe Highland Mods: Step-by-step guides to make your Highland smoker uniquely yours.

– Oklahoma Joe Highland Reviews: Real-world experiences to help you make informed decisions.

– Elevate Your Smoking Game with Oklahoma Joe Bronco Mods: Practical tips for enhancing your Bronco's performance.
Oklahoma Joe Accessories- Common & Model Based
# Common Oklahoma Joe Accessories
You can simply access your temperature probe cables through Oklahoma Joe's Smoker Grommet Kit and check the inside temperature of your cook..

It is easy to install. Two temperature grommets, a drill bit, and installation instructions are included with the kit..

It is made of high-quality, heat-resistant, food-grade silicone for durability.

Without opening the door, using a probe to measure the temperature is quite beneficial.

If you slightly reduce the size of the holes, cutting oil will help you get a better seal.

This is not just for Oklahoma Joe smokers but other smokers can also use it.

A friend of mine recommends that we should not use the very last size on the bit and use a high speed electric drill..
Oklahoma Joe's Smoker's cooking grates are made of heavy-duty porcelain-coated steel. They have a bigger diameter, a narrower clearance, and they last longer..

These rust-resistant porcelain barbecue grates retain heat well..
Compared to ordinary stainless steel grates, porcelain grill grates offer a more level grilling surface, cooking food more rapidly and evenly.

It is compatible with Oklahoma Joe's Highland Reverse Flow smoker as well as other offset smokers.

Food rarely sticks on porcelain grill grates, which makes them simple to clean and makes them resistant to rusting.

Use a paper towel or cloth to remove excess oil and food particles. Any food that is still on the grates needs to be burnt off. After the grates have cooled, scrub them using a grill brush or scrubber with soap and water to clean.
Be careful not to scratch or nick the grates when using metal cooking utensils…
It is an amazing drip bucket since it has long-lasting metal construction. 
Its paint is a weather-resistant paint which does not come off easily.
It is specially designed for offset smokers..
This drip pan has a 2-quart capacity and a 6.3-inch in diameter. So, it is sufficient to gather grease.
This is a reliable drip bucket you can use with a disposable drip catcher inside.
You won't need to be concerned that it will fill up quickly because it is big enough.
This smoke stack extension weighs about 9 lbs.
It is made of high quality manufactured steel which makes it long lasting.
It is better than a thin pipe.

The sleeve collar and damper blade of this smoke stack extension are also sturdy since it is a heavy duty pipe.
If you want you can season it with vegetable oil.
It is easy to assemble or install.

It has a remarkable effect on air flow..
This Oklahoma Joe temperature gauge is made of quality stainless steel.

It accurately reads the temperature of the grill or smoker, also it is large enough.

Usually BBQ smokers with an opening of 13/16 inches will fit this temperature gauge. 

Having a temperature gauge on both sides of the smoker is good at controlling the temperature.

And the food is also cooked equally everywhere.

You just have to monitor the gauge on both sides.
This heavy duty stainless steel charcoal basket holds enough fuel to load once and cook all day. Wood and charcoal burn evenly in this basket.

Most offset smokers will accommodate this charcoal basket. For example-Oklahoma Joe's Highland, Bandera, Longhorn and 3-in-1 Combo.

This charcoal basket allows you to easily handle the charcoal and remove fuel while cooking.

Also it is easy to clean up and it is perfect for outdoor cooking..
# Oklahoma Joe accessories based on Different Models.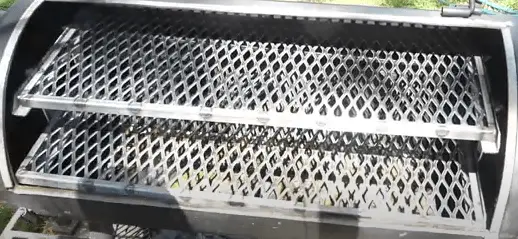 This sturdy cover, which is made of material that is fade- and water-resistant, keeps your smoker dry and clean..
Furthermore, built-in hook and loop straps assure a tight fit.

This robust rip-stop style cover is constructed from fading- and water-resistant cloth.

It is specifically designed to fit Oklahoma Joe's Highland Offset Smoker..

I appreciate how the cover fits the smoke stack. Perfect fit, just loose enough to allow for quick removal and re-covering.

The Velcro holds incredibly well during storms and strong winds without being blown off, making it weather resistant and also it prevents water from the rain.

In this way, the barbeque will be shielded not only from the sun and the rain but also from dust and pollen thanks to the cover.

If you are searching for a cover of Oklahoma Joe's Highland reverse flow smoker then click the link below.
Features & Specs
Brand: Oklahoma Joe's
Model Name: Highland Reverse Flow
Power Source: Manual
Color: Black
Outer Material: Polyester
Item Dimensions LxWxH: 69.25 x 39.5 x 59.5 in
Due to the silicone coated fabric and the fiberglass insulation, this cover is exceptionally durable. Aluminum lining allows it to endure temperatures of up to 700°F.

It is built specifically to accommodate Oklahoma Joe's Highland Offset and Highland Reverse Flow models.

It keeps cooking temperatures steady. Moreover, it improves fuel efficiency by retaining heat inside the cooking chamber.

Quite expensive but quite effective.

It is easy to put on and take off.

If you struggle to maintain temperatures up in a windy or cool environment, it's worth the investment.
In a humid atmosphere, this cover is particularly useful for keeping the temperature steady.
You may build a wide range of unique cooking setups using the Oklahoma Joe's Flex Racks Bracket Kit.

With different cooking settings on offset smokers, this adaptable Flex Racks System increases your cooking options.

You will receive 4 brackets to support the racks, which you attach to the back of the smoke chamber and 1 multi purpose flex rack which provides enough space for cooking. So you can cook ribs, drumsticks / peppers, vegetables etc.

The brackets are easy to clean since they are made of stainless steel. Also brackets are corrosion resistant.

The Highland Offset Smoker's cooking chamber is specifically designed for installation there.
It is corrosion resistant since it is made of nickel-plated steel construction. 

Also it is easy to clean. With a grill brush, it cleans up quickly and effectively with no stuck-on skin or meat.

Moreover, its design is great as it can fit in a two slots bracket and adjustable height possibilities.

I use this rack with my Oklahoma Joe's Rider Pellet Grill and I love it. This Nine-inch-wide single rack can hold up to 4 racks of ribs..

It's great for holding wings and drumsticks in the smoker. You can use a multi purpose flex rack.
FAQs
# How to use an Oklahoma Joe smoker?
To use an Oklahoma Joe Smoker, follow these helpful instructions...
1. Season your Oklahoma Joe's smoker
It is made of high carbon steel so you need to season it.
For seasoning you have to spray vegetable or canola oil inside the chamber.
After that, light the charcoal fire and keep the charcoal basket there for some time.
When the cooking chamber develops a shiny black coating, it means the season is over and the appliance is ready for use.
2. Set and maintain the desired temperature
For the initial fire, use 10 lbs. of the best charcoal and the appropriate amount of wood chunks.
Make sure heat and smoke are constantly circulating through the cooking chamber if you want the temperature to be correct.
It would be better to use an offset charcoal basket and set the temperature between 200°F and 250°F.
Adjust the intake damper and chimney to regulate the airflow.
For lower temperatures you should lower the vent opening and if you need higher temperatures, you should open the vents.
Every two hours or so, refill the firebox with more charcoal and wood.
3. Maintain the Moisture.
For lower temperatures you should lower the vent opening and if you need higher temperatures, you should open the vents.
# How to clean Oklahoma Joe grates?
Simple steps to clean–
After each use, take out the ashes…
Take out all the components from the cooking chamber and fire chamber.
Brush off the grates.
Wipe the grates with a rag or cloth using soapy water and clean with water then let dry completely.
(Brushing is to be done only when the grates remain hot so that the burnt food can be cleaned easily.)
Scrape off any grease or food fragments from the cooking chamber using a putty knife.
You can use soapy water to clean the drip bucket. Pour soapy water into the bucket and brush the inside of the bucket.
Same way you can clean your charcoal basket. Take a rag and wipe the whole basket using soapy water then clean with normal water.

# Conclusion
The Oklahoma Joe accessories discussed in this post are crucial additions for improving your grilling and smoking experiences, to sum up. These attachments, which range from grill covers to temperature gauges, provide convenience, toughness, and enhanced functionality. They are crafted for Oklahoma Joe grills and smokers in mind, guaranteeing a perfect fit and top performance. These attachments can be used to create additional cooking space, properly monitor temperatures, or safeguard your equipment. With these premium add-ons, you can improve your outdoor cooking skills and make the most of your Oklahoma Joe grill.