Looking for Oklahoma Joe Bronco Accessories to begin your journey with the Broncos,   You are in the ideal location…
These contents should also help you if you plan to purchase a Bronco grill or smoker and are looking for prospective upgrades or adjustments…
Here, I've discussed practically all of the Oklahoma Joe Bronco attachments and their potential applications…
For example-
How to season Oklahoma Joe Bronco?
How to use Oklahoma Joe Bronco? etc…
Recommended Reading:
– Oklahoma Joe Bronco Mods: Enhance your smoker with these custom modifications.
– Oklahoma Joe Accessories: Discover essential accessories for your Oklahoma Joe.
# Oklahoma Joe Bronco Accessories
This three-piece modular design grate is made of stainless-steel which is a very durable construction.
It is handy so you can easily carry it. This grate comes with a lifter which helps you to remove or place.
To hang the meats and roast vegetables simultaneously, you can modify the grate and remove some pieces.
It works marvelously, provides amazing flavor and texture to anything you cook like chicken wings, peppers or drum sticks..
I appreciate the product's design, quality, and material. It is made of stainless steel which lasts long.

This sturdy skewer is reasonably inexpensive. It works incredibly well and perfectly fits the pot..
It can be used in a variety of ways that weren't initially intended. You can use it on your Pit Barrel cooker, oven etc.

It is simple to operate. It is good for roast, entire fryers, and a variety of other meats. Also you can use this to make Pastor Tacos, and to smoke pork and pork tenderloin. If you don't close the lid, it will work just as well on the grill.

Moreover it is easy to clean. It is stainless steel so meat does not stick.

You can stack food items vertically if the chicken or other items are too big…
Installing this temperature gauge is simple. You may precisely place it on the cooking surface.

It maintains an accurate reading of a heated grill and is large enough to read. So it is much easier to track the cooking surface temperature.

After a long smoke, they are simple to clean..
The price of this gauge is not high, so you can purchase it by saving unnecessary expenses.
The cover material is incredibly durable and it has excellent finishing since the material is good quality. It is well-made to fit the Bronco with a shelf on either side, or even two shelves.

This cover is a perfect fit, holds up and works well. Also simple to put on and take off.
Also, it is a flexible cover that properly fits your grill and stores very neatly when not in use.
It comes with excellent value and construction which holds up in all weather too! It is composed of durable, rip-stop fabric and is lined with a water shell to shield it from the elements.

The water condenses and quickly rolls off. genuinely shields the smoker from all weather elements, including snow, rain, sun, and wind.

It covers the whole smoker, including the wheels..
However, even when it is covered, you can still move the smoker using the wheels..
This thermometer holder is easy to install.

It is wonderfully made and properly fits the Bronco Pro.

Lovelock digital thermometer or BBQ controller mounts are used in different smokers other than the Bronco.

Choose between Curved or Flat Mounting Bases. Alternatively, if preferred, select the curved mount's stainless option.

It can be modified to accommodate an 18″ wsm.
This baffle plate is my favorite because it distributes heat evenly and allows the meat to cook more even.

Smoke and flavor are significantly enhanced with this baffle plate.

It has a longer burn time and starts up more quickly.

This diffuser plate transforms direct heat into indirect heat. It has high efficiency so it maintains temperature well.

Another thing, it decreases the need for fuel and reduces flare-ups.

This plate fits Bronco perfectly. If you wish to raise the temperature, merely bend the tabs upwards with very little adjustment.
Furthermore it is easy to clean up…
It is made of stainless steel and built by smoker builders. The charcoal grate and ash pan are included with this charcoal basket.

The 55 gallon UDS can use this charcoal basket perfectly.

Since it is heavily constructed, this design offers the finest air flow and regulates temperature for longer burns.

It has enough space for a 20-pound bag of charcoal.

It's wonderful that it fits Oklahoma Joe Bronco..
# How to season Oklahoma Joe Bronco?
Steps to follow:
Remove all the components from inside the Bronco.
Spray vegetable or canola oil whole inside the Bronco.
Put the charcoal in the charcoal basket and add some pieces of wood.
Place the charcoal basket inside the bronco and light the charcoal with a gas lighter.
Open the vents or the air intake all the way.
Put all the components back.
Leave it open like this for about 20 minutes.
Close the lid 20 minutes later.
For good seasoning, let this sit for a few hours. 
# How to use Oklahoma Joe Bronco?
It is incredibly easy to use..
The thermometer that this smoker comes with sometimes doesn't work properly.
Using an Ink Bird thermal thermometer set, you can keep an eye on it and increase the temperature of your smoker.
To use there are only a few steps that you should know like-
If your Bronco is new, season it first.
When burned, charcoal glows and begins to turn white. This indicates that your Bronco is ready to be cooked when it occurs.
Place the meat or other food item on the grate.
Make sure clean smoke is coming from the burnt charcoal.
Start adjusting the intake damper as the temperature rises.
Whatever food you want to cook, set the temperature according to the food. You can use a temp chart if you are a newbie.
After cooking, there will still be plenty of charcoal in the smoker that you may relight and use at a later time.
Your fire will be put out if you close the top damper and the air intake.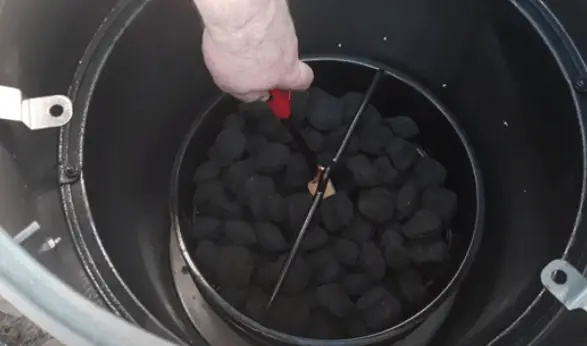 # How do you regulate the temperature on an Oklahoma Joe Bronco?
Here I am sharing some experience to maintain a steady temperature during the cooking process on an Oklahoma Joe Bronco.

After using your smoker a few times, you will begin to understand the small details, such as precisely how much to open and close the air intake and exhaust, how many wood pieces or logs you will need for smoking various sorts of food, etc.
Fill your charcoal basket with about one chimney full.
Place a few fire starters in the basket, then take a torch and light them.
Open the both intakes.
Let the charcoal burn. It will take between 10 and 15 minutes to completely erupt in flames. Leave the intakes wide open.
When you see the white ashes in the charcoal basket you can keep the middle grate in the smoker.
Close the lid of your Bronco. 
Open up your drum's exhaust all the way.
After getting your desired temperature, keep the intakes half open.
Before placing the meat in the smoker, you can add your preferred wood for flavor. Also you can add wood while cooking.
You should be aware of how long it takes for your smoker to reach the ideal temperature and how much charcoal and wood is needed according to the weather.
If you notice that the smoker's temperature begins to rise or fall, be aware that it is important to open and close or adjust the air intake throughout the cooking.
Tips: You can start with a modest fire because it is much simpler to gradually raise that temperature..
# How do you clean your Oklahoma Joe Bronco?
Steps to follow:
Cleaning inside the Bronco
Remove the lid and remove the heat deflector, charcoal basket, and other items.
Place any leftover ashes in a different drum or bucket.
Using a wet vacuum and scraper, remove the fat and grease from the smoker's base.
After that, spray Mark Oven, Grill & Fryer cleaner inside the barrel.
Allow this to sit for five to ten minutes.
Next you have to spray water thoroughly inside the barrel.
Pour water into the drum and clean it thoroughly for 2-3 times.
At the same time you can wash the exterior part of the Bronco.
Now wipe the drum with a dry, clean cloth or paper towel, and then let it air dry..
Cleaning interior parts
To get rid of the burned food, scrub everything with steel wool and brush it off.
Spray the cleanser on each component, then let it sit for five to ten minutes.
After that, repeatedly spray water to clean every surface.
After that, using a paper towel, clean up all the components and let them air dry.
Cleaning lid
On the inside of the lid, spritz the cleaner.
Allow to sit for a while.
Spray some water, clean it off, and then let it dry.
# Conclusion
The Oklahoma Bronco accessories discussed in this post are crucial for increasing your grilling versatility and ease, to sum up. These add-ons improve your cooking experience and enable a wider variety of recipes, from extra frying racks to ash pans and heat diffusers. They provide increased functionality and durability and were specifically created to match the Oklahoma Bronco grill. With these premium accessories, you can improve your grilling skills and unleash the full potential of your Oklahoma Bronco grill.