Here I have discussed lots of your queries about Oklahoma Joe's Bronco Mods.
Whatever I've learned about the Mods through my experiences, I have tried to provide the most useful information I have found…
I have tried to solve some frequent problems, such as-
Charcoal basket mods
Oklahoma Joe's Bronco temp control
Oklahoma Joe's bronco fan mod
Convert the Bronco from smoke mode to a grill mod.
Season an Oklahoma Joe's Bronco etc..
Just to let you know some of the points below are not exactly a modification.

But still these are some of the solutions that are still handy…
Hope it will solve your issues…;
Recommended Reading:
– Here you can learn about Oklahoma Joe's Longhorn Smoker Modes..
– Favorite list of Bronco Accessories
– Oklahoma Joe's Highland Mods
– Oklahoma Joe's 3 in 1 Grill Mods
– Oklahoma Joe Longhorn Combo Mods
Oklahoma Joe's Bronco Mods – in Detail
Solution 1: Oklahoma Joe Bronco mod with Charcoal basket.
Equipment:
Steps to follow:
Preparation:
So, you have to collect a bucket and drilling tools such as drills, bits etc.
It would be nice if you have a metal bucket..
Action: 
Drill holes on the bucket.

Drill hole on center of the bottom and around the bucket as shown in image.
(Other hole should be smaller than middle hole)
Next, you have to make hole on the down side around the bucket.

Place the bucket inside your Bronco.

Put two or three flat type stones or bricks underneath the bronco. 
Then place the grill grate.
Now you have to place your self made charcoal bucket on the grate.
It wood be better if you use chimney to burn charcoal.

.

Keep a charcoal chimney in a safe place.
Pour charcoal in the chimney. (charcoal should be half)
Light the charcoal with a lighter in a charcoal chimney.
Let the charcoal burn for at least ten to fifteen minutes.
Now you have to pour hot charcoal in your charcoal bucket.
After pouring the burning charcoal into the bucket, you will put on gloves and adjust the bucket with the help of a hook..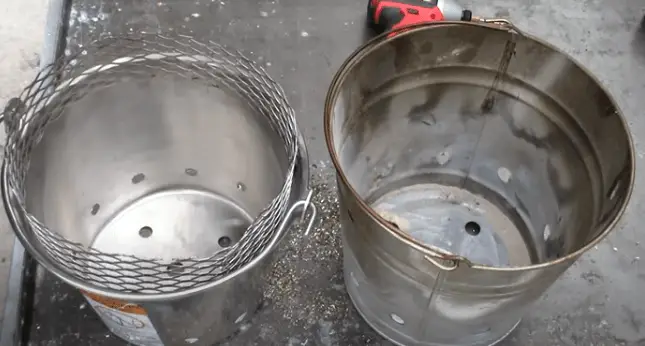 Also you can try more ways to hold more charcoal to produce a longer cooking time.
For example :
To make a charcoal basket you can use a simple sheet of expanded metal and some bar ties to code it together.

You can see the image below…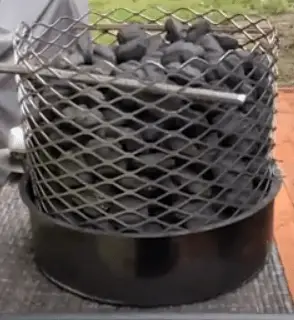 Equipment: 
Steps to follow: 
Preparation:
You will need charcoal and small pieces of wood.
Action: 
Make a layer of charcoal or lump. 
Pour several small pieces of wood on top of the layer.
Then again fill the bucket with charcoal.
Now light the charcoal.
Open both dampers until about 200 degrees. 
Close down the intake little. 
Don't touch, let it settle.
It means to control the temperature you should not mess and try to control too much..
Another way to control temperature.

You can use or hang a pellet tube inside Bronco.
It will provide equally smoke and heat to your meat.

I would recommend royal oak natural..
If you have any information about good charcoal then please share..
Solution 3: Oklahoma Joe's Bronco fan
Equipment:
Steps to follow:
Preparation:
You need to purchase an adaptor and Billows Fan.
Action
Remove the air controller lid.
Fix the adapter with a fan.
Then put it in the air controller hole.
Use a signal to run the fan.
Open your exhaust lid a little bit when you are using the fan.
You can see in this video for other fan mods.
# How to convert the Bronco from smoke mod to grill mod?
So, if you want to change or convert your Bronco from smoke to grill mode then follow the steps :
Remove interior components. 

First you have to take off the cooking grate, heat diffuser and charcoal basket.

Flip up the diffuser

Take your heat diffuser and flip it.
Then drop inside the Bronco.

Keep charcoal basket

Next you have to place your charcoal basket with burned charcoal if you are going to grill.

Add cooking grate

Lastly you will add your cooking grate.

Now it's ready to grill whatever you want.
Steps to follow:
Empty the Bronco

Take out all parts and wash with soap and water.

Rinse them and let dry

Let dry all the parts of the Bronco.

Spray

Now you have to spray everything except for the porcelain coated parts with Pam original or any oil which one you prefer.
Spray inside the drum with pam original natural canola oil.

Light the charcoal

Fill the charcoal basket with briquettes
Light it and get some heat.
Add heat diffuser and cooking grate or meat hangers.

Close the lid
Wide open both your air intake and exhaust damper.
That's all there is to do in seasoning. .
It's very easy, isn't it? You can cook after two to three hours of seasoning..
# Can I use wood in the Oklahoma Joe's Bronco?
Yes, you can use wood with charcoal in the Oklahoma Joe Bronco..
# How do you smoke in Oklahoma Joe's Bronco?
Here I am sharing steps to smoke in Oklahoma Joe Bronco.
Steps to follow: 
Light the charcoal..

Fill the charcoal in the chimney with charcoal and light.
You can add wood chunks..
You can light the charcoal in the charcoal basket.

Now you have to add a heat  diffuser.
Then add one or two level cooking grates.
If you want to hang your meat you can hang. (Three hangers and eight hooks comes with Bronco)
You can put the meat in the bronco once the temperature is around 300-350 F.
You have to keep adjusting the air intake till the cooking is finished.
# Can you grill on Oklahoma Joe's Bronco?
Yes, it is possible…
However, some adjustments to your Bronco are required.

You can grill easily by converting your Bronco Drum smoker to a charcoal grill.

I have already described how to change the smoke mod to a grill mod..
# Oklahoma Joe's Bronco accessories
Also you can visit this link for parts and accessories…
# Conclusion
In conclusion, these Oklahoma Joe's Bronco modifications are the secret to releasing your smoker's full potential. These changes will up your BBQ game, from greater heat retention to better airflow. Say good-bye to inconsistent cooking and hello to consistently flawless smoked meats. Upgrade your Oklahoma Joe's Bronco to see the impact these crucial modifications can have. When you can obtain great flavor and tenderness with these essential changes, don't settle for ordinary results. With these revolutionary Oklahoma Joe's Bronco mods, you may elevate your smoking abilities to new heights.