Here I have explained most of your queries about Blackstone Griddle Mods.
I have tried to cover some common queries like.
Blackstone Griddle Grease Tray/drain mod
Blackstone griddle wind guards
How to Convert the 17 Blackstone Griddle to RV
Blackstone 28 griddle seasoning, upgrade, accessories etc.
Some of the mods are actually very easy than imagined..
Be sure to check out  

– 12+ Full List of top modifications of different grills, smokers and cookers etc.
– Blackstone Griddle Grease Tray Modification.
# Blackstone Griddle Mods
It is very simple to fix…
Steps: 
Take a grease cup.
(Grease cup comes with handles and a hook).
Insert a liner in the grease cup.
Now attach the grease cup under the hole in the back of the griddle top..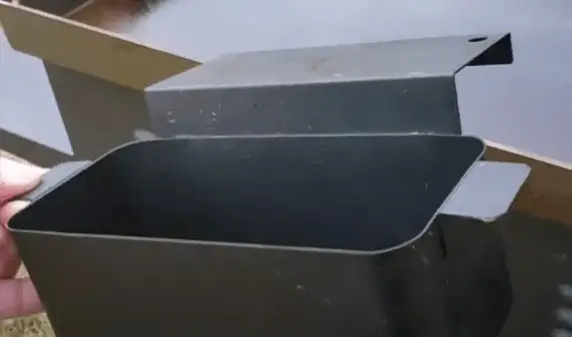 Recommended Reading:
–Blackstone Griddle Gap Modification
Mod 2: Blackstone 36 griddle wind guards
Guard helps to reduce the wind and retain heat.
It's very simple to install..
Steps:
You just take it and place directly on the griddle lip.
If you want to make your own then go for it.
But I believe saving time is the right decision.
---
# Other Blackstone griddle mods
---
Steps:
Thread off your one pound bottle.
Get a hose (regulator).
Plug the hose thread with an adapter.
Then attach another side with your 20 pound bottle thread.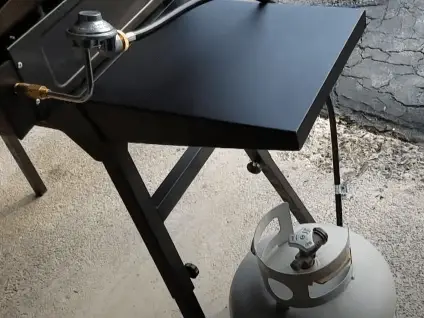 Often when flowing through the grease drain, the grease falls into feet of the griddle instead of the grease cup..

To overcome this problem, follow these simple steps.

You just need two things:
Steps:
Bend the kit upwards slightly.
Now you have to attach the backyard life gear grease slide griddle kit with a drain edge.
Crimp the kit a little bit just to make it tight.
Next you have to place a grease cup below the kit and the problem is solved..
# Seasoning
Blackstone 28 griddle seasoning
Steps:
Take a little bit of soap and water and wipe with a paper towel on the griddle..
Put on the griddle and keep it on high heat.
Let burn off for about 15 minutes.
After 15 minutes take two tablespoons of seasoning and cast-iron conditioner.
Then put off the grill..
Take a paper towel and spread the conditioner on the griddle. Repeat 2 to 3 times until 15 minutes.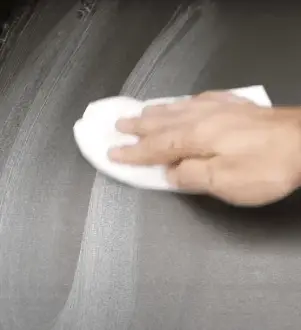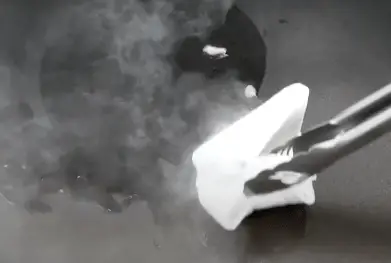 # Upgrade
Steps:
# Find all types of Blackstone Accessories here.
You can check out the link given below according to your needs…
Lid:
Win Guard:
Surround Table:
# Other Accessories for Blackstone Griddle
# FAQs
# Is Blackstone griddle worth it?
Yes, it is, because it has nice durability, sturdy body, budget friendly value with large cooking surface quality.
# Is the Blackstone griddle any good?
All Blackstone griddles perform according to their own merit or quality.
It completely depends on you for what you would like, especially for what work.
Here I'm listing a few of my choices…
# Can I cook pizza on a Blackstone griddle?
Yes, you can cook pizza on a Blackstone griddle.
# Is there a Lid on a Blackstone Griddle?
In a nutshell, yes, certain Blackstone griddles come with a lid. However, some models do not.
# Can you use a grill mat on a Blackstone griddle?
Yes, we can use Blackstone Griddle Mat while cooking on Blackstone griddle.
# What makes a Blackstone griddle so special?
There are lots of benefits to utilizing the Blackstone Griddle instead of a standard grill..
There are two main factors that distinguish it :
Wide cooktop: With so much area on the griddle, you can easily prepare various items at once and cook for a large group..
Adjustable temperature: You can produce independently regulated cooking with three adjustable burners..
# Conclusion
In conclusion, with these mods you can convert your Blackstone griddle into a flexible cooking apparatus with the appropriate adaptations. You can improve the performance, convenience, and functionality of your outdoor cooking with the help of these modifications. The possibilities for modification are numerous, ranging from adding side shelves and wind guards to installing temperature control systems and unique accessories. You can also improve your cooking abilities and open up new culinary options on your griddle with these top Blackstone griddle upgrades..