In this guide, I've addressed many of your questions regarding Pit Barrel Cooker mods. I've delved into common topics such as:
Ash Pan
Temperature Gauge
Using Grommet
Tools I've used
FAQs and more.
I genuinely hope my insights help resolve your queries.
Be sure to check out – 
12+ Full List of top modifications of different grills, smokers and cookers etc.
Most of us might not even feel the need for mods in Pit Barrel Cooker.
Unless we want to be able to control its temperature and boost up its performance. 
Here I have collected some awesome mods which I researched through different sources on the internet..
However I have only discussed the important ones that worked for me. . .
Tips : 

I have found it to be a perfect fit to cook chicken, either half chicken or chicken wings. Be sure to try out..
Mod 1: Get an Ash Pan 
Pit Barrel cookers don't come with an ash pan in its standard package.
You need to buy one separately. This is absolutely essential..
Otherwise you will have a hard time cleaning or digging  the ashes inside the cooker. 
In case you want to get the ash pan I used, I will provide the link below..
Mod 2: Adding a Temperature Gauge
Adding a temperature gauge will help to monitor the temperature of the cooker.
This is purely a choice. And it is not absolutely necessary. 
I simply added it because I wanted to be able to see the temperature directly on the top.
Instead of using an external one..
Here is how it looks once you place the thermometer.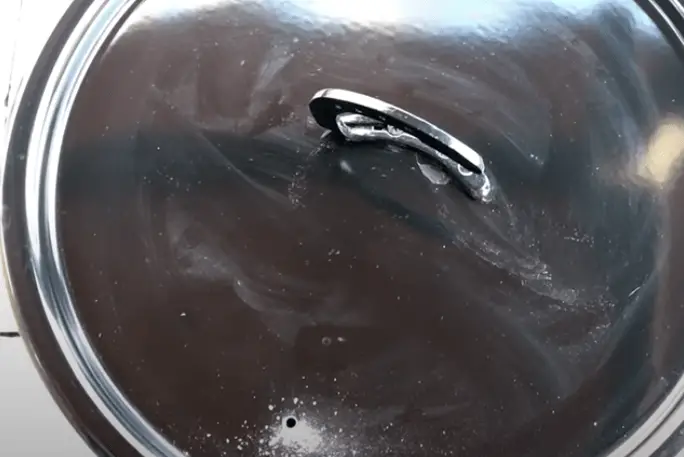 In case you want to get one for yourself I will leave a link here.
Also the tools involved to drill the holes and place the thermometer. 
It is very direct and I don't feel it is necessary to explain in detail how it is done. You will easily do it.
3 1/8 inch Charcoal Grill Temperature Gauge, Accurate BBQ Grill Smoker Thermometer Gauge Replacement for Oklahoma Joe's Smokers, and Smoker Wood Charcoal Pit, Large Face Grill Temp Thermometer
This BBQ Grill Smoker Thermometer perfectly fits for Oklahoma Joe's smokers and most smokers or grills with 13/16 inch opening or hole.
with extreme accuracy, extra 3'' long stainless steel probe rod for accurate temperature readings and precisely measures internal temperatures of food with a quick 3 to 4 second response time.
3 1/8'' large 3 color coded zones grill thermometer with enlarged degree scales and numbers, easy data reading, allows you to grasp the temperature at a glance even at night. Face reads 100 to 550 °F
This grill temperature gauge is made out of stainless steel, which is sturdy and rust resisting, a safety and durability for your family.
Just insert the stem through the hole on your grill, and attach the kit included. This temperature gauge is designed to be mounted at the outer of grills, if utilized in liquid or environments with a good deal steam, may additionally fogged up with condensation, but the condensation will disappeared after some time.
Mod 3: Adding a Damper ( Pit Barrel Cooker Vent Mod)
One cool thing I did was to add a damper to the cooker. The idea is to control the heat using this damper..
For this I purchased a damper from weber (obviously it was made for weber).
It serves me two purposes.
First it can help me increase or decrease the heat  inside the cooker but rotating the damper.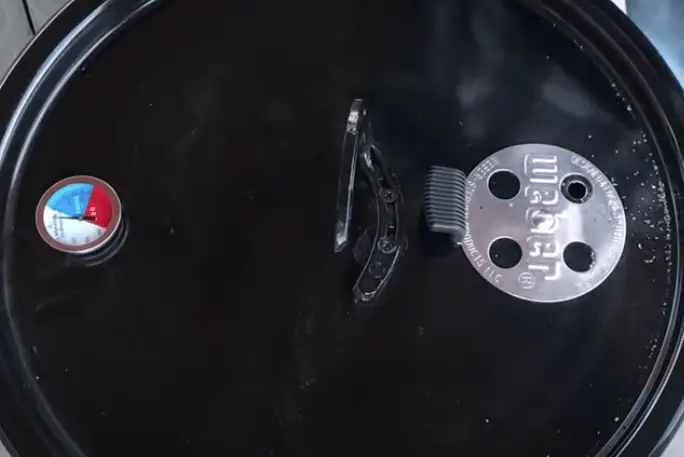 Second, it can also act as a primary vent..,
How to install?
You can drill the holes based on the damper circles. See the image below.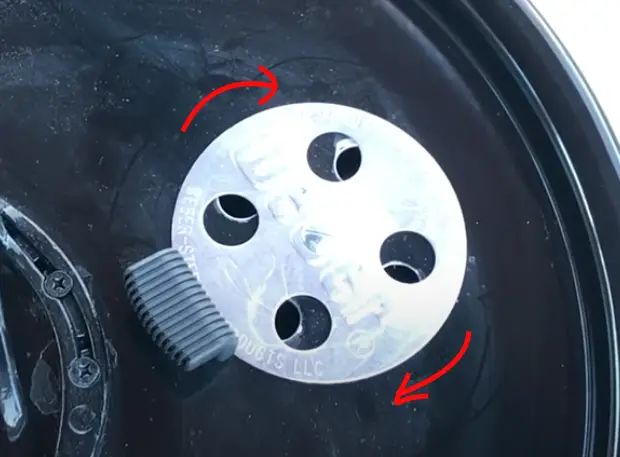 I have mentioned all the tools and used mods below:
Neosmuk Magnetic Hooks, 27 lb+ Heavy Duty Earth Magnets with Hook for Refrigerator, Extra Strong Cruise Hook for Hanging, Magnetic Hanger for Cabins, Grill (Silver White, Pack of 10)
✔ SUPER POWERFUL - Amazing strong, sturdy, and heavy-duty metal magnetic hook with a CNC machined steel base, embedded with a high grade latest generation of 'magnetic king' i.e. super Nd-Fe-B, this magnetic hook offers strong pulling force under steel. The magnetic hook is perfect for hanging items on the fridge in the kitchen.
✔ HIGH-LEVEL PLATING- We offer 3 layers of coating on the magnet hook metal base, metal hook, and magnet. It provides this magnetic hanger with a shiny, rust-free, and mirror-like finish. Coated magnetic hook particularly exhibits an excellent anti-corrosive properties and scratch resistance. Maintenance-free, no rust!
✔ CRUISE ESSENTIALS –After performing a careful inspection of the magnetic hooks machining flow line, defective pieces were checked and picked out in the first place. You can take these excellent magnetic hooks to the cruise for hanging and decorations on the metal wall or metal door in the cruise cabins of your carnival cruise ship. This strong magnet hook is a cruise necessity and one of the cruise accessories must-haves.
✔ VERSATILE USE- Neosmuk's strong neodymium magnetic hooks were endowed with a strong capability for holding various items wherever there is iron or steel. This magnet hook is a perfect magnetic key holder. You can also hang your tools next to the toolbox with this magnetic hook. Our magnetic hooks are great for grill, pot, cup, utensils, and oven.
✔ Neosmuk Permanent magnetic hook, strong magnetism lasts forever!
Sale
Mod 4: Use Grommet to cover the Probe Holes
Since I didn't like my probe to just be inserted and losing some smoke..
I wanted an efficient way to control the hole areas when the probe is inserted. 
Fortunately I found a grommet which is actually designed by Weber for its smokey Mountain product. 
I used it along the probe holes.
And although simple it is one of my favourite mods. 
It looks something like this..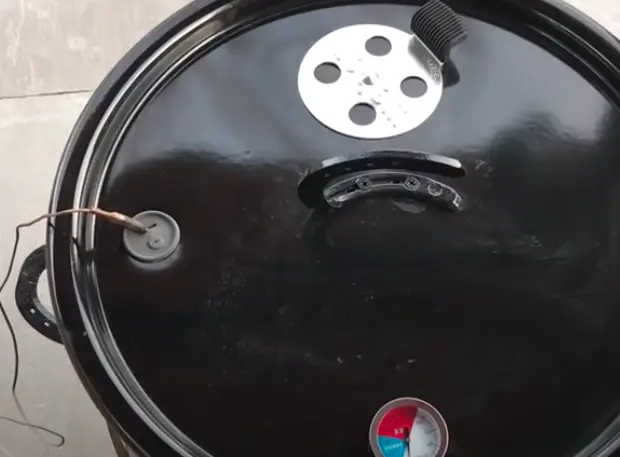 Mod 5: Additional Grate mod
You can add a additional grate or hinged grate in the middle of your smoker.

This gives your meal a bigger surface area and also you can access without completely removing it.

Additionally, you can put in the additional grate closer to the bottom to get direct heat.

Furthermore this helps you to add more charcoal for a longer cook.

You can cook steak on a lower level grate as well as some cobbs on top.

To hang the meat with a hook, you have to fix a rod in the hole on both the sides of the cooker.

One side of the hinged grate has to be bent down so that the meat can hang on the empty space with the help of rod and hook.

Two holes are needed on the top side of the cooker to insert the rods.

Then you just have to buy hinged grate and bottom grate and keep them inside the cooker.

I am putting the image here so that it is easier for you to understand.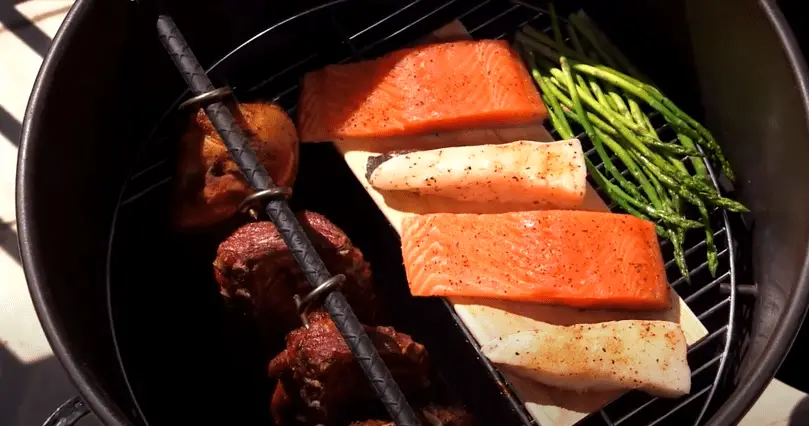 # Tool and Items used
Metal Bits 
Sale
ZELCAN Step Drill Bits, HSS 5PCS Titanium Step Drill Bit Set, 50 Sizes in 5 High Speed Steel Unibit Drill Bits Set for Sheet Metal with Aluminum Case, Multiple Hole Stepped Up Bits for DIY Lovers
Extreme Durability: Cobalt high speed steel drill bits along with the titanium coating ensures extreme durability, will stay new and shiny for years to come.
Different Sizes of Holes Can Be Drilled: Different sized shanks ensure compatibility with 1/4, 3/8 and 1/2 in. chuck sizes. You are capable to drill holes in different sizes which can meet your normal needs.
Smooth Drilling: Non-walking drill tip provides fast and smooth drills on steel sheets, aluminum sheets, wood board, plastic board etc. (the board must be smaller in thickness than the height of step drill bits).
Use Center Punch to Mark the Spot: Please mark the spot that you are to drill for easier drilling and improved drill bits life.
Keep Your Step Drill Bits Well Organized: All the bits come in a well-organized case for easy transport and storage.
Centre Punch 
Sale
NEIKO 02638A 5-Inch Automatic Center Punch for Metal, Adjustable Impact Spring Loaded Center Punch Tool, Spring Punch, Center Punch Spring Loaded, Auto Center Punch
CENTER HOLE PUNCH FOR METAL: Our 5-inch automatic center punch tool is a great tool for working with materials like wood, plastic, metal, glass, and leather. Each center tool is spring loaded with an adjustable stroke and cap that accommodates any project.
COMPACT STEEL TIP: Center punches are important when it comes to marking an accurate drilling location. With the spring-driven action and hard steel awl tip, our hand-held puncher lets you mark drill holes anywhere while on the job.
SPRING LOADED CENTER PUNCH: This chrome-plated shank body withstands intense impact force, and the metal resists corrosion and damage over time. The reinforced S2 steel tip holds up to hard materials and makes surfaces ready for any nail or drill.
EASY USE & GRIP: With a nonslip surface and a precision-centered tip, this center metal punch has increased force control for accurate holes every time. Activate this tool with a firm downward push to achieve the exact size hole you need.
ALL-IN-ONE CENTER PUNCH: This spring-loaded glass breaker and center punch tool is suitable for all kinds of tasks. Whether you need a window hole puncher, an awl for leather belts, or a metal hole punch, this efficient tool gets the job done right.
Power Drill
BLACK+DECKER 20V MAX* POWERECONNECT Cordless Drill/Driver + 30 pc. Kit (LD120VA)
VERSATILE 30 PC. SET – Includes a wide variety of bits and accessories for drilling and driving tasks.
CORDLESS DRILL/DRIVER – Compact, lightweight design for versatile use.
24-POSITION CLUTCH – Prevents stripping and overdriving screws for added control.
SOFT-GRIP HANDLE – Ergonomic design for extra comfort.
POWERCONNECT BATTERY SYSTEM – Interchangeable battery system means you can use one battery for multiple different tools.
Magnets
Sale
Anpro 120 Pcs Strong Ceramic Industrial Magnets Hobby Craft Magnets-11/16 Inch (18mm) Round Magnet Disc for Refrigerator Button DIY Cup Magnet Craft Hobbies, Science Projects & School Crafts
Versatile Uses: Ideal strong DIY strong refrigerator magnets, school, office, craft, home, science projects and product applications, such as glass gems, mirror and other DIY hobbies; You can use them as refrigerator magnets
Anti-scratching Design: These tiny magnet discs feature beveled edges to prevent surfaces from scratching
Dimple Shows North Pole: North pole side of each craft magnet is marked so that you can put it on the desired side.
Note: Please keep your children away from ceramic magnets as they are not toys and are only used for art, science, or production.
120 pcs Strong Ceramic Industrial Magnets: magnets for crafts GRADE Y30 1200 Gauss round ceramic magnets. The diameter is 18mm (0.71") and the thickness is 5mm(0.2").
# My Recommended Accessories for the Pit Barrel Cooker:
# What are the best foods to cook in a pit barrel cooker?
The best things to cook on a pit barrel cooker are:
Chicken wings
Tri Tips
RibEye Steak
Prime rib, and rib-eye steaks
Corn
Planked salmon
Rack of lamb
Sweet potatoes
Spareribs etc.
To make the Pit barrel cooker hotter you can slightly open or crack the lid and keep it for about half an hour.
Then close it..
With more air to flow it can burn up the fuel and produce more heat..
Also you can refer to the modifications listed which can control and improve the overall heat..
# How do you control the temperature on a pit barrel?
You can control the temperature on a pit barrel by doing some damper modification.
I have already discussed it here on detail..
# Can you use wood chips in a pit barrel cooker?
Yes, you can use wood chips in a pit barrel cooker.
But you should be using it as a mixes with charcoal or wood etc..
# How long does a pit barrel cooker last?
Full Pit barrel cooker with charcoal can last upto 11 -12 hours of consistent burning..
# Can you use lump charcoal in a Pit Barrel Cooker?
Yes, we can use lump charcoal in a Pit Barrel Cooker..
# Conclusion
As a result of researching Pit Barrel Cooker adjustments, you can find a variety of improvements that can improve your cooking. Increased versatility and customization are made possible by these alterations, such as the inclusion of extra hooks or attachments. These modifications provide Pit Barrel Cooker users useful options, such as enhanced temperature control and increased cooking capacity. Before making any alterations, it's crucial to thoroughly take into account your individual requirements and cooking preferences. Overall, these improvements provide you the chance to perfect and maximize your Pit Barrel Cooker for excellent outcomes..