To learn How to use a Pellet smoker tube, I would recommend to learn the basics. And see the results how effective it will be..

Actually, the tube is used for more flavor than heat.

The well-structured smoker tube will help you cook meat and other food without a heavy, pricey, and large smoker because this tube is used in all-electric, gas, and charcoal smokers.

Additionally I have listed down the three best pellet smoking tubes that I have used so far…;
Recommended Reading:
– Learn more about the different types of pellet smokers and their uses.
How to use a Pellet Smoker Tube
# What is a smoke tube, exactly?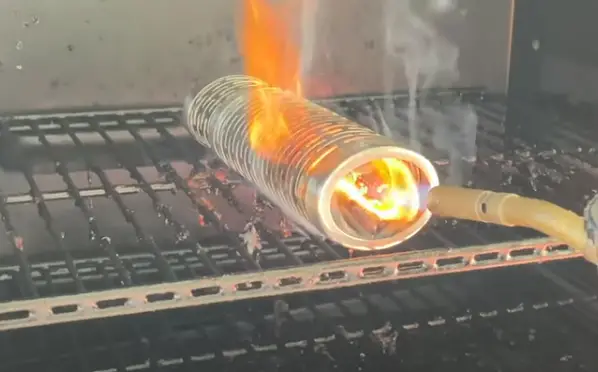 I'd like you to understand what a smoke tube is before learning how to use a pellet tube smoker..

A smoke tube is a metal container in the shape of a cylinder that holds the smoking pellets.

When you put your pellets in the tube and fire it, the tube generates a good amount of heat and smoke which helps in cooking the smoky flavored food you want.

In every smoker or grill, a smoke tube is ideal..
It's also suitable for smoking both cold and heated.
So, a smoke tube is a device that emits smoke…
# How to use a Pellet Smoker Tube in your grill?
It's effortless. Anybody can use this tube..
Here are the steps in order :
Step 1: Fill the pellets in your tube and shake a little bit so that pellets can set without gaps.

You can soak your pellets. It would be better If you will use a mixed pellet.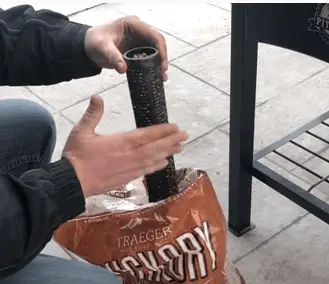 Step 2: Stack the tube with a pellet and ensure that there is less airflow.

Step 3: Lit one end of your tube with a butane torch or electric heat gun or propane blow torch.

Always light the pellet tube vertically…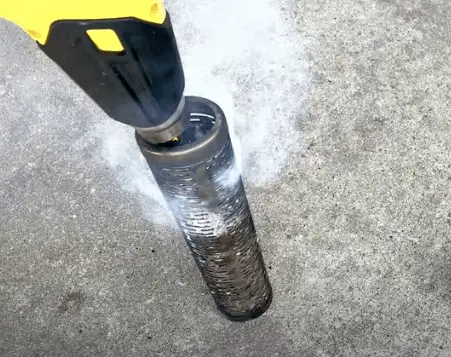 Step 4: Once you get the nice flame, let it burn for about 10 minutes, then put out the flame.

Step 5: Place the pellet tube horizontally next to the food on the grill.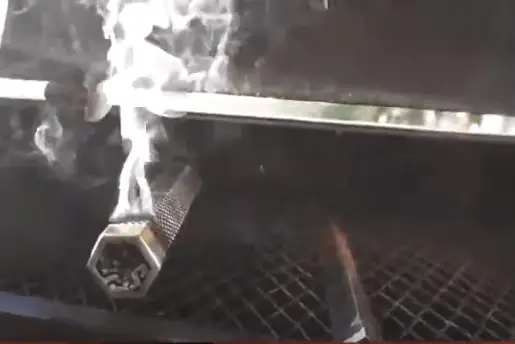 # If you want to check the prices or read customer reviews, follow the links.
I've included three types of smoker tubes that are in growing market.
# How to light a Pellet Smoker Tube?
Steps in order:
Fill the tube with mixed pellets and chips.
Please put it in a vertical position.
Using a basic torch, ignite the top and move your lighter around the outside of the tube.
It'll take 5 or 10 minutes if it's windy outside.
Let's burn the pellets.
Once it's flame out, let it smoke thoroughly.
# Top 3 Pellet Smoker Tubes
Feature and Specs:
Brand: LANNEY
Power Source: Corded Electric, Wood
Product Dimensions: 12 x 2.1 x 2.1 inches
Item Weight: 9.6 ounces
Item model number: Pellet Smoker Tube Hexagonal
Sale
Smoke Tube for Pellet Smoker, 12'' Smoker Tube for Pellet Grill - Hot or Cold Smoker Accessories for Electric Gas Charcoal Grilling, Premium Stainless Steel Portable Barbecue Smoking Tube, Bonus Brush
【BILLOWING SMOKE AND BIG CAPACITY】 The pellet smoker tube has massive density diffusion holes on its body. So the smoker tube can let air come in, diffusing smoke efficiently and evenly to your food. The perforated design and hexagon shape of tube smoker allow the pellets stay lit the best and fully burn to provide constant smoke. With a length of 12 inches large capacity, the wood pellets smoker tube is capable of holding enough pellets and will produce abundant quantity of smoke up to 5hrs.
【UNFORGETTABLE FLAVORS FOR HOT AND COLD SMOKING】This smoke tube can be used with various wood pellets such as cherry, hickory, mesquite, apple, pecan to add different tastes. The 12" tube smoker works with wood chips as well. You can mix these or stack them in the tube. This smoke tube is perfect for hot and cold smoking, adding wonderful smoking flavor to many types of food: meats, cheeses, veggies, nuts, bacon, chicken, salt, burger, steaks, pork, hot dogs, sausages, fruit, corn, and more!
【WORKS WITH ALL GRILLS AND SMOKERS】 The smoker tube is compatible with electric, gas, charcoal, pellet grills, any type of grills of any size and shape. Just fill the barbeque smoker tube with wood pellets, lean the grill smoker tube against the inside wall or of put it in the middle or any position. The bbq pellet smoker tube will release smoke. This bbq smoker tube turns your barbeque grill into a smoker without modification. The smoke generator is also designed to supplement smoke in a smoker
【IMPROVED DESIGN AND STAINLESS STEEL MATERIAL】 Unlike traditional circular smoker tube, the special hexagonal smoker tube can stay steadily and will not roll on grill grate. Open cap at one end is for easy filling and lighting. Closed cap at other end keeps pellets inside. The whole smoker tube is made of high standard 304 grade stainless steel that is anti-rust and heat-resistant. With excellent workmanship, the smoker tube is very durable and will not be broken or bent after long-time use.
【IDEAL GIFT CHOICE AND SATISFACTION GUARANTEE】 The pellet smoker tube comes with bonus items: 1 silicone brush for basting food, 1 tube brush for efficient cleaning, and 2 S hooks for hanging the smoker tube. All of these are packaged well in a box. You can take it anywhere for outdoor use. The portable smoker tube set is a great gift idea. Have a try at it. If for any reason you are not satisfied with your purchase, simply return the product for a full refund. Totally risk-free and hassle free!
Capacity to generate smoke and hold the pellets:
The body of the tube has a large number of holes. So what does it mean? It means that this smoking tube allows the air to flow properly and spread the smoke evenly to enter your food.

I am quite impressed with its perforated design and hexagon shape, allowing the pellet to burn constantly and provide constant smoke.

Another great feature of this tube is that it can hold a sufficient amount of pellets which helps you smoke for at least 5 hours. Also, it is designed to supplement smoking.
Hot and Cold smoke:
It is worth it to be able to use the same stuff for two things.

You can also use this with different types of pellets such as apple, pecan, cherry, hickory, mesquite for different tastes.

Also, it can hold wood chips as well. Isn't that a good thing?

So, the tube gives an awesome flavor to your food and helps smoke both hot and cold smoke.

You can smoke various foods—for example- meat, veggies, burgers, hot dogs, sausages, and more.
Eligible with grill and smoker:
This pellet tube works well both grill and smoker, which means you can use any size of electric, gas, charcoal, or pellet grills. Just put it in the right place carefully.

So you can turn your grill into a smoker…
Design and Material:
Another advantage of this tube is that it is designed in a hexagon shape. That's why it remains stable on the grill grate and does not roll.

There are lids on both sides of the tube, which helps in pouring and burning the pellet.

This LANNEY smoker tube is made of a high standard 304-grade stainless steel which is anti-rust and heat-resistant.

Still, my tube's condition is fine as I have not used it much. According to the manufacturer and review, it doesn't break or bend after long-time use.

The LANNEY smoker tube comes with two hooks for hanging, one silicone brush for basting food, and one tube brush for cleaning your tube.

This product will be the best gift if you want to give it to someone.

Also, you can use it anywhere outdoors..
Advantage:
It allows you to smoke for 5 hours.
It holds enough pellets.
It is designed to supplement smoke in a smoker.
It has a hexagon shape with a lot of holes.
It can hold wood chips.
You can use it for Hot and Cold smoke.
You can turn your grill into a smoker.
Portable. Best for outdoors.
It is made of high-standard 304-grade stainless steel.
Anti-rust.
Heat-resistant. 
It doesn't break and bend.
Disadvantage:
There is no specific point that can be mentioned.
Check here to see reviews on Amazon.com.
Features & Specs:
Brand: LIZZQ
Power Source: Corded Electric, Wood, Charcoal
Product Dimensions: 12 x 2.16 x 2 inches
Item Weight: 8.8 ounces
Item model number: AMNTS12
Sale
LIZZQ Premium Pellet Smoker Tube 12 inches - 5 Hours of Billowing Smoke - for Any Grill or Smoker, Hot or Cold Smoking - An Easy and Safe Way to Provide Smoking - Free eBook Grilling Ideas and Recipes
✅ This accessory is designed to WORK IN ANY GRILL (gas, electric or charcoal) and with any smokers. It ADDS GREAT FLAVOR for your meat or fish and exposes them to a tasteful smoke of smoldering wood. Perfect for smoke cheese.
✅ The pellet smoker can produce smoke for UP TO 5 HOURS SMOKING which is perfect for both hot and cold smoking pork, ribs, cured meat, hot dogs, sausages, chicken, cheese, lamb, fish, nuts, fruit, corn, bacon and more.
✅ It can be USED WITH A VARIETY OF WOOD PELLETS such as Cherry, Hickory, Mesquite, Apple, Pecan and more.
✅ Its NEW HEXAGON SHAPE ALLOWS FOR EFFICIENT DIFFUSION OF SMOKE, therefore, it will give you the best smoking result. Not like the traditional circular smokers that can roll around, this hexagon shape stays in place to provide balanced smoking.
✅ This smoking tube is MADE FROM STAINLESS STEEL 304 which is safe, durable and easy to clean. smoke tube, smoker tube, pellet smoker tube, tube smoker, pellet tube smoker
The LIZZQ is much like the LANNEY pellet smoker tube because this one is also 12 inches in size and has similar features. 

LIZZQ also has good ratings and reviews.

So LIZZQ produces smoke for up to 5 hours, and you can use a variety of wood pellets like pecan, cherry, hickory, mesquite, and apple.

It is designed to work with any grill like gas, electric, or charcoal.

In this tube, pellets take 9 minutes to burn. Use a propane torch to light.

Most of my friends love LIZZQ for its hot and cold smoke.

Its movement is zero on the grill grate, so it is easy to smoke food in any grill.

It is made of stainless steel, which is very strong and lasts for a long time.

This hexagonal tube with holes of excellent density allows the smoke to diffuse from all sides.

I just smoked ribs. You can try more which are mentioned in the feature list of this product. These are pork, ribs, cured meat, hot dogs, sausages, chicken, cheese, lamb, fish, nuts, fruit, corn, bacon, and more.

Ultimately this is the best pellet tube.
The difference between LIZZQ and LANNEY:
The LIZZQ is a little less pricey than LANNY  
The LANNEY comes with a bonus like two hooks, one silicone brush, and one tube brush, where LIZZQ doesn't come with any bonus.
Advantage:
You can smoke for up to 5 hrs in any grill or smoker without refill.
One of the cheapest best quality pellet smoker tubes.
Works great for both Hot and Cold smoke.
This sturdy tool provides durability and mobility.
The tube's end side makes it easier to load pellets.
It comes with a free eBook, grilling Ideas, and recipes.
Disadvantage:
It could be better if the hook comes.
Check out Amazon.com to see what customers have to say.
Features & Specs:
Brand: CARPATHEN
Color: Silver
Product Dimensions: 12 x 2 x 2 inches
Fuel Type: Wood Smoking Pellets
Product Dimensions: 12 x 2 x 2 inches
Item Weight: 9.1 ounces
Manufacturer: Amazing Carpathen
Sale
Carpathen Smoke Tube - Pellet Smoker for Gas Grill, Electric, Charcoal Grills or Smokers - Billows 5 Hours of Amazing Cold Smoke Ideal for Smoking Cheese, Fish, Pork, Beef, Nuts - Stainless Steel
♨ SUPERIOR & COMPLETE SMOKER TUBE KIT: 1 Smoke tube, 1 Smoking Guide with Amazing Delicious Recipes and Smoking Tips digital format, 1 Meat Temperature Chart digital format, 1 Marinade, Rubs and BBQ Sauces Guide digital format, 1 smoke tube for pellet smoker User Guide Hard Copy + 1 Canvas Bag for Easy Storage!
♨ TRANSFORM YOUR GRILL INTO A REAL SMOKER: Carpathen smoker tube for pellet grill makes the smoking process easy and accessible to anyone. Due to its SMALL SIZE and UNIQUE DESIGN, the pellet tube smoker will burn wood pellets offering real wood flavor without needing an expensive cold smoke tube. Fill the smoking tube with food-grade wood pellets and light. You'll get 5 hours of thin blue smoke that will infuse any selected flavor into Pork, Ribs, Cured Meat, Hot Dogs, Sausages, Chicken, Cheese.
♨ COLD SMOKE MADE EASY: Whether you have a Traeger or Weber Grill, a Masterbuilt, Yoder or Big Green Egg Smoker, the smoke tube for pellet grill will turn any regular cooker into a cold smoker tube without any modification. Especially good for gas or electric grill owners who know how hard it is to get a deep smoke flavor comparing to their friend's charcoal smoker. And thanks to its reduced size it's portable enough to take and use it anywhere other smoke tubes for pellets can't.
♨ SURPRISE YOUR FRIENDS WITH AMAZING GIFTS - this Premium Stainless Steel tube smoker comes in a great gift box and it is a great addition to anyone's bbq smoker, gas or electric grill. It is a fantastic pellet tube for smoking attachment to any grill. Everything from apple, cherry, mesquite, hickory to oak pellets can be used. Who knew you could get so excited about pellet tube, right?
♨ BUILD TO LAST: Your experience with the pellet smoker tube 12'' stainless steel is our guideline. If any concerns, send us an email and we will reach out in 24 HOURS. If you will not be absolutely thrilled, send the pellet smoke tube back for a NEW one or full refund! No questions asked! That's why each smoking tubes for pellets is backed up by OUR PHENOMENAL CUSTOMER SERVICE.
Next up on my list is the CARPATHIAN. This small rectangle tube is made of stainless steel, which produces enough airflow to smoke your food.

Because of its small size, it is easy to use in any smoker and also good for cold smoking.

I bought this tube to use in my Traeger, which helps me to smoke fish especially.

It's easier to cook 5 hours with any food. This CARPATHIAN is the best choice for those who have a gas or electric smoker so that cold smoking would be easy.

I am using cherry, apple, mesquite, hickory, and alder. It provides an awesome wood flavor.

There is a cap on both sides of the tube, which helps fill and light pellets.

I like this tube most because of its stability on the grate, which doesn't roll. Obviously, its small size we can not deny which fits anywhere. Awesome design.

This 12-inch tube is not less than the rest of the tube in terms of performance.
Advantage:
It doesn't roll on the grate.
One end is capped for easy loading.
Small and rectangle designs create great airflow, which distributes the smoke well.
Includes free eBooks.
Portable.
Rust-resistant.
Made of stainless steel.
Durable.
Best for Hot and Cold smoke.
It allows you to smoke for up to 5 hours.
Disadvantage:
There is no such thing as a disadvantage to mention.
Yes, it would have been nice if there was a hook.
Visit amazon.com to read consumer's thought.
# Difference between Smoker Tube and Smoker Box.
Smoker tube vs Smoker box:
Smoker tube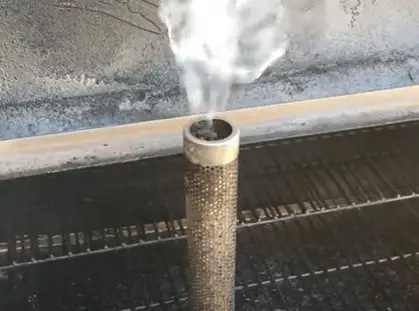 A smoker tube is a small and vertical tool designed to fit in any grill or smoker.

It is found in different shapes with lengths. For example- hexagonal, rectangle, oval shape, etc.

It is designed to hold pellets.

A smoker tube can produce smoke above 2 to 5 hours.
Smoker box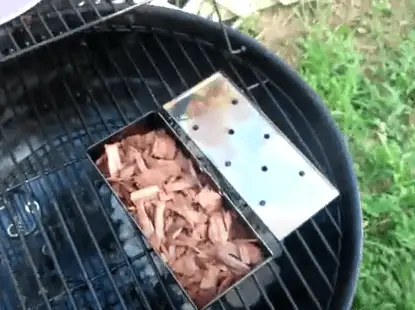 A smoker box is a compact and metallic container used in a grill to provide smoky flavor to your food. Specially smoker box is designed to hold wood chips.

This smoker box comes in different forms. The v-shaped one sits between the burners, and another rectangular one sits over the grate.
# What is the use of a Smoker Tube?
This tube is used in grills to distribute enough smoke to food. This tube is handy, so you can carry it anywhere and place it easily in your grill or smoker.

The pellet smoker tube gives you efficient smoke with slow-burning. So you can use your grill as a smoker without any modification.

This tube helps you smoke for up to 5 hrs in any grill or smoker without a refill. It depends on the length.

This small and cheap tool allows you to do hot smoking, cold smoking, and also you can convert a grill to a smoker.

So this cheap tool is very effective..
# Cold smoke: How to utilize a smoke tube?
Cold smoking occurs only in a narrow range of temperatures. The temperature is usually between 65 and 80 degrees. Anything above 80 degrees is too hot for me to cold smoke.

So let's prepare the smoke tube for the cold smoke.
Fill your smoke tube with pellets.
Light one end of the tube with a propane or butane torch.
Allow for five minutes of flame before blowing it out.
Now after the fire is over, only smoke will remain.
Turn on your smoker and set it on low, since the temperature will be around 175-180 degrees. Even better if you can keep the smoker at 160 degrees.
Place the smoke tube in the opposite direction of the smoker vent. So that the smoke spreads everywhere by the flow of air.
To reduce the temperature even further, add a layer of ice on a baking sheet, then a cooling rack on top of that, and finally your chilled items.
Mesh mats are recommended because they provide the best airflow all the way around the cold smoked foods in your smoker.
You can use a single pellet tube for the next four to six hours.
In conclusion, I would like to say that choose milder wood for cold smoke.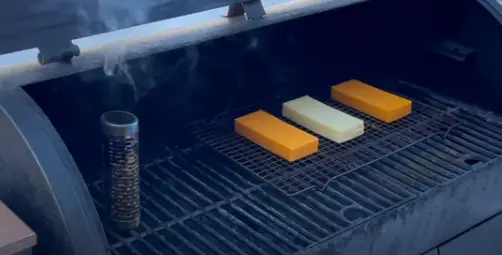 # Can I use wood chips in a Pellet Smoker Tube?
Yes, you can use wood chips in a pellet tube for better smoke flavor.

Wood chips are large, and they need more airflow to burn.

Crack the chips if there are any big and long chips. Or you can do one thing, mix the pellets and chips.

Wood chips will extinguish if there would not allow enough airflow between chips.

It would be nice if you would use what they are designed for.
# What food can you smoke in a Smoker Tube ?
These are some of my listed food items that I smoke with the help of my smoker tube.
1. Vegies 
2. Cheese
3. Almond
4. Meat ( beef, pork, etc.)
5. Fish
6. Salami
7. Ribs
8. Chicken wing
9. Beef Jerky 
10. Burgers etc
However, with the help of a smoker tube, you can smoke unlimited food.
# Things to consider before investing money.
The tubes fit in any grill. But whenever you are planning to buy, you have to keep in mind the tool size, shape, and quality of the material to use more days and get a good smoke.

Size & Length: The tube size depends on your grill. So you have to select the tube according to your grill and also it should smoke for a long time.

Mine is 12 inches in length which I'm using in Traeger, Masterbuilt, and Pitboss.

In the market, tubes are mostly available in 12 inches and 6 inches. Also, I have seen the Kingsford 8 Inch Pellet smoker tube.

I prefer 12 inches and 6-inch smoker tubes because you can use anyone according to food and space.

Shape: I do not recommend round one. Without a doubt, you can go for a rectangle or square one because it has a flat side, so it remains stable and doesn't roll on your grill.

Material Quality: You have to check material quality. I have three stainless steel smoker tubes which I have already included in my review. Three of them are stainless steel.

Pellet Tube in Smokers (Using Various Smokers).
FAQ
Wood chips are not similar to pellets, so pour a few chips at a time in the tube and keep shaking so that there is no more gap inside. You can press it with a long pin. After then get it fired up..
# Why should you use a pellet smoker tube?
1. Easy to use.
2. You can carry it anywhere, portable.
3. You can use it in an electric, gas, or regular pellet smoker.
4. Great for both Hot and Cold-smoked.
5. It burns slowly.
6. It provides enough and awesome flavor.
7. Great for indirect smoking.
# Are pellet smoker tubes good?
Yes, Because this surprisingly low-cost smoking tool helps you cold smoke without a heavy and large smoker. Smoker tubes are portable, and they add wood flavor to your food..
# How long will a smoke tube last?
A smoke tube lasts 2 to 5 hours..
# How to light a pellet smoker tube without a torch?
You can use regular cooking oil and paper towels to ignite the pellets.
It works but not like a torch or electric heat gun, and it takes longer. So I never prefer any oil or paper. It is too risky to control the burning of paper if it is windy.
# How to operate a smoker tube on a gas grill?
Steps to use a smoker tube on a gas grill.
Step 1: Preheat the grill.
Step 2: Fill with pellets below 1 inch and light the smoker tube.
Step 3: Allow for a five-minute burn
Step 4: Insert the smoker tube into the grill and begin to smoke.
Step 5: Place the food on the grill and allow it to smoke..
# Conclusion
Let's sum up by saying that learning the use of a pellet smoker tube can significantly improve your smoking experience.
You can obtain reliable smoke production and enhance the flavors of your meal by using the procedures and advice provided in this article.
A flexible addition that works with a variety of barbecues and smokers is the pellet smoker tube.
There is no need for a separate smoker because it offers a practical and effective method to produce smoke.
Implementing a pellet smoker into your culinary routine will enhance the flavors and advance your dishes, whether you're smoking meats, cheeses, or veggies.